Imagine you have a concept for a product or believe you have established channels for selling it. You will, of course, decide to source it from China due to its relatively inexpensive product development and manufacturing.
And you might start searching for suppliers for that product online. Well, an online search will provide several results for manufacturers and distributors in China.
Many individuals give up after months of trying to work with Chinese vendors via email and phone. The most probable explanation is that they initially didn't come across the ideal supplier.
Remember, you must locate a dependable company that can cater to your unique requirements and is eager to work with you. You'll need a strategy to identify a reliable China provider. Awareness, expertise, and much study will comprise this action plan.
That's why we will share some suggestions for locating a reliable Chinese vendor today. Learn all you need to know to start importing wholesale products from China. You will learn where to look for goods, how to choose and negotiate with suppliers, how to make purchases, and how to plan for shipping.
What Are the Primary Benefits of Importing Wholesale Goods From China?
The statistics and popularity of Chinese goods are sufficient to highlight the importance of buying goods from China's wholesale markets.
1) You Get High-Quality Goods
China is the world's greatest exporter, and that fact alone demonstrates that the country does not skimp on quality. Moreover, China is home to the factories of many multinational corporations.
2) You Get Affordable Rates
Importers can get some of the best wholesale pricing from Chinese vendors. They have surpassed the rest of the world in supplying cheap final products.
Things are really cheap here due to various factors, including low labor costs, large manufacturing volumes, and well-established automation technology.
3) You Get a Wide Variety of Products
China is home to a wide variety of items. China's wholesale markets offer some of the world's most remarkable goods. Visit Alibaba, and you'll see the vast array of products available in various categories.
4) Easily Obtainable Resources
Note that fortune has smiled upon Chinese suppliers in numerous ways. They get most of the resources they need inside the country.
5) Smooth Workflow
China's exports and imports have also advanced significantly. At times, dealing with Chinese wholesale suppliers and manufacturers was very challenging. But this has evolved considerably through time. The suppliers are open to new ideas and welcome foreign investment.
Step-by-Step Process – How to Make Bulk Purchases in China?
Your company may find great success in wholesale sourcing from China. It is, nevertheless, also among the most challenging tasks. If you're starting from scratch and want to source from China's wholesale markets, the following methods might be quite beneficial.
Step 1: Recognize Your Part in the Process
Buying goods from other nations, like China, makes you an importer. Most suppliers take care of everything once they have your address or delivery location. That way, you won't have to waste time traveling to the post office to get your products.
However, finding a reliable supplier is the main challenge.
Step 2: Discover Quality Products
You can't suddenly decide to start selling something one day. Depending on the scope of your market analysis, deciding what you will sell might take weeks or even months.
You should never rush through market research. Instead, give it the attention it deserves. The quality of goods produced by Chinese manufacturers varies widely.
Many vendors provide low-priced wares of questionable quality. If you plan on reselling something, you should stay away from them.
Step 3: Ensure Comprehensive Research of Your Country's Import Regulations
Prior to making overseas purchases, ensure the compatibility of the item with your country's import regulations. It's vital to be aware of import quotas and potential restrictions that govern specific items in certain nations.
You risk having your package returned to the sender if you attempt to bring in one of these prohibited goods. The government might perhaps issue a fine as well.
Step 4: Obtain the Product's Classification Number
There will be a unique ten-digit number for each imported good's tariff classification. This number is required when calculating the amount of duty and import tax.
Furthermore, meticulous attention to the incoterms is paramount. Take care to ascertain the total landed price before dispatching your order to the manufacturer.
Step 5: Searching for a Chinese Wholesale Supplier
Finding a trustworthy wholesale supplier is the most essential part of purchasing from China. If you find a reliable supplier, you can get your hands on any goods you need. On top of that, they can also assist you in expanding your company's operations.
Step 6: Request a Sample and Do Thorough Quality Inspections
You should get samples from the wholesale manufacturer/supplier to confirm the quality of their goods. Never make a bulk purchase without first checking the quality. Neither an image nor a video can do a better inspection for you. These are pretty easy to forge.
Fraudsters often reject your request to provide free samples as they are not legitimate.
Step 7: Find Out How Much It Will Cost To Ship Everything
There is a variety of costs associated with sending packages overseas. Shipping expenses don't include things like containers, brokers, packing, and terminal handling.
Thus, determine your expected shipping costs by adding together all of these charges.
Step 8: Come to an Agreement on Price and Terms
Buying wholesale from China will bring you the lowest pricing. However, producers, distributors, and suppliers always give room for haggling.
Step 9: Handle Shipping and Export Clearance
Shipping might be a pain point for importers from other countries. You will need to plan for both internal and exterior transportation. It entails taking care of export formalities such as clearing customs.
Remember, it might be challenging to handle all this from your country.
Don't worry, though! If you don't know how you'll do this, our Sourcing Agents are available for discussions. Contact our sourcing experts for a no-cost consultation on your sourcing needs.
Step 10: Monitor Transport
Packages sent across the ocean will not arrive promptly. Some cargos typically take around 30 days to arrive. Depending on the delivery location, you might get a much shorter wait time.
Keep the packing list, business invoice, and bill of lading safe until the package arrives at the desired destination. This paperwork will help you through your shipment's customs clearance procedure.
Step 11: Take Delivery of the Goods
The transportation of wholesale goods is not the last step in the sourcing process. When the cargo arrives at your port, the next step is to unload it.
Freight forwarders often handle both the offloading of products and the customs clearance of shipments.
Need Sourcing Agent & Dropshipping Agent?
How to Find a Reliable Supplier for Buying Wholesale in China?
If you own an online or brick-and-mortar store, buying from Chinese wholesalers is the greatest method to get the best deals on trade. Let's check out the best methods!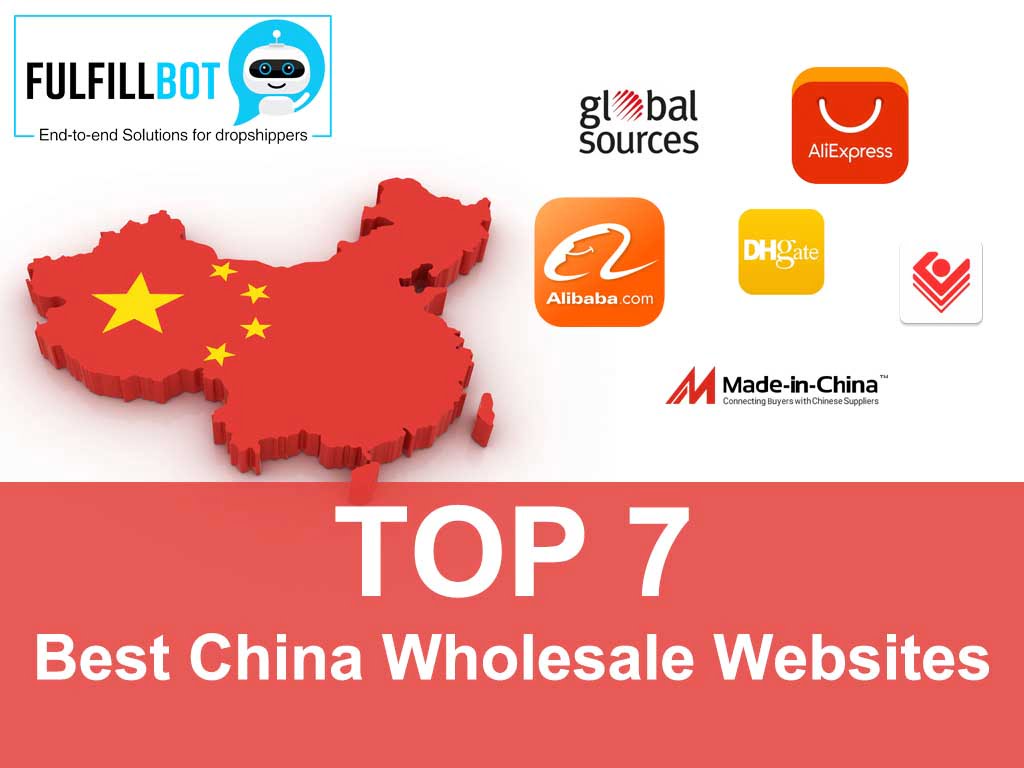 A) Top Websites in China for Wholesale Buying
Here are some of the most popular Chinese wholesale websites:
1) Alibaba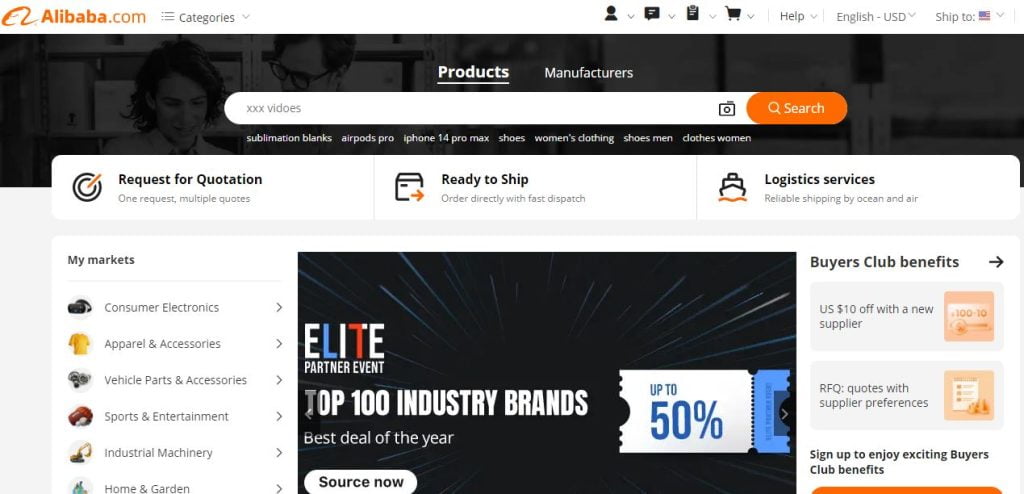 When it comes to business-to-business e-commerce, Alibaba is a global powerhouse. In fact, it pioneered the concept of doing business on the Internet by offering wholesale goods.
As a result, foreign retailers now have easier access to China's manufacturing sector. Finding reliable manufacturers and wholesalers is as easy as searching for a product or browsing the available categories.
Once you've located a reliable vendor, you may make purchases straight from them at reduced wholesale costs. Since it prioritizes the security of its customers, Alibaba has become one of the most popular wholesale marketplaces.
Before closing the agreement, you can verify the company's legitimacy by reviewing the profile metrics and acquiring quality inspection service.
2) DHgate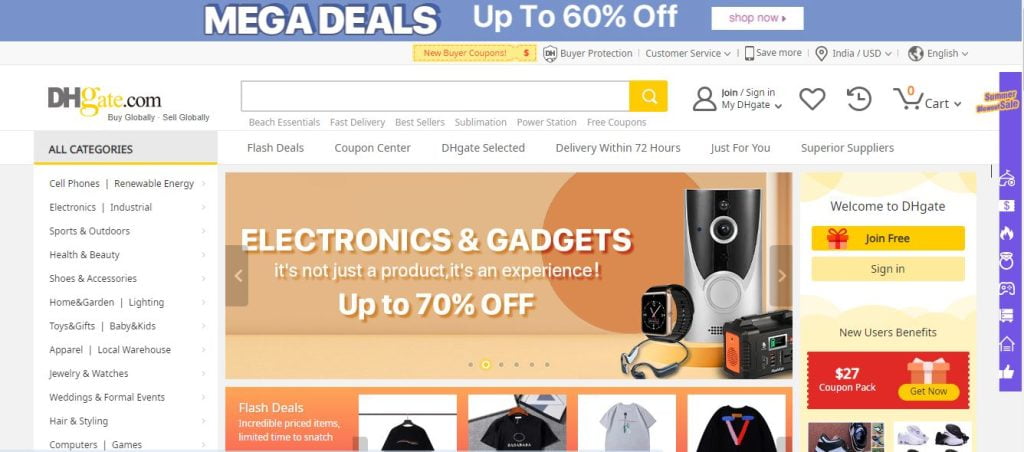 If you're looking for a reliable e-commerce marketplace that offers wholesale prices, DHgate is a great place to start. This platform features legitimate businesses selling genuine Chinese goods.
It's a popular option for novices since it's one of the largest and most well-known B2B platforms out there.
When it comes to bulk purchases, nobody does it better than DHgate. This platform offers buyer security and a money-back guarantee on all transactions.
Moreover, its cross-border wholesale marketplace also enables you to browse among millions of suppliers to discover the lowest prices on items. It allows customers to examine the merchandise at their leisure.
In short, this platform has built a solid reputation for reliability and prompt product delivery.
3) Made in China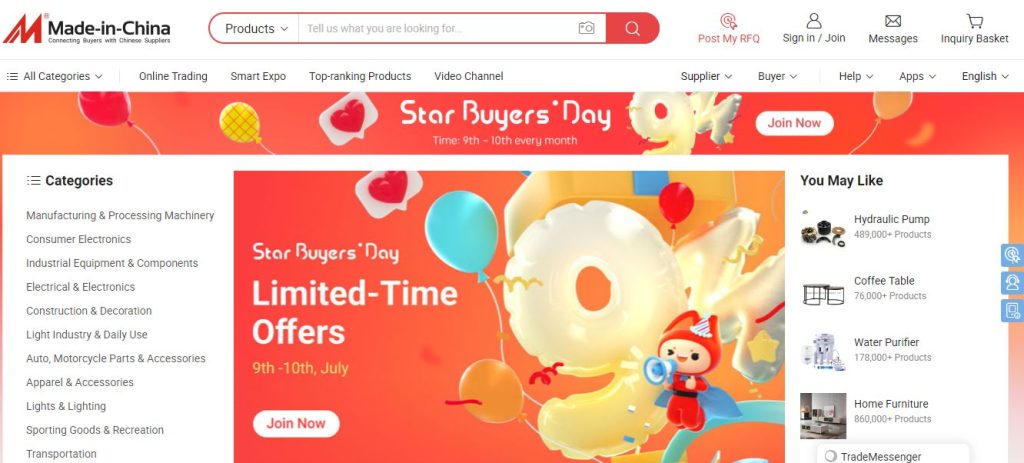 Among the most well-established retail platforms, this website connects Chinese manufacturers and wholesalers with shoppers all over the globe. It is a marketplace much like the ones we just discussed.
According to the website's listings, several qualified vendors are available to offer wholesale products. As a result, you can also seek out merchants with a minimum order amount.
This platform provides peace of mind to buyers because of its many failsafe mechanisms.
4) Banggood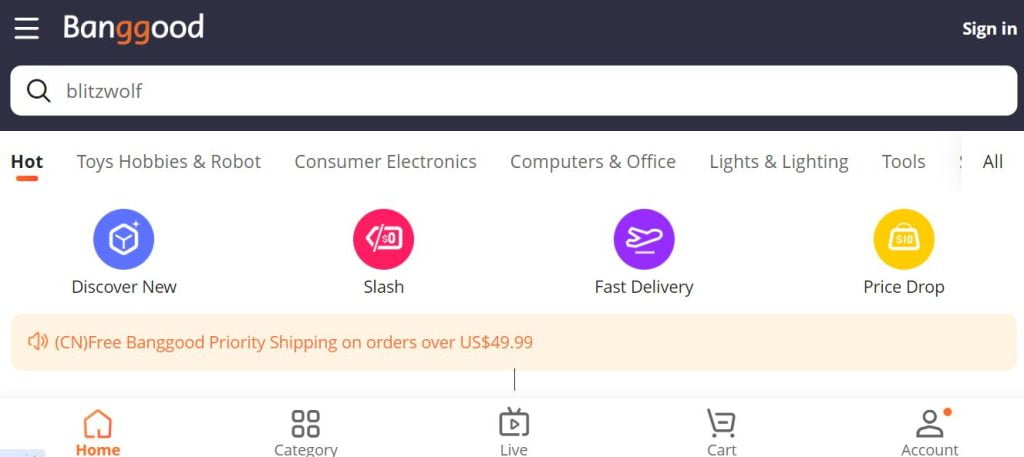 This platform has redirected its sales efforts from PC components to international e-commerce services.
This online marketplace offers reasonably priced goods of acceptable quality. It includes things for the house and garden and electronics like cell phones, accessories, and leisure goods.
In addition, they have plenty of stock available for immediate shipment. So it can be your next most cost-effective wholesale option in China.
5) 1688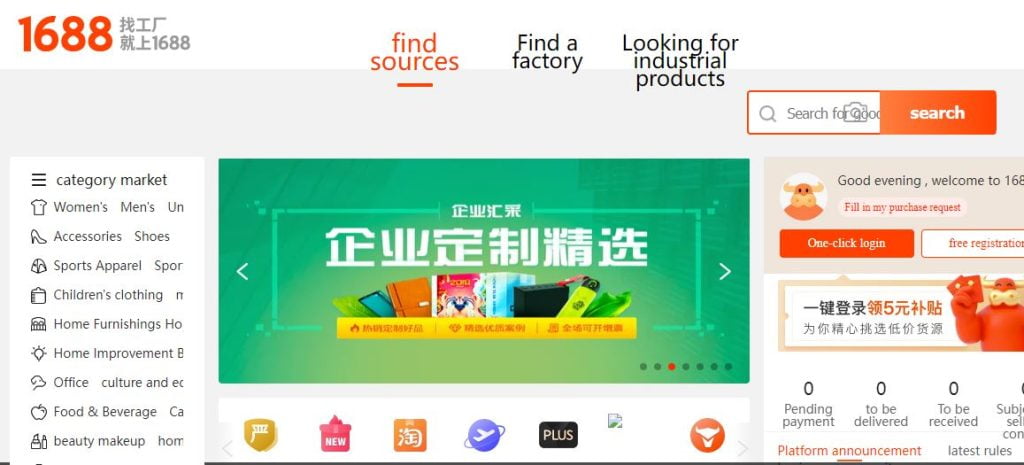 As discussed above, Alibaba is a global powerhouse in the business world. And we think every entrepreneur has heard of this platform.
Its 1688 subsidiary serves the Chinese market. For the time being, this platform is only available in Chinese (with the translation option) and serves the local community only in the areas of B2B, B2C, retail, and product manufacturing. In terms of product quality, this marketplace has a stellar reputation.
The only way to know for sure that a product is of high quality is to purchase it via sourcing agents. They often do quality checks before sending goods to you.
if you need 1688 sourcing agent .you can contact us , we will help you buy from 1688 and quality inspection then send to you.
6) Global Sources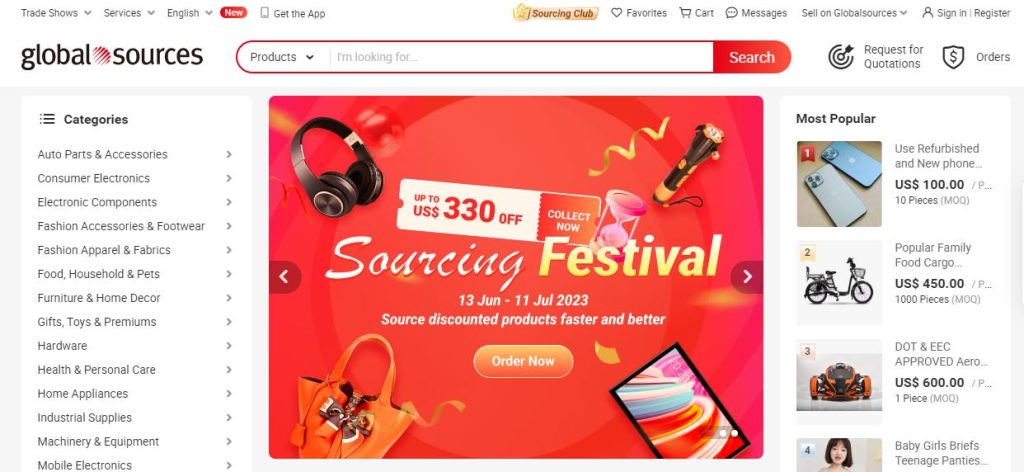 When looking for trustworthy wholesale suppliers, we must include another reputable platform in this list: Global Sources.
Thousands of businesses worldwide rely on this platform to locate reliable wholesale suppliers of almost any product. It uses a badge system to guarantee quality.
Buyers can rest easy knowing that the products they purchase via this platform are of the highest quality.
7) AliExpress

First, Aliexpress is a renowned e-commerce platform operated by Alibaba Group to serve international customers. It is a fantastic sourcing option for novice importers. On this platform, you can buy from wholesalers or small shops selling unique things.
B) Go to a Trade Show Featuring China's Wholesale Vendors
China has a plethora of annual trade shows. If you ever find yourself near this place, you just must go and attend one such a show.
You can meet vendors in person and do business with them. Product displays at trade shows are another source of inspiration. So you can locate reliable vendors at these trade shows.
1) The Canton Fair
You can call it the China Import and Export Fair or Canton Fair. It is the most important commercial event. During its three-part run, this Guangzhou-based fair occurs twice a year, in the spring and fall.
You will find almost every imaginable product on display at this show. It attracts exhibitors and purchasers from about 200 nations.
2) Yiwu International Commodities Fair
This trade fair usually happens annually in October. It is China's biggest consumer products trade show. Unlike other fairs, this one is open year-round and caters to small customers from all over the globe interested in purchasing various consumer items. Remember, it is a massive retail venue for handmade goods.
3) China Hi-Tech Fair
Compared to other Chinese cities, Shenzhen stands out for its abundance of successful high-tech businesses. So, Shenzhen's consistent hosting of the Hi-Tech Fair is not surprising.
This fair is the finest place to learn about cutting-edge innovations in the field of consumer items. This commercial fair offers manufacturers a platform for showcasing unique products and services.
4) China Electronics Fair
You can meet executives, leaders, specialists, decision-makers, and other professionals from different sectors at China Electronics Fair.
This fair also allows for the sharing of ideas and information. It also offers manufacturers an excellent platform for helping firms expand their customer base and sales.
5) East China Fair
It is the second-largest trade event in the area, drawing in the most buyers and sellers. This fair is famous for showcasing the widest range of items and closing the most deals right there in the convention center.
Buyers from about one hundred different nations attend this trade fair, making it the largest regional fair in the world. This fair is the place to go to see the full range of textiles.
Need Sourcing Agent & Dropshipping Agent?
How to Deal With Chinese Wholesalers?
Collaborating with wholesale vendors in China frequently emerges as the optimal approach for businesses seeking cost-effective procurement solutions.
As explained above, numerous manufacturers attend trade fairs to improve their customer base. But note that you've entered an utterly different world.
1) Communication
Interacting with a Chinese wholesaler could present difficulties if you aren't proficient in the local language. Effectively conveying your requirements and placing orders might pose challenges when the wholesaler lacks English language skills.
If you want to avoid misunderstandings and disappointments, choosing a supplier fluent in English is best.
2) Transportation Problems
Taking public transportation in China's main cities may be challenging due to the country's high population density. You should think about these things since you may come from a less populated area where it is possible to cover greater distances in a shorter amount of time.
The biggest cities in China often have traffic jams, so give yourself extra time to get where you need to go.
3) Check Written Agreements
Things alter when it comes to legally binding contracts. Contracts may not be legally binding in China. They might shift the following day or week, usually offering a good reason for the shift.
But it doesn't imply you can't trust a Chinese wholesaler. Expect some minor setbacks along the road. In general, it's advisable not to put too much order in a formal agreement.
4) Express Yourself Clearly
Finding a way to communicate effectively with your Chinese manufacturer may prove to be your greatest challenge. It is especially true if the provider has trouble communicating in English.
Poor communication might result in many unforeseen issues. It includes costly delays, incorrect orders, incorrect specifications, or also the end of the business relationship.
5) Establish Accurate Pricing
One of the most important factors to consider if you want to operate a profitable online company or make a fortune reselling Chinese imports is price. Do not be afraid to negotiate with your supplier if you are not satisfied with the first estimate you get.
6) Be Clear and Avoid Making Assumptions
Writing is an effective means of communication, as we have seen above. Be as specific as you can in your order description.
If it is not made clear, expect that suppliers will take short cuts while completing your orders. For instance, the end product may contain low-quality raw materials. It's also possible that certain crucial features won't be included in the product.
So, even if there are no binding contracts, you can still have all of your questions answered.
7) Expect Different Processes and Working Methods
As you know, everything depends on how parties present their requests during negotiations. And negotiation skills can change depending on the culture.
Chinese vendors are often more kind and accommodating in speech. Moreover, they are less likely to get into a dispute than someone from another culture. So, if you're from a more straightforward society, it's essential to keep this in mind.
You can define your needs and minimize confusion when placing orders.
What Tips Should You Follow When Buying Wholesale Products from China?
One strategy to grow your company is establishing a relationship with a wholesale supplier in China and purchasing goods at a discount. Yet, you should examine the whole process and take precautions to safeguard your interests.
The appropriate strategy can help you build a strong relationship with a supplier and expand your company.
1) You Shouldn't Always Go for the Cheapest Option
Extremely low pricing usually indicates a poor-quality product. Something must be amiss if there aren't many other sellers offering identical goods at the same price.
Always remember that it is worth it to spend a bit extra for high-quality goods.
2) Note Down the Chinese Holidays
The three-week celebration of Chinese New Year often begins in late January and continues until late February. Because so many people choose to go out of the cities to spend the holiday with their relatives, many businesses have to close their doors.
You might lose thousands of dollars in lost shipments and other expenses if you don't plan ahead for the holidays.
3) Enlighten the Provider on Your Requirements
Before ordering, communicate with the wholesale supplier about any special instructions or needs you may have for the items or shipment. If you don't, you might get something you didn't order.
4) Steer Clear of Displaying Distrust in the Supplier
Strive to convey confidence and regard when initiating a business association with a fresh supplier. In the absence of any wrongdoing, there's no justification for adopting an impolite or doubtful demeanor.
If your intention is to have your supplier handle your products with diligence and furnish you with top-notch customer service, it's imperative to foster a sturdy collaborative rapport with them.
5) Check Everything Thoroughly
You can investigate your Chinese vendor thoroughly. For this, you can check their physical location, contact previous buyers for references, and even request product samples. Remember, it's much better if you visit the factory in person.
6) Know the Bargaining Process
Well, to get the best deal possible, it's essential to negotiate with wholesale suppliers. But treat the possible provider with dignity and restrain yourself from becoming overly aggressive.
Before agreeing to terms with a supplier, it's vital to fully grasp their price structure, including shipping and other fees.
7) Check the FOB Conditions
Each airport or port has unique FOB terms. Make sure your supplier has no problem with these terms. If that's the case, you'll save money on shipping and have more power over your package's arrival time.
8) Pay Attention to the Shipping Schedule
Products sent across international borders can take a very long time to get to their destination. Remember that large shipments can even take up to a month.
The supplier might take up to seven days to perform his role. It includes preparing the paperwork, shipping the goods, and clearing it through customs.
9) Understand the Business Imports Rules
You may need to worry about import rules only if you buy wholesale goods for resale or business reasons. The customs office has the ultimate right to assess whether a shipment's declared purpose is for personal or commercial use. Sometimes, they might open the boxes to inspect the package.
Which Errors Must Be Steered Clear of When Engaging in Wholesale Purchases From China?
New importers often feel it difficult to learn how to import. Problems arise when they start importing from a nation where English is not the primary language. So here are common mistakes that every importer should avoid when sourcing wholesale goods from China.
1) Not Knowing the Supplier Type
One common mistake is to equate a factory with a trading firm, sourcing agency, or supplier. As an importer, you must know the distinctions between these terminologies. You might make mistakes because many of these terms are interchangeable.
Factory:
There are two types of manufacturing facilities. Those that rely on humans and those that rely on machines. You are importing from the factory if the supplier has any of these facilities.
Intermediary Trading Firm:
A trading firm often does the legwork of locating a vendor and shipping you the goods. However, they'll also add a markup to their profit before sending them out.
Supplier:
The distinction between manufacturer and supplier is vague. A supplier is interchangeable with any of the above words.
Sourcing Agent:
To get you the lowest pricing, a sourcing agency can put you in touch with many manufacturers directly or evaluate numerous suppliers. In addition to shipping and logistics possibilities, they often include factory and product inspections.
It's common practice for many Alibaba vendors to represent themselves as manufacturers falsely. But most of them are probably merely trading firms that have acquired their items straight from the manufacturers and are now retailing them at a little higher price.
2) Ignoring the Quality
Now that you have the quotes, it's time to choose the vendors. Although pricing affects a company's revenue, going with the least expensive vendor isn't always the best option.
However, it's not always true that the most costly provider provides the greatest services.
3) Not Defining the Confidentiality Terms
Despite having a legally binding agreement with your provider, you should not expect that they would keep your concept or product idea confidential.
After some time, you might discover that your supplier and other suppliers are also advertising the same product on Alibaba.
4) Compromising on a Shipping Service for Delivery Costs
Shipping price comparison is quite different from shipping price negotiating. Remember, only a few providers will be open to negotiating shipping rates with you.
5) Not Visiting the Factory
A supplier's ability to provide factory photos is no guarantee that they really operate a manufacturing facility. Anyone can now create a website with whatever content they choose.
6) Don't Take Decision Solely Based on User Reviews
Online reviews may be informative, but readers should be wary of those that seem suspiciously forged or slanted. You can make sure these reviews are genuine by contacting the service provider and requesting references or testimonials.
7) Not Setting Up a Quality Control and Inspection Strategies
Without a quality control strategy in place, buyers run the risk of getting subpar goods. Having a quality control and inspection strategy is crucial for obtaining satisfactory goods.
8) Not Trying Various Suppliers
When making wholesale purchases in China, it is not a smart idea to stick with just one vendor. If a buyer relies on just one source and that supplier fails, it might cause severe problems down the line. Having a second provider in place is crucial in the event of a disruption.
9) Not Hiring a Sourcing Agent
Getting the correct advice and assistance from professionals is crucial, especially when starting with your online store. Failure to do so can put your company at risk of fraud, diminished product quality, and perhaps legal action.
As the sourcing agent establishes their footing within China, they are adept at factory assessment and skillful negotiation of equitable pricing with the indigenous supplier.
Engaging a proficient sourcing agent proves invaluable when it comes to procuring commodities from China. Even experienced merchants stand to gain from the support of a trustworthy sourcing agent, whose capabilities encompass a spectrum of tasks ranging from identifying the apt supplier to skillfully bargaining for optimal pricing and orchestrating the logistics of shipment.
Final Thoughts
Finding a reliable wholesaler that can offer high-quality goods at a reasonable cost is a terrific way to expand your business. However, it can be challenging to locate a reliable wholesale supplier in China. That's because this country already has a number of manufacturers with well-established factories.
Thus, China continues to be the most significant industrial hub despite fluctuating market conditions. If you're a first-time importer, sourcing wholesale goods from this country is a good bet. That's because the number of manufacturers will be available at your disposal.
You can find a genuine supplier on wholesale websites via independent research. However, make sure you know your suppliers well and watch out for common communication mistakes.
You should engage a China sourcing agency if you lack expertise in importing.