Is AliExpress safe? is it legal? How to Dropship from AliExpress? Such questions are quite common. In this article, I'll try to answer them.
  AliExpress is an online retail giant that is located in China and owned by the multinational technology company Alibaba group. AliExpress offers business-to-business (B2B) and business-to-consumer (B2C) sales services.
It connects consumers with sellers that are mostly located in China and Singapore. Their easy-to-use website comes in 11 universal languages so that buyers from all over the world can easily use and buy the products they want.
Currently, these languages are
• French
• English
• Indonesian
• Italian
• German
• Russian
• Portuguese
• Polish
• Turkish
• Dutch
• Spanish
  Improvements are in work to diversify their site so that more users can easily get access to products.
  AliExpress provides local businesses a boost by providing them a platform that connects them to a world outside of China. Instead of just having Chinese customers, these small or large-scale businesses now have an external market as well. This not only promotes Chinese business but also generates revenue and jobs.
  From wholesale businesses to individual shoppers, AliExpress offers anything and everything you can possibly think of! From large container-turns-home to weird gadgets that make life easier.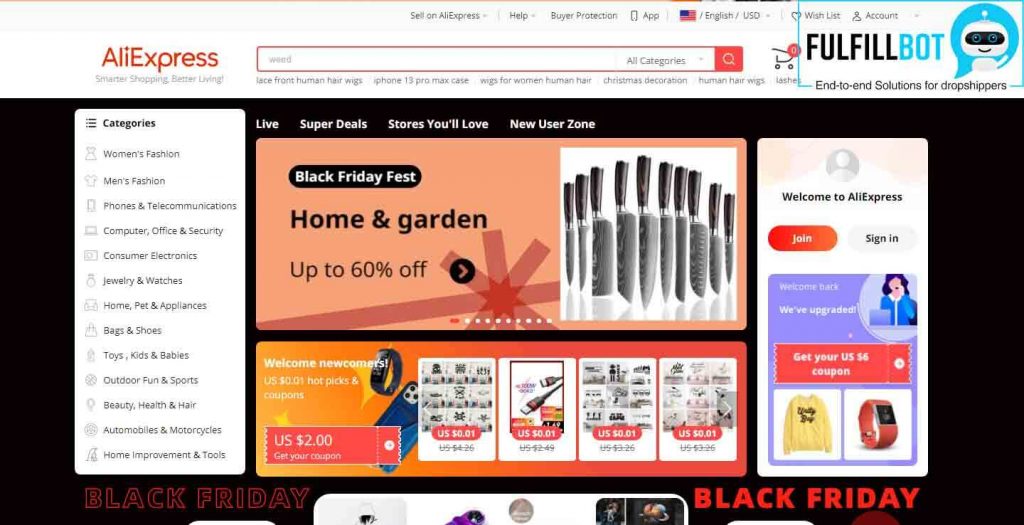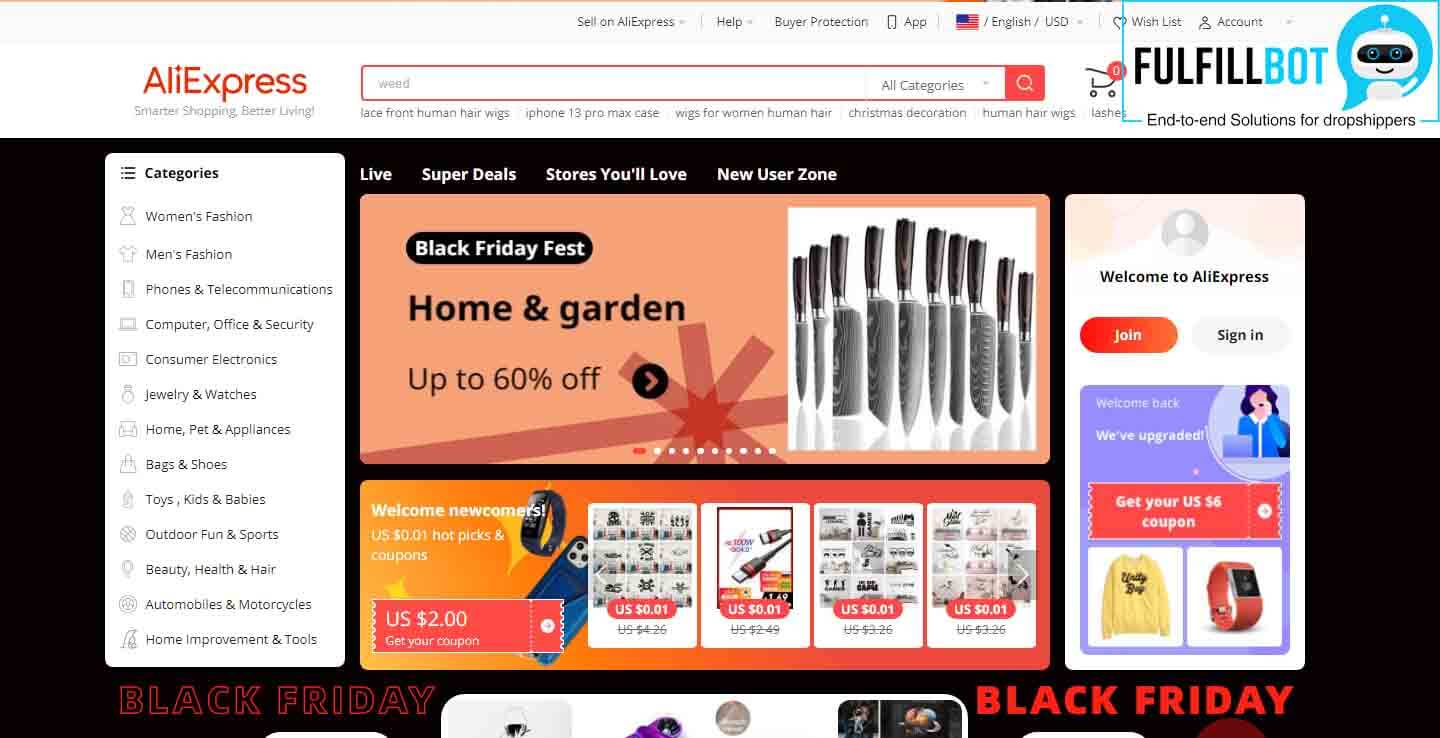 Several questions that come to mind while using AliExpress are whether it is legit or not? Is AliExpress Safe? Or Is AliExpress good or not?
AliExpress itself is a very reliable and legit site that offers various compensations if anything does go wrong. The problem lies in the very few sellers that are on the site.
  Even then it depends on the shopper. When you think you like a product and that it suits your need, before adding it to your cart look at the seller of the product.
AliExpress offers various features that allow you to scrutinize and check the authenticity of a seller.
We'll mention several steps that you can follow yourself to check whether a seller is reliable or not.
  The first step you need to follow is checking the number of orders. This is the number of products sold. If it's in several thousand then you can further proceed to the next step!
  If however, the number of orders is very low then be very cautious. It doesn't mean that the buyer is a fraud! Check the seller page. Maybe the seller is good but that specific product wasn't sold that much.
  What you need to do is check the seller ratings and the other products sold by the page. If these products are sold in large amounts and have good reviews then you are good to go! Place the order!
Another thing to look for is the top brand badge. AliExpress only offers top brand logos to sellers that are directly selling products and are authorized. These are China's leading brands and sell products that are top-quality with high ratings.
They even offer warranties and the best return policy if there is something wrong with the parcel.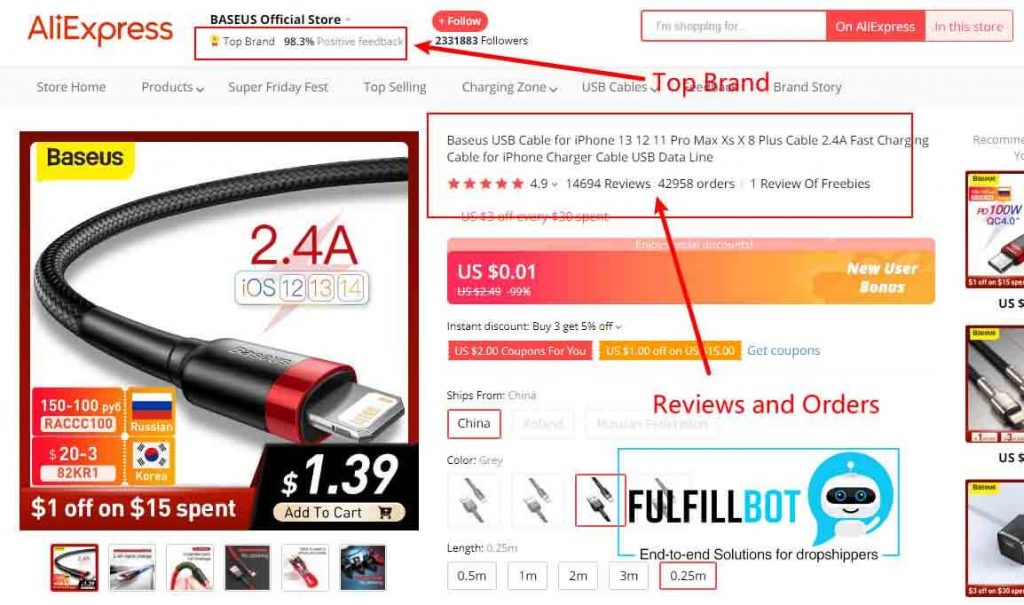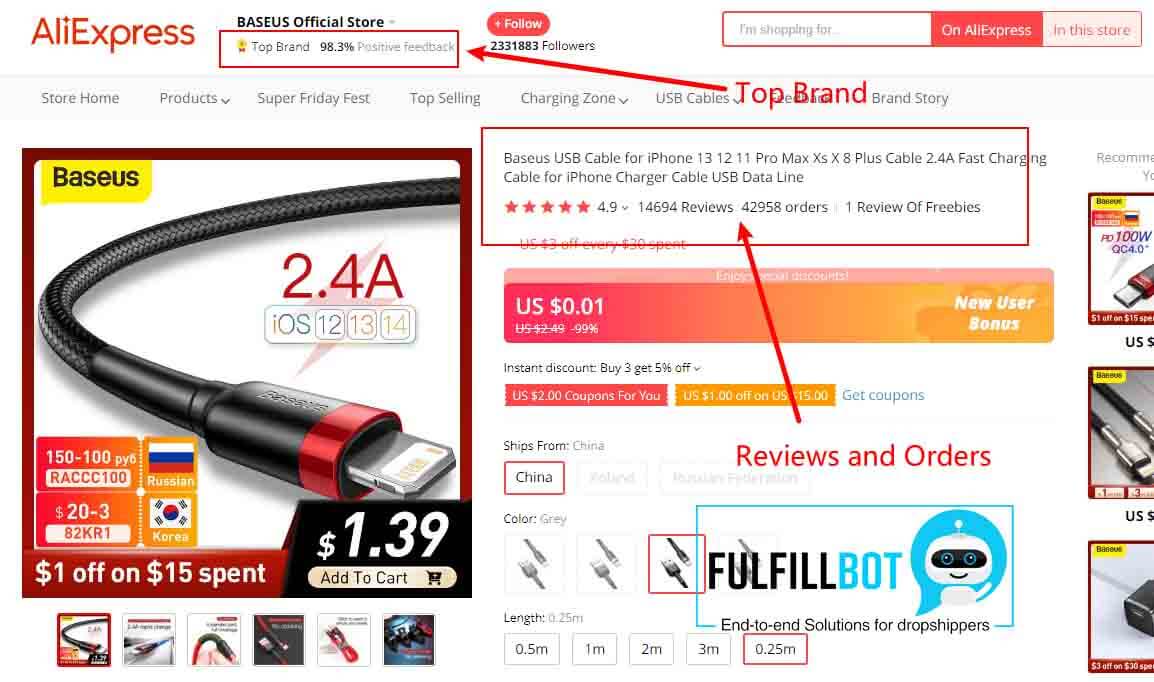 The next thing to look for when you have selected a product is to check the reviews. In fact, this is the best way to check a product.
AliExpress allows buyers to leave reviews with pictures. Buyers can also leave reviews after 1, 2 or 3 months of usage. Check the images that people have posted. If you like it then add the product!
If a product has mostly bad reviews we suggest that you look for a different one. Oftentimes products have reviews such as 'never received', 'poor quality', or 'money returned'. Keep an eye out for such reviews!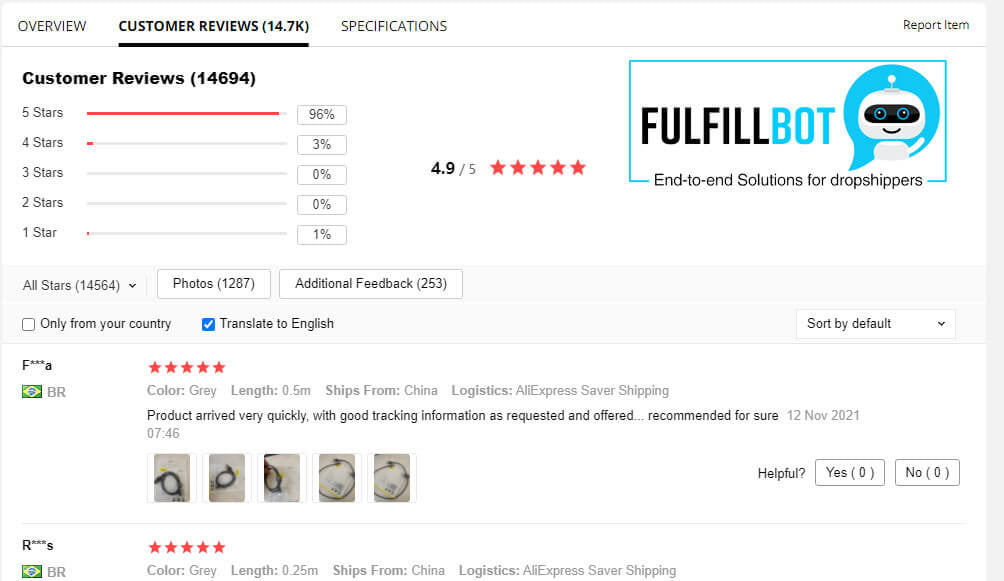 Is AliExpress Safe and Reliable?
AliExpress is extremely safe and reliable. Even small-scale businesses are genuine and try their best to provide you best offers, products, and experiences.
If you have any queries you can simply contact the seller through the AliExpress app. The seller will get back to you within a day! If you want more detailed info regarding your product's size, color, quality, shipping or anything just type your question and hit send!
If you don't receive your product within the specified time limit AliExpress even offers a complete or partial refund! Most retail giants don't usually offer such compensations. Even if they do there is a long process that you need to complete and even then there is no guarantee you will get your money back!
Hence AliExpress is quite reliable and safe. Just do your research look at the prices, reviews, and ratings of brands and sellers before placing an order.
Tips for Choosing a right Supplier on AliExpress
When you're shopping on AliExpress, it's important to choose a reputable seller. After all, you want to be sure that you're getting what you paid for—and that you're not going to be scammed.
Here are a few tips for choosing a reputable seller:
Check the seller's ratings and reviews.
Look for sellers who have a lot of positive ratings and reviews. This is a good indication that they're trustworthy and reliable.

Check with the seller to make sure it is in stock
When you choose a product that has no transaction history and no reviews, you'd better check with the seller if the piece is in stock, otherwise they will probably not be able to ship it after you place your order.
Do not pursue too low prices
Some sellers on aliexpress are likely to have very low prices for their products. If the price is much lower than other sellers, then you need to be aware that he may be making up for the cost elsewhere, such as later delivery and worse packaging.
In short, don't buy a product that is too low priced and you will have a very bad shopping experience.
Check the store name
Your best choice is the official store. for example XXX official store.
don't choose Shopxxx Store.They don't even have time to take their own name, and don't expect them to be able to provide quality customer service.

Check the store establishment time
If the store has been open for more than 3 years, then at least it means that it is trustworthy and this store is their business, not a part-time job.

Check if the seller's store is beautiful
If a seller's store design takes a lot of time and is designed to look good, then this can show that this seller spends a lot of time on this store, so he will be equally responsible to his customers.
If a seller's store has not been designed and just uses plain typography, then he may have other businesses that he may not be able to fully provide a good service.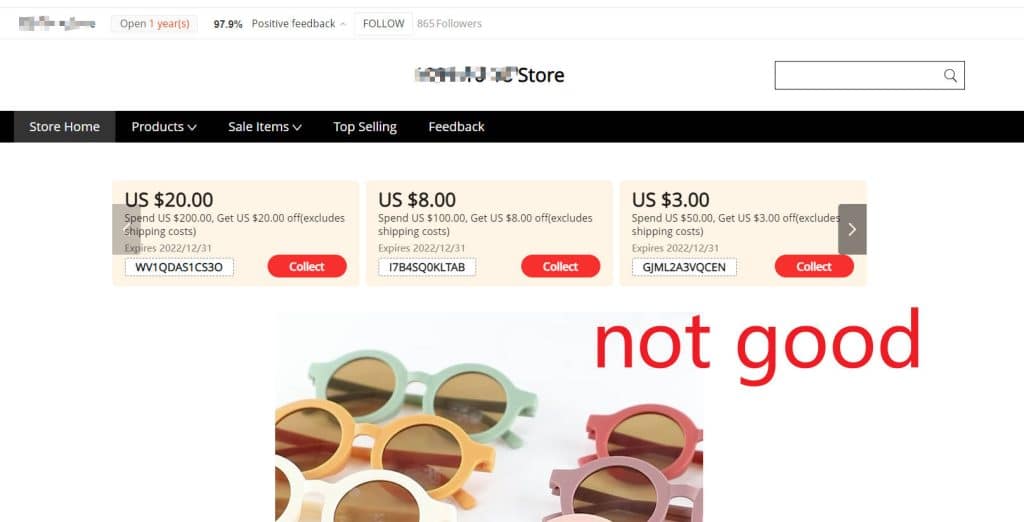 Analyzing Reviews From Buyers
The best way to know if a seller is reputable or not is by analyzing reviews from buyers. Look for patterns in the reviews and see what people are saying about the seller. Are they generally positive? Negative? Do they seem fake?
Here are some things to look out for:
– Are the reviews recent?
– Are there a lot of reviews?
– Do the reviews seem real?
– Do the reviewers have pictures?
– What are people saying about the seller?
If you can't find any reviews or if the seller only has a few, that's not necessarily a bad thing. It could just mean that the seller is new. However, you should be wary of sellers with only a few reviews and proceed with caution.
Pros of Buying from AliExpress

Buying from AliExpress has many benefits these are
• You get extremely cheap products even with the shipping costs. Compared with your local market products on AliExpress are 2-3 dollars cheaper!
• Shoppers can find millions of products under one site. No need to open a hundred tabs! You can find electronics, clothes, makeup, home appliances, tools, and pet stuff all under AliExpress!
• AliExpress offers hundreds of similar products. Let's say you want to buy earbuds. AliExpress offers tons of earbuds from different brands. You can easily compare the best earbuds and select the ones that you need!
• No need to worry about a product being sold out. If one seller's sold out some other seller will be selling the same product.
• AliExpress offers different shipping options. If you want your product fast just select the DHL or FedEx options. You will however need to pay more for these.
• The AliExpress standard shipping is very cheap
• Most small products have free shipping!
• AliExpress regularly offers its consumers coupons and discounts!
• The loyalty rewards are extremely good!
• Products not available in your country can be easily found on AliExpress.
Cons of Buying from AliExpress
-New users can often get duped into buying from sellers that do not have good ratings
-The standard shipping takes around 25-35 days. Which can be annoying for some users.
-Oftentimes the seller ships the product from the warehouse but the parcel gets lost in transit.
-The parcel received by buyers can get damaged.
-Some extremely cheap products can be of poor quality.
-The local post office can keep the parcel from AliExpress. This mostly happens to large-sized electronic devices such as phones. India even banned AliExpress.
-You may receive a product that is different from the image shown.
How Long does it Take for AliExpress to Ship?
AliExpress provides its users with different shipping options. It depends on the user what type of shipping they go for.
Different products come with different shipping options. Small-sized parcels that are cheap usually only offer the Standard Shipping or China Post Registered Mail, which takes 35 to 40 days. Plus these shipping options are free.
Expensive and large products, electronics, or clothes offer standard, China Post Registered Mail, DHL, FedEx, or UPS Expedited shipping options. Through these, you can easily get your parcel within 15-22 or 14-23 days.
Certain shipping options also offer tracking. This way you can easily track your parcel. This shipping is best for expensive products. However, you will have to pay around an additional 20 to 70 dollars.
How to Dropship from AliExpress?
  Dropshipping is a process in which a store does not keep the product it is selling. Once they receive an order for such products they purchase them from a third-party supplier and then ship the parcel.
Dropshipping can be beneficial for sellers as they don't require a warehouse or store for products. They simply buy at the time of order and ship the package once they receive it from the third-party seller.
You can easily drop ship from suppliers using AliExpress. Simply look for sellers that have good ratings and reviews on AliExpress. First, start on a small scale once you get the hang of the workings of dropshipping you can start from there! about dropshipping you can read this is dropshipping worth it in 2021?
Fulfillbot is a dropshipping agent and Order fulfillment Site that allows buyers to easily place an order and receive their package within a limited time. Fulfillbot is extremely easy to use and one of the best dropshipping suppliers out there. They help seller product sourcing in China and ship packages to buyers. They offer one-stop service, product photography, warehousing, and order fulfillment all under one roof!
-You first sign in using your account.
-Once signed in you can share a link or Picture of the product you are interested in.
-The team at Fulfillbot will quote a price that suits your need. Once all this is done you deposit the fee.
-Fulfillbot then places your order. The manufacturer directly ships to Fulfillbot.
-From here onwards Fulfillbot will carefully package, assemble and ship your order. An auto-generated email is sent to your account about your order being shipped!
Benefits of Using Fulfillbot
• No need to go through seller ratings! Fulfillbot will automatically look for the best seller and place your order.
• If you directly order from a site, say AliExpress the standard shipping will take 35-40 days. Fulfillbot shortens this delivery period.
• Fulfillbot ensures the package you get is 100% intact and not damaged!
• The shipping fees are very reasonable!
In conclusion, AliExpress is an extremely good and reliable site that you can trust. It offers billions of products under one site. There is the question of whether AliExpress is ethical or not? Some brands are while some are not. You will have to search for these though.
The products offered are at an extremely reasonable price! Our suggestion, go ahead and place an order you won't be disappointed because AliExpress is that good!