China has always been a leading manufacturer and exporter of goods globally. Buying from China has been made easier in recent years. In the past, you had to travel to China to purchase items.
But the buying process has become easy after the introduction of wholesale websites.
China sourcing websites benefit both suppliers and buyers. The suppliers get a secure way to reach customers quickly. Besides, buyers can buy in bulk or wholesale from China to save cost.
So, what are some of the best wholesale websites available in China? How do these websites work? Well, we will cover all such questions in this post.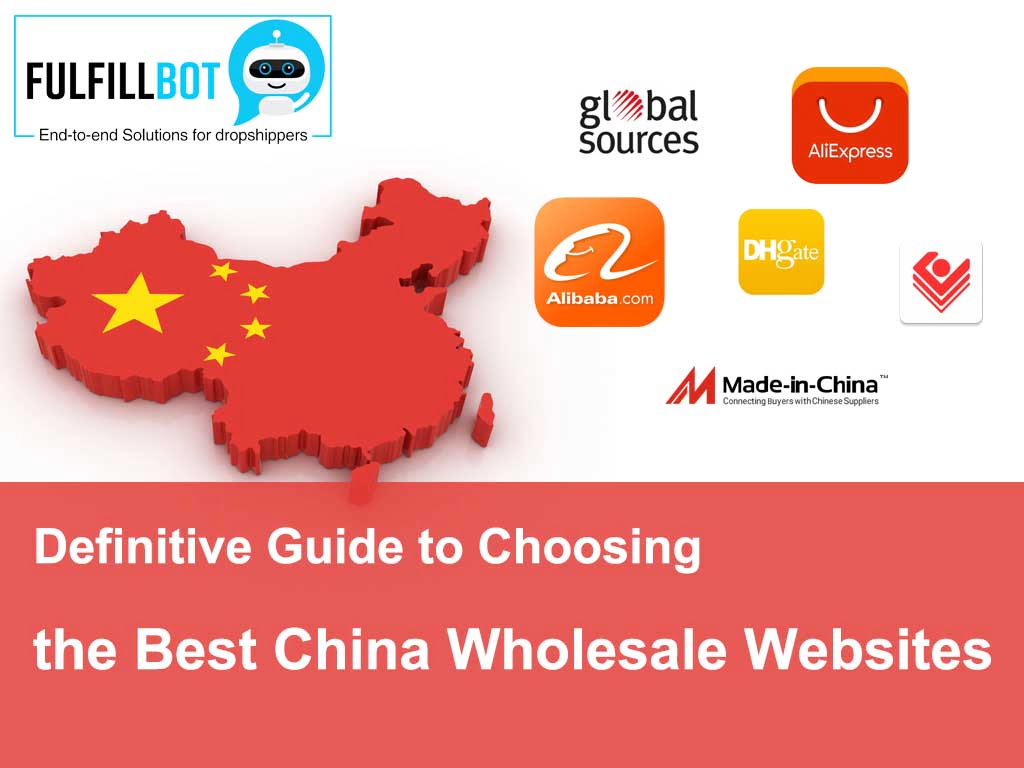 What Are China Wholesale Websites?
Wholesale websites in China are sites with suppliers and vendors selling items wholesale. These are the websites you can use to buy goods in a bulk quantity from China.
These websites allow Chinese manufacturers and suppliers to list their products. Through the website, Chinese suppliers are connected to buyers globally.
There are many wholesale websites in China. But we will focus on the eight best websites.
Top 8 China Wholesale Websites
Chinese wholesale sites have opened China's door to the world. You can now buy from China in bulk from your home. Here are the top 8 wholesale websites to find suppliers.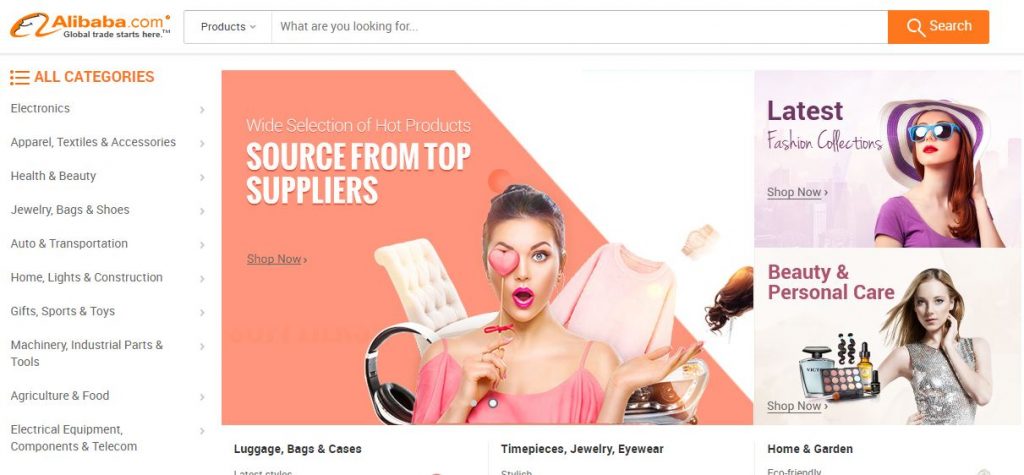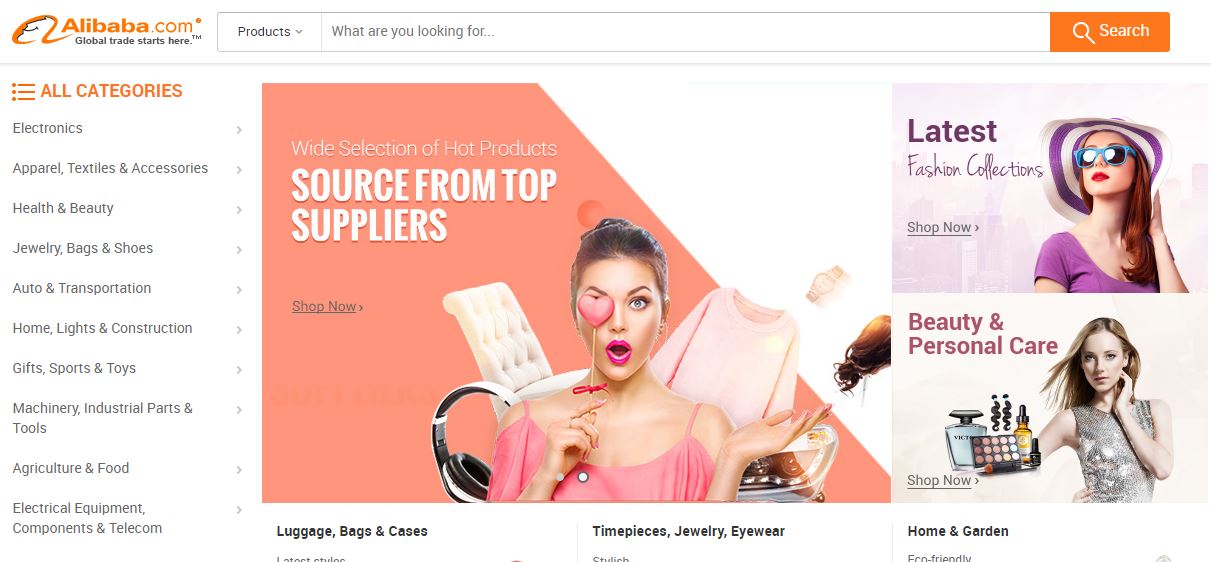 Alibaba is a Chinese wholesale website founded by Jack Ma. It is located in China and has been around for 22 years.
Alibaba has a vast pool of manufacturers and suppliers. Thus, you can find various categories, such as clothing, machinery, and beauty products.
Now, we will review this platform from various angles, including reviews, MOQ, shipping methods, etc.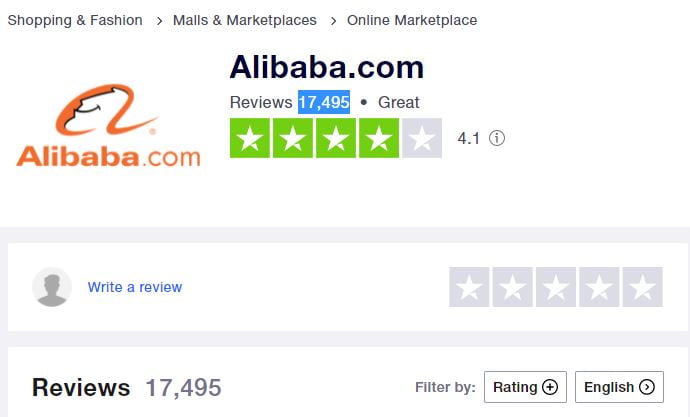 Total Reviews: 17,495
Ordering is easy: The site is easy to browse. Thus, buyers can place their orders quickly.
It has trade assurance: Damaged packages and late shipments are taken care of throughout the process. Alibaba's trade assurance service protects buyers.
Good customer support: The customer is pleased with the customer service provided.
Good product quality: Buyers feel satisfied with products quality and cost.
Beware of scammers: Some buyers came across various unverified suppliers. They tried to steal money from them.


Total Reviews: 12,747
No quality assurance:  Some buyers weren't happy with the quality of the product.
Provide warranties: Warranties on various products are provided. Moreover, buyers can also get replacements.
Sells counterfeit products: The reports of receiving fake products are high.
Untrustworthy suppliers: Some suppliers are not trustworthy, especially unverified ones. They have little information about their business on their Alibaba page.
Miscommunication: Some buyers claim that they could not communicate clearly with the supplier. Thus, it led to disagreements on shipping and product packaging.
Alibaba has a large pool of suppliers to choose from various product categories. There are two main types of suppliers on Alibaba.
The trade company and manufacturer. You can choose who to work with to source your goods.
But, beginners should focus more on the product quality than the supplier type.
MOQ varies from one supplier/manufacturer to another. Moreover, it also depends on the product type. The minimum order can be from 1 to 500 pieces.
Some suppliers take small quantity orders than their stated amount. While looking at the MOQ, check if the quality is worth the price.
On the Alibaba website, there are many options to contact the suppliers. It includes the phone number, e-mail address, and Wechat option.
You can also use a direct chat option (TradeManager) that lets you message the supplier at any time.
But, we recommend sending an e-mail for effective communication. It is fast and reliable.
Alibaba has a service called Trade Assurance. It is an escrow service that protects your order.
They also accept payment through many different options, including PayPal, Western Union, Credit Card, etc.
You can see what payment method to use on the supplier's page.
Alibaba offers ocean shipping and air shipping. You can inquire which methods your supplier provides.
You can also opt for private shipping through DHL, FedEx, etc. They are safe and faster.
Through trade assurance, you are guaranteed the safety of your order. You can claim a refund if your package arrives damaged or doesn't arrive.
Trade assurance helps create trust between buyers and suppliers.
| Alibaba | |
| --- | --- |
| | Manufacturers, factories, and trading companies |
| | Varies (Mostly between 1 to 500 pieces) |
| | Email and Online messaging. Buyers can request additional communication means, like Skype or WeChat. |
| | It includes PayPal (main option), Western Union, Credit Card, etc. |
| | Suppliers can arrange sea, air, and express shipping. Buyers can request a private courier service for small quantities. |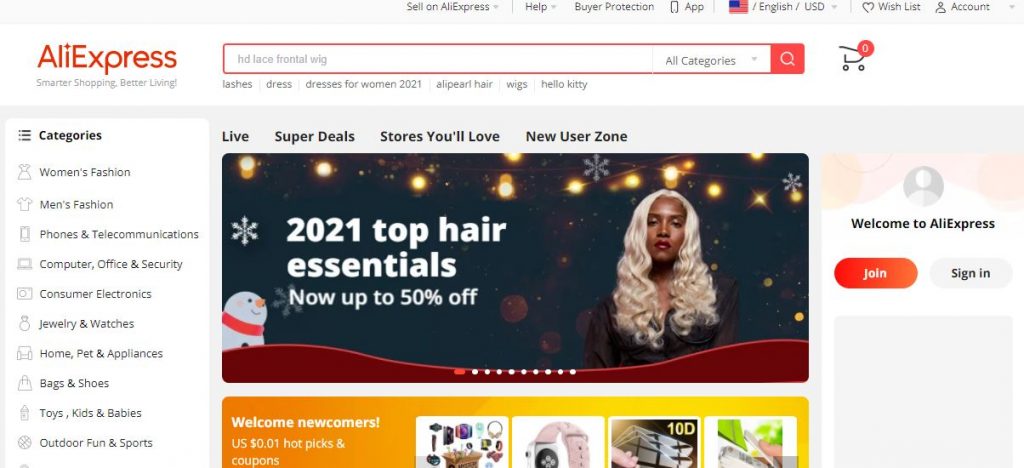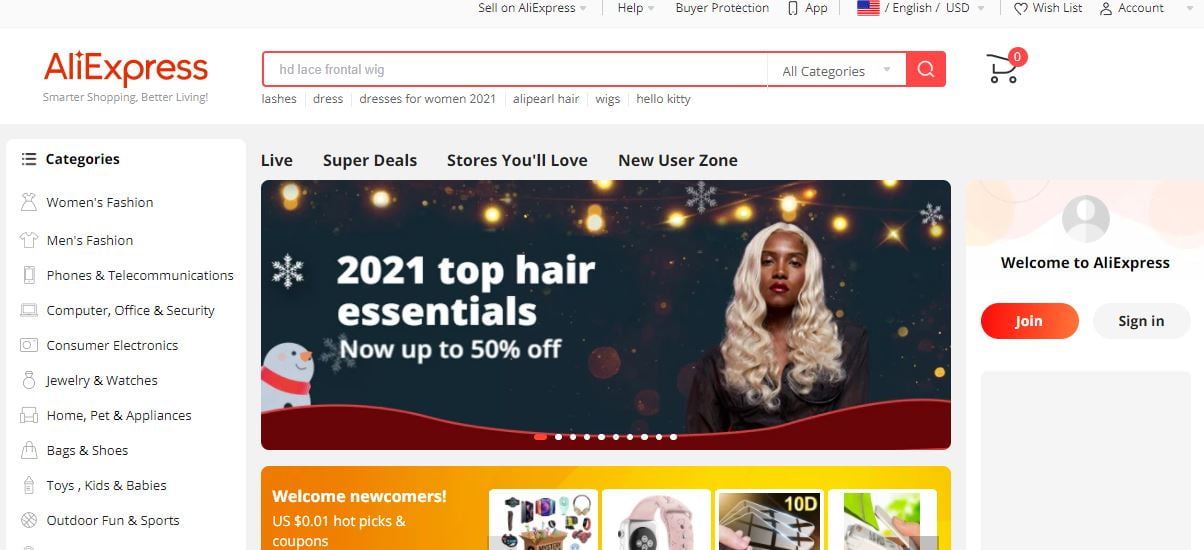 Aliexpress is an eCommerce website belonging to the Alibaba Group.
Aliexpress has the reputation of having a low MOQ. But it mostly has pre-made products, meaning buyers cannot customize them.
The reason is simple. Most suppliers on this platform are the middlemen. Thus, they prefer to sell only pre-made products.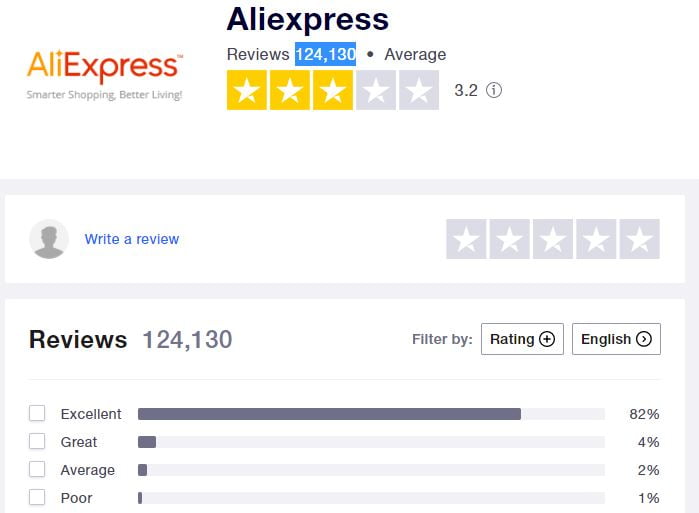 Total Reviews: 124,130
Fast delivery: Some buyers say that items shipped via air arrived at their locations faster.
Excellent customer service: Some buyers are disappointed with the response time and service provided.
Offers a variety of products: Buyers like the wide selection of products to choose from different categories.
Affordable: Products are affordable. Some buyers say that they are happy with the overall pricing.
Fraudulent sellers: Items on display may not be the ones you receive. Quality differs a lot.


Total Reviews: 6,892
Wrong tracking information: Some buyers received poor tracking service. It might be due to incorrect tracking details given. Besides, some buyers didn't receive a link to track their orders.
Low-quality products: Some buyers were not happy with the quality of the product.
Slow process: The overall process takes a long time to complete. Some buyers reported a sluggish shipping issue.
Offers value for money: Buyers get what they pay for during purchase. Of course, the lower the price, the lower the quality.
Buyer protection: Some suppliers don't refund money even after failing to complete orders.
Aliexpress has main 2 types of suppliers. It includes individuals and trade companies.
But this platform doesn't have many large-scale manufacturers. That's because of the low MOQ facility offered on Aliexpress.
Individual sellers buy from large-scale manufacturers. They then sell at a higher price.
There is no MOQ on Aliexpress. Thus, you can buy as low as one item on the site.
There are different contact options on this platform. You can message the supplier via online chatting.
You can also find their Wechat details or e-mail address. Nevertheless, you can have efficient communication on this platform.
You can pay through different options like bank transfer, PayPal, western union, etc. Also, this platform supports cards like Master Card and Visa.
Aliexpress has various shipping methods. Since most sellers are individuals, they select the shipping method that best suits them. Thus, sellers on AliExporess have different shipping options.
When you choose what country you're in, a list of different shipping methods will be unveiled to you. What's more, it will also include the shipping cost, tracking, and delivery time.
The buyer protection service covers all transactions on Aliexpress. Should you receive a counterfeit item, you'll get a refund if you claim. It usually takes 15 days to receive your refund.
| Aliexpress | |
| --- | --- |
| | Trading companies, and individual suppliers |
| | |
| | Online messaging. Buyers can request additional communication means, like Skype or WeChat. |
| | PayPal, Visa, Master Card, Western Union, Credit Card, etc. |
| | Suppliers can arrange suitable shipping method for example yanwen,epacket and so on. Buyers can request FedEX, UPS, DHL, etc. |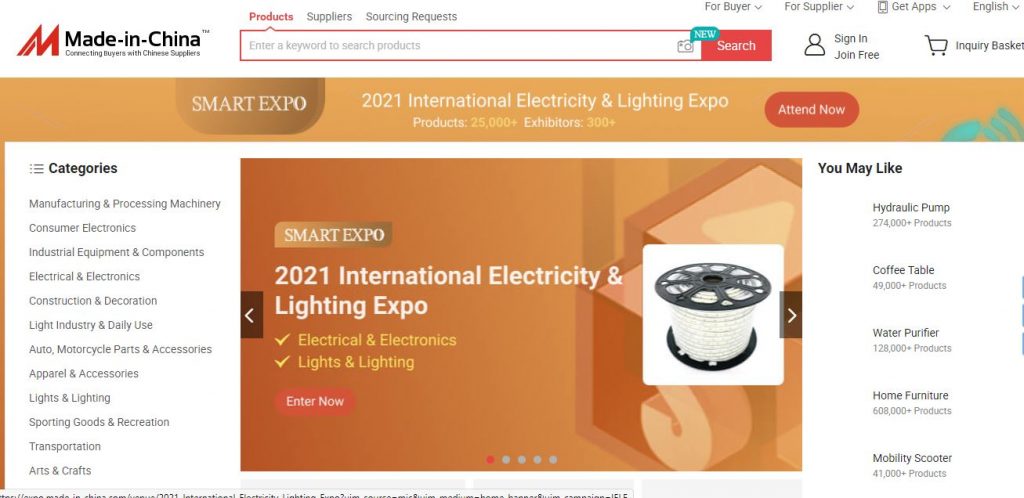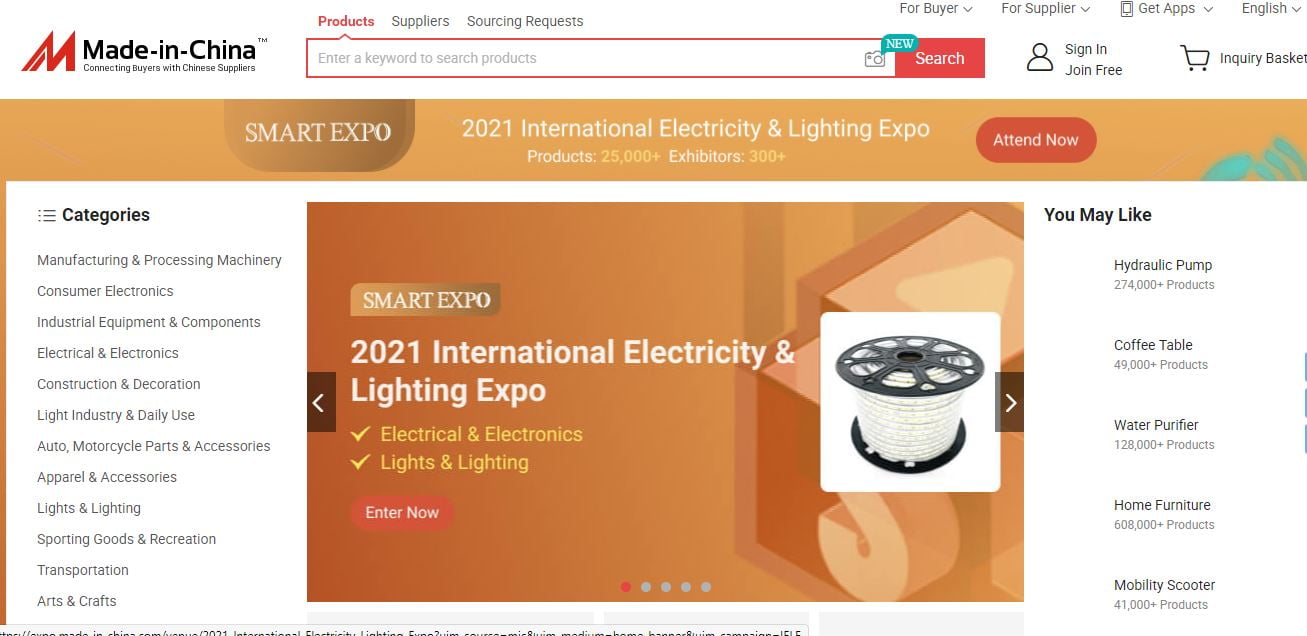 Made in China is a site connecting Chinese suppliers to buyers globally. It deals with wholesale and B2B services.
Their products focus more on industrial and construction products. The range of products on Made in China is like Alibaba's. Although, Made in China provides detailed descriptions of the listed products.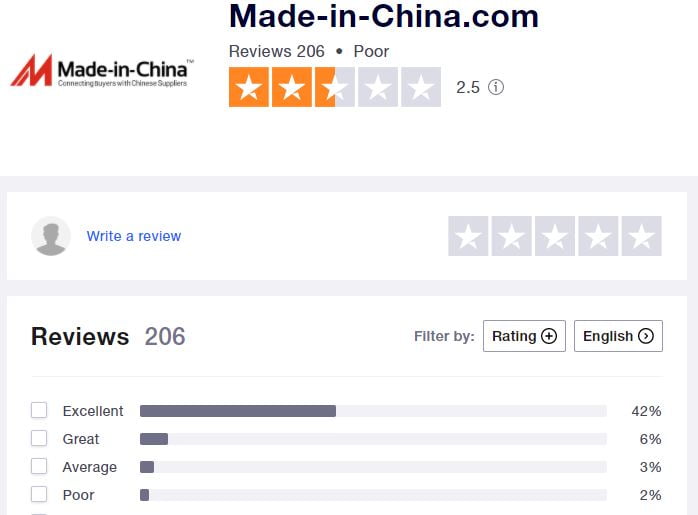 Total Reviews: 206
Have counterfeit products: Some buyers received counterfeit goods. Thus, they were unhappy with this platform.
Scam suppliers: The site may have many fraudulent suppliers.
Slow response: Suppliers take a long time to respond to inquiries. Moreover, customer representatives of this platform never reply promptly.
Has many suppliers: It can be a good site for connecting with Chinese manufacturers.
Website is user-friendly: Made in China's website is straightforward. Its user interface is excellent and convenient.


Total Reviews: 28
Good site for drop shippers: Buyers involved in dropshipping feel happy with the service suppliers offer.
Low-quality products: Some buyers reported the item did not please their clients. It is in regards to quality.
Misrepresentation: Products shown on the display page may not be what the buyer receives.
Poor customer service: Customer support is unresponsive or takes time to answer back.
Take long to give refunds: Suppliers may drag when it comes to refunding money.
Suppliers on Made in China are factories and large trade companies. You purchase directly from manufacturers.
The order quantity is high. It can be 100 to 500 pieces.
You can chat with suppliers online. Alternatively, you can send them inquiries online. This platform has a Trade Messenger for both suppliers and buyers.
Made in China suppliers accept different payment options. They also take payments through PayPal and Western Union. They also support Visa cards and Master cards, among others.
This platform also offers L/C, T/T, and D/P payment options for large orders.
They ship through the ocean, air, and express. You can choose the shipping mode depending on the size of the package, location, and budget.
Secured Trading Services (STS) is a service on Made In China. It protects buyers and sellers to promote secure transactions.
The payment is held by Made in China and disbursed when agreements are met.
| Made-in-China | |
| --- | --- |
| | Trading companies and factories |
| | High MOQ (100 to 500 pieces) |
| | Trade Messenger. Buyers can send an online enquiry. |
| | PayPal, Western Union, L/C, T/T, etc. |
| | |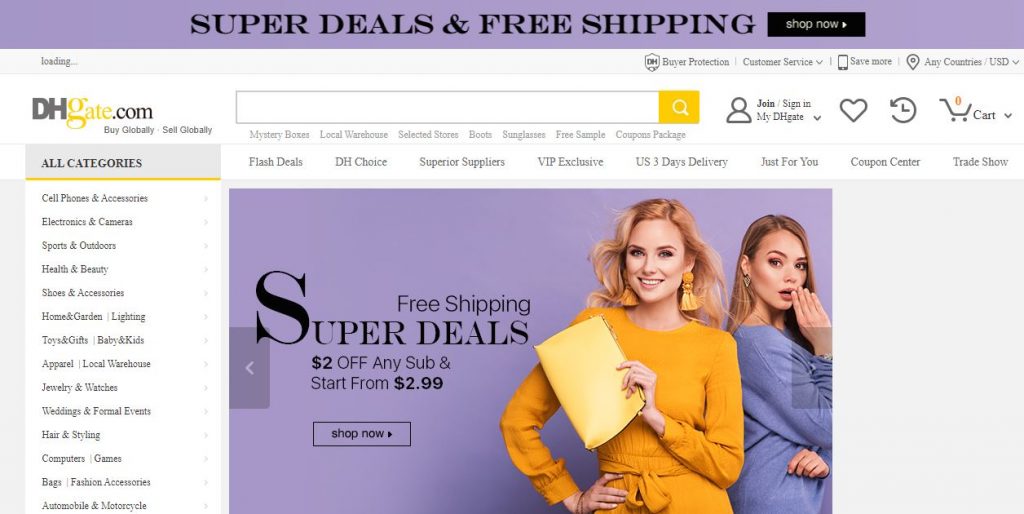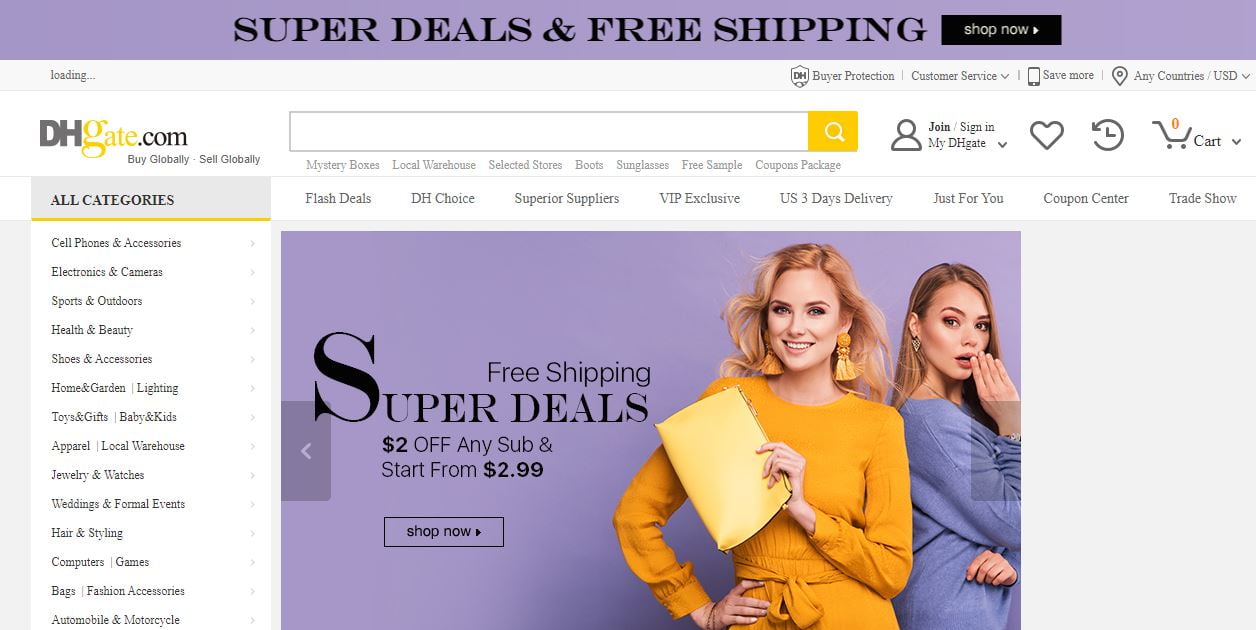 DHgate is a leading online store in China. It was founded in 2004 by Diane Wang. The site offers B2B and B2C services.
What's more, this platform has a variety of products to choose from categories. Here you can find great deals on electronics, gadgets, and clothing.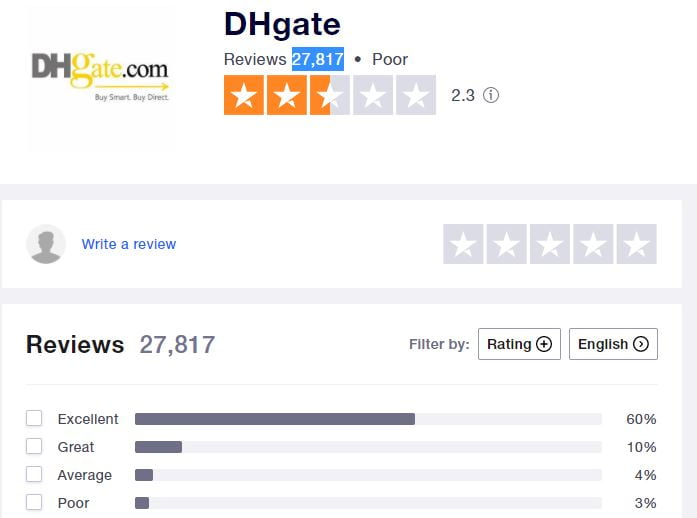 Total Reviews: 27,817
Good response: Response from DHgate representatives is reliable and fast.
Delay in shipping: Some buyers are not pleased with the shipping time. Shipping is slow, mostly on cross-border orders.
Has fraudulent suppliers: The site may have many fraudulent suppliers who scam customers.
Take long to assist: Some buyers were not satisfied with the slow process of solving problems.


Total Reviews: 6,667
Fast shipping: Products arrive within the agreed time.
Affordable: Items are affordably priced. Some are cheaper than on other stores.
Suitable products: The site has some good quality products. Most have passed the quality assurance test.
Great platform for wholesale buying: Some buyers liked their experience buying wholesale products.
DHgate suppliers are factories and trading companies.
DHgate has no MOQ. It is focused on small wholesale items. Moreover, goods are priced according to quality. Thus, the more goods you buy, the lower the price.
You can contact suppliers through messaging or online chat. Online chat is effective as the suppliers reply faster.
On the other hand, sending a message might slow down the process. That's because some suppliers take time to respond to the direct messages.
You can pay using different options, like Visa, Master Card, American Express, and other methods.
Your package can be shipped via air, sea freight express, and China post mail. You can choose Epacket, DHL, UPS, EMS, TNT, or FedEx.
DHgate has buyer protection to handle return and refund issues. Moreover, you can also get customer support from DHgate representatives. It helps sort out disputes between buyer and seller on payment.
| DHgate | |
| --- | --- |
| | Trading companies and factories (small and medium) |
| | |
| | Live chat. Buyers can send an online enquiry. |
| | Visa, Master Card, American Express, etc. |
| | Sea, air, and express. Buyers can also choose Epacket, DHL, UPS, EMS, TNT, or FedEx, etc. |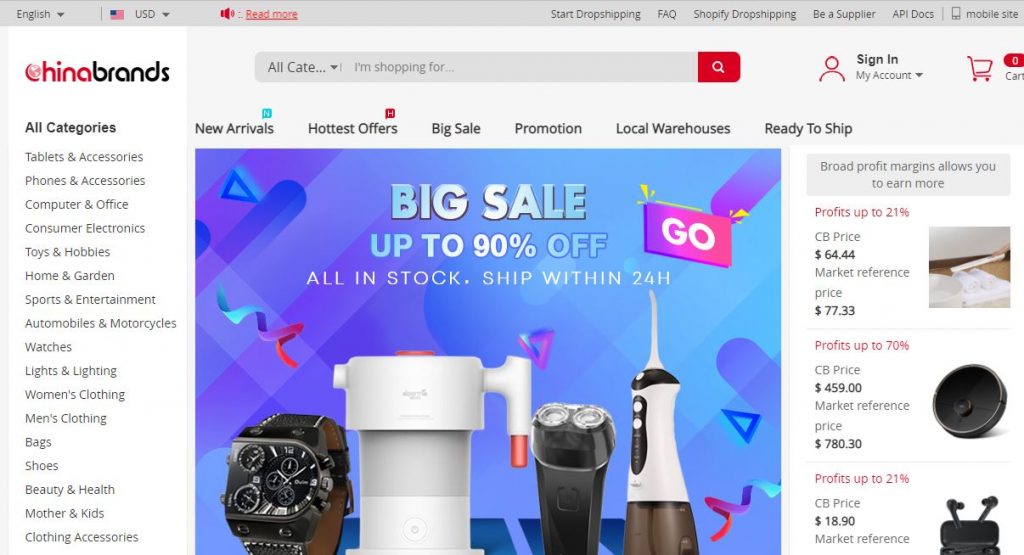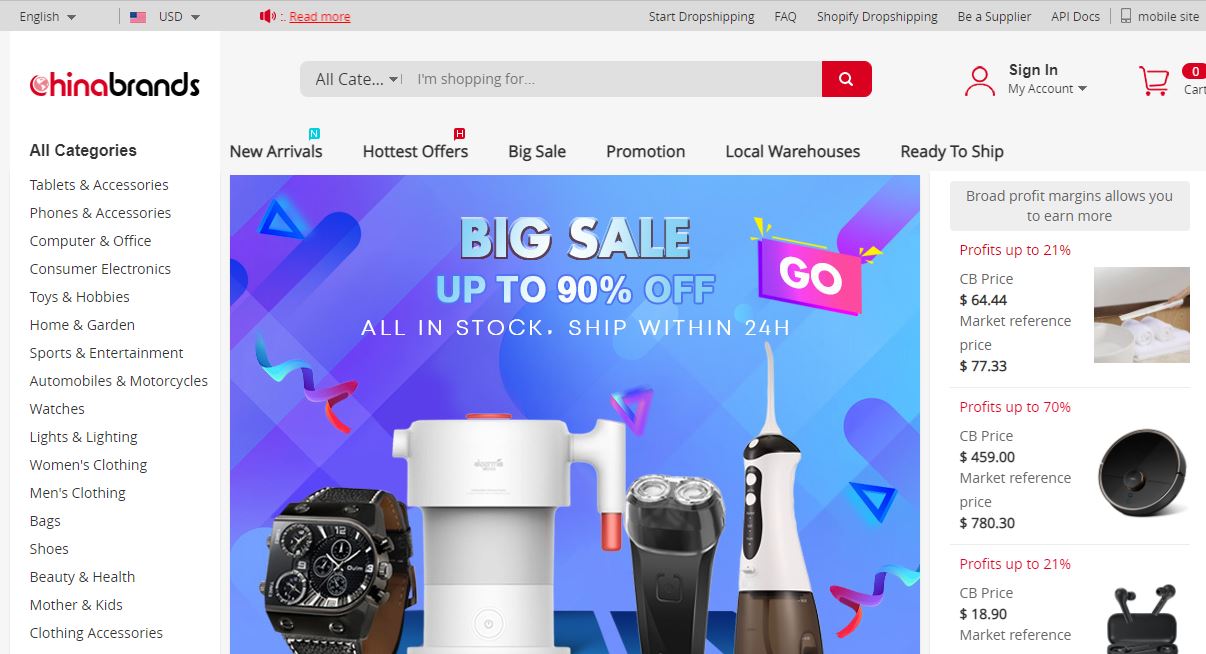 Chinabrands focuses more on dropshipping clients. Thus, that makes it the biggest dropshipping site in China. What's more, this platform is diverse.
They have many language options to reduce the language barrier. As a result, it helps you read and understand the product description better.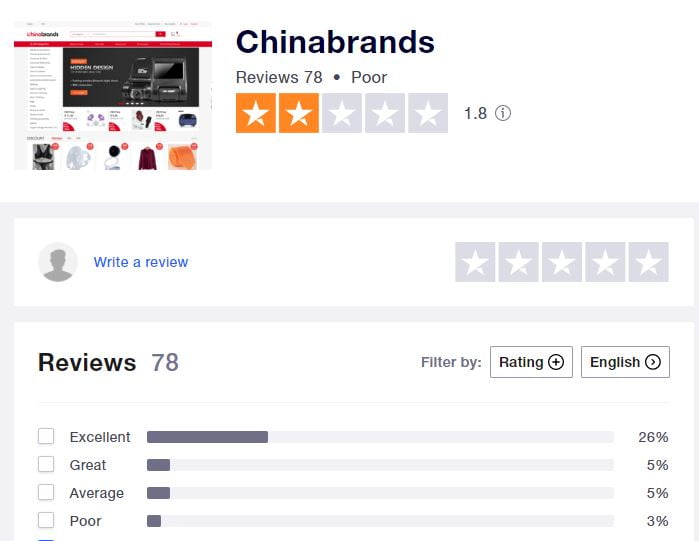 Total Reviews: 78
High shipping cost: Some buyers are not happy with the high shipping cost.
Slow customer service: Customer support is slow to respond to buyers.
Low-quality products:  Some products are of shallow quality. Other products are dupes of notable brands.
Affordable pricing: Products are affordably priced.
No trade assurance: Customer is not guaranteed a refund if an order is not what they wanted.


Total Reviews: 12
Delay in shipping: Goods get delayed, and some do not arrive.
Take long to restock: Products go out of stock quite often. Besides, they are not refilled or take long to reload.
Poor packaging: Some products arrive with missing different pieces. Others arrive damaged.
No refunds: Some suppliers take a long time to refund. Also, some suppliers don't refund at all.
Items are low quality: Many goods are of low quality. Dropshippers may need to face a return of products due to this.
Chinabrands suppliers are factories and large trading companies. It may also include individual suppliers.
There is no MOQ on this platform. That's because this site mainly serves drop shippers. But you may see different minimum orders on various product categories. It depends on the supplier.
You can contact suppliers through chatting online or sending inquires on the site. You can also contact the supplier by filling out a Bulk Price Consultation form.
ChinaBrands supports four major payment options: PayPal, CB wallet, wire transfer, and Payoneer. These options are suitable for small orders.
China brand has three shipping methods.
Expedite shipping: It is shipped by private couriers like DHL and FedEx.
Standard rate shipping: It is sent by express mail service.
Flat rate shipping: It is dispatched by the post office.
Chinabrands does not have buyer protection. But it has active customer support to assist in buyer and seller disputes.
| Chinabrands | |
| --- | --- |
| | Large trading companies and factories |
| | |
| | Live chat. Buyers can also fill out a Bulk Price Consultation form. |
| | It supports PayPal, CB wallet, wire transfer, and Payoneer. |
| | Expedite shipping, Standard rate shipping, and Flat rate shipping |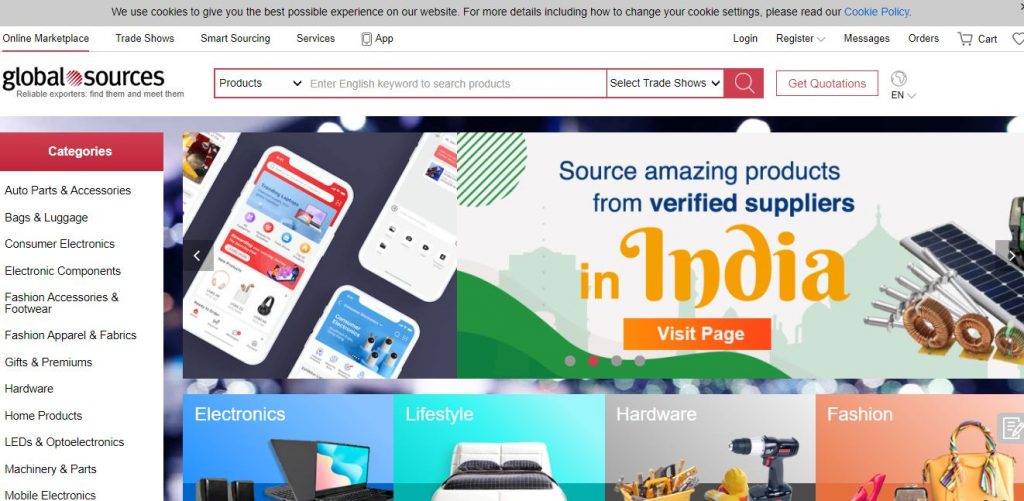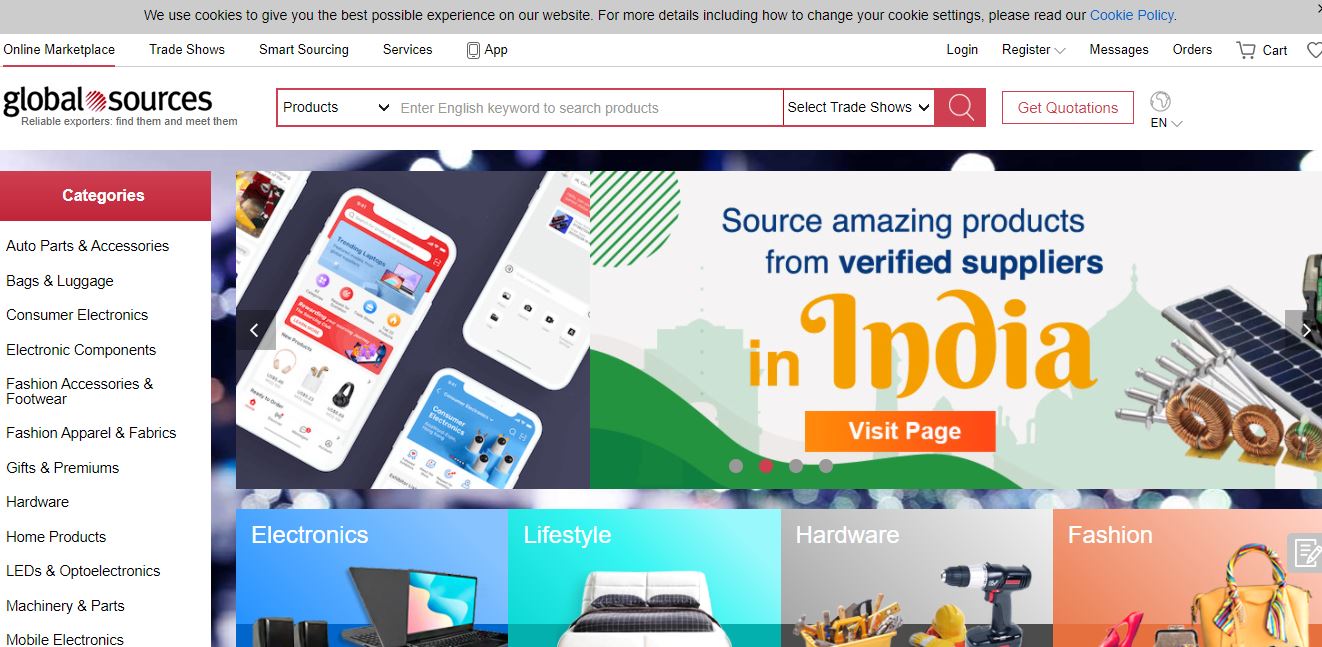 Global Sources is an online shopping site mainly focusing on electronics, mobiles, and home gifts. Moreover, they organize trade shows that are export-oriented. The best thing about this wholesale platform is that most suppliers are verified.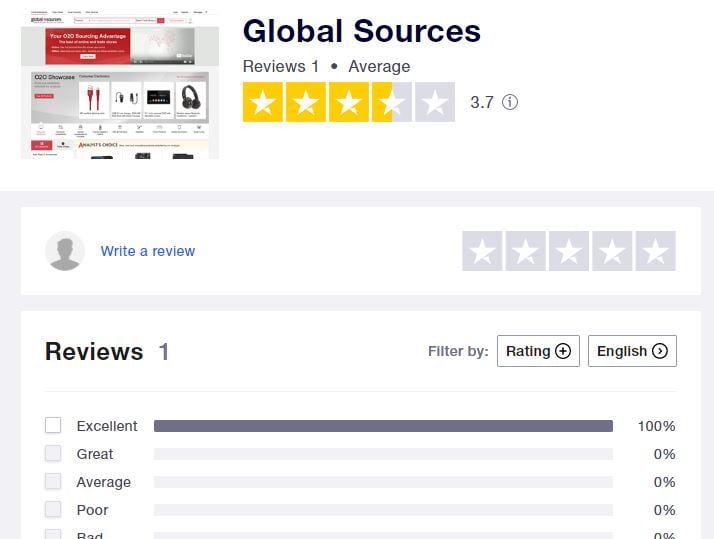 Total Reviews: 1
Ordering samples is easy: Getting sample products on Global Sources is easy. Suppliers understand it is essential to show sample models to buyers.
Poor customer support: The customer service from customer representatives of this platform is not good enough.
Provide warranties: Suppliers provide warranties on their products.
Give false tracking link: Some buyers received incorrect tracking details.
Vanishing suppliers: Some suppliers cut off communication and close the account after receiving payment.


Total Reviews: 22
Some suppliers are fraudulent: Some suppliers accept payment but don't deliver products.
List nonexistent products: Some suppliers list out-of-stock products. As a result, it misleads customers.
Inadequate order fulfillment: Products were not provided to some buyers, while some arrived damaged.
Refund: The platform offers a refund on products. It is done within 28 days after receiving your order.
Trading companies and factories
The minimum order varies a lot. It can be a few dozen to several hundred pieces of a product. Most suppliers have high MOQs since they deal with large companies.
You can contact suppliers through Online Chat. Moreover, there is also an additional way to send a message to the supplier.
Suppliers on global sources mainly accept methods like Master Card or Visa. Besides, you can also use online bank transfers or American express.
You can communicate with the supplier and decide the payment method.
The shipping method includes air and ocean. Your budget will state what way to choose. So, you have options like China Post, Epacket, DHL, UPS, EMS, FedEx, etc.
If the product value is not high and you don't have a strict timeline, go for Epacket.
If you make the payment on Global Sources, you can request a payment refund. This platform also has a unique Buyer Protection policy.
| Global Sources | |
| --- | --- |
| | Trading companies and factories |
| | Low MOQ. Buyers can also purchase a single quantity. |
| | Live chat. Buyers can also choose 'Inquiry Now' option. |
| | Buyers can choose PayPal. L/C and T/T options are available. |
| | |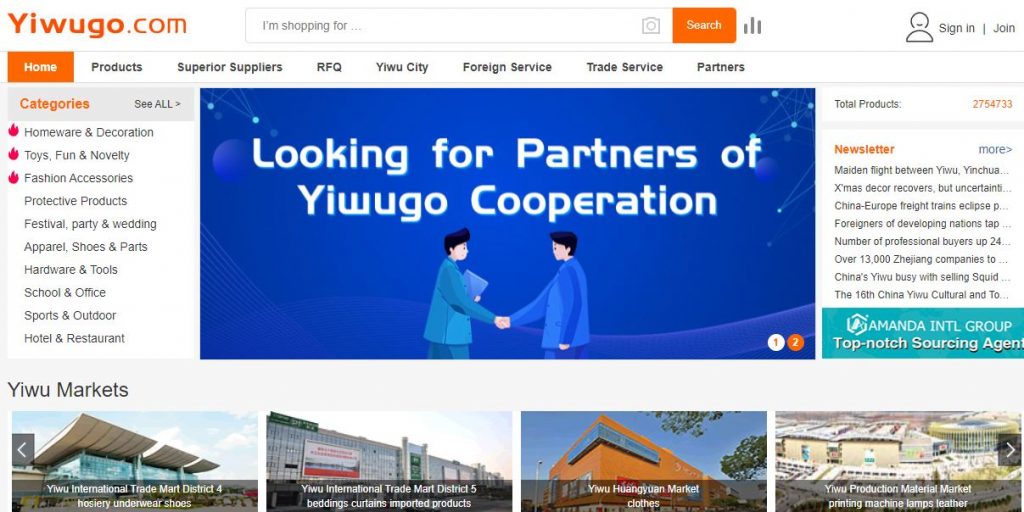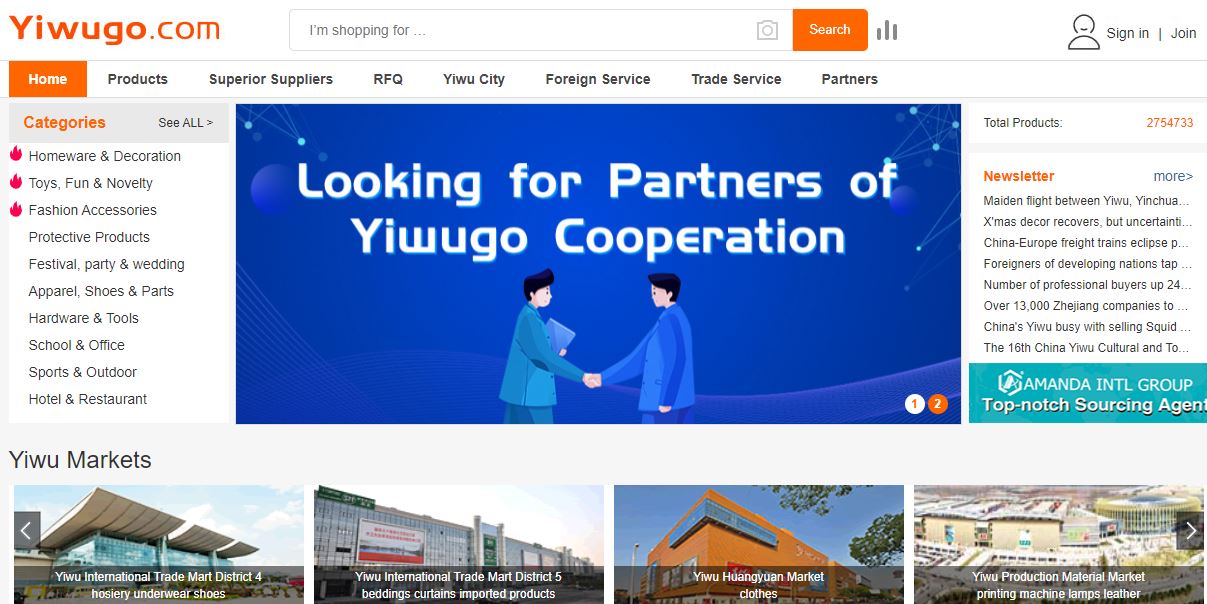 Yiwugo has almost every product you can think of at the moment. In short, this platform gives you online access to the Yiwu International Trade Market and other major Chinese cities.
Also, there are some unique products from the Yiwu market, which you cannot get on other platforms. In most cases, buyers go through agents to source products from Yiwugo
Reviews of Yiwugo on Trustpilot and Sitejabber
It seems like the site has not been reviewed on both Trustpilot and Sitejabber. But considering the overall response of buyers, you can try shopping at the YiwuGo website.
This is the official website of Yiwu Market
Suppliers are from Yiwu Market . You can browse each store in the panoramic view above. there are factory, some Trading company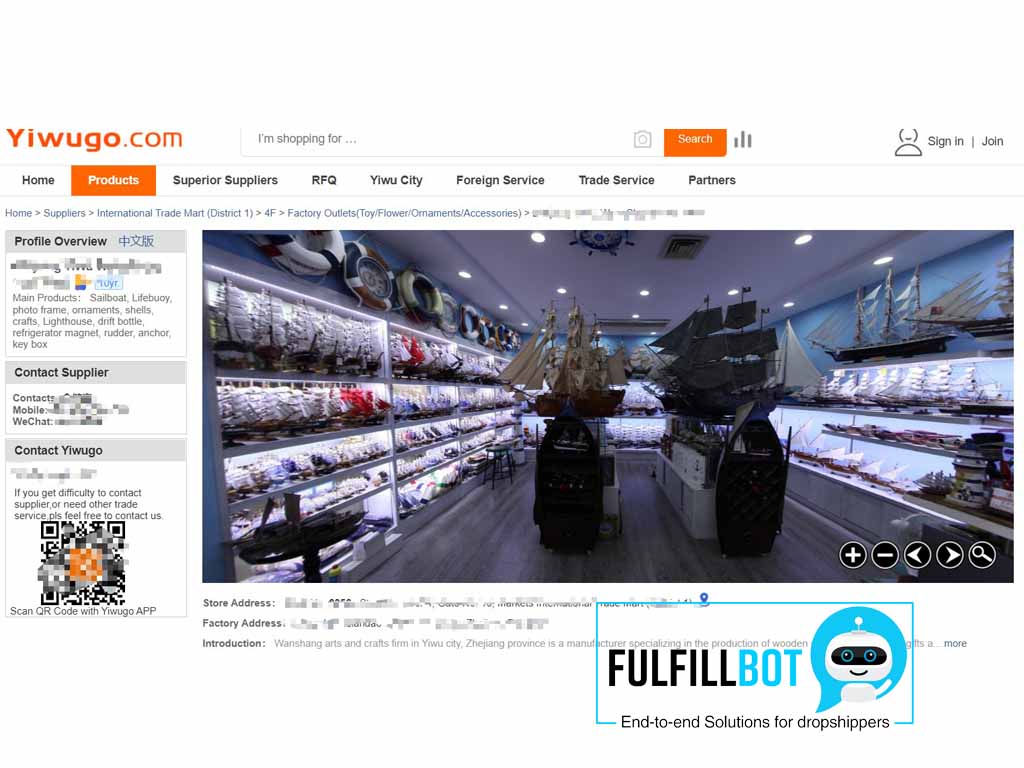 Some minimum orders have been shown on the supplier's page. For other products, you have to contact suppliers for details. But, the MOQ is mostly ten pieces for most products.
There are many options on the site to contact the supplier. It also includes Send Inquiry option.
Besides, suppliers' phone numbers and factory addresses are also available in the Contact menu.
You will have to settle on a suitable payment method with the supplier. Also, the platform only accepts payment in RMB. You can go for PayPal for small orders. But L/C or T/T is ideal for bulk orders.
Suppliers of this platform usually don't arrange to ship. You may need a freight forwarder or china sourcing agent to help you to do this task.
Yiwugo trade services protect buyers and sellers concerning payment issues.Yiwu Market Management conducts integrity scoring and supervision on each merchant
| Yiwugo | |
| --- | --- |
| | Yiwu International Trade Market's store |
| | |
| | Buyers can choose 'Send Inquiry' option. Suppliers' contact details are also ,support wechat too. |
| | RMB payment. Buyers can use PayPal. L/C and T/T options. |
| | Suppliers usually don't arrange shipping. You may need a freight forwarder or china sourcing. |
Need Sourcing Agent & Dropshipping Agent?
How to Identify the Suppliers on These Websites?
You can follow the below methods to identify suitable suppliers on the above wholesale websites.
Check the rating of the supplier. How is their rating? Is it good or bad? Ratings will go a long way to show how previous buyers view the supplier.
You can also find out how many transactions the supplier has completed. Or how many orders they have fulfilled.
You can also check how long they have been operating. The longer the business has stayed on the market, the better.
Check out the suppliers' response rate. That's because it lets you know about their customer service support.
Sites like Alibaba provide accurate information about the supplier's response rate. But, you may not find it on many wholesale websites.
5. Communicate with the supplier
Contact them and inquire about their products, quality, pricing, etc.
FAQs About China Wholesale Websites
Below are some of the frequently asked questions on China Wholesale websites.
1. How to Start Buying From a China Wholesale Website?
You can follow the below steps to start buying from wholesale websites.
A) Create Your Account on Website
The first step is to create an account on the website. It can be any website of your choice. Nevertheless, creating a buyer's account is easy and fast.
You'll be required to fill in your name, e-mail address, location, and mobile phone. Besides, some websites allow you to sign up using your social media accounts.
B) Search for the Suppliers
Once you have an account, you can browse and search for suppliers.
You can search for suppliers on different websites. That's because it will help you compare them. Moreover, searching for a supplier on one site can limit your choices.
C) Choose the Right Supplier
Check for a supplier who can provide products that suit your business.
Suitable suppliers can be identified based on their reviews and ratings. Also, look for suppliers who are verified. It means their business registration has been confirmed.
D) Ask for Samples
The next step is to ask for samples. These samples will determine whether to work with the supplier or not. Remember, sample models can show the quality of the intended product.
Samples are not free. Yet, they save you time and money when verifying product quality.
E) Negotiate the Price
After seeing the samples, decide on whether to continue or not. If yes, negotiate the price with the supplier.
You can bargain until you get the best price. After that, write a contract stating the agreed terms. Then, you can send it to the manufacturer to go through and sign.
F) Place Your Order
After agreeing on the price with the seller, place your order. When placing your order, you'll choose the shipping method. Also, you may be asked to pay taxes.
2. How to Choose the Best China Wholesale Website to Buy Goods?
Are you worried about choosing the right wholesale website from the above list? Well, you can follow the below steps.
A) Analyze the Website
You can check the availability of products and suppliers on the website. A good website never locks products in stock.
Moreover, the suppliers should also be many and available to assist customers. A website with no products and suppliers is a no-go zone.
B) Check the Payment Methods
The payment method is a crucial thing to check on. Suppose the website allows escrow payment. That's the best option.
Another good option is PayPal. You can also pay through bank transfer, Western Union, credit and debit cards, among others.
Some payment methods cannot assist when you request for refund. Thus, choose wisely.
C) Check the MOQ
The minimum order will determine if you can work with a site or not. The MOQ should go hand in hand with your intended product amount to buy.
China wholesale suppliers have different MOQs. Thus, buying from China is easy when you know what MOQ you want to buy.
D) Check the Shipping Methods Available
Some Chinese sites offer various shipping methods. But the most common are air and ocean shipping.
Depending on your package, you can choose either. But, expensive packages can be shipped via express if available.
3. What Is the Best Product to Buy Wholesale From China?
China wholesale sites have many products to offer. Buying from China has been made easier by these sites. But which product should you buy?
We will focus on the top three products. These products are profitable and can be bought in bulk and wholesale from China.
A) Wireless Phone Charger
Wireless charging is becoming the new norm. It is a standard feature on smartphones. Thus, it makes the market for wireless charging thrive.
Wireless phone charges come in different wattages. Research shows that this product can give around 82.27% profit margin.
For example, the wholesale price of a wireless phone charger is $248 for 100 pieces. Also, its retail price is around $14 per piece. Thus, a batch of 100 units can make a profit of about $1151.
B) Water Sports Shoes
Water shoes are designed to endure wetness and sustain fitness activities. Users can wear them during swimming, surfing, fishing, carwashing, etc.
Water sports shoes are loved due to their design. It is sleek, durable, and lightweight. You can buy them at wholesale price for 100 units at $290.
You can choose to sell at retail price for $17 per unit. Thus, it gives a profit margin of 82.93%. The potential profit per 100 unit order is $1400.
C) Men's Smart Sports Watch
Men's smart sports watch is in high demand, with most people wanting to track their fitness journey. What's more, most men's smart sports watches are readily available. This product can give a decent profit margin.
4. How to Avoid Scams When Buying From China Wholesale Website?
The below pointers will help you avoid getting scammed on wholesale websites.
A) Watch Out for Warning Signs
There are red flags that indicate scammers, for example, suppliers that mostly get bad reviews and ratings.
Check their reviews. If it is negative, run away. You can also check if their website is incomplete.
You can avoid suppliers who fail to send samples or rush to close deals. A supplier who has not been verified should also be avoided.
B) Draw Up a Foolproof Contract
Draw a contract that covers every bit of information. A foolproof agreement contains the listed details.
It includes the choice of raw materials, product specifications, and quality standards. Moreover, you can also settle on the shipping mode and delivery date.
C) Work With Factories
Deal with manufacturers and factory owners directly. Otherwise, you may lose a lot of money through intermediaries.
With factories, you are given information on the product. Moreover, you'll pay the final amount without including commissions.
Besides, following up with factories is easy. Dealing with intermediaries can be exhausting and may not give results.

D) Hire a Sourcing Agent
Sourcing agents know genuine China Wholesale Websites. They also know the suppliers based in China that are trustworthy.
Using a sourcing agent will reduce your burden of verifying suppliers' details.
5. How to Calculate Customs Duties When Buying From China Wholesale Websites?
The content of your package determines the shipping tax or tax amount.
Moreover, customs duties and value-added taxes (VAT) are calculated as a percentage of the payment of the goods. Also, each country has its tax charges and regulations.
Taxes are added to the final price. Thus, you can check your receipt to see the tax deducted.
Now, you know everything about the best wholesale websites in China. If you follow the steps listed in this article, you are sure to get the best suppliers in the market.
These sites have many suppliers. Thus, you have to search intensely to find a good one.
When you find a supplier that delivers well, don't let them slip. You can ask your supplier for recommendations if you want suppliers for different products.
China Wholesale Websites are here to serve you. Of course, it takes time to get the hang of it. But, things become easy once you know how to work on a specific wholesale website.
Also, be vigilant and know there is a possibility of getting scammed. Make sure you avoid T/T payments. It requires you to make a pre-payment. Moreover, it often results in fraud cases if the supplier is unknown. Thus, it is advisable to use escrow payment services or PayPal.
Instead, you can also consider hiring an agent that offers product sourcing services. Fulfillbot can help you find a suitable supplier on almost any Chinese wholesale website.