What's Alibaba ?
  The Alibaba mentioned here refers to Alibaba.com. not Alibaba group .
  Alibaba is among the world's leading wholesale trade platforms launched in 1999 in China. It is an e-commerce site. Thus, it connects Chinese suppliers and makers with SMEs across the world.
  There are various categories on the platform. As a result, you can find many products. It includes clothing, electronics, beauty products and machinery, among others.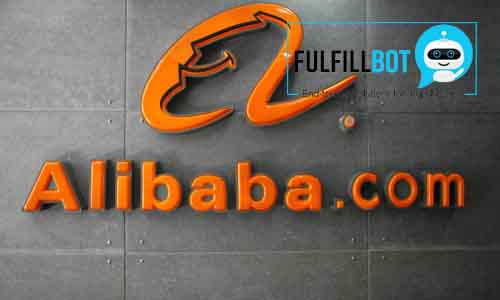 Alibaba helps suppliers reach a wider global audience for their products. Many of them operate in the dropshipping business.
So, is Alibaba legit? How does Alibaba work and help small businesses? Well, we will analyze every aspect here.
  If you plan to use Alibaba to do dropshipping business, this guide is no other than a goldmine for you.
Is Alibaba Legit?
No doubt, Alibaba.com is a legitimate platform.
Alibaba.com is part of the Alibaba Group.Alibaba Group is indeed a Chinese company, Founders: Jack Ma, Eddie Wu, Joseph C. Tsai, Zhang Ying, MORE
Founded: April 4, 1999, Hangzhou, China
and its registered office is in the Cayman Islands. It is a publicly traded company listed on the New York Stock Exchange (NYSE) in the United States.Stock name: BABA
Is Alibaba Safe?
Alibaba offers specific trade assurances and secure payment methods to safeguard your transactions. The platform implements protocols to verify the legal registration of suppliers, and it empowers you to report any suspicious sellers involved in fraudulent activities. These comprehensive tools are designed to enhance your safety and security while conducting transactions on Alibaba.
However, every platform has some sellers who don't follow the rules. When purchasing, you need to be vigilant and discerning to identify them.Especially when sourcing from Alibaba.com, as the amounts involved are significant, the potential losses from being deceived can be substantial.
Alibaba Reviews
Overall, users express satisfaction with their experience on Alibaba.com.
However, there are also isolated complaints from some users, often attributed to issues with specific sellers.
| Review Site | Reviews | Rates |
| --- | --- | --- |
| Trustpilot | 22327 | ⭐⭐⭐⭐⭐ |
| ResellerRatings | 9016 | ⭐⭐⭐⭐⭐ |
| sitejabber | 13716 | ⭐⭐⭐⭐⭐ |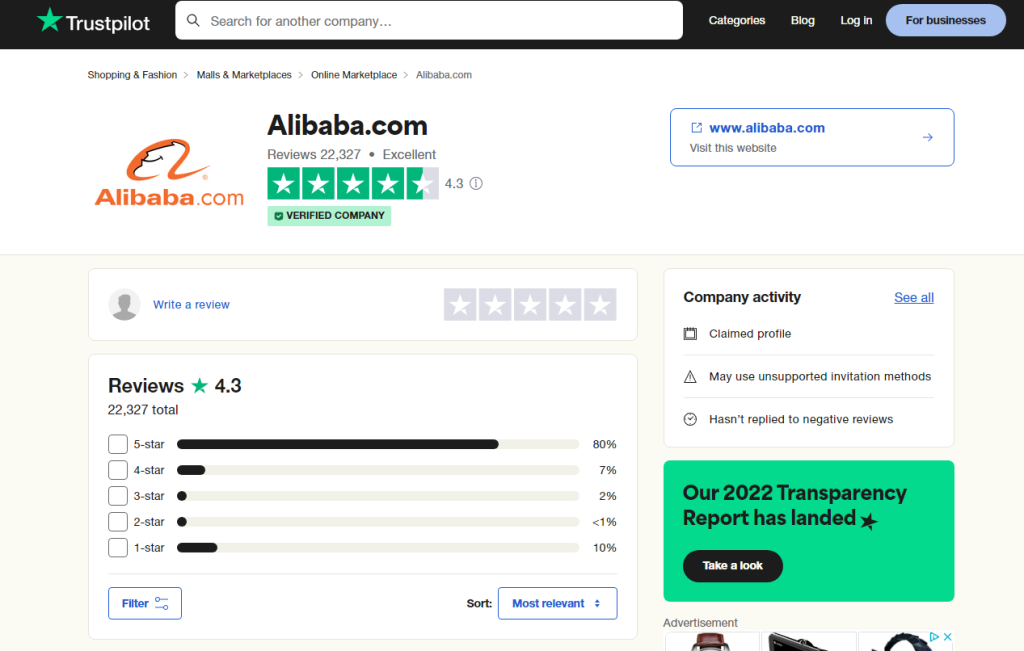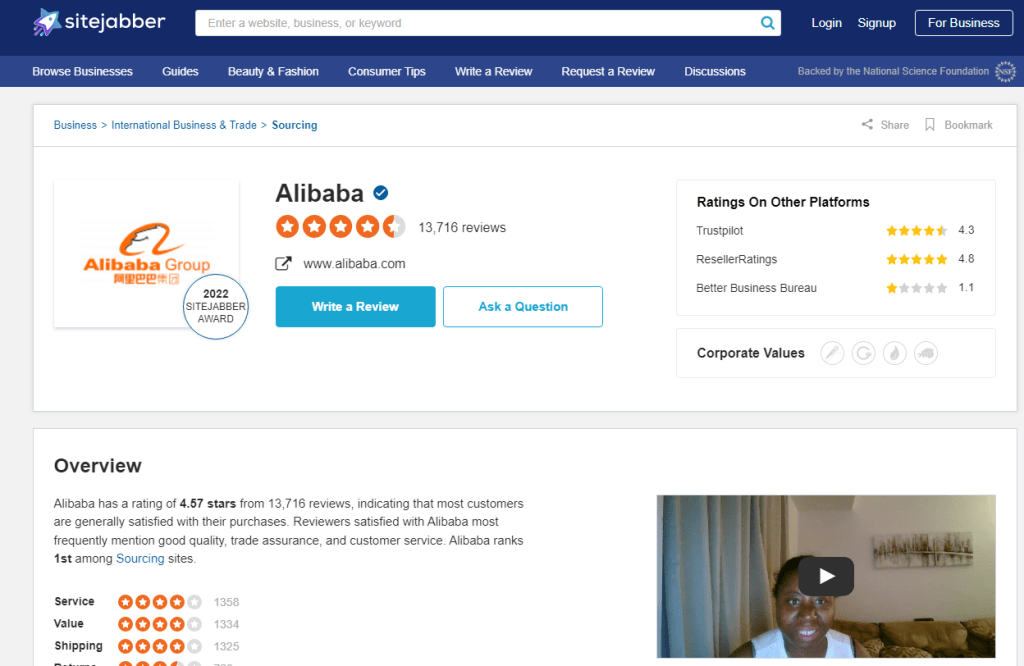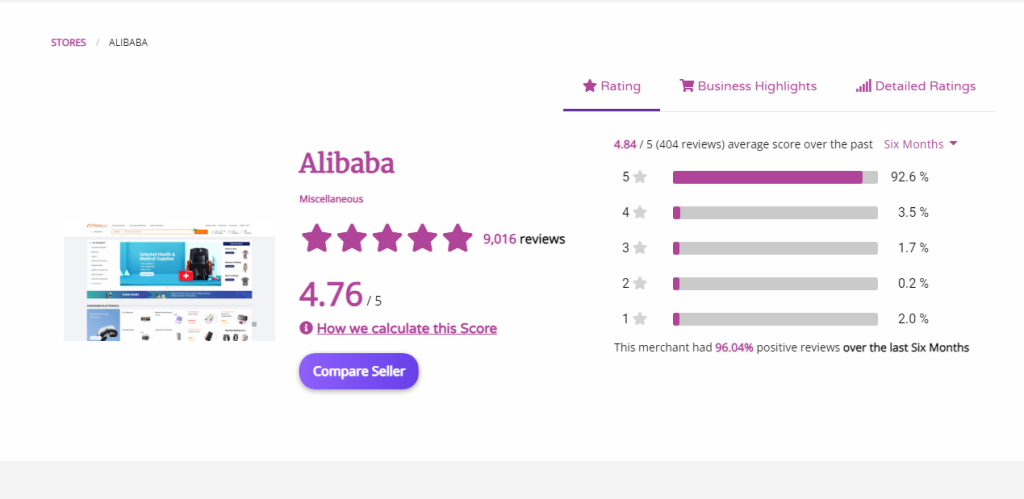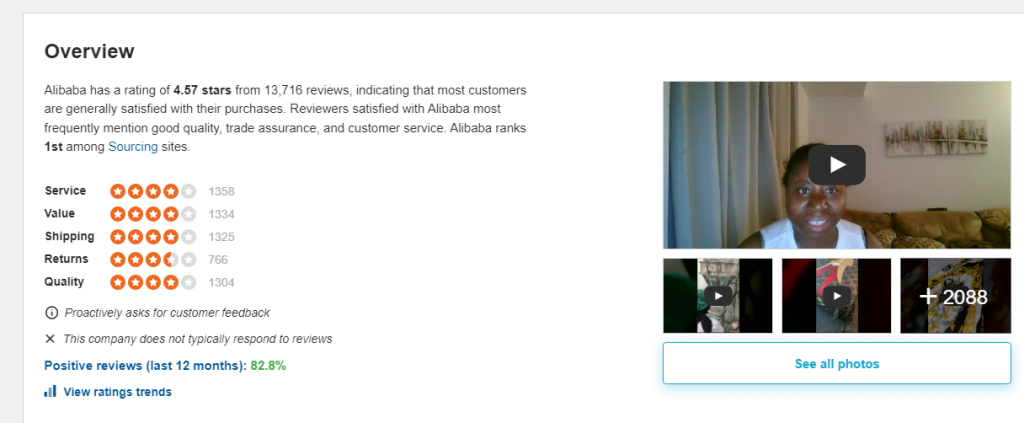 Why Is Alibaba So Cheap?
Yes, the products on Alibaba are often very inexpensive, and this can be attributed to several factors:
Direct from Manufacturers & wholesaler :
Many products on Alibaba come directly from manufacturers, Suppliers cater to wholesale users worldwide rather than retail customers, which leads to lower operating costs compared to retailers.
Bulk Orders:
The pricing model often favors bulk orders. Ordering larger quantities can result in lower per-unit costs.
Variety of Suppliers:
Alibaba hosts a vast number of suppliers, fostering a competitive marketplace that can lead to competitive pricing.
Lower Operating Costs:
Thanks to the low-cost labor and materials in China, this results in very low production costs.
While the prices can be attractive, it's important for buyers to exercise caution, conduct due diligence on suppliers, and be aware of potential quality and reliability issues.
Why Should You Buy from Alibaba?
  As a dropshipper, your main reason for buying from Alibaba is their affordable pricing. Alibaba offers low prices for all products no matter irrespective of its category.
  Besides, Alibaba has uncountable products to choose from a specific category. It ranges from toys, home appliances, electronics, to many more.
  With a variety of products, you also get low prices when buying in bulk. But, you may need to bargain with the vendor to claim discounts. No worries! You will learn these bargaining tricks in one of the sections of this guide.
  What's more, you have a guarantee that the supplier you are buying from is worth it. Alibaba has verified suppliers, and you can also check the ratings of the supplier. With this, you get many credible suppliers to get good quality products.
You can also check the background of the suppliers. That is the type of business, experience, and a total number of employees. It allows you to figure out how reliable the supplier is.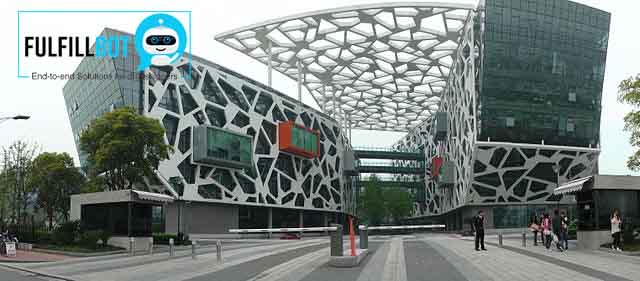 Alibaba allows you to get quotes on shipping from the supplier. You can add it to your customer's final bill of the product you are dropshipping.
To get all the necessary details, you contact the supplier using the "message" section. Then ask for information on the product and the cost of shipping.
Alibaba also has a variety of payment options. They range from PayPal, Western Union, Credit Cards, and Alibaba Trade Assurance (Escrow). So as a dropshipper, making payment on Alibaba won't be a hustle.
Finally, Alibaba allows you to buy from the source. It means from the manufacturer or distributor. That allows you to get their first price. As a result, you can build trade relations with the manufacturers.
Buy from Alibaba Pros & Cons
  Like everything, Alibaba has its advantages and disadvantages. Below are the pros and cons of using Alibaba.
1) Product Varieties
Alibaba has thousands of suppliers and manufacturers. It allows you to compare and choose a suitable supplier.

2) Presence of Quality Suppliers
It is flexible. You can negotiate prices with the suppliers. Alibaba encourages product suppliers to do business with small buyers.

3) Direct Buying
You get to buy from the source. It makes the products cheaper and allows you to build relations with the supplier.

4) Transparent Trade
Alibaba allows supplier rating. It lets you see which supplier is best to work with and gives you a chance to rate the supplier.

5) Product Customization
You can customize your products. You can add your branding or customize it to your liking with no problem. Of course, you may need to discuss these needs with the supplier in advance.
 1) High Shipping Cost
The shipping cost is high since e-packet shipping isn't available on Alibaba. Also, shipping is charged differently from one product to another.

2) Communication Issues
The language barrier is a problem. Most Chinese suppliers may not understand the foreign language. Yet, you'll be in touch with a customer representative of Alibaba. They help translate your messages to the suppliers or factory managers.

3) Shipping Can Take Longer
It might take between 15-45 days to ship products from China to the rest of the world. So, it may be a setback for you to maintain customers.
How to Find a Reliable Supplier on Alibaba?
As a dropshipper, finding a reliable supplier is crucial. Your buyers will rate you based on what you ship to them.
Thus, below are steps to finding a reliable supplier.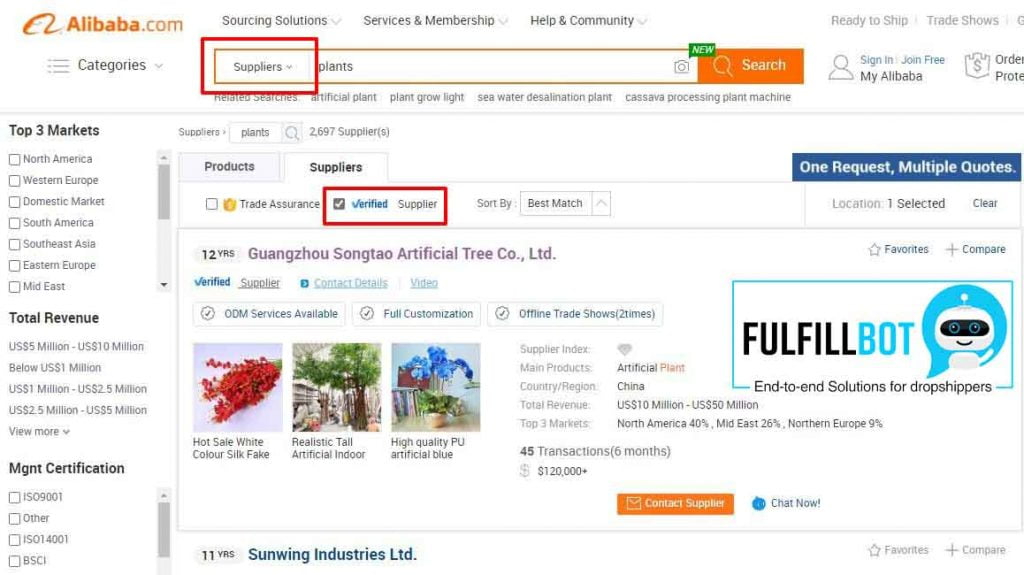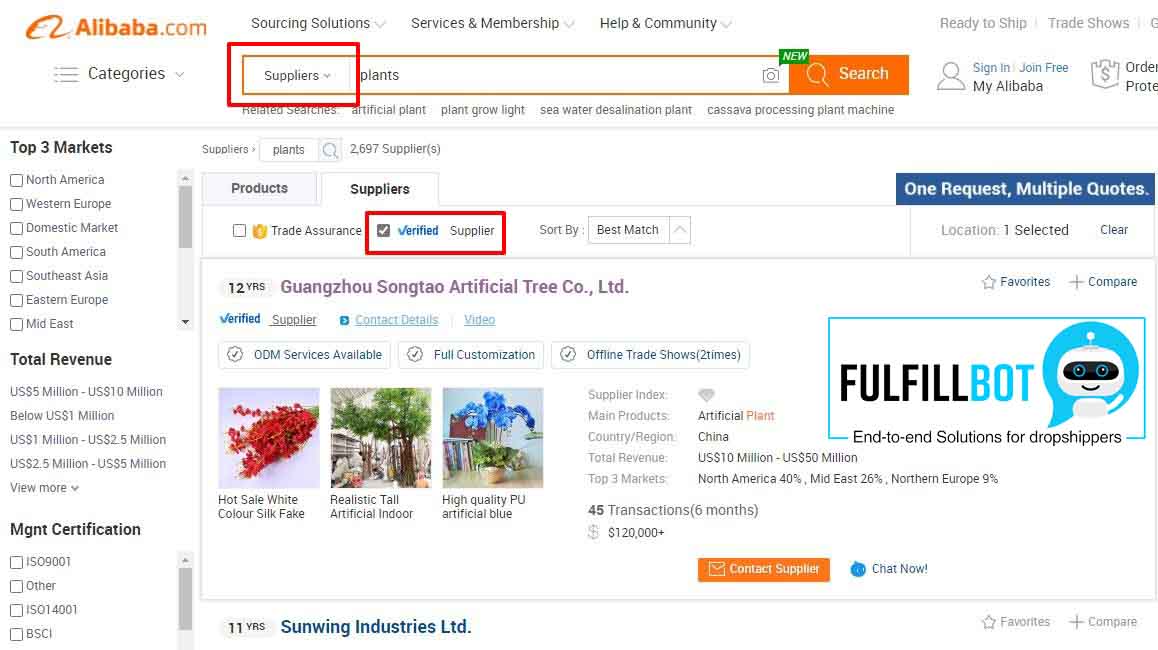 1) Choose 'Gold Supplier.'
  First of all, don't confuse this term with anything else. You don't have to reach suppliers who sell Gold.
  Alibaba verifies its suppliers. It names all verified suppliers as Gold Suppliers. Gold suppliers are suppliers who have verified their business credentials on Alibaba. They are more reliable as compared to non-gold suppliers.
  You have an option to only see products from gold suppliers. Check off the box that says "Gold Suppliers" to do so.
  The supplier response rate is necessary to note. It must be above 70%. Response rate refers to how fast a seller replies to buyers. A higher response rate means the supplier is reliable.
  Suppose you search for items on Alibaba on the list view. Each list item has a card on the right side. It displays information like "response rate" and "trade assurance."
  Trade Assurance covers you in case of shipping-related events. For example, if your product fails to reach on time. So, always watch out for these tiny details.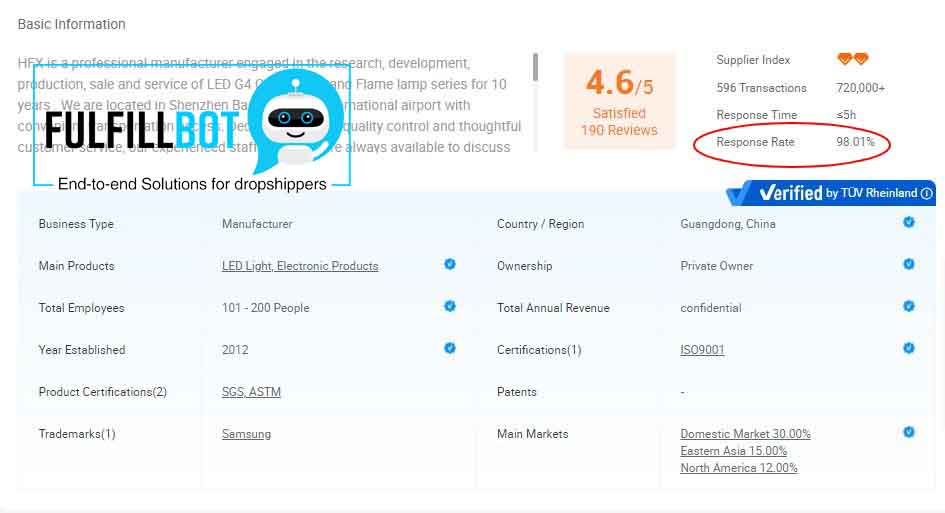 3) Check if the Supplier Is Also a Manufacturer
  While finding an item on the search listing, visit the suppliers' home page. The first thing to check is if the supplier is a manufacturer or a trader.
  Sourcing items from the manufacturer is preferable. That's because it saves from paying commission to the trader company. Thus, it provides better pricing.
  If they are not manufacturers, don't worry. You can negotiate with them and get reasonable prices.

4) Check if Supplier Is Verified
Like said above, you can get valuable insights from the supplier homepage. The insights help you understand if the supplier is reliable and authentic.
On their homepage, check the verification of supplier business type, location, year established, etc.
You can also check what their main products are and their markets. More verified information means you can rely on the supplier.

Let's say the authenticity and reliability of the supplier are up to your expectations. Then, you can make the first contact with the supplier.
The most efficient way is through Alibaba Chat. You can prompt the chat option from the main item page. It is visible on the right side of the vertical bar.
Ask the customer executive about the price per unit if sourcing X number of items. Most suppliers display a high minimum order quantity. You can ask them to provide a quote for a lesser number of units.
Chat with the supplier and negotiate on the price of the items you want to source. If your bargaining approach is correct, you can save a few coins.
Note that the Alibaba chat system is slow and hard to use. Also, most customer executives don't respond fast enough.

Sometimes, your customers may perceive products to be of lower quality. It will force you to sample different products from different suppliers. That's because it helps you get one that matches your quality standards.
As a dropshipper, what quality you offer to your customer matters. That's why you should first ask for product samples before sourcing from suppliers.
You have to pay for the samples. Paying shouldn't be a problem as it will help you test the quality of the products. At the same time, some suppliers also offer free samples.
You have an opportunity to get different samples as suppliers don't send a single sample unit. They have a variety of products in the same category. By getting different products, you can test them and see which meets your quality standards.
Also, you can test samples of the packaging since they offer samples on that too. Most suppliers offer different packaging options.
Remember, packaging matters a lot. It attracts potential customers. Besides, you can use it to raise your prices a little higher.
How to Make a Safe Purchase from Alibaba?
As you can see, sourcing your products from Alibaba is easy. Yet, you may need to consider a few safety measures to ensure a safe transaction.
Let's check out the below pointers in this regard.
1) Compare Suppliers and Choose from the Best One
  While looking for suppliers, don't settle on the first one you find. Instead, search around and compare a few of them. Picking the first supplier you find restricts you from looking at the rest.
  Make sure the supplier you settle on has been assessed and is verified as a gold supplier. Remember to keep tabs on their prices, response rate and minimum order quantity. It will aid in choosing who to buy from.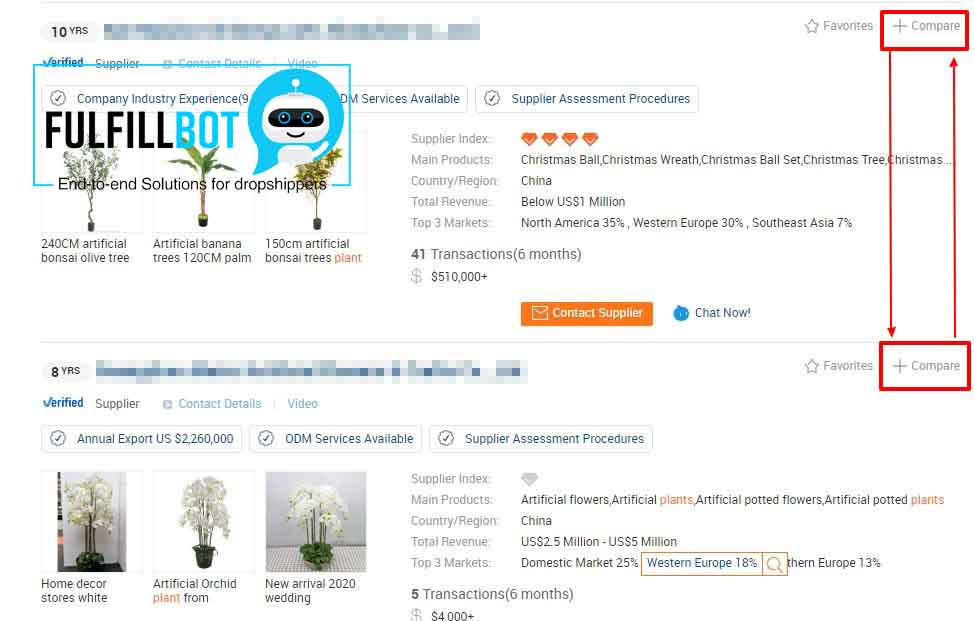 After you've found your supplier, contact them via Alibaba Chat. It's an option in front of the picture of the product. When you get a response, ask for their Skype ID for fast communication.

Ask questions to potential suppliers. For example, if they can accept selling you a lower number of items at reasonable prices. Look out for their service support while doing this.

Also, ask for product samples. If they refuse to send some, move to the next supplier until you find the right one.

3) Decide the Price and MOQ
MOQ is the minimum order quantity. Once you find a supplier you can work with, decide on the minimum order you can buy and discuss the pricing.

Don't be afraid of the big MOQs stated on their homepage. Inform them of what amount you want to buy and if they can agree with it. Most will agree to work if you guarantee them to become their returning customer.

Most Alibaba suppliers like working with small businesses. Negotiate on pricing and also discuss shipping cost as it is priced separately.
Inspecting the order on your own can be tricky as you are a dropshipper. Getting help to check on the orders can work well for you.
Thus, hiring an inspecting company to go through items before shipping is efficient. That's because sending damaged or defective items back to China can be expensive.
You can instruct the inspection company to go through them. Look for faulty items and check on the state of the package.
  Once you decide on everything with the suppliers, it is time to pay for the items chosen. Use the "pay now" option to make payment.

  There are different payment options on Alibaba. They are Alipay, PayPal, bank transfer, Western Union and credit card.

  When making payments, make sure you use the most reliable mode of payment. In most cases, it can be either PayPal or Alipay.
What Are Other Platforms Like Alibaba?
  As you can see, there are so many suppliers available in the Chinese market. These suppliers list their business on various e-commerce platforms.
  Thus, Alibaba may not be the only platform to find your ideal suppliers. If you take the right approach, you can find them on many other reliable platforms.
  Global Sources is a B2B company with over 45 years in international trade. They also organize trade shows in Asia.
They have more experience in the export market. So this platform most likely understands your needs in advance. With their long stay in the industry, their suppliers are less suspicious.
  Global Sources suppliers demand more from you as they want you to be fit for them. They'll ask about your company details and purchase volume. In short, it helps them gauge if you are worth doing business with on the platform.
  Sourcing from Global Sources needs you to build trust with the suppliers. With Global Sources, you have a guarantee to find quality suppliers than in Alibaba.
This platform is arguably strong in mobile electronics, home, fashion accessories, and gift items.
  On the flip side, they have a smaller selection of suppliers. Thus, it limits you from having a wider pool to compare from, like in Alibaba.
  DHgate is an online directory of suppliers serving small and medium-sized businesses. The main advantage of using DHgate as an alternative to Alibaba is the low MOQs. It goes as low as one piece.
  There can be many other perks of using DHgate. You get to browse a large variety of products. Besides, the platform offers an Escrow Service. This service protects the buyer when they make payments.
  On the flip side, they have higher prices of at least 25% more than Alibaba. They also deal with intermediaries and contain many counterfeit products.
Read More about Alibaba vs DHgate
  AliExpress is an online retail company, sister to Alibaba and owned by Alibaba Group. Suppliers on this platform sell items individually or wholesale. Thus, it is good if you are purchasing single units.
  Above all, their customer executives understand drop shippers quite well. AliExpress runs an automated program for drop shipping called "Alidropship."
  Alidropship follows a similar traditional dropshipping model process. It includes support from specialist services and the use of automation software.
The advantage of using AliExpress is they have low MOQs. That makes it easier for you to buy in low quantities. They also provide an Escrow service for added buyer protection (note that you pay more to use this).
  They also have similar products as those found on Alibaba. So you can't miss out on a product.
  Yet, you'll deal with intermediaries who will most likely not reveal the factory to you. It indicates you won't get the best price on the market.
Another disadvantage is you not being able to build a relationship with the seller. It is due to dealing with intermediaries. In short, it affects you if you want to scale your business.
You can read this post 
Alibaba vs AliExpress: What's Better For Your Business?
Made in China is a website that specializes in B2B and wholesale. The site targets exporting Chinese products to Europe and the United States. This platform has been popular in the western markets as a B2B sales platform.
  What's more, the range of products on the Made in China website is like the one on Alibaba. The main difference is, Made in China provides in-depth information on the products.
  Their website is a platform for international buyers with Chinese suppliers. It has a simple design allowing customers to complete shopping efficiently. You can also reach them through fax and email details provided on their website.
  The minimum order quantity on Made in China is 500 pieces. Suppliers are reluctant to go below this and may not facilitate the buyer if asked.
  As a result, customer satisfaction on Made in China is lower than that of Alibaba. The data shows Made in China has failed when it comes to consumer satisfaction.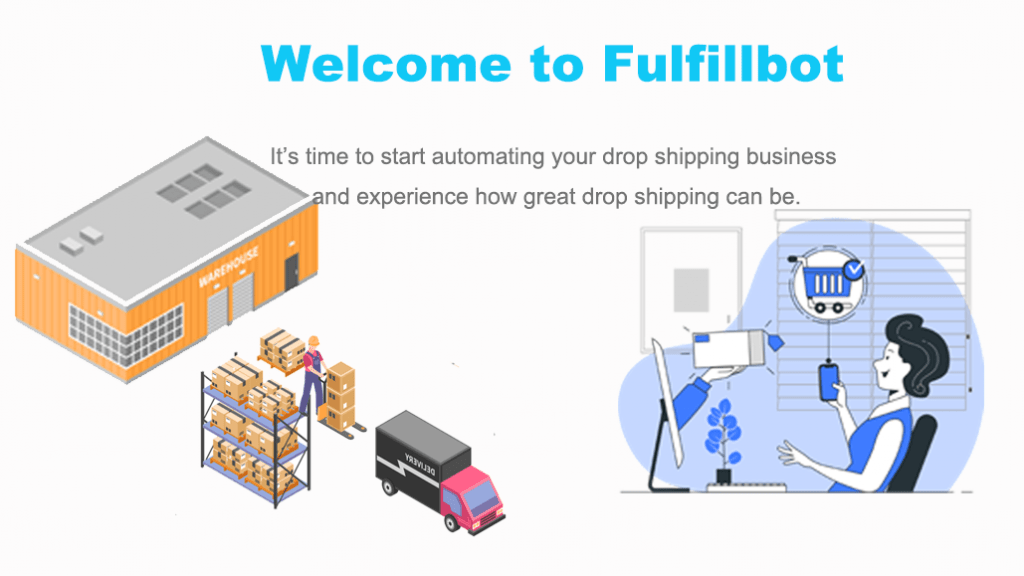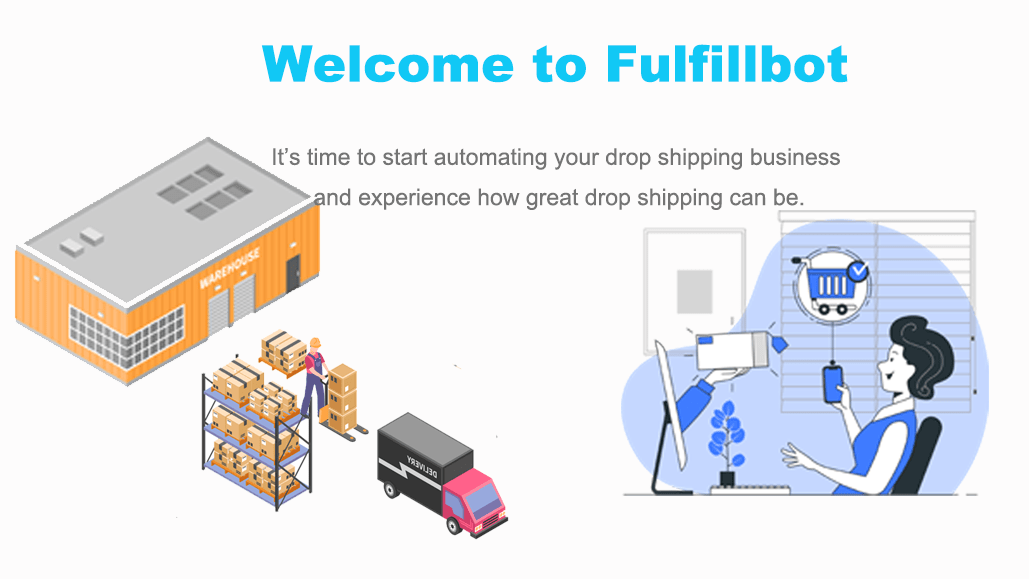 Nowadays, most business owners want everything under one umbrella. Of course, you can understand the stress involved in the import business.
Fulfillbot gives you an amazing platform to smoothen your online business. You merely need to create your online store and focus on bringing sales through promotions.
Fulfillbot can automate the entire process of dropshipping. It gives you a dedicated account manager to tackle problems. Besides, it provides you with warehousing solutions and product shipping.
In short, this platform lessens much of your workloads under their order fulfilment service. So, if you are looking for the best and safe alternative to Alibaba, go for FulfillBot.
FAQs on Sourcing Products From Alibaba
  Alibaba is a legit and trusted website. It is safe to buy from Alibaba. Being one of the largest e-commerce portals in China and the world, this makes them legitimate.
It has protocols to make sure suppliers are registered and verified. Thus, it allows you to report suppliers you deem fake. A large number of suppliers on Alibaba are legit.
Alibaba also provides secure payment methods to ensure your transactions are protected. There are scammers on Alibaba, but the majority of the suppliers are genuine. 
2) Does Alibaba Ship to the USA?
Alibaba ships to the USA and takes about 3-10 business days if shipping via air. If you ship via sea, it may take 30-45 days.
Likewise, if you ship everything via air, the supplier is most likely to do it via DHL, FedEx or UPS. If it is large, you can prefer to ship it via sea.
Remember, Alibaba exempts shipping cost from product cost. Thus, always ask for a shipping quote from the supplier.
3) How Long Does Alibaba Shipping Take?
Shipping with Alibaba takes 3-10 days if shipped via air and 30-45 days via sea.
Typically, shipping takes 15-45 days, depending on the item's size, factory location, and buyer's location.
4) Are Alibaba and AliExpress the Same Thing?
Alibaba and AliExpress are two different platforms owned by the same company, Alibaba Group. They may look similar in services, but are quite different.
Alibaba is a B2B wholesale portal. It gives Chinese manufacturers a platform to sell to international buyers at a wholesale price.
Thus, it is good for buyers willing to buy products in large quantities. They can get bulk products at a wholesale price.
AliExpress offers to sell items both as single units and wholesale. They have low MOQs than Alibaba. Besides, their prices are a bit higher than Alibaba's. Moreover, you'll deal with intermediaries.
5) Does Alibaba Include Only Manufacturers?
  Alibaba doesn't only include manufacturers. It also includes suppliers from different factories. Note that Alibaba does not own suppliers and manufacturers listed.
Alibaba has a large pool of verified manufacturers and suppliers. It assures you of their credibility. Moreover, it gives you a wider pool to choose suppliers.
6) Is There an Alternative to Alibaba?
Yes, there are many alternatives. Like AliExpress, Alibaba's sister company, that has a low MOQ as compared to Alibaba.
Besides, Amazon suppliers also provide items in bulk and single units. You can choose from Global Sources, DHgate,  Made in China, among many others.
But, if you want fast and quality services, go for FulfillBot. This platform can offer you a range of services. Be it product sourcing, order fulfillment, or fast shipping!
7) Are Alibaba's Suppliers Pre-Verified?
Alibaba's suppliers are verified. Whenever sellers create an account on Alibaba, they must verify certain information about their business. Like, the type of business, location, and year of establishment.
This way, Alibaba ensures its suppliers meet the requirement of a verified supplier. You, as a customer, are protected from scammers.
As a drop shipper, sourcing products from a reliable supplier is important. It can make or even break your business.
Buying from an e-commerce site and shipping to your customers need you to have a certain level of trust with the seller.
Alibaba is a legit site with verified suppliers ready to serve you. When you search carefully, you will get a reliable supplier and reduce stress on your end.
Search for a supplier until you get one who meets your standards. Ask all the necessary questions, negotiate prices, and request product samples to check the quality. Buying from Alibaba is quite easy once you get the hang of it.