Starting a B2B store is more of a hassle for people since there is a wide range of supplier options to choose from. So are you wondering about scams on large platforms like Alibaba? Or have you gotten caught in a problem like "I got scammed on Alibaba"? Well, don't worry!
  Alibaba scams are increasing these days. The major reason is the increase in the number of suppliers around the globe. So getting scammed here is no wonder. But what you can do now is stay aware of these. And keep yourself safe from getting into any future problems.
  Thus, we have listed the top scams on Alibaba. So, let's get straight to the guide about the Alibaba scams.
Top 8 Scams on Alibaba.com
No doubt, Alibaba is one of the most reliable supplier websites globally. But regardless of its fame, there are many potential scams that people often come across. These scams can be small or large, depending on your order.
Well, some of the common scams that you may encounter in the future are as under:
1. Selling Branded Products at Low Price
One of the commonest Alibaba scams that confuse the store owners is brand's products at reasonable or low prices. Many buyers have a misconception that branded products are cheap. They think so because they are available in China. But the story isn't the same!
Professional or famous brands sell their products on their official websites. If they are selling products in retail stores like Alibaba, the price should be the same as their stores. They don't have a huge difference in the prices of products. Thus, if you see a branded product at a low price than your expectations, get your nerves triggered! It must be a scam.
2. Changed Price After Order Placement
  Have you ever noticed a change in the price of your order on Alibaba? Many suppliers are showcasing their inventory on Alibaba. That is why some of them display their products at low costs to catch the buyer's attention. But when buyers place an order, the suppliers change the price tag, leaving you speechless.
  But, such suppliers provide genuine reasons for increasing the order without any justification. They will call it because of the inflation or the increased shipping taxes. They will say about the need for fluctuating marketing conditions. Some scammers also show the use of shipping tools.
3. Sourcing of Branded Products with Fake Logos
  Being a manufacturer of any product, you should choose Alibaba as the best website for your inventory. And without any doubt, Alibaba stands out of the list in sourcing quality products. But there are always some black sheep in there. Thus, another scam in the Alibaba scammer list is sourcing branded products with fake logos.
  Some suppliers on Alibaba send original samples to the manufacturers. But when it comes to shipping the bulk amount of orders, they supply the products with fake brand logos. They are selling you products that aren't authentic. Thus, in this kind of scam, you'll be getting replica products of your favorite brand.
  Can you imagine some suppliers can go the extra mile to catch your attention? Yes! It's true. Some suppliers on Alibaba showcase their fake supplier certificates. Many manufacturers are searching for suppliers or distributors that are well-certified or reliable. Thus, to gain your utmost trust, scammers on Alibaba will show you their fake certificates.
  They try their best to catch your attention with certificates such as UL/CE/FCC. Some agencies also use fake certifications to scam their buyers around the orb. Many distributors also scam with fake certificates. So, try to avoid choosing such scammers.
5. Poor Quality Product Compared to Sample
Besides changing the branded products with fake logos, another Alibaba fraud is the shipping of poor products. There's no doubt that you'll get the highest quality samples when you ask them about their inventory. But not all these distributors on Alibaba have the intention to serve their buyers with the best services.
Furthermore, this Alibaba scam happens when you order a bulk amount of clothes or shoes. Most brands also make mistakes in delivering the right size, color, or even the product to their customers. Not only this, but many scammers also change the quality of the material. Thus, many manufacturers refund such products without any second thought.
6. Unverified Profile for UK and US
  Not every agency or sourcing company on Alibaba is authentic. The majority of them take advantage of the buyer's trust. They make their Alibaba profile by using the details of a genuine company or agency belonging to the UK/US/EU. They try their best to act as the legit part of the targeted company, but they are scammers. It's not a big deal to make a fake profile on Alibaba these days.
So, don't you bother about what is the purpose of such scamming agencies or companies on Alibaba? Well, they make their profiles just to take your money and make you lose your trust even on the reliable distributors. You can easily recognize this Alibaba fraud since the agencies don't hold any certification or verification.
7. Gold Suppliers with Fake Products
  It's not a big deal to get a GOLD badge on the Alibaba sourcing website as a reliable company or agency. But, the most important thing to keep in mind here is not all gold suppliers are reliable to buy goods from. Besides the reliability tag, they can scam you by sourcing fake or poor-quality products. These agencies or companies get a GOLD badge by paying $4000 annually just to look like big suppliers.
Thus, they scam the buyers by supplying the worst quality of products or changing the price of the order after the sale. One of the primary signs of such scammers is that they have all positive reviews.
8. Suppliers Refuse to Send Samples
Have you encountered any distributer or a sourcing company that refuses to send you samples of the products they are selling? If yes, get an instant trigger! They are scammers. Being a buyer, you must wonder about the quality of the product you will receive. One of the main properties of Alibaba scammers is that they make you agree to buy bulk orders.
Another thing you will notice in good suppliers is that they are reliable. They don't take time to show their products to the customers or buyers. But whenever you choose scammers, they always refuse to give you samples of the product they have displaced on their store. That is why it's suggested to stay away from this kind of agency.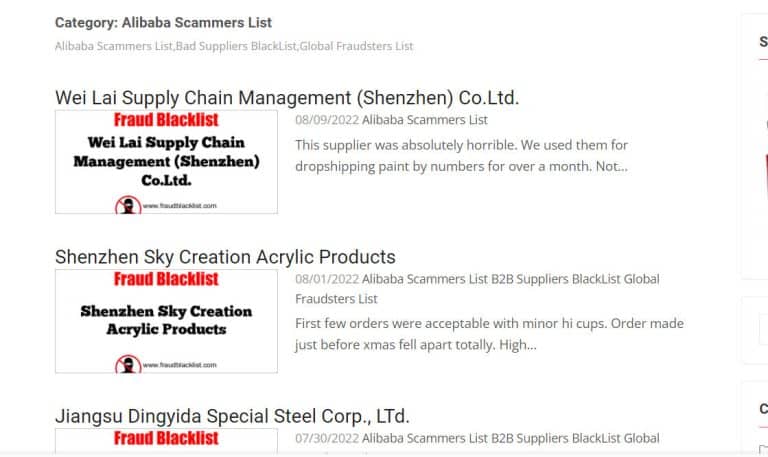 How to Find a Right Supplier on Alibaba? – Tips to Know
Whenever you think of starting an online business, the first thing that may hit your thoughts is the suppliers. But, it's pretty easy to find a supplier if you have a perfect product idea for your audience.
Alibaba is one of those reliable platforms in online marketing from where you can reach out the trustworthy suppliers in no time. But there are many things that you should consider before choosing any supplier.
Some of the key points to consider while getting your hands on any Alibaba supplier are as under:
Besides the scammers, many reliable suppliers or distributer companies are available on Alibaba. Thus, whenever you're on your hunt to choose the right platform for your products, make sure to select the gold suppliers. Alibaba provides an option or a badge for some suppliers who pay an annual fee.
In this way, the majority of the gold suppliers provide the highest quality of products to their customers around the globe. They don't make any changes in the quality or price of products after order placement.
• Pick Verified Suppliers
If supplier have verified mark. it means this supplier have strong background.because of verified factory need cost money . and on-site verification by a third-party company is required.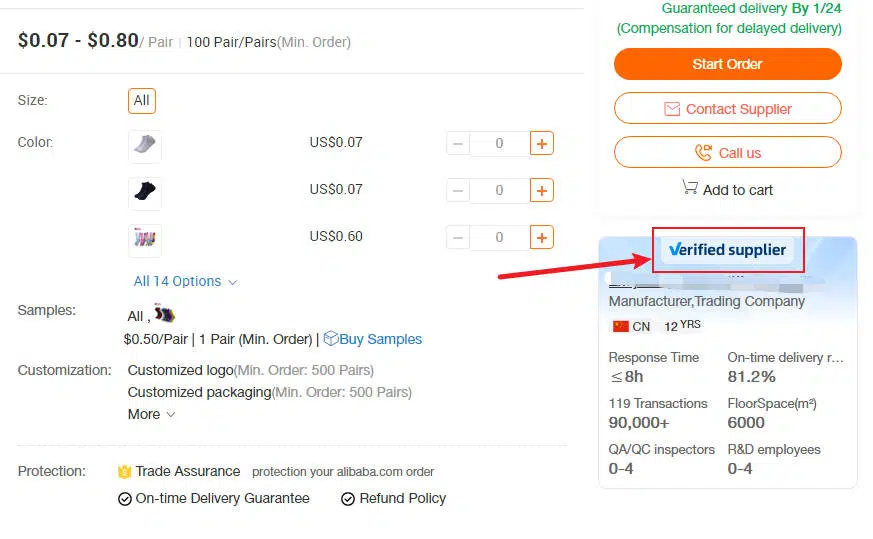 • Don't Forget to Review the Profile
It's pretty obvious to get a detailed insight of the supplier before choosing it to get your inventory. The supplying agencies or companies on Alibaba have their profiles. In these profiles, they contain their information from scratch. Thus, if you want to know the supplier's history, you can explore that part in no time.
Above all, make sure to check the profile section of the supplier or distributor. Don't forget to notice the date when they joined the Alibaba platform. This is because that the old suppliers are mainly the most reliable ones among all others.
• Use Filters for Research
As we all know, Alibaba is the international platform for marketing; thus, there's a wide variety of options available there. There are many agencies on Alibaba. They include manufacturers, wholesalers, and dropshippers. They supply their products in the world. Thus, when you're searching for any supplier, there is no need to get confused by other options.
All the above marketing entities perform different tasks in sourcing the products. Thus, make sure to apply filters when researching trustworthy suppliers. Besides this, these filters enable you to get the options with just one click. The Alibaba scams are also eliminated when a user reaches out to any supplier by applying filters.

Checking the response rate of the supplier is easy because it tells you about their work. Alibaba has many options on the supplier profiles. They can display their average response rate is present regularly. Actually, it tells buyers or customers about the reliability of the supplying company or agency.
Thus, it's no wonder if you try to check every supplier's response rate before finalizing the deal. Make sure to rely on suppliers with a response rate of about or more than 70%. Yet, if the response rate is lower than 70%, it shows that they're not serious about solving the concerns of their customers.
• Check Company's Background
Besides these, here's another important tip for choosing the supplying agencies or companies. Don't forget to check their background. You can do an on-site check on the company's profile to get insurance about their activity. You can visit the official website of the suppliers before choosing them.
Consider another point for choosing a supplier. Must consider their documentation, including the license and certificates. Ownership status, reviews, contact information, location, and many other things also matter. Try to consider these requirements when choosing a supplier for your manufacturing store.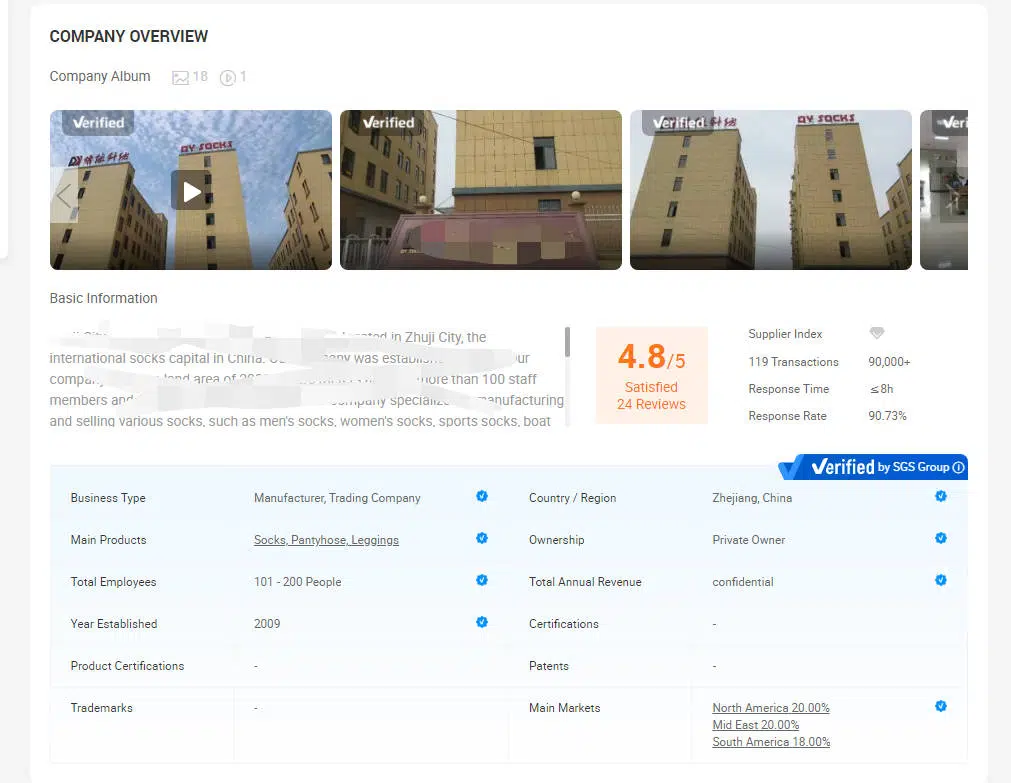 • Check the Supplier Name for Scam
Alibaba scams are prevailing in the online market these days. That is, buyers get a bit reluctant when they think of choosing any supplier. But, there lies a solution for everything. You can select many methods to check whether the supplier is a scam or not. Google provides a solution for everything, even to deal with scammers.
Thus, whenever you are thinking of choosing any supplier, you can search the name on Google and add a scam after its name. It will show you better results about its history. Other than this, you can also get an idea about the 100% legitimacy of the supplier.
• Choose Trade Assurance and Assessed Suppliers
Besides the gold suppliers, many other options perform the same task with a slight change in their policies. Make sure to choose the trade assurance suppliers since they are pretty easy to have your trust on. If they don't stand rightly on their commitments, the Alibaba support system will get involved to return your money.
Besides this, assessed suppliers also seem like the best option to go with. They provide every possible detail to their buyers just to gain their trust. Assessed suppliers provide assessment reports. They also provide verified videos and verified main products to their customers worldwide.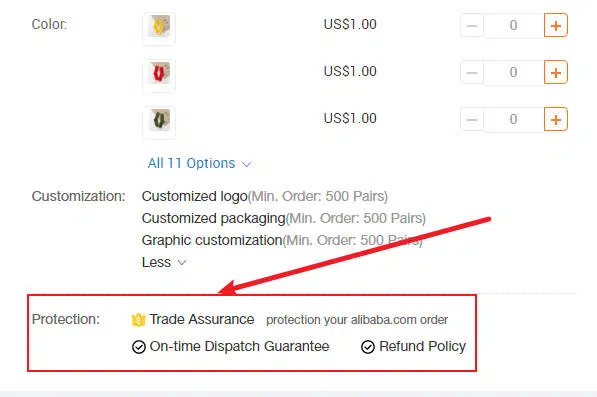 Now that you have checked every supplier property, it's time to shortlist the options and send a quick email to the best supplier from your list. There also lies an art in shortlisting the supplier options. You should double-check the properties and choose the correct option.
So, when you are done choosing your supplier, make sure you ask all your questions in the email. Try to ask about their shipping time, MOQ, and budget.
How to Avoid Scammers on Alibaba?
Regardless of the large number of options on Alibaba, scams are actual, and many buyers get caught by them. Thus, escaping them is really an effort. But, don't worry! We have listed the following ways by which you can avoid Alibaba scams.
So, let's get started!
You can look for a sourcing agent in China who can help you review suppliers, check product quality, and collect goods for shipment.
Need sourcing agent for safer sourcing?
👇👇👇👇👇👇
• Don't Choose Free Account Members
As mentioned above, many agencies or companies register their profiles on the free version of Alibaba. They do this with the details of other authentic suppliers.
So, avoid choosing the suppliers that have free accounts on Alibaba. They are pretty low efficient in meeting the demands of the customers or buyers.
• Consider the Age of the Account
Mostly, the newly joined members on Alibaba are scammers; thus, the longer the life of the profile, the more will be the reliability of the suppliers. Many recent profiles on Alibaba have increased the chances of getting banned. Thus, the primary step to avoid any kind of Alibaba fraud is to check the life of the account. Make sure to choose the supplier with an account age of at least two years.
• Review the Product Catalog
Another thing to avoid Alibaba scammers is to explore the product catalog present on their website or store. There are many products on the supplier's profile. These products have reviews and ratings so you can choose between scammers or real agencies. The variety in the product specifications also illustrates the efficiency of the supplier.
• Check for the Fraud Lists on Google
When you choose any supplier on Alibaba, don't forget to check the list of Alibaba scammers on google. Many reporters out there regularly give a regular update about the number or the type of scammers on Alibaba. Thus, there are good chances that you'll find the supplier's name in the list if it's a scammer. You can contact the government authorities that are responsible for sourcing products. You can also check the lists on Google to confirm their identity.
• Consider the Payment Option
There are many transferring payments to your suppliers for receiving your product. But, scammers use only a particular number of ways to get money from their customers. Western Union and direct bank transfers are commonly used methods by the scammers on Alibaba. Trackers cannot track these payment methods. Thus, scamming the users on Alibaba becomes pretty easy.
Read More about alibaba payment
• Look for the Verification of Documents
Last but not least option to get rid of scammers is to look for verified documents. Most trustworthy suppliers have authentic certificates and documents to ensure the buyers' reliability. The legitimate companies don't hesitate to showcase their certificates. They are ready to complete the deal with buyers. Thus, look for the documents. In this way, differentiate between scammers and original suppliers.
What to do if you think you've been scammed in Alibaba
Because of the order issue
If there is a problem with the order, such as quality issues, lost in transit, etc., you need to negotiate with the seller to resolve how the seller wants to work with you in the long term, then all will be reasonably resolved.
If the order is through Alibaba, then you can also contact Alibaba customer service to assist you in solving the problem
No shipment after transfer to supplier
The probability of getting your money back in this case is very low. If your amount is particularly large, it is recommended that you send a person to the supplier to see for himself or contact the local police or a lawyer.
If the amount is not large and the supplier has a website in Alibaba, then try to contact Alibaba customer service.
According to the steps to find a reliable supplier, after finding a supplier, we suggest you can place your order through Alibaba, or if the supplier does not have Alibaba, you can contact a sourcing agent to assist you in dealing with the supplier.
Special attention is required
If the seller repeatedly fails to fulfill his promises several times, then he is cheating you. No matter what, this is not a good supplier and you should look for a new one.
Need sourcing agent for safer sourcing?
👇👇👇👇👇👇
Alibaba scammers are unavoidable, but you can try your best to save your business and investments from them. Now, the facts above are detail-oriented. They can help you deal with these problems and get out of them easily. So, make sure to go through all the points properly.