Have you ever engaged in dropshipping? Have you ever heard about DHgate or AliExpress? You must know that AliExpress is the most renowned wholesale B2B marketplace. It is an excellent option for dropshipping items from China since it is dependable and inexpensive.
But, the most popular product is sometimes the ideal option for a genuine dropshipper. Then, it is not only AliExpress; DHgate also exists to be another option. It is a great marketplace for finding things to sell through dropshipping.
Your dropshipping business may flourish above your greatest expectations by choosing DHgate. Yet, because this is a novel platform, people still need to be convinced.
The questions come into people's minds, such as Can I trust dropshipping from DHgate? What are tips for achieving fulfillment using DHgate dropshipping? What recommendations do you have for newcomers to this service?
Hold on tight, and we will walk you through the steps of setting up an account and making your first buy on DHgate. For the first step, find out what makes a product successful on DHgate. You can bring it into your business and immediately begin generating a profit.
We will also provide some strategies for improving your dropshipping results from this platform.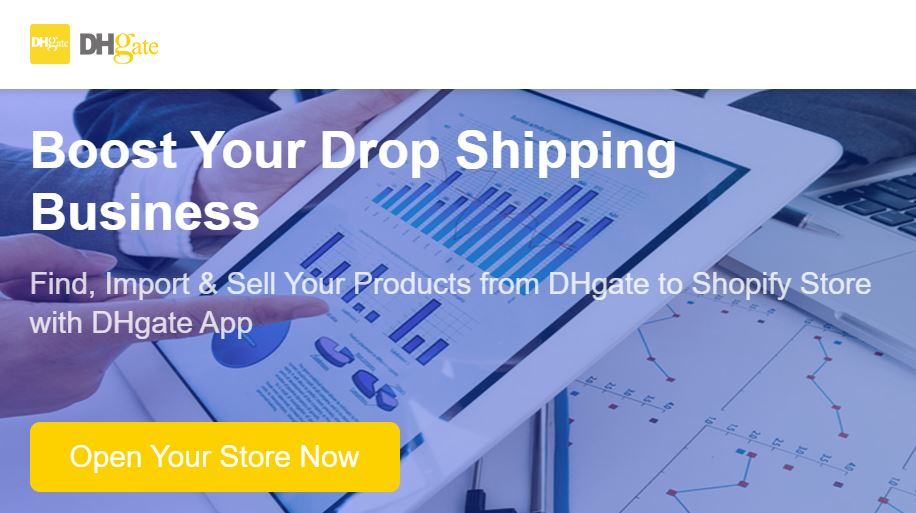 So, DHGate is a top Chinese e-commerce site because of the variety of low-priced goods it provides.
Their online store has millions of items in several categories. They include gadgets, technology, beauty, wellness, athletics, the outdoors, and more.
Furthermore, you may find about everything you are looking for on DHgate. Diane Wang introduced this unique platform in 2005. You have to know that there are now over 10M DHgate customers and 2.2M sellers on the site.
Another thing you have to know about DHgate, it will manage the financial aspects of the trade. Then, you can place your wholesale order with one of the authorized manufacturers.
Moreover, there is a large number of regular visitors and a wide selection of items in DHgate. So, it is excellent for wholesale company owners seeking suppliers.
The DHgate app can also bring it to your mobile device. It makes it easy to place an order, watch its progress, and resolve any issues that may arise.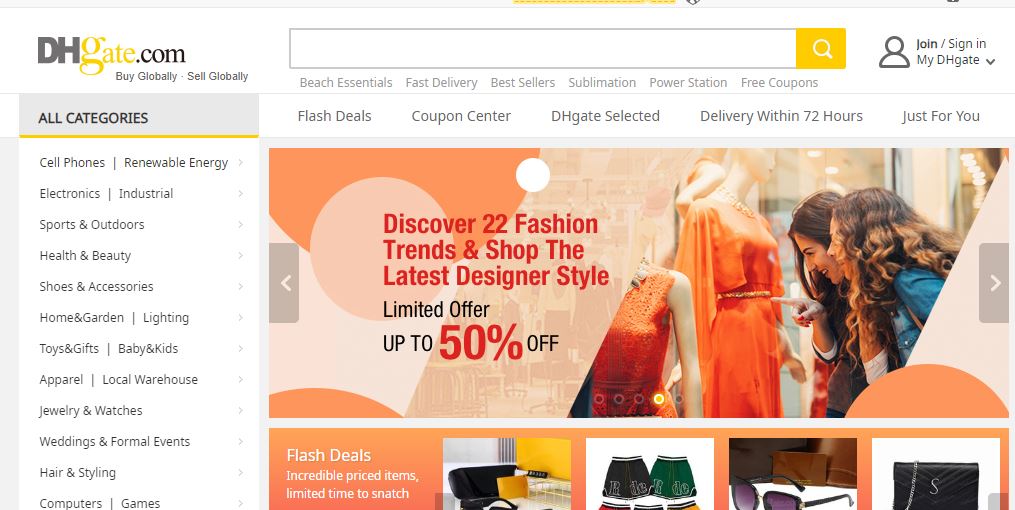 What Is the Work Mechanism of DHgate?
As with other marketplaces like Amazon, eBay, Etsy, and Alibaba, DHgate is a middleman between buyers and sellers. It is a web-based wholesale and drop-shipping marketplace.
Although they operate as a middleman in the transaction, you buy the item(s) from a different vendor. DHGate is a great place to locate goods to drop-ship on your customers' behalf. You can also stock up on supplies for your business since more than 90% of them have no minimum order need.
DHgate will ask for your shipping information when you make a buy. The home or business address of your consumer goes here. This way, the vendor acts as a drop shipper for your order.
So, DHgate does not sell or transport anything; instead, people sell their goods on the site. If you choose to do this, you should tell the vendor immediately.
Also, retailers can create specific alternations if they do not want the buyer to know that they buy the item in DHgate, which is cheaper.
How Legit and Reliable Is DHgate?
Well, DHgate is a reputable and legit site.
It keeps an eye out for suspicious seller accounts around the clock and shuts them down. As a result, they are making it a go-to for many people looking to buy bulk goods from China.
They also have an excellent customer service department ready to answer any questions about the shop or your orders.
Because of this encryption, the platform and its users cannot access customers' private information and steal funds.
Compared to Amazon, DHgate is more like Alibaba or eBay. For this reason, choose your vendor with caution.
So, is DHgate for real? In a word, yeah! But, is DHgate reliable? Well, it entirely relies on the supplier you choose to do business with.
Can You Do Effective Dropshipping Through DHgate?
yes.
DHGate has a vast assortment of items. So, it is easy to identify ones with minimal competitors but high demand.
In contrast, things may also be available on Alibaba at a much higher price. It happens because Alibaba is famous, and items often sell out.
As a drop-shipper, you may locate items at competitive prices using DHGate. First impressions of doing business with DHgate should include the following:
• To ensure the security of their customers, they do provide refunds.
• They get high reviews and great remarks from reviewers and consumers.
• This platform also has a flash deals widget that counts the remaining time for each daily bargain and highlights goods.
Besides, you may find dropshipping plugins that help automate some tasks. Thus, adding DHGate items individually to your online shop saves you the trouble.
Can You Use DHgate With Your Shopify Store?
Yes, of course. Among the many e-commerce systems, Shopify is one that DHgate supports. But, there are some factors that you should consider before you commit to DHgate as your online retail sourcing platform.
DHgate Dropshipping: The Pros and Cons
DHgate's benefits and downsides are like those of other wholesale B2B marketplaces. Here are some pros and cons of using DHgate that you can read. By reading these, you will have a better knowledge of the service. Not only that, but you can also make an informed decision about whether to sign up or not.
Pros
1) Reasonable Cost
The prices on DHgate are far lower than those at other online marketplaces. DHgate also often runs promotions that might save you money on already low rates.
2) Favorable MOQ
The slightest order quantity (MOQ) is the primary differentiator between Alibaba and DHgate. Most of us know that both provide similar services.
In comparison, dropshipping shops may be difficult (but not impossible) to get products from Alibaba.
3) Truthfulness
The merchant keeps the consumer from disappointment since DHgate does not compensate the merchant. So, rest sure that the items you buy on DHgate will meet your expectations for quality. Thus, the vendor will strive to uphold their end of the bargain.
4) Ample Options and Variety
DHgate has an unequaled variety. Over twelve million goods are available on the site for your perusal and selection.
5) Methods of Payment
DHgate accepts several payment methods. The payment can be through bank transfers, PayPal, Western Union, and credit cards.
6) Mediation
For the last pros, DHgate can mediate between the supplier and buyer. They can act as mediators if the supplier fails to fulfill their duty after you have contacted them and received no satisfactory response.
DHgate will look into the matter and come to a fair verdict. In most cases, this will result in a monetary reimbursement.
Cons:
1) Quality of the goods
Some vendors sell knockoffs of well-known brands. As a result, you can only regulate the quality of your products well.
2) Long Transit Times and Expensive Rates
Products sent internationally through specific delivery methods may take quite a long time to arrive.
Delays in shipment can occur due to bad climate or issues with suppliers. Your transportation plan will need to account for shipping charges as well.
3) Unauthorized Vendors
Be wary of these vendors; they may be crooks. You may make a well-informed choice with the help of their reviews.
Is It Worth It to Dropship Through Dhgate in 2023?
Dhgate dropshipping is very much alive and well. Dropshipping is a talent that demands meticulous preparation and execution. Some suggest some things about dropshipping.
So in 2023, you can make money doing it.
Well, Dhgate dropshipping is an excellent option if you want to establish a side company and make some money. But, Dhgate dropshipping is not a good option if you want to amass a large sum of money quickly.
AliExpress is the initial stop for many drop shippers. However, it sometimes has insufficient stock or higher costs because of its popularity.
Based on this condition, finding what you are looking for at a price you can afford is easy on DHgate.
What Steps You Need To Follow to Start Dropshipping From DHgate?
Using DHgate for dropshipping is an easy and painless process. Since you are experimenting, try the tried-and-true approach in establishing your shop. Afterward, adding any products you find to be successful is usually the best option.
You should know becoming an authorized DHgate dropshipper requires completion of specific requirements.
If that is what you are after, this chapter will provide you with the most information about DHgate in the shortest time.
Step 1: Sign Up for a DHgate Account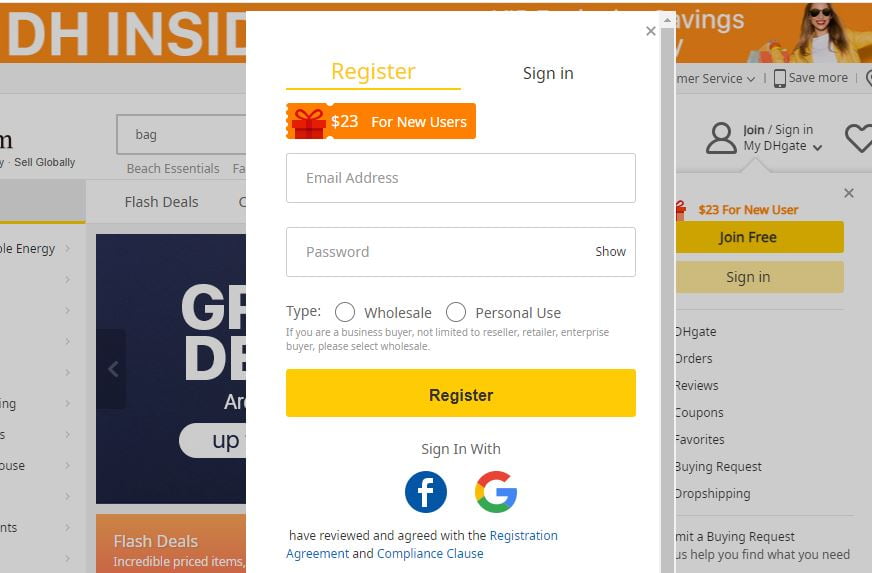 Firstly, create an account with DHgate to enable you to manage future dropshipping orders. As a member, you can access your order history and other perks. Hover your mouse pointer over the DHgate site's account symbol, then click Join Free.
The website accepts signups from users using either their email addresses, Google or Facebook accounts.
Step 2: Confirm Your Email
You will get a confirmation link from DHgate through email after registration. To activate your account, please check your email and click on the verification link there.
Step 3: Sign Up for MyyShop's Dropshipping Service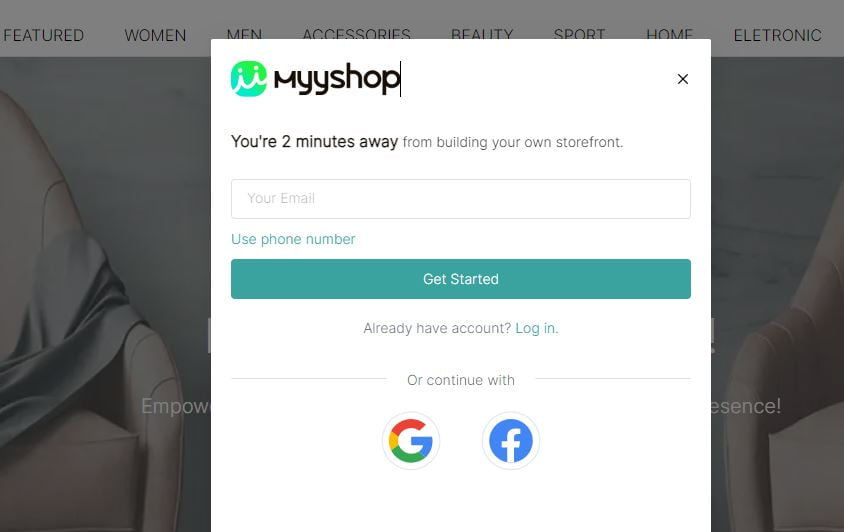 MyyShop is the authorized SaaS (Software as a Service) application for DHgate partners. It can import and fulfill DHgate orders. Also, this provides access to a list of trusted manufacturers that stock and send out DHgate orders quickly and accurately.
Visit the MyyShop dropshipping homepage, and then click the Sign-Up button in the upper right. Then, you have to type your email, phone number, and password in the required fields.
Next, choose the Get Started tab.
Step 4: Select A Suitable e-commerce Platform
MyyShop allows you to dropship DHgate items directly from your Shopify, eBay, Rakuten, or Mercado Libre shop. Or else you may open your own MyyShop store and dropship from there.
Shopify remains our top pick, yet. It is the platform's user-friendliness, rapid deployment, rock-solid reliability, and easy scalability.
Step 5: Link the Two Sites
You may link your MyyShop store to Shopify by clicking the "My Shop" button in your MyyShop control panel.
When you see the Shopify option, click the Add your shop now button to the right of it.
Step 6: Establish Rates, Posting, and Auto-Rules
Furthermore, you set up automated rules before importing items from DHgate to your Shopify shop. It will make the process go more quickly and easily.
Step 7: Locate a Reliable Vendor
Most drop shippers focus on specific items; the cosmetics industry is a good example. You might find your target audience in the cosmetics industry. You can browse the various categories to find goods suitable for dropshipping.
There are two options for locating the items you need. First, type in a product term into the site's search bar or click on the "All category" tab and start browsing. Then, you must check out the seller's background and customer feedback if you find a product you want.
Suppose it has DHgate's user-friendly interface and well-optimized pages. And it provides detailed descriptions of items with high-quality photographs and user reviews. It can make it simple to find precisely what you're looking for.
These specifics are useful for sourcing since they allow you to learn more about the vendor before contacting them.
Step 8: Get in Touch with the Provider
Well, you can establish connections with the industry's leading manufacturers and distributors. So, DHgate eliminates the need for a middleman between you and the goods.
Moreover, contact certain vendors and decide what you wish to sell online. You can open a shop in less than an hour using Shopify or another platform.
You may either utilize online tools or publish and update your product listing manually. When you decide on a DHgate vendor, you may start communicating with them.
You must negotiate the order quantity, pricing, and shipping and handling terms. Also, you must negotiate with an exporter to include your brand name on all products supplied to customers. It might be beneficial to your company and your brand.
Step 9: Dispatch Your Goods
After consulting with your seller, it is time to add product details to your online store. You can add a DHGate item to your dropshipping shop on Shopify begins with adding it to the import list in MyyShop.
Shopify is a convenient platform on which you can upload your items. You can edit the product's Import List tab title, description, variations, pricing, and photos. When you are ready to add it to your Shopify shop, choose Push to Shop.
What if you wish to avoid visiting any online resources at all? If so, promoting your wares on social media and fulfilling orders is a breeze. To save money, some drop shippers choose this approach; if it serves your needs, go for it.
Step 10: Advertise Your Goods
Once your items are uploaded to your webshop, you can begin advertising them. Expand your audience by promoting them on social media. It can be like Instagram and Facebook. By spreading the word, these platforms often aid in attracting potential purchasers.
Step 11: Send Purchase Order Requests to Vendors
People are finally interested in your product and ready to order with your supplier. Your DHgate suppliers will handle shipping for you. It does not matter when a client places an order via your shop. DHgate comes in very handy in this situation.
DHgate also checks all orders to ensure customers get the products they bought. You can trust that DHgate will deliver high-quality items to your customers.
Your Shopify store's My Orders section will update whenever a client purchases an item from DHgate. You can click the Order Product button to the right of the order to begin processing it.
Remember, DHgate's website can help with a speedy checkout process. So, MyyShop redirects you to DHgate's website, where your customer information is pre-filled.
To complete your purchase, select a payment option and click the Confirm To Pay button.
After that, your dropshipping order status in MyyShop will then update to 'In Processing' from 'To Order.'
Step 12: Update DHgate Order Number with Tracking Details
MyyShop will instantly update your order's tracking number when the DHgate seller has begun delivering your buy.
Myyshop will update the status order can see in Shopify. The status from "In Processing to Shipped" and label the purchase as "Fulfilled" once the package is in the hands of the client.
Step 13: Informing the Vendors
Your customers can complain to the manufacturers if they have problems with the goods. It will guarantee that future customers will get only top-notch merchandise. If the vendors are unresponsive, DHgate support is another option to contact.
What Are the Alternative Dropshipping Tools for DHgate?
You may also begin importing items to multiple e-commerce platforms. You can utilize DHGate dropshipping plugins and applications. Please find a list of the top dropship platforms below.
1) Dropified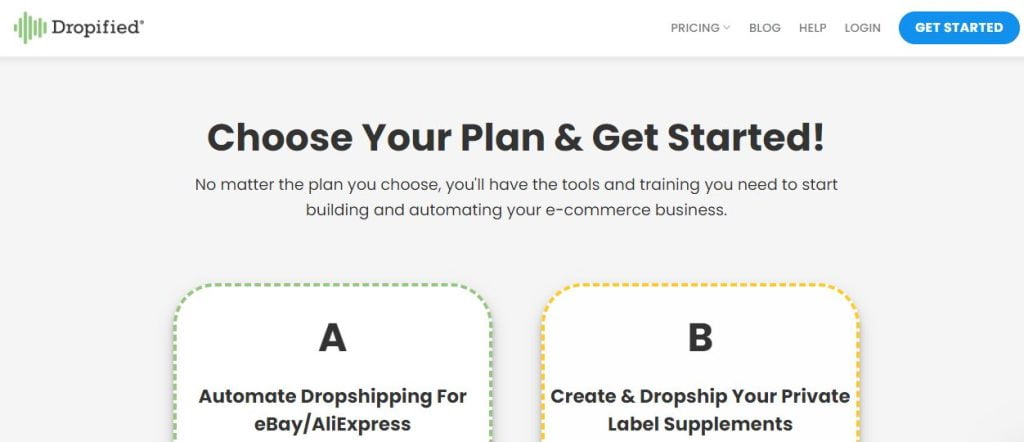 Dropified is a top-tier drop shipping platform. Dropified's free tier gives you access to their Chrome extension. It is for automatic dropshipping features. Also, its user-friendly interface makes it a good fit for inexperienced drop shippers.
2) ShopMaster

ShopMaster is powerful. It has a free tool allows you to import items from the most popular e-commerce sites in China directly into your shop.
The ShopMaster DHgate app has a quick and easy installation process. With only one click, you can add a product you see on DHgate to your online shop thanks to this Chrome extension.
This app's powerful functionality allows you to upload up to a hundred items to your shop simultaneously. As your firm expands, you may take advantage of the available alternatives, which range in price.
3) Importify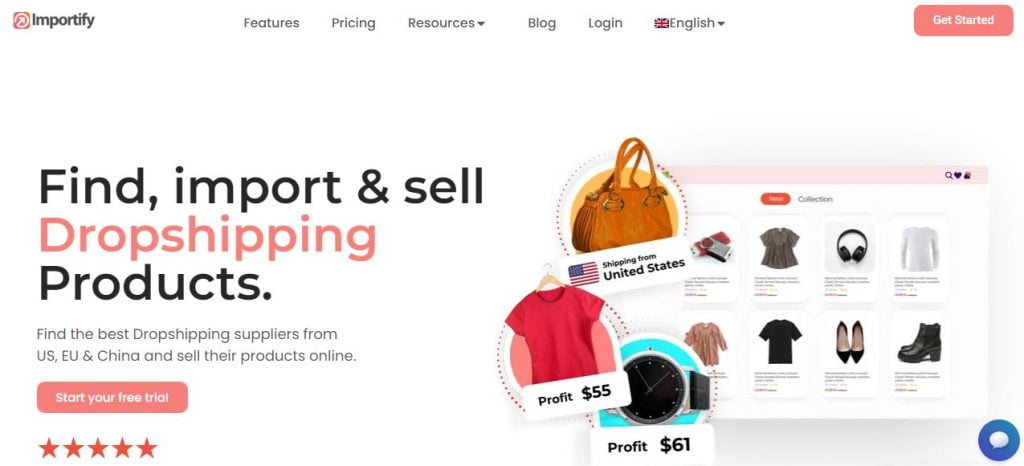 Importify is available in the Shopify app store. It is an additional helpful piece of application for DHgate dropshipping.
You can be sure it works since it has over 300 good ratings on Shopify. Also, you can quickly and easily locate items from multiple online marketplaces to sell in your shop. Put an end to manually duplicating orders!
The program includes an ePacket to speed shipping and a dummy order to snap high-quality images and check out the goods.
What Are the Best Tools for Importing DHgate Reviews?
Positive reviews on your e-commerce site will significantly increase your store's credibility. Your sales also become more significant.
It is a must-have that might make your businesses seem more popular and trustworthy. Reviews of your dropshipping items are crucial to the success of your company.
1) Editorify

This program allows you to add user ratings and comments from various online marketplaces. The marketplaces are AliExpress, DHgate, Oberlo, Dsers, and many more.
Their templates even allow you to create your own review format from scratch. You may import 25 reviews of products from AliExpress straight away, and there is no cost to utilize the program initially.
The app has received over 400 positive ratings in the Shopify app store. You may save both time and money by learning how to build social proof on your own using this method.
2) Ryviu

Another of the most outstanding program you can use is Ryviu. You can use it when you use Shopify and want to integrate DHgate ratings into your dropshipping business.
Then, it shows the ratings in a sleek, search engine optimization–friendly rating widget. Customers may also rate and review items on your online shop.
Up to 20 acquired reviews for the first 50 goods are free with Ryviu. Moreover, the lowest monthly plan starts at $4.99.
3) Areviews

Areviews makes it easy to gather client photos. Besides, it also imports them from AliExpress and other sites with a few clicks.
There are various ways to showcase your evaluations, each of which will increase sales and delight your client.
What Are the Ways to Ensure Safe Dropshipping From DHgate?
1) Evaluate the Seller
Research the seller via their profile and previous customers' reviews and feedback before purchasing.
The most straightforward approach to prevent scamming is to read the comments and reviews that previous buyers have made on the vendor's product page. In addition, research the seller's profile as you do in reading product reviews and comments before purchasing the product.
2) Only Work with DHgate-Verified Sellers
Remember. It's a red flag that a merchant wants you to bypass DHgate's payment system and send money directly to them.
You should know that it is also against DHgate's rules. It is reasonable since they state explicitly that you can't bypass DHgate's buyer protections by going straight to the seller.
3) Beware of Deceptive Labels
Most consumers examine the product's image and user reviews before purchasing. Yet, they often skip over the description. Sometimes con artists would use hazy language to misrepresent their goods.
4) Wait to Verify Delivery Until You've Received the Order
We all know that until the customer verifies delivery and approval of the purchase, DHgate will not transfer the funds to the vendors.
In light of this, you should wait to confirm delivery from your DHgate account. It would be best if you did this until you have either received your item or determined that it is not what you expected.
5) Avoid Placing a Huge Order Right Away
Finally, even if the vendors have many excellent ratings, you should only place a substantial buy with them if you have dealt with them before.
What Are the Top Alternatives to DHgate for Dropshipping?
If you are looking for exceptional wholesale items at reasonable trade rates, you do not have to limit yourself to DHgate.
There are several more platforms like DHgate. These platforms can ease transactions between buyers and significant wholesalers and manufacturers.
1) Alibaba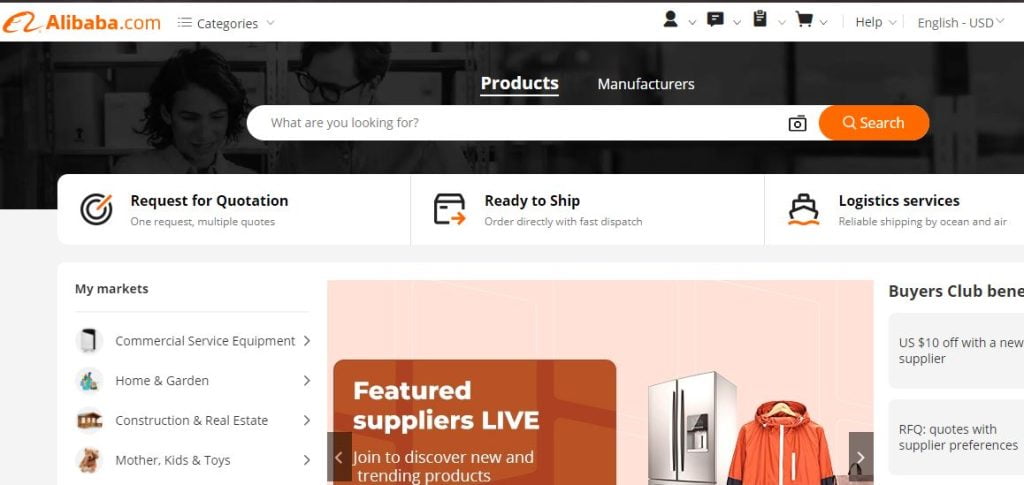 You, the seasoned dropshipper or the student of dropshipping, would likely agree that Alibaba is the best alternate option to DHgate. Using it is a breeze.
If you are looking for a particular product, quickly searching Alibaba's website is the answer. You can find thousands of top-tier Chinese producers, wholesalers, and retailers in it.
2) AliExpress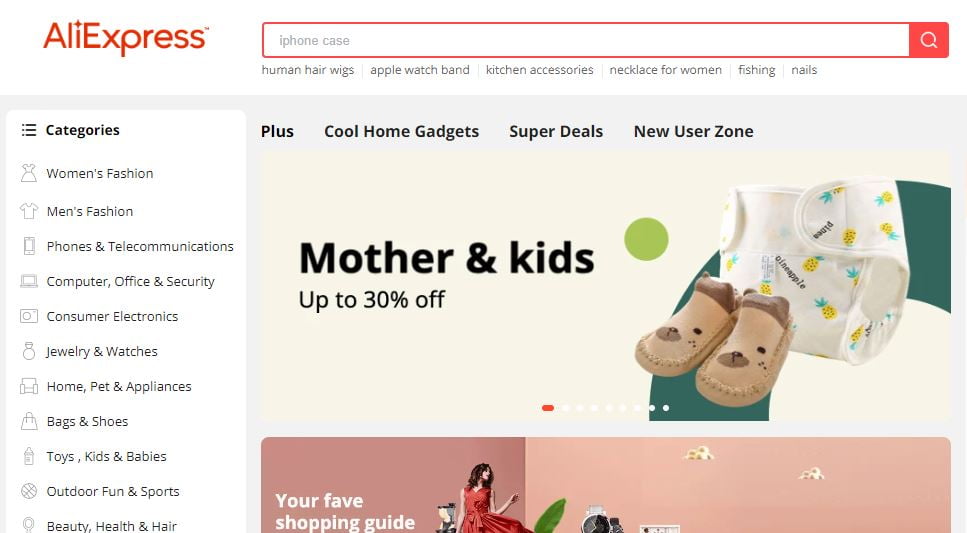 When looking for an alternative to DHgate, AliExpress is a formidable e-commerce platform. It is mainly for direct-to-consumer dropshipping. A vast selection means you're more likely to locate things that work for your company.
You may utilize the various AliExpress dropshipping solutions. It can help you to create a completely automated online store.
3) Banggood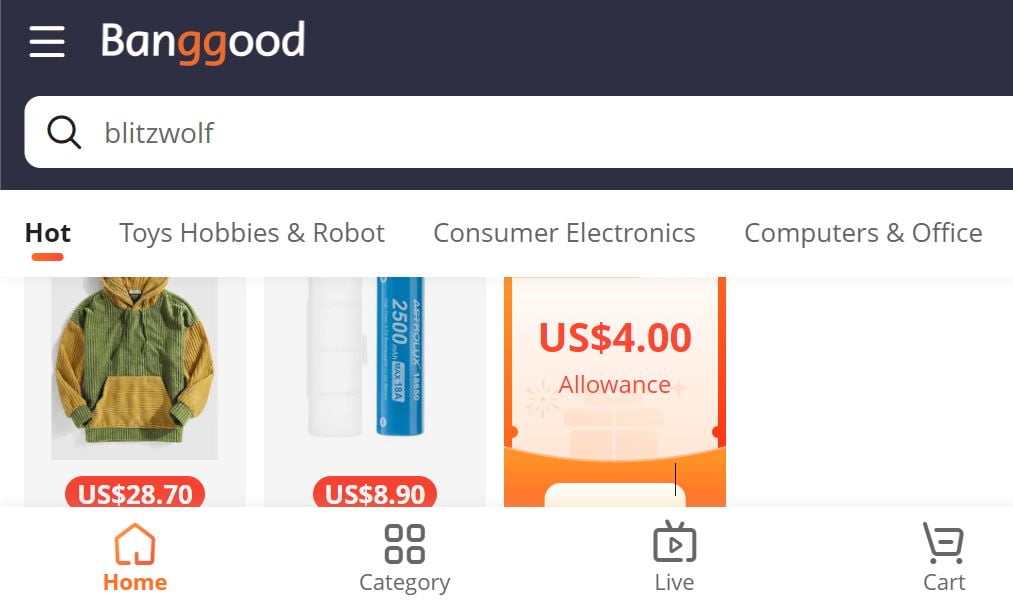 Moreover, Banggood is increasingly becoming the finest DHgate option for dropshipping. They offer your clients quick shipment in roughly 3-5 days.
They also offer various goods, and customers may purchase without fear of loss. Not only that, this company also has other offerings. They are such a specific program complete with exclusive discounts and plain packing.
Why Should You Think About Hiring a Dropshipping Agent for DHgate?
A dropshipping agent offers some key benefits. They charge low and offer quicker shipment times and individualized service.
You have located the perfect item on DHgate, but…
• How can you be sure the vendor will choose the quickest delivery option?
• How will you figure out the fairness of the deal DHgate supplier offering you?
• And if your goods arrive to your consumer damaged, would the supplier reimburse you?
In place of a product supplier, you can use a genuine dropshipping agent, like Fulfillbot. They must find and handle your dropshipping business' inventory, packaging, and shipping.
A dropshipping agent will use own connections and bargaining expertise to approach several manufacturers. Their mission is to track out the item you need at the most affordable price without sacrificing quality.
You need to find a trustworthy dropshipping agent now and begin your DHgate dropshipping business tomorrow.
Final Thoughts!
Do you need to make sales with AliExpress or other dropshipping channels? Don't fret! You may now take advantage of a different option that has proven successful for other online retailers.
Compared to AliExpress, which has been around long, DHgate is still a relatively new platform. Dropshippers searching for unique items at low costs from reliable manufacturers can check out DHgate.
Being a reputed dropshipping agent in China, we have assisted several customers in successfully sourcing goods from China. We are here to assist you through every stage of the importing procedure. If you need any assistance with Chinese imports, please contact us.