The rise of e-commerce has expanded consumer marketplaces throughout the world. One such platform is PandaBuy. It has been one of the most prominent competitors to AliExpress in recent months. This new platform facilitates the buying of Chinese goods for consumers.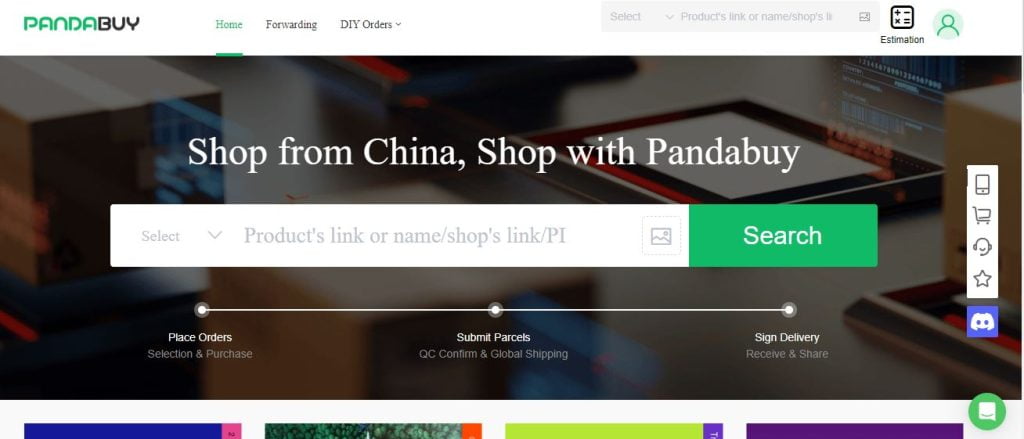 PandaBuy is an online marketplace that lets you buy products of all types from China. But, as the popularity of this service has grown, so, too, has widespread skepticism. Now, verifying the authenticity of the businesses we interact with is more important than ever.
Thus, the question arises: is PandaBuy a legit business or a scam? You must confirm Pandabuy's legitimacy before making any purchases there.
Do you also want to buy from PandaBuy but doubt whether it is a legitimate business? Don't give up hope!
In this post, we'll examine this platform in further detail. It will help you see whether it's a reputable platform or a possible fraud. You will have a better idea about this platform after reading this.
Pandabuy: What Is It?
It is a website that facilitates buying Chinese goods. It's a Chinese e-commerce platform offering various goods and services. But it has a global distribution, and you may get the following things there:
• Sneaker styles
• Jackets
• T-shirts
• Clothing
These are just a few items you can buy on PandaBuy. When you sign in to your Pandabuy account, you'll see a list of goods and their prices.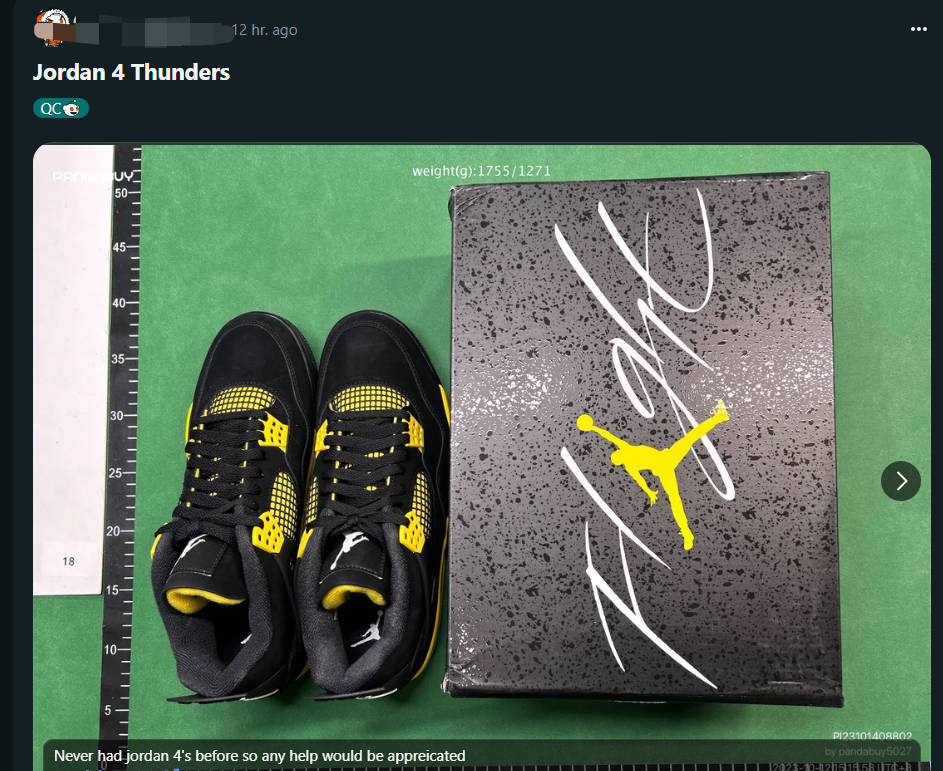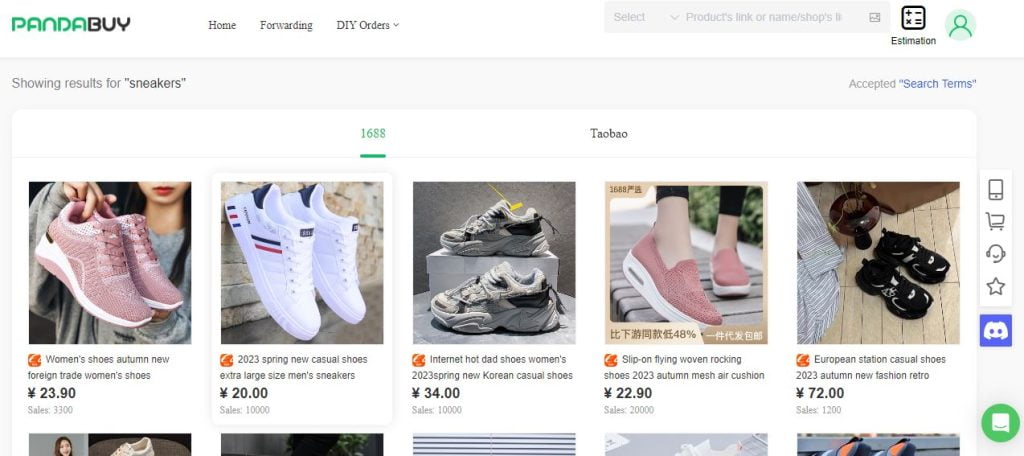 Can We Trust Pandabuy?
You may be certain that PandaBuy is a reliable online marketplace. Yet, it does not guarantee the quality of any items purchased via its site. Our investigation leads us to believe this platform is a reliable online store. You can view our evidence down here.
1) The SSL Certificate
A website might be safe to visit and use if it features an SSL certificate. This security protocol encrypts data sent across a website and its users. Thus, it protects critical information like credit card details from prying eyes.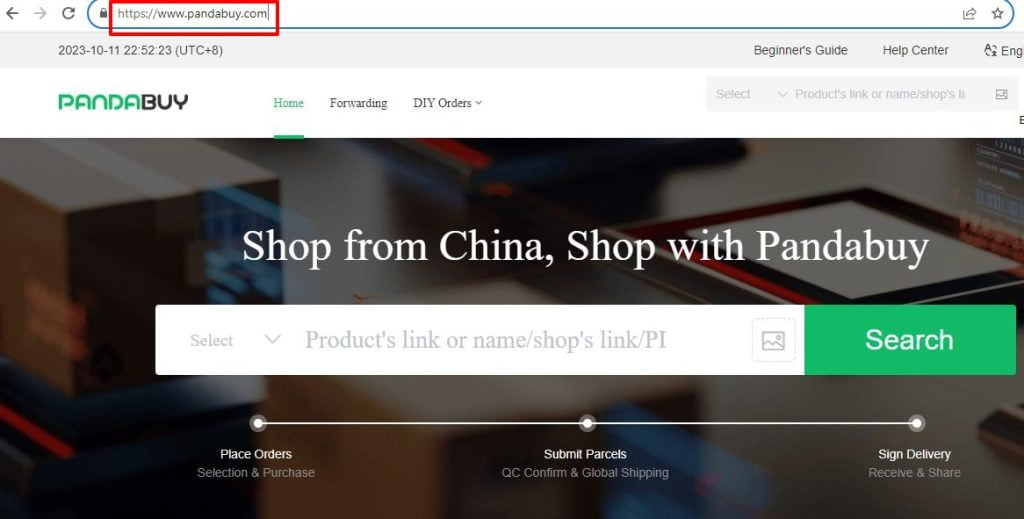 The URL of a secure website often begins with 'https' rather than the more generic "http." As you can see above, 'https' is at the start of the URL for Pandabuy's website. You may view it for yourself by going to the platform.
Double-clicking the address bar reveals the whole web address. If your browser's address bar has a green lock, you know it has SSL certification. Pandabuy flaunts a padlock symbol to prove their legitimacy.
2) Safer Methods of Transaction
The safety of online transactions is crucial to determine the reliability of websites. PandaBuy allows you to use various reliable payment methods.
Thus, this option ensures customers that their financial data is safe. These trusted payment methods help establish PandaBuy's reputation as a reliable marketplace.
3) Google Report
The Google Safe Browsing system protects users by scanning billions of web pages daily. They provide users with helpful information by displaying a website's security status.
Pandabuy's status, based on Google's Transparency report, reads 'no unsafe content found.' So, to put it another way, this platform has passed Google's bot test. Thus, it means the search engine identified no signs of a hack. More so, there was nothing malicious on this platform.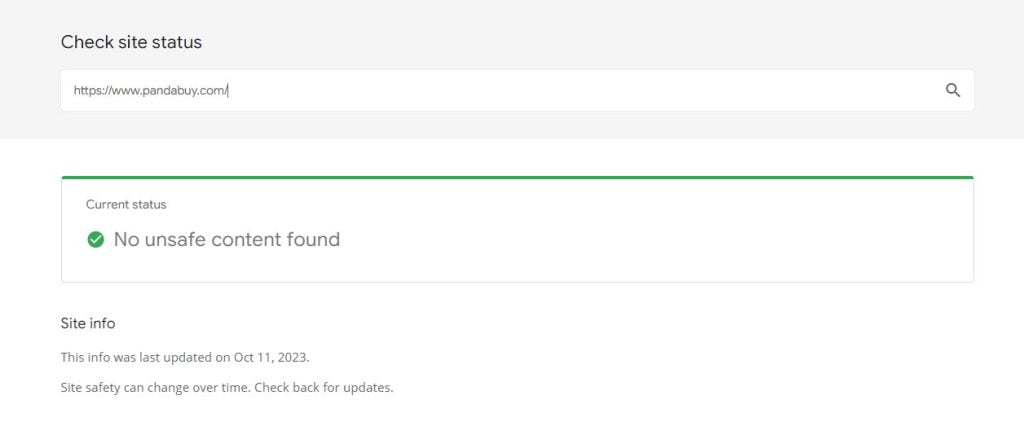 4) Name and Contact Information for Pandabuy
There is a verified address and contact information listed on PandaBuy. Contact details, a help desk, and other resources are features of reputable websites.
5) Domain Age of Pandabuy
Pandabuy has been serving customers for quite some time. According to Whois, the domain was first acquired in April 2007 and will be available for renewal in 2032.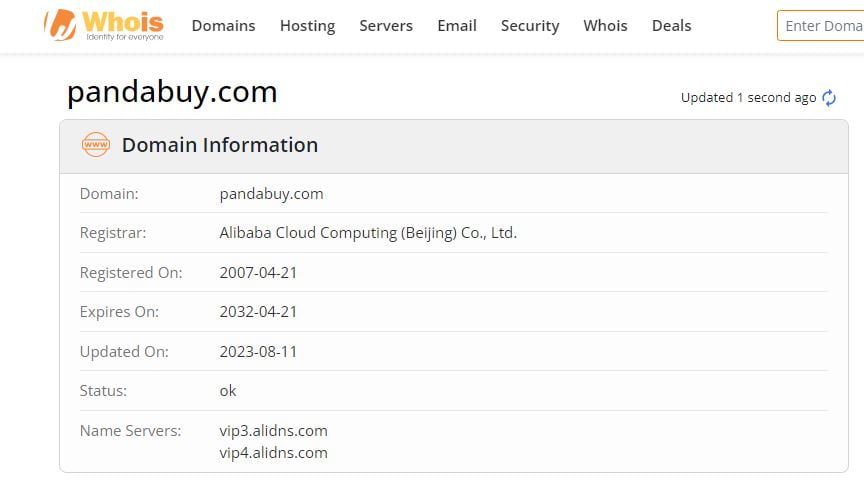 6) Reports from the Field
When making a payment on any website, it is wise to do some research in the form of evaluations. You can check for either written or videotaped reviews.
You can also look for testimonials posted on review sites and YouTube. It is a terrific method to verify the website's reliability. There are several Pandabuy positive reviews available on the web.
7) Evaluation of Pandabuy on TrustPilot
Pandabuy has a 3.4 rating on the review platform Trustpilot. Of course, we can see some dissatisfaction with the company's high shipping costs. Yet, 50% of customers had a positive experience.
To sum up, you should know that PandaBuy is not the real seller of what you buy. It provides many protective services and policies to ensure safe buying.
Being a middleman, it cannot guarantee the legitimacy or quality of the items it sells. Yet, as far as we can tell, it might be a reliable place to get goods from China.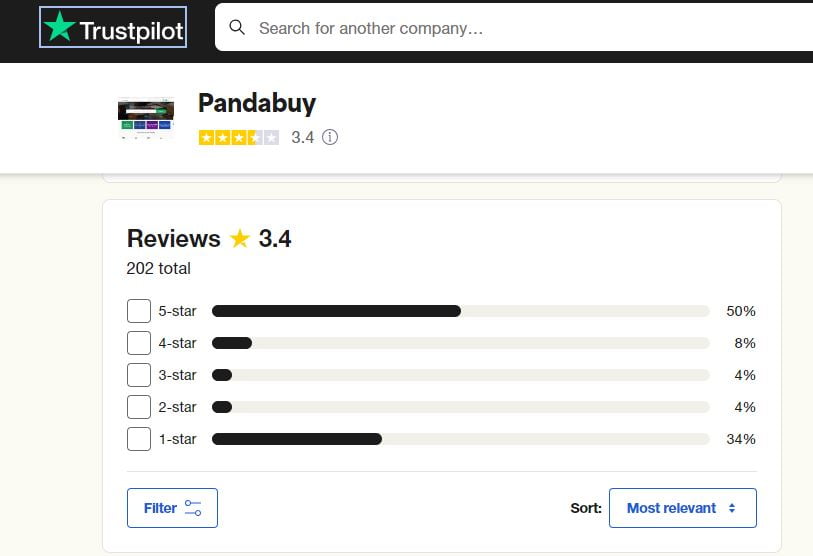 Why Do People Shop at Pandabuy?
Here, we will examine why many people buy goods at PandaBuy. It will help you decide if you should buy goods from this platform.
1) Various Goods Available
You may find a wide variety of items from various vendors on Pandabuy.
2) Reasonable Costs
Pandabuy platform strives to provide items at reasonable costs. Thus, it gives a budget-friendly option to its consumers.
3) Exceptional Help
This platform focuses on thorough product quality monitoring. It helps the platform guarantee the authenticity and dependability of its selling items.
4) Secure Website
This platform takes precautions to protect your privacy and financial data. Pandabuy uses encryption technology to achieve it.
5) Accessible On Google
You can easily find the Pandabuy platform for your buying requirements on Google.
6) Rapid Reply from Support Staff
The platform cares about its customers and works hard to deliver helpful service.
Remember, PandaBuy does not sell its products or act as a middleman between vendors and buyers. Thus, we must consider it to be something other than an online marketplace.
Rather, it is a buying agent that assists overseas buyers in buying items. It helps you get goods from Chinese brick-and-mortar stores and online marketplaces. Moreover, it handles the transaction and delivers the goods to the customer's location.
Let's check out PandaBuy's functioning in the below section.
Pandabuy: How Does It work?
PandaBuy will act as your agent to get the goods you have ordered from the vendor. Then, it will have to be delivered to a warehouse in China. Moreover, this platform keeps your items in their warehouse for up to 90 days. They'll ship them to you anytime you'd like within this timeframe.
In short, it is an intermediary that connects you with retailers and marketplaces. They ease the purchase as a shopping agent rather than an online store or marketplace. They also transport Chinese items on your behalf. Because of this, PandaBuy does not guarantee the legitimacy or quality of any items sold on its site.
But, it provides a few safeguards and services to guarantee the integrity of the stuff. For example, PandaBuy's quality assurance team will check your purchases. It will guarantee the goods are as advertised, up to par with the seller's description, and free of any faults.
Besides, they collaborate with the vendor to make things right or give a refund or exchange. Also, PandaBuy takes pictures of goods from many angles and submits them to the account for free. Note that they give up to five pictures for free and charge $0.16 for each extra photograph.

After that, you may request shipment to your address and pay the associated shipping cost. If it doesn't, PandaBuy can help you return it to the retailer for a full refund or an alternative item. They send your purchases straight from their warehouse in China to the vendor. Thus, it can save you the cost of expensive return postage.
Which Is Better – Buying Directly or Using PandaBuy?
Both buying methods have their benefits and drawbacks. Thus, it comes down to your tastes and the details of your transaction.
Drawbacks of Buying Directly:
If you want to buy a few products, you could save money by bypassing PandaBuy. In this case, you can visit a Chinese online marketplace like Taobao or JD.com. But, there are drawbacks and hazards involved with direct purchases, including:
1) Chances of Not Getting Genuine Products:
Remember, there is no third party to do quality control when buying directly. Thus, there is a chance that you may not get the same products shown by the seller.
2) Hectic and Costly Return Shipping:
As a customer, you must take the product as delivered due to the exorbitant cost of returning it to the seller. It is frequently more than the cost of the item itself due to the distance it must travel to reach China.
3) Language Barriers:
You may find difficulty in navigating Chinese online markets. Besides, communicating with merchants is challenging if you aren't proficient in Chinese.
But, when you shop via PandaBuy, you can be certain that none will happen. That's because they inspect items and give images to ensure it's exactly what you wanted.
In the event of a return, PandaBuy will send the item back to the seller from their warehouse. So, it can save you the exorbitant expense of return postage. Furthermore, PandaBuy eliminates the language issue by acting as an intermediary with Chinese vendors.
Drawbacks of Buying from PandaBuy:
Like direct buying, there are two big drawbacks to making purchases with PandaBuy:
1) High Shipping Charges
First, you may need to pay extra shipping charges on top of the original buying price.
• A local shipping charge (from the seller to PandaBuy's warehouse)
• A worldwide shipping charge (from PandaBuy's warehouse to delivery location)
2) Premium Services Cost More
You may decide to buy other services from PandaBuy. Its standard services (quality inspection, storage, and photographs) are free. But, the premium services have a price tag.
To cater to your demands, they provide value-added services. It includes thorough quality inspections and supplementary photographs taken from unique angles.
You can buy directly from online marketplaces if:
• You are looking to buy from Chinese vendors without visiting China. So, you should go no further than online marketplaces like Taobao, Tmall, etc.
• You are familiar with Chinese markets. Besides, you know how to check their goods and communicate with vendors.
• You're only going to get a few inexpensive things.
You can use PandaBuy in other scenarios like below.
• You are unfamiliar with purchasing from Chinese e-commerce sites. Moreover, you are unable to speak with vendors in the Chinese language.
• You're placing a large order or buying in bulk. Note that the shipping costs would be too costly for a few little purchases.
• You want someone to check that the product photographs match the real items.
• You agree to wait longer for your orders to arrive and to pay any related fees.
What Are the Advantages and Disadvantages of Pandabuy?
As you know, each online marketplace has a few perks and drawbacks. So, a newcomer, PandaBuy, is not an exception to this fact.
Advantages
1) Pandabuy provides its consumers with a large assortment of items from different categories.
2) Prices on the PandaBuy site are competitive. So, shoppers may often discover better deals here than at brick-and-mortar stores.
3) Pandabuy's online store is convenient with excellent user interface. It is good for buyers who look at items without leaving their houses.
4) This platform can send parcels to consumers outside the country.
Disadvantages
1) First, the site's trustworthiness and popularity are not recognized or generally acknowledged. Thus, customers may question if the site is legitimate.
2) Inadequate or missing client feedback makes it difficult to make informed decisions. Checking a company's offerings and performance in key areas like product quality is hard.
3) Customers may find it challenging to make informed purchases. This platform doesn't provide detailed information about the supplier's origins, history, and policies.
4) You may face low-quality products, late shipping, or insufficient customer help.
5) Customers feel that they are interacting with a newly discovered or unreliable platform.
Need buy products from China?
We can !
9 Tips for Making Your First Pandabuy Purchase
Worried about your first order with PandaBuy? Worry not! Below are things to think about before making a transaction on PandaBuy.
1) Do Your Homework About the Item and the Vendor
Of course, PandaBuy may check your items and offer you images. But you should still learn as much as possible about the item and the seller before purchasing.
You must check out the goods and seller on Tmall, for instance, if you're going to purchase it via PandaBuy. Here are some pointers to remember when you do your product research:
A) Product Photographs:
First, you should inspect the product images the seller has included in the offering. These images can give you primary information about the item.
B) Read Reviews:
You can read customer reviews attentively. You can pay special attention to those that provide images of the item in question. Avoid purchasing a product if there aren't many reviews, particularly good ones.
C) Check Item Details:
Size, color, and build are some elements to check before committing to final buying. It may reduce the likelihood of confusion or malfunctions.
D) Understand Size and Dimensions Chart:
Check the seller's size chart, if available. These charts are crucial before purchasing an article of clothing or a pair of shoes to ensure a good fit.
Some sellers may not provide a size chart in the description. So, it's best to contact them and ask for one before purchasing. Thus, it can help you prevent receiving the incorrect size and dealing with returns.
E) Examine Seller's Ratings:
You should always look at the seller's feedback before ordering from them. Moreover, you should focus on buying from vendors that have received high ratings. Be sure to only buy from sellers who have had their businesses up for a long time.
Some sellers often fail to send goods on time(sometimes delay 10-15 days ) or have no goods, so be extra careful when using them.
2) Find Out How Much PandaBuy Shipping Will Cost You
Do you operate with a strict spending limit or have a deadline you need to meet? You should calculate the shipping charges and delivery time before ordering on PandaBuy. The platform provides a free shipping cost estimator for you to use.
3) Learn the Import Duties and Taxes of Your Country
Do you want to buy expensive or large quantities of goods from this platform? You may have to pay extra customs charges and taxes when bringing them into your nation.
Goods priced over $800 are subject to import duties in many countries. You should learn about your country's customs fees and rules before placing an order. It will give you an idea of how much your PandaBuy order will ultimately cost you,
4) Familiarize yourself with PandaBuy's Refund Policy
You need to know the return policy before making a transaction on PandaBuy. Prepare yourself by reading and completely comprehending their return policy.
5) Double-Check Your Order Details Before Submitting Them for Shipment
PandaBuy will confirm your purchases by checking them for flaws. The platform also provides you with images along with accurate dimensions and weight.
Do not settle even if the order has passed PandaBuy's quality check. Make sure you double-check the images of your products before shipping.
Besides, check shoe and apparel sizes against the dimensions provided by the supplier. You must contact customer support with queries or reservations you may have. Use the above measures to ensure you don't have to pay exorbitant return shipping costs.
6) Bundle All Your Items Together
The nicest part about PandaBuy is that they combine your items into a single shipment. It is good for purchasing expensive things or shopping in bulk due to the shipping costs. Sending individual items, particularly inexpensive ones, might cost more than the item itself.
Given this, PandaBuy is best reserved for large purchases or quantities of the same item. In this way, you may save money by buying everything at once.
7) Determine the Best Shipping Strategy
When placing an order, PandaBuy provides many delivery options, such as DHL, EMS, and UPS. Determine which option is most practical and affordable for you.
8) Don't Rush Anything
Shipping times might range from weeks to months, so please be patient after placing an order.
If you stick to these guidelines, purchasing on PandaBuy will be a breeze. Now that you know everything about the goods, sellers, shipping costs, import fees, and return policy, what do you do?
You should now make an order with PandaBuy. After it has arrived at their China distribution center, you should allow it for shipping.
9)Don't believe YouTube review video 
Don't believe the review videos of pandabuy podcasts on YouTube, because these bloggers can make money from it, so their reviews are not objective.
Pandabuy: How to Use It?
First, this platform is like other online marketplaces. Here's how to purchase goods on PandaBuy.
Step 1: Sign Up for a PandaBuy Profile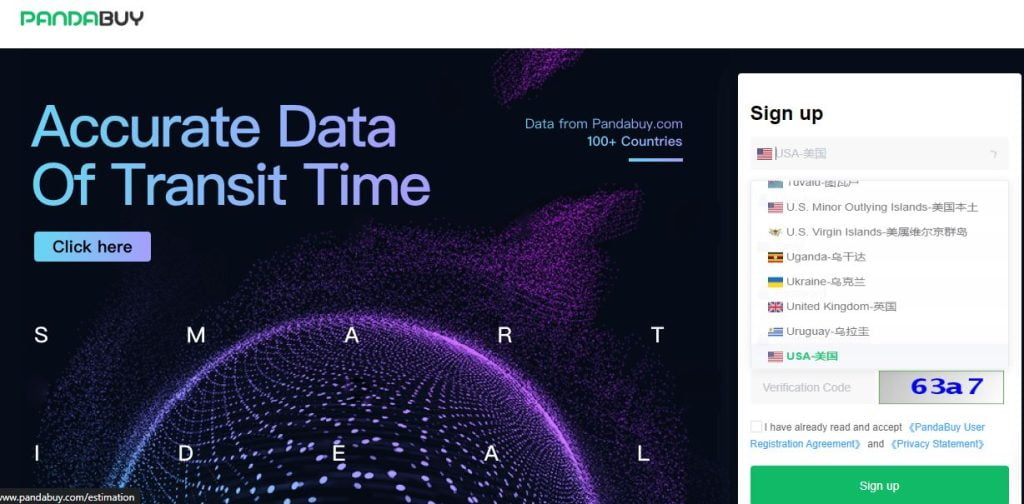 You must register for a PandaBuy account before making any purchases.
Step 2: Browse Products and Select Them
Search for things you want to buy by typing it in the search box. You can also search using the product's URL, the URL of the store selling it, a keyword, or even a picture of the item you desire.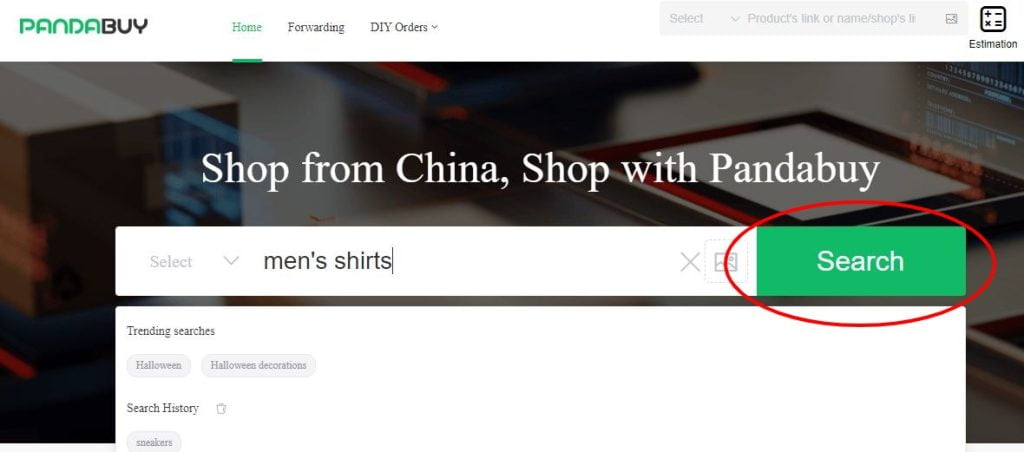 Step 3: Fill Your Cart
When you discover anything you like and wish to buy, just click the 'Add to Cart' button. Shop until you find all the products, and keep adding things to your cart if necessary.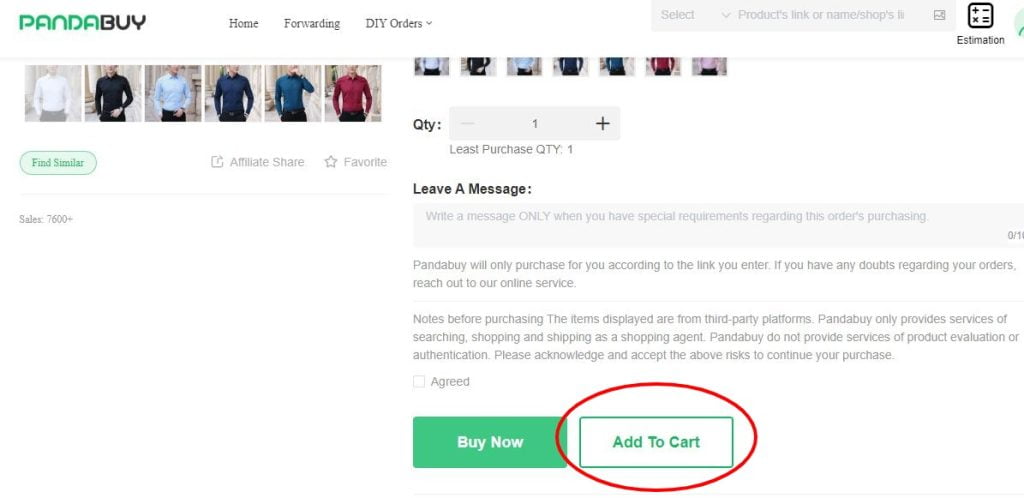 Step 4: Payment
Click the 'Checkout' button after you have finished adding all items. Credit cards, Stripe, PayPal, Wise, and many more are acceptable payment forms.
Step 5: Order Confirmation
After receiving payment, PandaBuy will order the products you've selected. It will also arrange to have them transported to their facility.

PandaBuy will inform you once the goods show up at the storage facility. It will also share product photographs. Thus, you can verify that they are accurate and in excellent shape.
Step 6: Prepare for Shipping
You can now submit your purchase for delivery by selecting the shipment option. Also, you need to pay the associated shipping fees once you have verified your products. You may then have your purchases delivered to you via PandaBuy.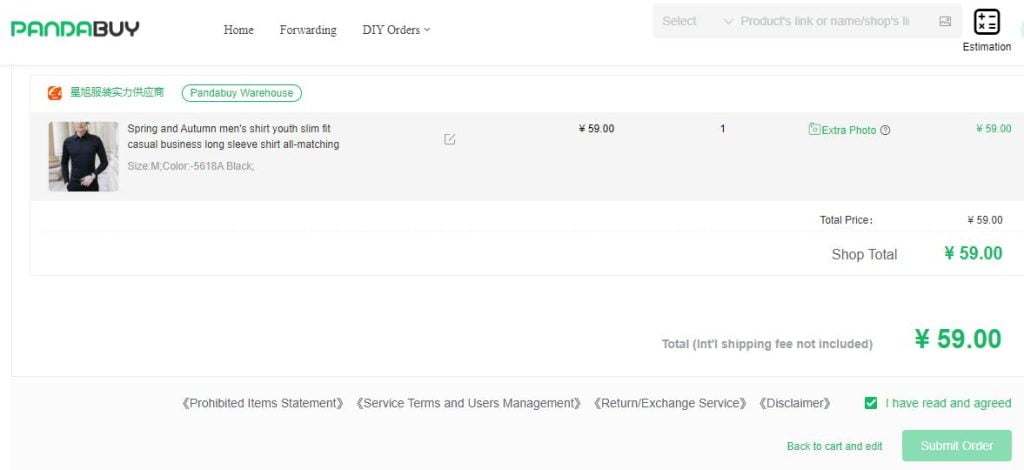 PandaBuy: How Much Is the Shipping Cost ?
Keep in mind that weight charges might vary significantly across logistics companies. To get a rough idea of the delivery cost, you may use the website's estimator page.
The buyer's location, delivery country, and package weight may affect the price. PandaBuy makes it easy to see exactly how much you'll spend on shipping.

PandaBuy: How Long Does This Platform Take to Ship?
You need to consider different aspects to know how long an order will take to arrive from PandaBuy. It includes delivery method, country, and customs processing times.
When placing an order with PandaBuy, you may choose from many shipping methods. Each shipping method will have its own set of benefits and drawbacks. It includes rapid shipping, regular shipping, and economy shipping.
The standard delivery duration for DHL, UPS, or FedEx is between three and eight business days. There are more cost-effective delivery methods like EMS or China Post. If you use them, your shipment might take two to four weeks to reach its destination.
Customs clearance, bad weather, national holidays, etc., are things beyond anyone's control. Such issues might cause delays.
PandaBuy's estimated delivery time varies among the above factors. Yet, PandaBuy offers package tracking data. It helps you check your shipment's whereabouts and anticipate when it will arrive.
How Long Does It Take to Receive a Refund From Pandabuy?
Orders in the 'Order pending' state will have their payments returned instantly. The payment is usually credited to their Pandabuy accounts.
Let's say Pandabuy hasn't already bought the products. And the order status reads Order processing. In this case, they will revoke the transaction and credit your Pandabuy account within a day.
For orders in the 'Purchased' stage, the buyer will contact the vendor to seek a refund. Here, the vendor must confirm that they have not sent the goods. In this case, you will get a refund to your Pandabuy account within 3 days.
Sometimes, a seller might give you a phony tracking number and doesn't ship the things. In this case, you may check on the progress of your purchase in the 'aftersales' section of the user center. To go there, select 'Order' and then choose the 'Seller Sent' tab.
Pandabuy will then contact the vendor to seek a refund. Here, the seller must verify the return, which usually takes 7 days. Pandabuy will credit your account after the seller verifies the return.
After 5 days of the order status changing to 'Stored In Warehouse,' you may access 'aftersales' on the order page. After that, Pandabuy will ask the seller for a refund, but they can't promise they'll get their consent. If the seller agrees, PandaBuy will start the refund without delay.
You will see the returned package's tracking information on the order page. The system credits your account after the seller receives the products and refunds the amount. The time frame for this varies between 7 and 15 days, depending on how long the seller took to verify the refund.
Final Thoughts! 
Now, you have it all about PandaBuy. Many sites are selling all sorts of goods, proving the popularity of online shopping. But, there are some unreliable ones among them. Finding a reliable site is crucial whether you're a first-time shopper or a seasoned pro. Being cautious is more important because of the chances of fraud and fake websites. 
So, there is PandaBuy to fill this need. Its novelty as a shopping platform has piqued the interest of both sellers and customers. So, PandaBuy may be a reliable marketplace. 
They do a thorough inspection to ensure everything is perfect per the client's needs. You can either use PandaBuy or shop directly on other online marketplaces. Your unique interests and requirements will determine which option you must choose.
Yet, as a new shopping agent, they cannot guarantee product quality. Moreover, many customers complain about late deliveries after buying from PandaBuy. Many customers even add that they didn't receive any product at all.
Thus, you should consider hiring a reliable sourcing agent like Fulfillbot. An agent can cut all possibilities of fraud. Besides, you can rest assured that your items will arrive on time and, of course, in good condition.