DHgate is an online store that allows you to buy from Chinese manufacturers. When you buy from DHgate, everything seems easy during the initial phase. DHgate supplier provides you with the necessary details of your package.
But the real fear comes when you don't receive any information regarding the shipping. That's because shipping packages from China can be intimidating at first.
You do not understand how to tackle DHgate shipping issues. You keep worrying about losing your order in transit. So, you either look for DHgate alternatives or learn to tackle such issues.
Here, you will get to know how long DHgate takes to ship. How to track your package and what to do if the package doesn't arrive. Besides, we will also discuss the methods it uses to ship.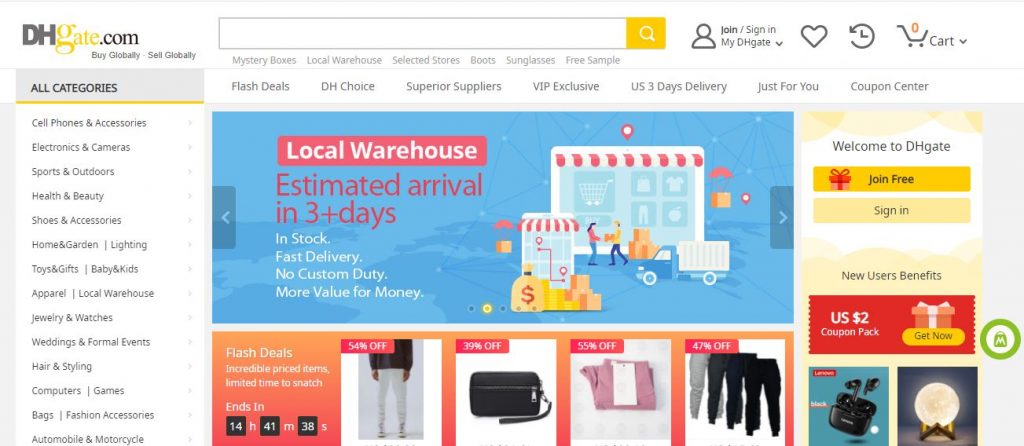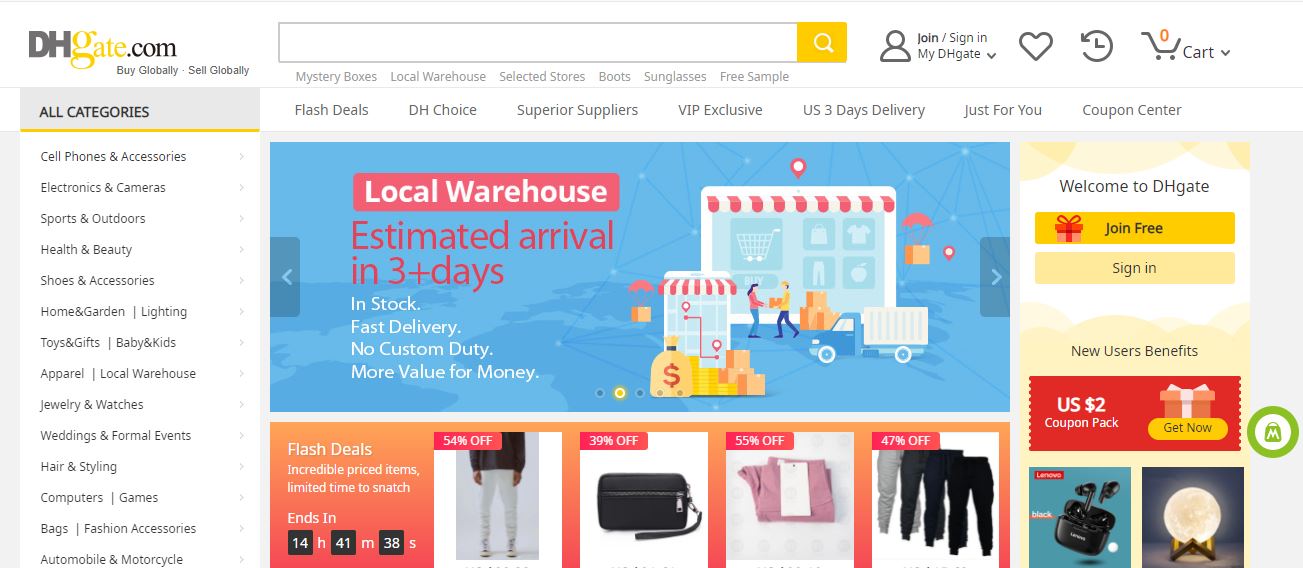 DHgate is an e-commerce site that consists of small and medium-sized businesses. Moreover, it is one of China's best cross-border e-commerce website platforms.Learn More about DHgate and DHgate Review
It is a platform that links Chinese sellers to global buyers. Most vendors sell their products as retail or wholesale. What's more, DHgate lets you buy popular items such as bridal gowns, computers, accessories, and so on. Site Like Dhgate
DHgate, founded in 2004, has its headquarters in Beijing, China. It also has other offices located in the US and the UK. DHgate gives sellers from China a platform to showcase their products.
In short, DHgate is a B2B site consisting of various products, including electronics and clothes.
As we know, DHgate is safe and easy to use. The company offers a safe refund policy, a secure payment system, and reliable shipping. Thus, this company has grown over the past years. It has over 1.2 million merchants and 30 million products across various categories listed.
Customers from different parts of the world browse this platform to buy products. Thus, DHgate is available in various languages such as English, German, French, Russian, and others.
How Long Does DHgate Take to Ship?
DHgate products mainly come from China. So, it can have an impact on the shipping duration. If you are a domestic buyer, your order will ship faster than an international buyer.
Shipping time is affected by the method of shipping used. Also, it's affected by the time taken to process the order. Moreover, working days also affect shipping time.
Shipping products to the United States of America, Australia, Canada, and Europe can take 1-3 weeks. But, you can pay an extra fee for fast delivery.
The below chart can give a rough idea about the shipping times.
Need Fast Ship🚀 & Sourcing Agent?
👇👇👇👇👇👇
What Is the Item Processing Time In DHgate?
It depends on the seller's settings, usually ships within 24 hours, but some sellers set the processing time to take a long time.
The merchant requires time to arrange and pack your order. Thus, the supplier has to speed up the item processing time to make a quick delivery.
So, the item processing time varies depending on the size and fragility of the order. Also, if your item is out of stock, processing your order might take more time.
If your order is processed faster, it takes 3-15 working days to deliver the product. DHgate provides an estimated time of delivery on their website. Their estimated time includes item processing time and shipping time.
What Are DHgate Shipping Methods?
Supported shipping methods: UPS, FedEx,DHL, TNT, EMS, TOLL, EMS, CNE, Equick, JILLION, ePacket, postlink,CHINAPOSTAIR, CHINA_POST_AIR_MAIL, CHINAPOSTAL,CHINA_POST_SAL_MAIL,HONGKONGPOST, Singapore Post, Swiss Post, Sweden Post.
As the shipping method is set by the Seller, it is recommended that you contact the Seller directly for more shipping information.
What Is the DHgate Delivery/Shipping Time?
DHgate uses various delivery methods. Like, express shipping that consists of DHL, FedEx, etc.
Note that various factors affect the DHgate delivery and shipping time. It can be the location. Besides, there are other factors like order size, working days, shipment schedule, and item processing time.
So, the shipping method determines how fast you will get your order. if you choose express shipping, your order will arrive in 3-5 days.
The product category also affects the time taken by the supplier to process your order and deliver it. If it is a bulk order or a delicate product, a lot of time will need to prepare and ship it.
Normally, your order will bedelivered between 3 to 60 business days, and the delivery time will depend onthe following factors.
1. Item Processing Time: The processing time is the time it takes for the seller to prepare the item(s) for shipment. There are different processing times for different items depending on product category and volume. Usually it is around 3 to 15 working days—specified by seller according to the item's stock status.
2. Shipping Method: Delivery time varies with shipping method. Time in transit varies depending on where you're located and where your package is coming from.
Please note that due national holidays or force majeure factors, shipping time frames may be delayed, and you will need to contact the seller for further details regarding the delivery status of your order.
If you want to contact a seller before you make a purchase, you can do so by clicking the Message or OnlineChat link on the right side of the Item Page.
How Do I Track DHgate Orders?
There are 4 ways to track your package:
1. You can sign in to 'My order' after your Seller has shipped your order, and provided the tracking number, and click on the "track items" to view the shipping status.
2. You can also check your order status by entering the item number in "my orders-Order tracking."
3. You can visit the official website of the shipping company that was used to shipout your order, and track your package by entering the tracking number in the relevant field.
Each method of shipping provides different tracking numbers. But, if you don't see it, you can ask for it from your seller. So, make sure you get the tracking information to track your order.
4. You can also contact DHgate customer service, or Seller to learn about the process of order tracking.
Others track site:
You only need to enter the tracking number to track the package delivery information
1.parcelsapp
2.17track
and so on.
What Is DHgate On-Time Delivery?
If you visit DHgate's website, you will see the information concerning on-time delivery. According to DHgate, they provide their customers with specific features to ensure on-time delivery.
1. On-Time Delivery on DHgate
Sellers on DHgate are expected to provide customers with an on-time delivery guarantee. This on-time guarantee enables buyers to stay updated on their order delivery.
This guarantee includes two parts. The first one is how long the supplier will take to process the item or shipping. The second part is how long it will take to ship the item from the supplier's warehouse/dispatch location to you.
2. Guaranteed and Estimated Delivery Times - Are They Different?
The difference between Guaranteed and estimated delivery time is listed below.
A) Guaranteed Delivery Time
The time provided is authentic and accurate. The seller provides an on-time guarantee. The guaranteed delivery time is uploaded as soon as the seller uploads the tracking number information.
B) Estimated Delivery Time
Estimated time acts as the reference time, i.e., delivery time can reach within the time limit provided. So, DHgate provides the estimated delivery time.
The estimated delivery time is there even before the order is shipped.
3. Things Excluded From "On-Time Delivery Guarantee" at DHgate
The following are the things not included in the DHgate On-Time Delivery Guarantee.
There might be some conditions that will lead to the delay of your order. Like, a natural disaster or an accident. So, it may not be the mistake of the supplier.
B) Wrong Delivery Address
If you provide the wrong address for delivery, your order may not reach you. Thus, you should check your delivery address before finalizing the buying process.
DHgate is not to be blamed if you pay directly to the supplier. Remember, DHgate provides secure payment systems to avoid fraud cases.
Some situations cannot be under the control of DHgate. It means you will have to settle some cases with the seller directly.
What Factors Can Delay DHgate Shipping?
When shipments are being delivered overseas, some factors affect on-time delivery. Thus, buyers should consider these factors when ordering from DHgate.
1. Delays due to Seasonal Events
DHgate orders are shipped from China. When ordering from them, look at the holiday schedule of China to be on the safe side. Holidays affect working days on DHgate or any other e-commerce site.
If you order during a public holiday, your order might be late for 3-5 days.
2. Delayed Clearance from the Warehouse
Shipping through the logistics company may take up time. That's because they have to sort out items. As a result, this added procedure leads to an increase in delivery time.
3. Delays Due To Custom Clearance
Custom clearance officers sometimes may take much time to clear your package. Or, they might set your package aside due to import tax payment issues.
There might be a delay in flight departure. It affects customers using the air freight shipping method.
Moreover, bad weather or aircraft emergency checks might affect the time of departure. As a result, it leads to delivery time being affected.
5. Less Frequency of Flights Due To Pandemic
The Covid19 pandemic has led to the restriction of some international flights to curb the spread of the virus.
Due to this, cross-border shipping has been dramatically affected. There are fewer flights than before. It leads to a tight cargo shipping schedule. At times when the package arrives, it arrives late.
How Can You Avoid DHgate Shipping Delays as A Buyer?
One can always follow the below points to avoid delays in DHgate shipping.
Online shopping is rarely planned. If you want to get your package on time, you should make your purchase early. A month or two early purchase is enough time to avoid delays.
Besides, a follow-up with the seller on when they will ship will also aid in you getting your package on time. Thus, consider all factors affecting your delivery when planning what to order.
2. Check the Recent Situations
Before embarking on an online shopping spree, check to see if the destination country is on the safe side. Some countries are limiting shipments from other countries due to this pandemic.
Ask the seller if they can deliver in your country. Remember, the lockdown situation leads to an increase in shipping prices, time, and import tax.
It is good if the seller agrees to ship to the given address. Always pay attention to this.
3. Check the Shipping News To Ensure Delivery Status
It will help if you are up to date on shipping news. Know about the product prices, shipping time, shipping rates, and restricted areas.
Also, keep in touch with the sales representatives in China. It will help if you stay updated on the situation in China. For example, if it is a holiday, they will let you know about the possibility of your order being delayed.
4. Stay Connected With Everyone
A supply chain involves many parties. It starts from the supplier and ends with the shipping agent. So, keeping in touch with each one of them at every point is important.
To avoid not knowing the status of your order, you can be in touch with every party associated.
Keeping in touch will help you assist them in case of an emergency. For example, the supplier may want you to change your shipping method.
With the pandemic situation, manufacturers avoid shipping items to the highest affected areas. Of course, sellers want to improve sales, but they also want to avoid the virus spreading.
Thus, some manufactures may halt selling products to specific regions. You may have to find a way to source products from somewhere else.
What Should You Do if You Don't Receive the DHgate Order?
At times, orders may delay in arriving. The estimated times can pass without signs of having your package delivered to you.
The on-time delivery guarantee allows you to receive your package on time. But, if you do not obtain your package for some reason, follow the following steps to get assisted.
1. Wait for It or Submit a Refund Request
You can submit a refund request. It allows you to be refunded money due to the uncertainty of the package. Some sellers also offer you the option of sending you another order.
Another way is you wait for delivery. The package might still be in transit due to unavoidable circumstances. So, you can wait for the DHgate order to be delivered.
2. Consult With the Supplier
If your package has been delayed for a long time, you can reach out to the seller. You can use online chat options or WeChat to do so.
Communicating with them can help you understand why your package has been delayed. Besides, it enables you to wait for the package to arrive. Or, you can explain the issue to the DHgate customer executive and get your money refunded.
3. Get Help From DHgate Customer Executives
There is also an option of contacting DHgate for further assistance. You can do so when you do not receive sufficient assistance from the supplier. You can file a claim on the DHgate Buyer Protection period.
DHgate can help solve the issue by contacting the seller and evaluating the issue. You can end up getting your refund or get another item sent to you.
Remember, customer executives often check the evidence you and the seller provided. Then, they arbitrate on someone's behalf.
Is DHgate good for dropshipping?
It has a wide range of products to choose from,  DHgate is one good dropshipping site but only if you find a reliable supplier and guarantee fast delivery. Otherwise, it will cause complaints from customers, which will affect your dropshipping business.
Fulfillbot is the best dropshipping agent, Low price, and fast delivery.
1. What Is DHgate E-Packet Shipping Time?
E-packets are delivered on DHgate in less than 30 days. It is a free or low-cost shipping method.
Some buyers mention that it took between 7-10 days for their e-packet to arrive. E-packets arrive faster because they are shipped by air. You can also track your e-packet easily.
2. What Is DHgate DHL Shipping Time?
DHgate delivery time depends on the item's availability. DHL is one of the fastest delivery services internationally.
It takes about 3-4 working days for DHL to deliver your order from sellers. This time is affected by the item processing time taken by the sellers.
3. What Is DHgate Average Shipping Time?
The average shipping time on DHgate is between 5-20 days. Shipping time is affected by two things. The method of shipping used and the time taken to process the item.
4. What Is DHgate Shipping Time to the USA?
Shipping time to the USA will depend on which shipping method you use. DHL will take 3-4 days. Mail Americas takes 13 days. EMS takes 15 days. UPS takes 5 days. FedEx takes between 4-6 days.
If you use air freight, it will take an estimated time of 5-14 days. It will also take an estimated time of 30-45 days if you use sea freight.
5. What Is DHgate Shipping Time to Canada?
DHgate shipping to Canada is not as easy as shipping to the USA. The minimum delivery time to Canada is 20-25 days. It is an estimate provided by DHgate.
6. What Is 'feijijingang' Mean?
When you track the package, the tracking information may show "feijijingang", you may wonder who is "feijijingang",
In fact, 'feijijingang' is a pinyin for 飞机进港, which means 'Aircraft arrives in port', basically your shipment is on queue along with another thousand, maybe millions, so, relax! Remember there is a container crisis and all the shipments are delayed.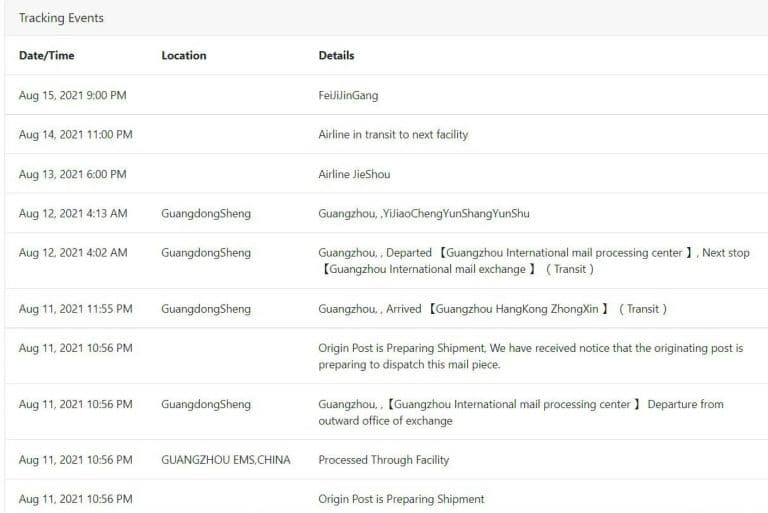 Shipping from China can be easy. You don't have to struggle and lose your packages ordered from DHgate. If you want your DHgate order to arrive quickly, make sure you use China express shipping or air freight.
For those who are okay with waiting, you can use sea freight. But, always ask for a tracking number. It will help you track where your package is.
If you do not get your package, you can take the following measures. One, ask for a refund or wait for the package to arrive. Two, communicate with the seller to understand what is going on. Three, ask DHgate for assistance.
Shipping time varies depending on the destination place. Also, the size of your order matters too. After ordering, you can track your package and let it come to you.
Do you want to avoid all these DHgate shipping-related troubles? You can hire a reliable dropshipping agent to handle your shipping needs. So, get an agent now!