In today's world, online shopping is becoming a trend. Many e-commerce sites have been introduced to the market. It includes DHgate, Amazon, Alibaba, Aliexpress, Made in China, among others.
Online shopping has improved our lives. You no longer need to pick up bags and travel to China to get goods. All you need is a phone/tablet/laptop and the internet.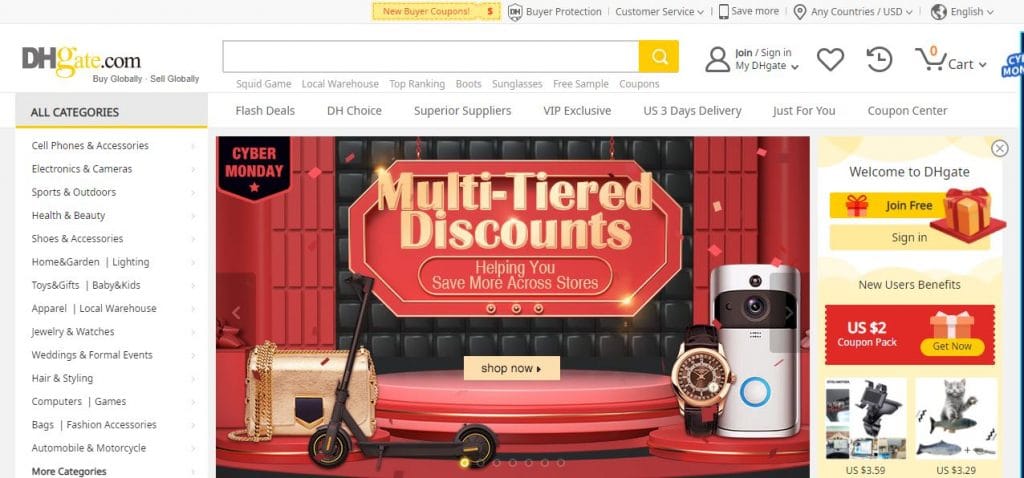 We have many sites around, but not all meet customers' satisfaction. For you to know which one suits you, you may have to try them all.
At one point, you'll realize some sites offer wholesale products while others deal in low quantities. So you have to know what you want and which platform can meet your needs.
Do you want to know websites other than DHgate that help you import products? Then, here is a piece for you.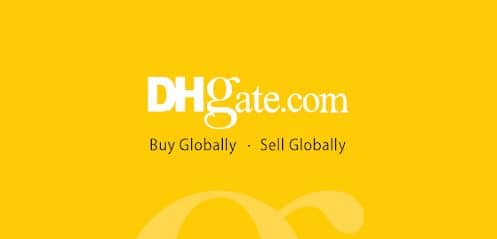 DHgate is one of the largest e-commerce platforms in China. Diane Wang founded it in 2004.
It is a well-established B2B and B2C site. The platform offers a massive collection of products, including electronics and machinery.
DHgate has Chinese suppliers listed on its site. They get to showcase their goods and attract buyers from around the globe.
Goods on DHgate are of low prices but of good quality. Moreover, the range of minimum orders a client can buy is as low as 1 item. Sounds interesting, right? Well, below are some benefits and drawbacks of this platform.
You get affordable items. With a large pool of suppliers, DHgate has the best rates. What's more, the suppliers here compete on who has the best price on the market.
B) Vast Collection of Products
They have a large variety of products. It includes electronics, machinery, beauty products, and many more.
C) The Platform Has Reputation Worldwide
This platform attracts buyers from all over the globe. Thus, it helps vendors earn a good profit margin.
D) Secure Payment Options
They have an escrow payment system. This service protects the buyer from having their money stolen by a fraudulent supplier.
  It has many counterfeit products. So, don't expect to find an original Nike shoe on DHgate.
B) Intermediaries May Charge More than the Actual Price
You deal with intermediaries instead of factory owners. Thus, it adds to your buying price as they'll charge a commission.
Shipping takes time. Your buyer might wait for up to a month(15-35 days or more) to receive your package.This means that your FB advertising account will receive a lot of negative reviews, resulting in the closure of the advertising account.
You might have to wait to get your refund. The refund policy checks your patience when buyer receive damaged products or don't receive your parcel at all.
Is Dropshipping With DHgate a Good Idea?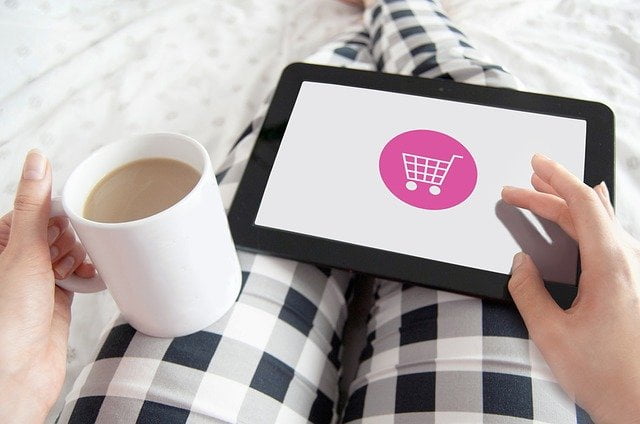 DHgate is a legit online shopping platform for buyers. What's more, you can also download the DHgate dropshipping app. It can improve your buying experience as a drop shipper.
You won't have a hard time on DHgate as a drop shipper. This platform has a lot of items in different categories. Thus, you can choose from accessories, computers, beauty products, and many more.
You can check the items out and pick those that will earn you profit. On DHgate, you can buy the products at a lower price and resell them at a higher price.
A good number of suppliers offer free shipping. But, free shipping is merely a standard to attract buyers. Your items may take a long to arrive.
You can check which suppliers to work with before placing orders. Above all, you can identify suitable suppliers based on their ratings and reviews.
If you use DHgate, make sure your supplier is legit. DHgate is known for its "fake products." A genuine supplier with genuine products will impact your growth as a drop shipper.
You can read this post
Is DHgate legit and saft?DHgate Ultimate Guide
Why did you need look out for DHgate alternatives?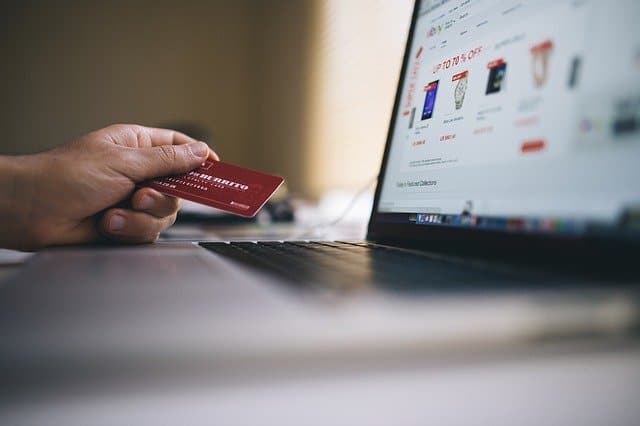 Many buyers, especially resellers, want everything instant. That means they find it hard to wait for the product delivery.
Besides, there are many other aspects where DHgate needs improvements. Let's check them out!
1. No Option to Compare Suppliers From Different Sites
You can check out other e-commerce sites like Alibaba. You will notice that they offer a straight option to compare suppliers.
A quick comparison helps you identify suppliers' communication, the quality of goods, and pricing. These comparison points matter a lot to any drop shipper.
On-time delivery holds value in dropshipping. Some DHgate buyers complain about the delay in shipping. The shipping is slow and delays even more if you are a cross-border buyer.
In order for your business to last longer, you need faster delivery time
3. Look for Best Suppliers
Find more suppliers, choose the one with the best price, service, and product quality
4.Different Product Options
Of course, DHgate has many suppliers offering different products. But what if you want some rare products? If you check other sites, you might find something that isn't on DHgate.
Top 8 Best Sites Like DHgate
Founded in 1999, Alibaba is one of the biggest e-commerce stores in China. Since its founding, this platform has grown tremendously.
Alibaba is mainly used by buyers who want to buy in wholesale. That's because it offers a wide range of products, like toys, clothes, home appliances, tools, etc.
Sellers at Alibaba get to reach a broad global audience. Likewise, as a buyer, you also get a chance to buy items at wholesale prices.
As a result, we are placing this platform as a top entry in our list. It can indeed become the first place for buyers looking for DHgate alternatives.
You can read this about alibaba
Is Alibaba Legit ? Ultimate Guide to Sourcing Products Safely from Alibaba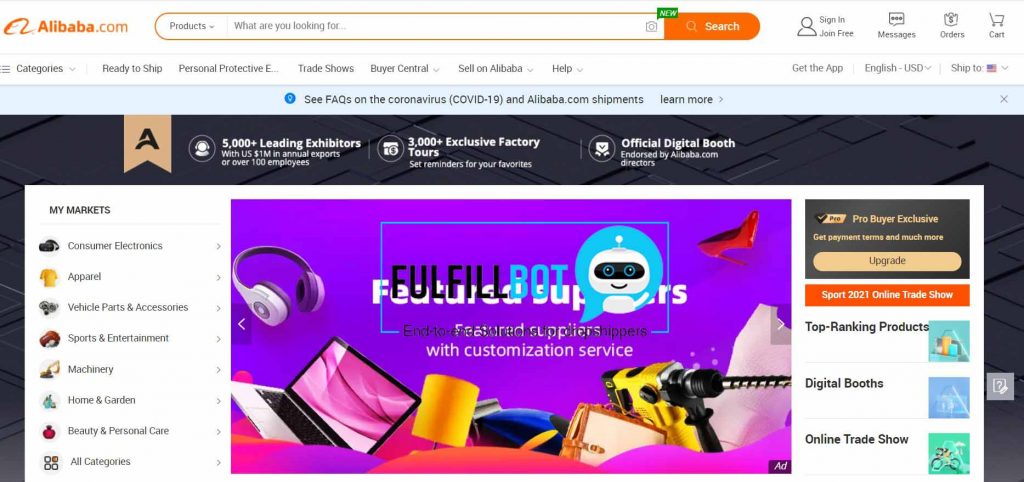 You buy goods from suppliers and manufacturers. Thus, it allows you to customize your items if you want. Besides, you also get to build a good rapport with the suppliers.
A buyer can buy large quantities at wholesale prices. You can also negotiate with the seller. Consequently, it will help you save some coins.
You can see analytical data like page views, buyer inquiries, and the latest products in the market.
Trade managers are there to assist you. Most of them are good at English. Thus, it makes your shopping experience better.
Alibaba also helps you filter out authentic suppliers. They are gold suppliers that have been verified. It ensures that you are dealing with a genuine guy.
You can customize your products to suit your brand. As a result, it helps your products stand out.
Reviews of Alibaba on TrustPilot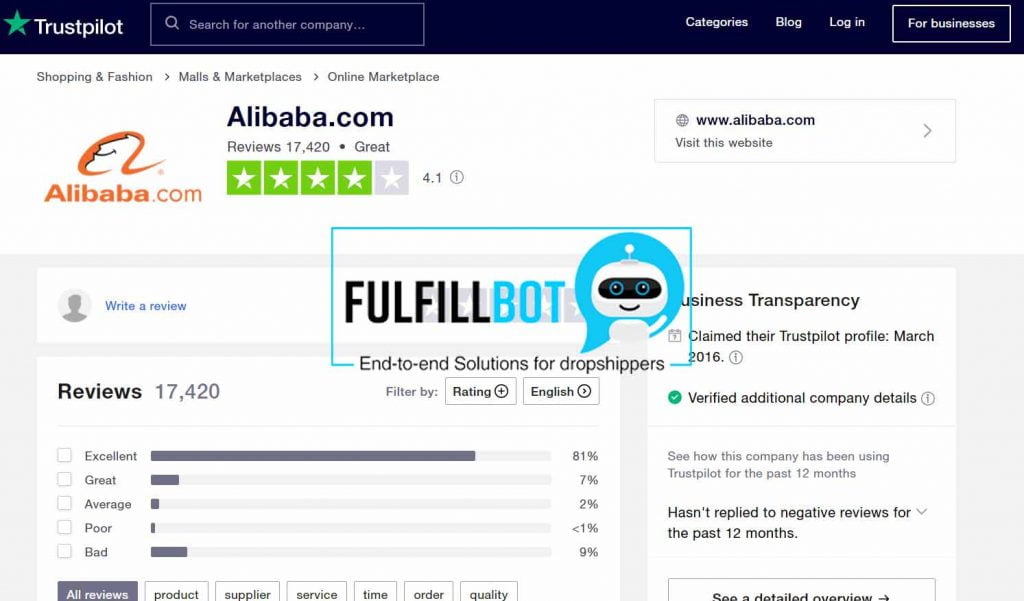 • Great Shopping Experience
Some customers claim that they loved the shopping experience.
• The Platform has Many Scammers
Items don't get delivered, or money doesn't get refunded.
• Trade Disputes Meditation Supports Merchants only
The customer feels like Alibaba doesn't support buyers.
• Not Satisfied with Customer Service
Some buyers could not contact the seller or were not satisfied with the services.
Review of Alibaba on Sitejabber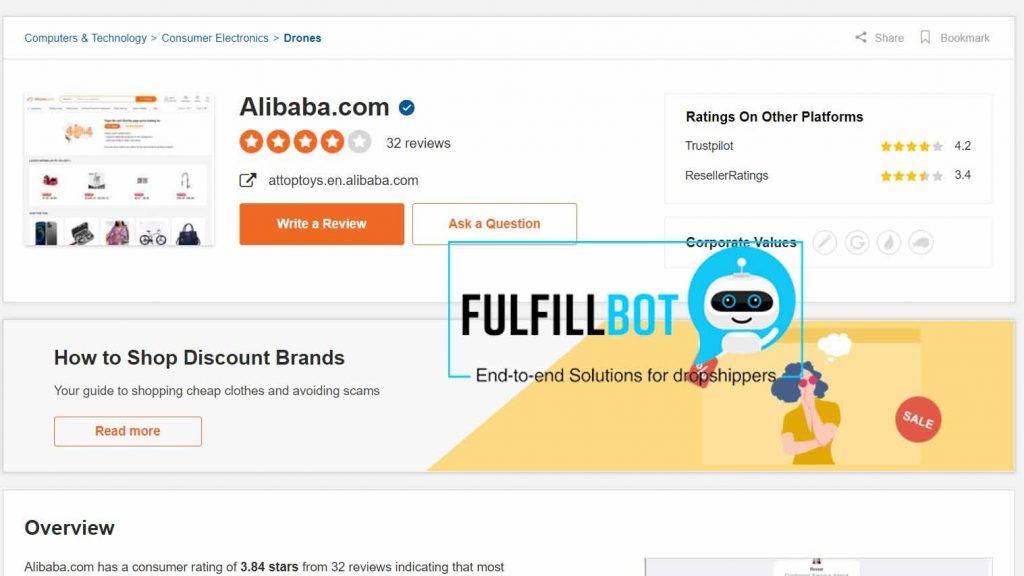 • Counterfeit Products
According to some buyers, items bought at Alibaba are counterfeit. There is no guarantee for authentic items.
• Great Experience
Fast and easy shopping experience. Orders got delivered in no time.
• Zero Trade Assurance
Some goods arrive damaged. Or some are wrongly packed.
• Miscommunication
Supplier indicates shipping is via freight while it is via sea.
• Ordering Is Easy
The site is easy to use. You can find reviews that show which suppliers and items are appreciated more.
Well, Aliexpress is a famous company owned by the Alibaba Group. It was founded in 2009. It is popular in China and abroad for its excellent B2C services.
What's more, Aliexpress has a low minimum order quantity. You can order up to a single item.
you can read this about aliexpress
Is AliExpress safe, legal and reliable for shopping?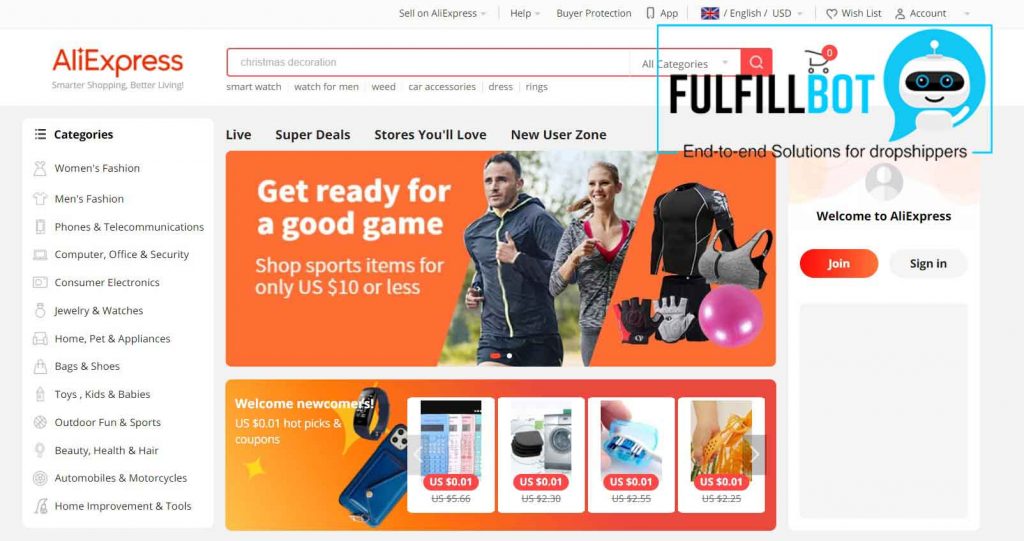 This platform has no minimum order quantity. It means you can buy one item. That makes it feel like a regular store.
The website is so simple with easy navigation. Thus, you can browse and shop in no time.
Shipping can take up to 60 days. Of course, it is for regular shipping. But, you can pay for private couriers like DHL for faster shipping.
Most items on Aliexpress are accompanied by free shipping. However, the shipping might take time.
Reviews of Aliexpress on TrustPilot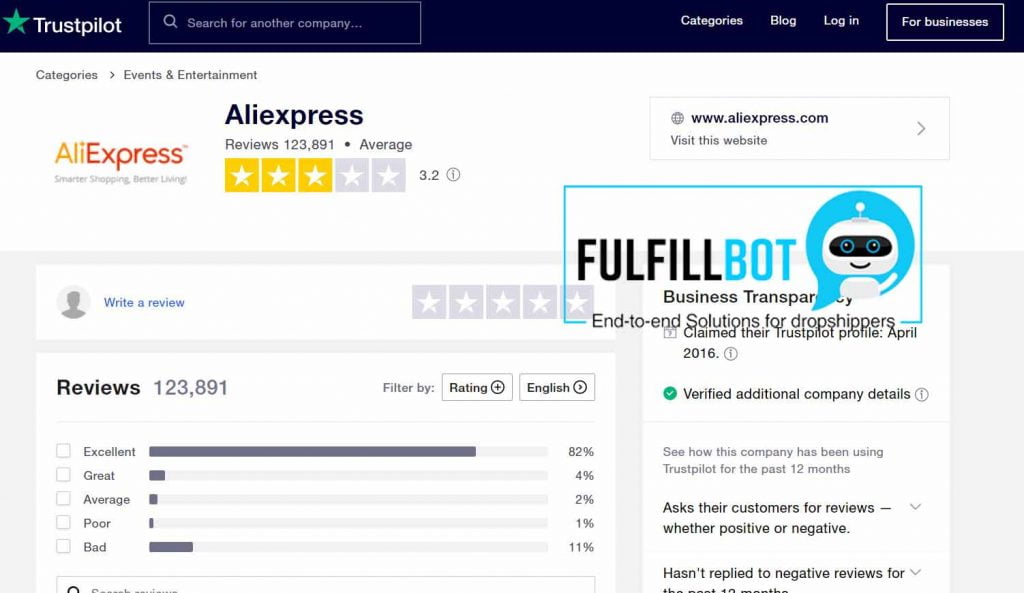 Total Reviews: 1,23,871
• Package Not Received
The package of some buyers was in transit for a long time or lost.
• Misleading Pictures
Pictures of items may not be the same as the item received.
• No Refund
Refund not given or given in half to the buyer.
Reviews of Aliexpress on Sitejabber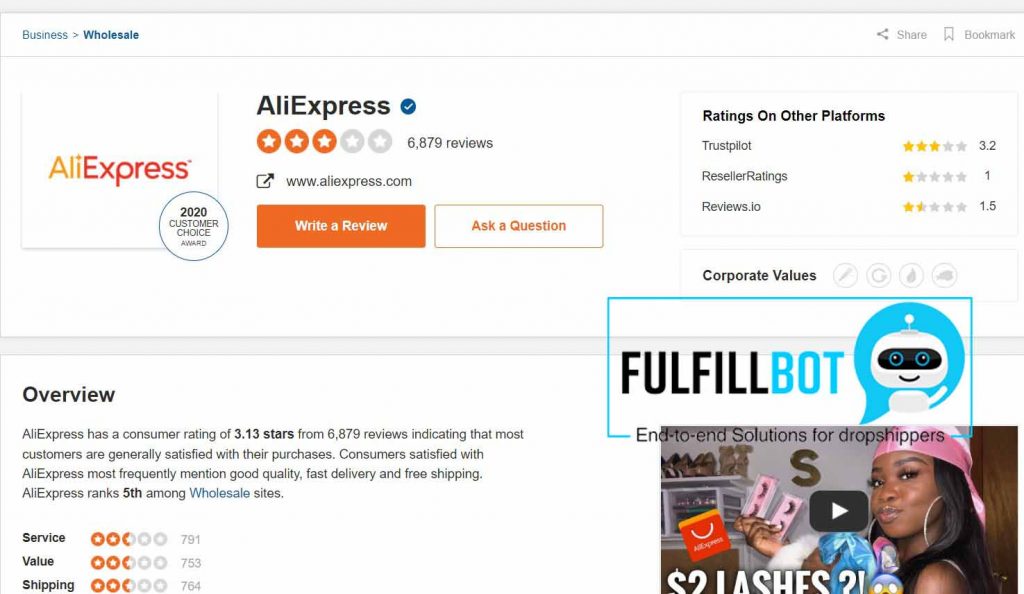 Total Reviews: 6,879
• Bad Customer Service
The customer executives take longer to respond to a query.
• Slow Shipping
Shipping takes a long to arrive.
• Low-Quality Products
Some customers didn't feel satisfied with the quality of the products.
• No Buyer Protection
Some buyers didn't receive their refund money.
DealeXtreme is a website connecting buyers with sellers. It is known for selling electronics and gadgets.
Besides, the platform also offers accessories, home equipment, and beauty products. Moreover, shipping can take three weeks to a month.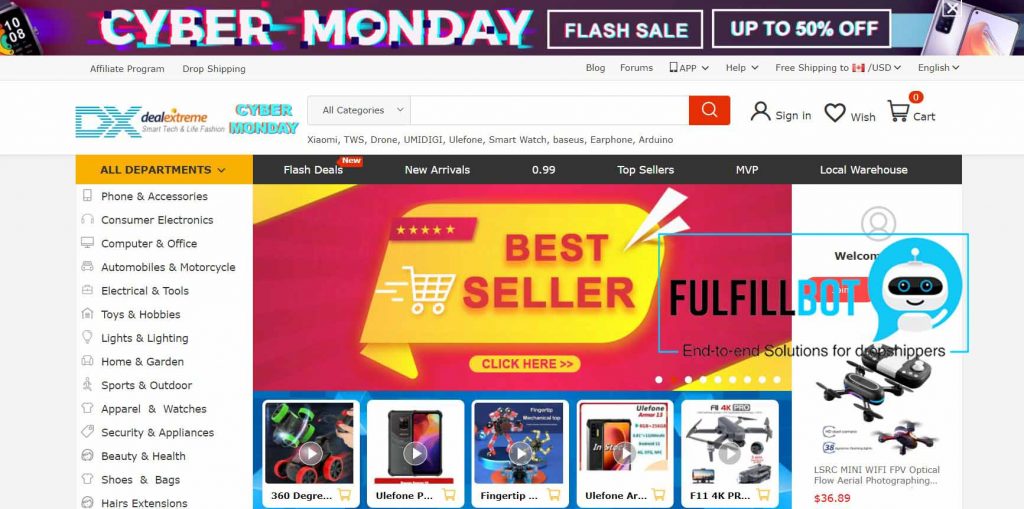 There are points given each time you buy. DealeXtreme allows you to earn 10% of the total price in points.
It has various payment methods. You can pay via credit card, PayPal, western union, or any other method listed.
DealeXtreme offers free shipping on all orders. But, you might need to wait for 15-30 days to receive your package.
They have Goods Return Policy. You can return a product within five days of receiving it and ask for a refund.
DealeXtreme has a forum for asking and answering questions. Thus, it gives you a hint on what's genuine and what's not liked by buyers.
Reviews of DealeXtreme on TrustPilot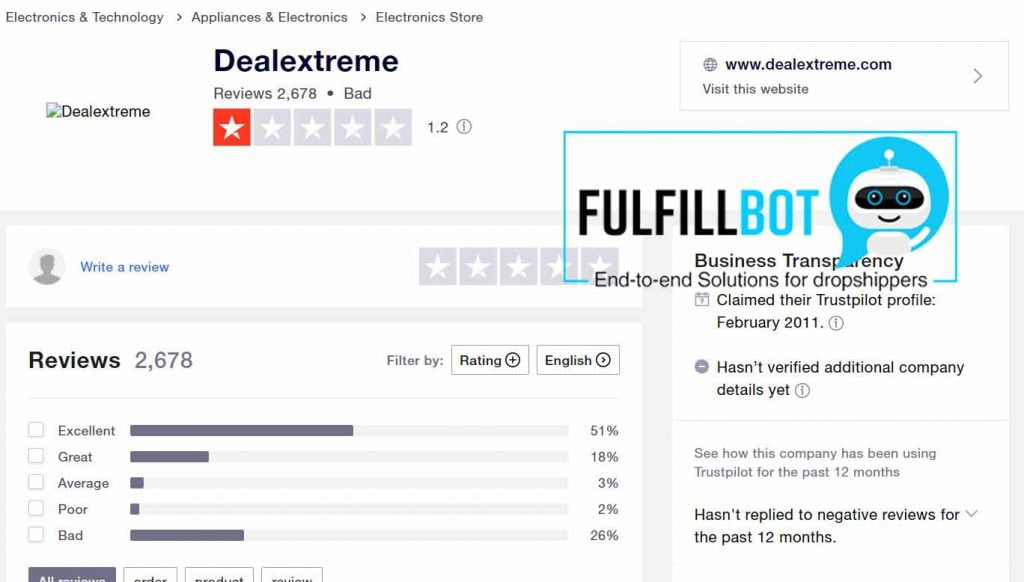 Total Reviews: 2651
• Not Satisfied with Customer Service
The seller didn't respond or didn't fully answer questions.
• Poor Shipping Services
Items were lost or delayed in delivery.
• Zero Trade Assurance
Buyers are not given a guarantee of receiving a refund if needed.
Reviews of DealeXtreme on Sitejabber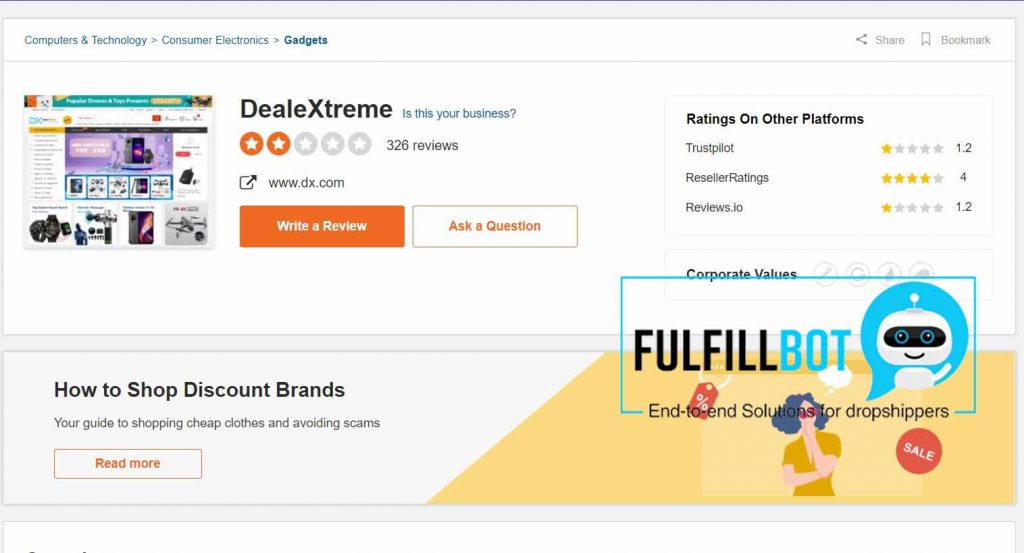 Total Reviews: 326
• Poor Communication
Communicating with the seller can be below the customer's expectations.
• Good for Gadgets and Electronics
It offers a variety of electronic items as compared to other products.
• Wrong Orders
Some suppliers delivered wrong orders to some buyers.
• No Package Received
Items of some buyers were not delivered or were in transit for weeks.
Founded in 2013 by Jonathan Magasaniki, Gearbest is an online shopping site known for selling electronics and gadgets.
This platform operates much like the DealeXtreme platform. Apart from gears and gadgets, you can also find general items. So, it is more like a general retail store selling clothes, fashion accessories, etc.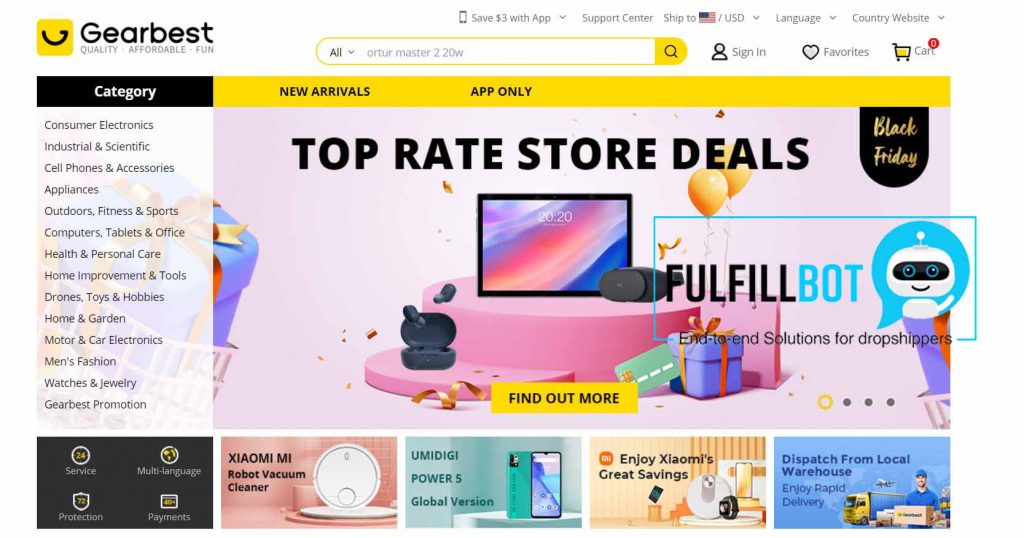 Gearbest gives warranties on its products. Moreover, they also allow refunding clients within 45 days.
It has an extensive selection of gadgets and electronics.
The platform offers free shipping and affordable shipping. Gearbest ships direct to your door.
It has live chats offering real-time customer support. Besides, some representatives can help in translation to make your shopping easier.
You get discounts and promotions on top of reasonable pricing.
Gearbest offers insured shipping. It will protect you from losing money in case something happens to your package.
Reviews of Gearbest on TrustPilot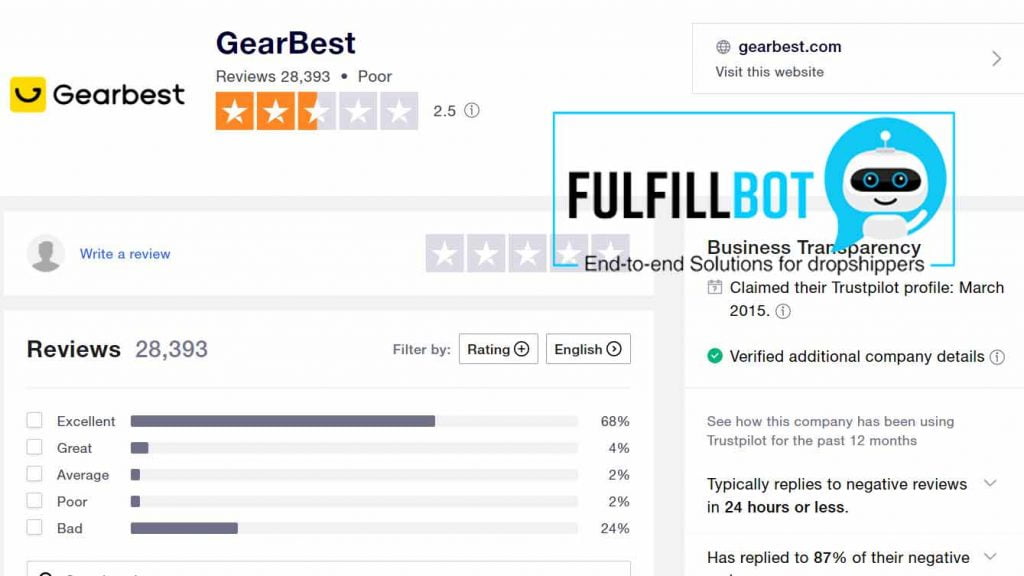 Total Reviews: 28394
• Takes a Long Time to Deliver
The customer either did not receive the package, or it took a long time to arrive.
• Deletes Bad Reviews
Some buyers claim that this platform removes negative customer feedback.
• Product Issues
Many users received wrong or faulty items.
Reviews of Gearbest on Sitejabber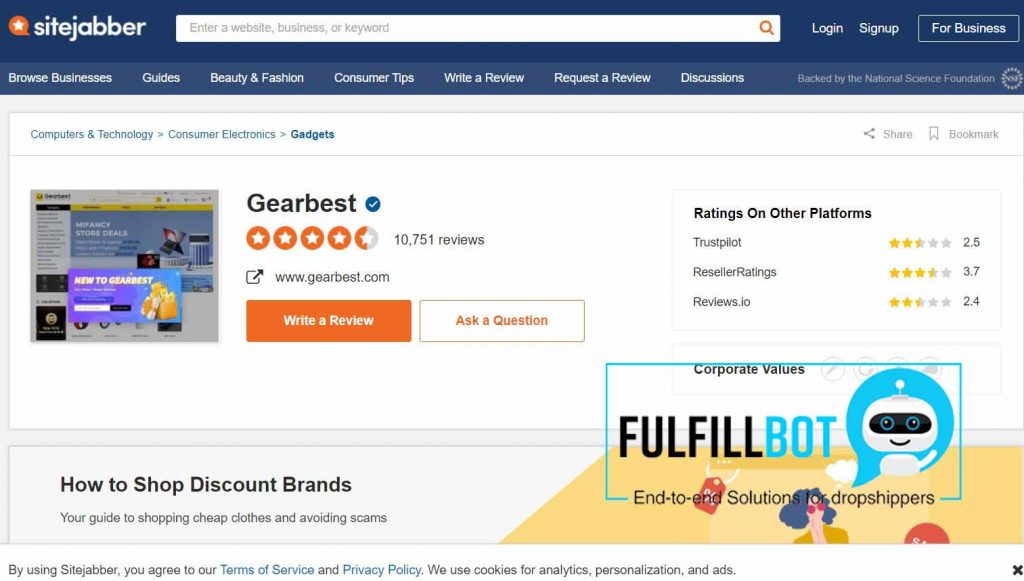 Total Reviews: 10751
• Perfect for Electronics
Some users claim that this platform sells excellent phones and electronics.
• Order not received
There is still a concern related to product delivery. Some users claim they didn't get the package at all.
• Good Sellers With Great Deals
Some buyers state that this platform has authentic sellers that offer great deals on items.
• No Package Tracking
The package tracking information goes missing in most cases.
• No Quality Assurance
Items are refurbished and then sold as new. Some products are faulty.
Made in China is a website dealing with wholesale and B2B services. It has Chinese suppliers targeting the global market.
Made in China products lean more on industrial and construction products rather than consumer goods.
So, if you cannot locate industrial products on DHgate, you can try searching on the made in China platform.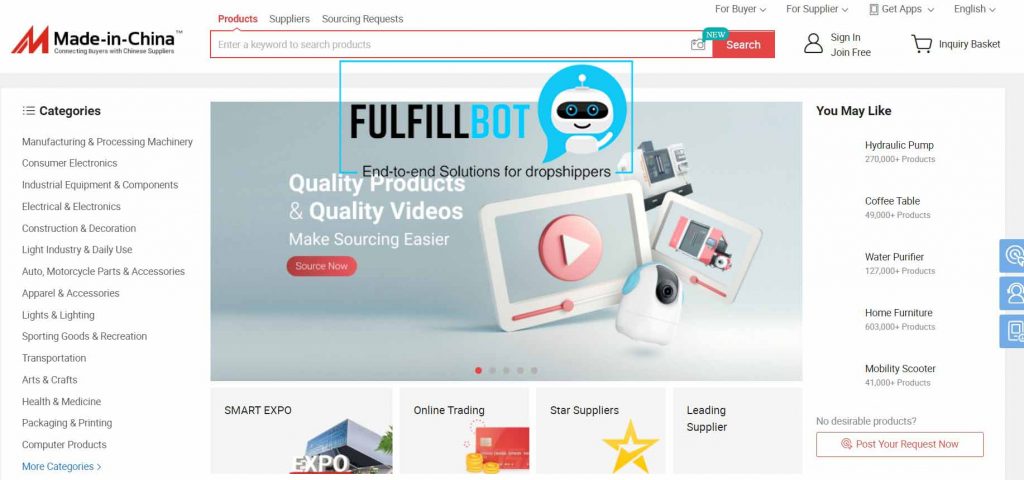 It has many suppliers. Thus, you can expect both quality and discounts.
This platform is the hub of manufacturers. That means you can expect affordable goods.
You can get free samples, coupons, and even 3D virtual showrooms.
Besides, this platform allows eight multilingual descriptions. This way, you don't have to worry about translation.
It gives secure payment options to protect the customer from losing money.
Reviews of Made in China on TrustPilot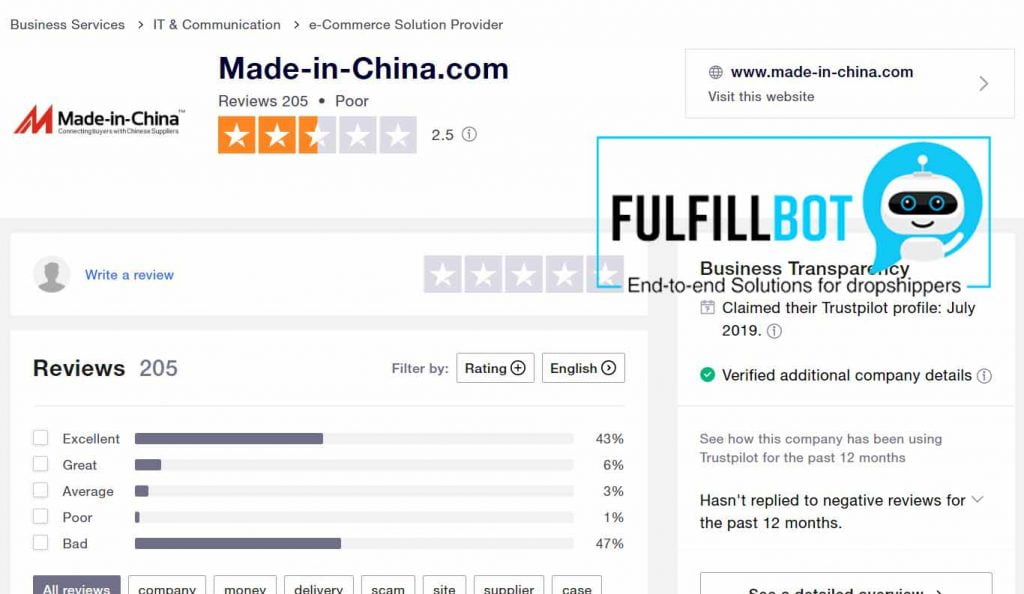 Total Reviews: 205
• Expensive Shipping
Some buyers feel that this platform takes more money on shipping.
• Slow After-Sale Support
Customer support takes a long time to reply after closing a sale.
• Takes Time to Restock
Since this platform sells expensive products, like machinery, it can take 20 days to restock items.
• Poor Quality Items
Items are of poor quality or faulty items.
Reviews of Made in China on Sitejabber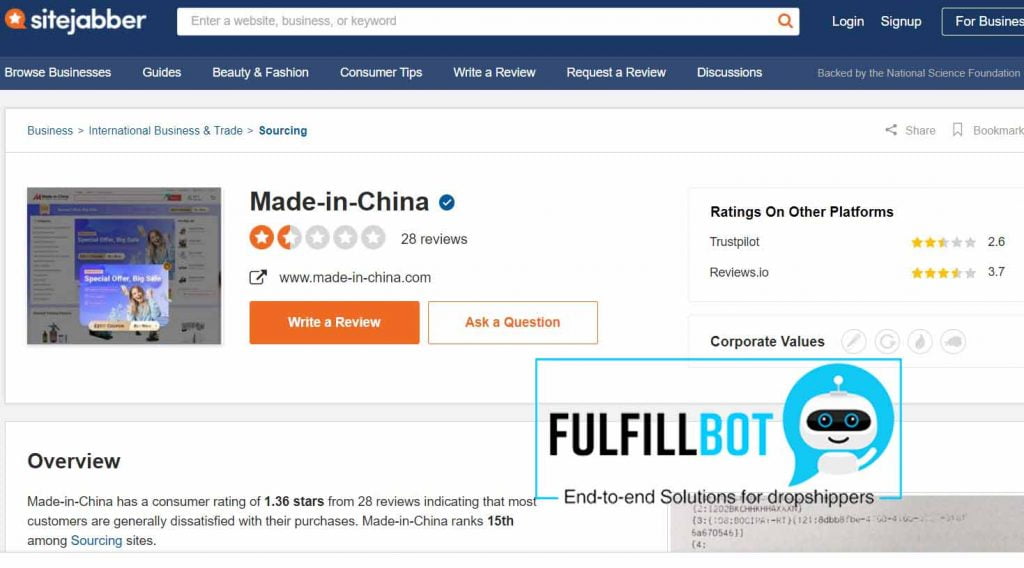 Total Reviews: 28
• Low-Quality Products
According to buyers, some products don't meet customers' expectations or are destroyed.
• Expensive
Some buyers say that the items are highly-priced.
• No Refunds
Refunds take long to be handed, or they don't refund at all.
• Poor Customer Support
Customer representatives can take a long to reply or don't reply at all.
China-brands is a site specializing in B2B business. It is one of the largest and well-accepted dropshipping platforms in China.
This platform is much suitable for dropshipping business owners. Suppliers available on this platform are primarily manufacturers. Thus, you can expect assured product delivery and reasonable pricing.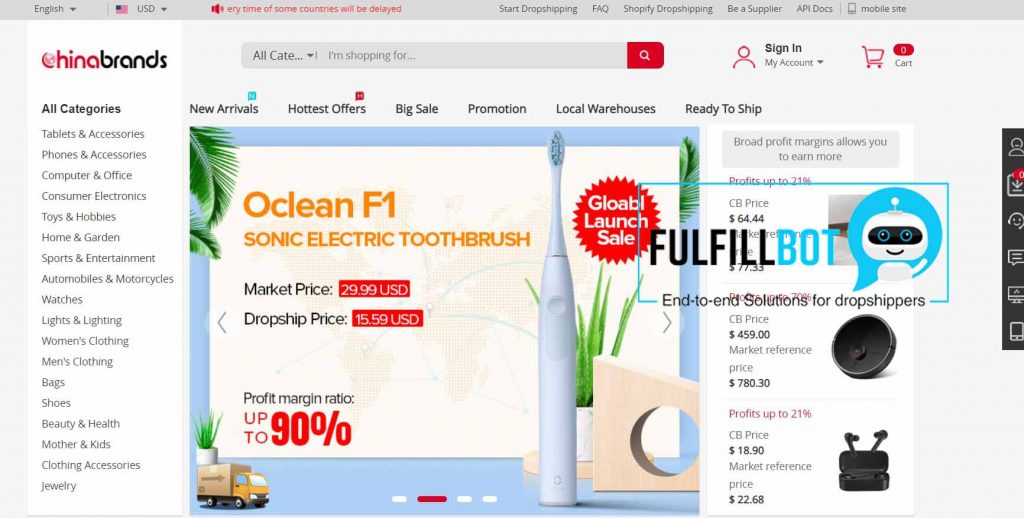 It has an onboarding consultation and after-sale consultation. Thus, it elevates your shopping experience.
Chinabrands has customer care representatives who reply within 24hrs. As a result, it helps you resolve any problem quickly.
They provide product-related recommendations. You can find it under the product title and images.
The platform has three types of shipping. It includes a Flat rate (shipped by post office). Then there is the Standard Rate (shipped by express mail service). Finally, there is the Expedite Shipping (sent by private couriers like DHL).
This platform supports ten languages. Thus, it lessens language barrier incidents.
Chinabrands Reviews on TrustPilot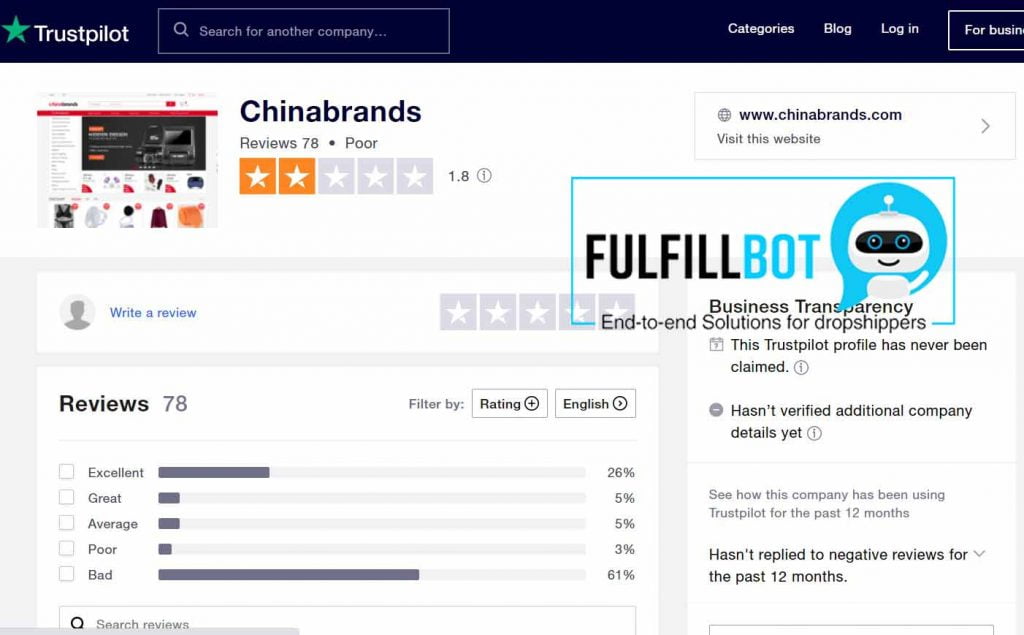 Total Reviews: 78
• Expensive Shipping
The rates are high despite there being three categories of shipping.
• Poor Support
Responses take a long time, or there is no response at all.
• Poor Quality Items
Many buyers complain about damaged or low-quality products.
ChinaBrands Review on Sitejabber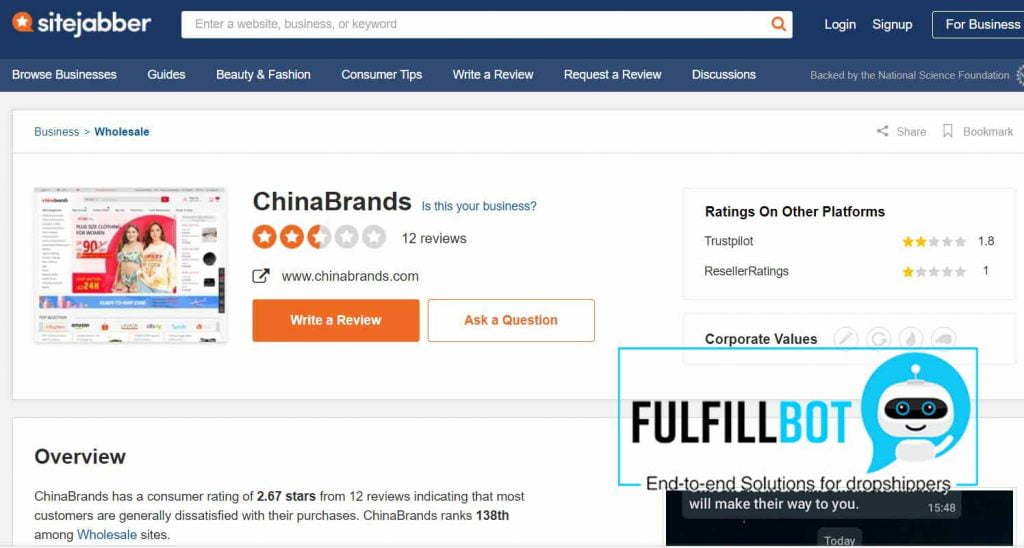 Total Reviews: 12
• Good Quality Products
Most items meet customers' needs.
• No Package Received
Some customers either didn't receive the package, or it was delayed.
• Out of Stock Products
Some buyers complain that this site posts product that is not available.
• Unresponsive Customer Support Team
The support system isn't much good.
Global Sources is a B2B company based in Hong Kong. It has both Chinese and global suppliers.
Global Sources have been on the market for more than 50 years. The site connects suppliers to buyers globally.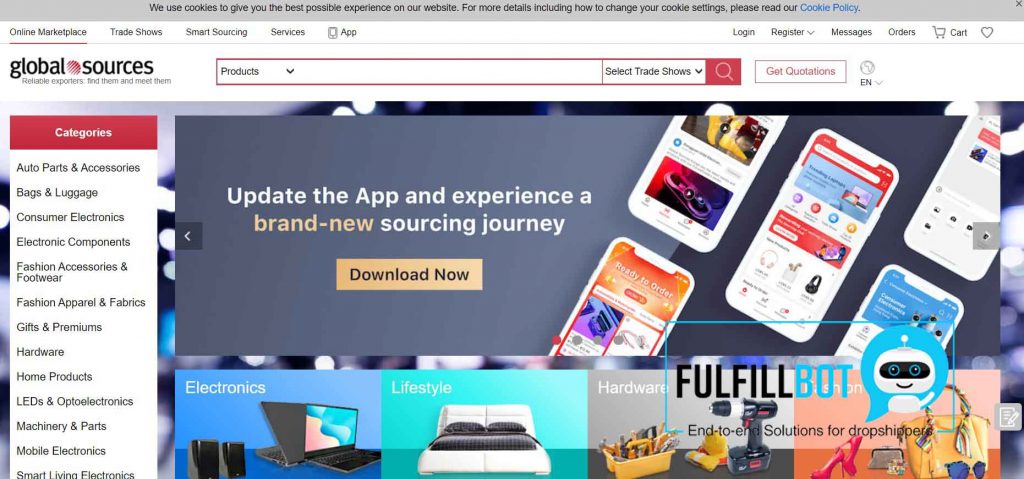 It has different product categories to choose your favorite items. Their collection ranges from auto parts, machinery, hardware to fashion accessories.
This platform often has ready-to-ship items. That's because most goods stay in stock and can be ordered immediately.
This platform also organizes different trade shows in China. It helps them showcase what they have in store.
Global Sources allows a customer to ask for quotations on unavailable products.
The site is easy to use. Its layout is simple.
Review of Global Sources on Sitejabber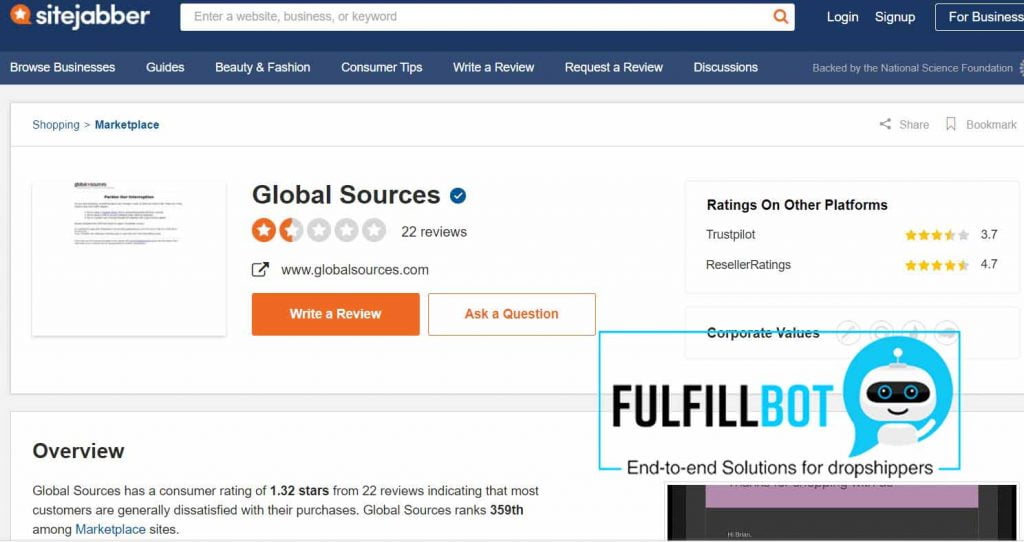 Total Review: 22
• Showcases non-existent items
Some suppliers post items that are out of stock or are not available.
• No Delivery
Sometimes, buyers don't receive packages nor get a refund.
• Good Wholesale Supplier
This platform consists of many authentic wholesale suppliers.
• Bad on Order Fulfillment
Some buyers say that their orders weren't delivered and what was offered wasn't the ordered item.
Dropshipping- What fulfillbot can do for you?
Fulfillbot is an order fulfillment company and dropshipping agent. It allows buyers to place orders and receive them in a short time.
They help drop shippers get products from China with their exceptional Product Sourcing service. This platform is pretty easy to use and offers the best services regarding dropshipping.
What's more, you can also get extra services. It includes product photography, warehousing, and order fulfillment services.
Fulfillbot automatically looks for the best supplier for you. It saves you time searching for suitable suppliers.
Fulfillbot shortens the delivery period. Let's say you order from Aliexpress; the shipping might take 35-40 days. Fulfillbot comes in and delivers your item in no time.
Fulfillbot takes good care of your package. You are sure to receive an entire package without any damage.
1. Is DHgate a Reliable Website?
Of course, DHgate is reliable. When it comes to payment, DHgate handles the transaction directly on the site.
Thus, it ensures your safety. Moreover, this platform has customer support to answer your questions.
2. What Option Is Better Than DHgate?
If DHgate doesn't meet your needs, you can check out other sites. They include Alibaba, Global Sources, Aliexpress, Made in China, etc.
But if you want to be successful as a drop shipper, you must partner with an agent. A dropshipping agent like Fulfillbot can handle all your sourcing needs.
3. Which Is the Best Platform to Buy From China?
There isn't a thing like the best website. You can look for a platform that offers a pleasant shopping experience.
You can check them all out. Then settle on the website that meets your needs.
4. Are There Risks of Getting Scammed on DHgate?
Yes, there are possibilities of getting scammed if you are dealing with the wrong suppliers. Some fake sellers scam people and mask themselves as suitable suppliers.
Check the supplier if they've been verified. Also, go through their reviews and ratings.
You can also choose to deal with an agent. That's because a dropshipping agent takes care of everything. From finding the supplier to shipping!
5. What Is the Approximate Shipping Duration for Packages?
Shipping duration varies on every platform. Some platforms like DHgate deliver in 3 to 15 working days. Aliexpress takes 7-35 days.
You can use Fulfillbot to ship your orders. The company dispatches your products quickly and at reasonable prices.
DHgate is a good site to buy your products. You can search for suitable suppliers and buy from them.
Many websites like DHgate have apps. You can use it to enhance your shopping experience.
A drop shipper should never depend on a single source to get products. Always look for alternative websites. This way, you can evaluate prices by comparing suppliers. Also, you can get discounts on other platforms.
What's more, you also have an option to get rid of all these troubles. You can get in touch with a dropshipping agent like Fulfillbot. It will ensure that you get the right products from suitable suppliers and at the right time.