Dropshipping has become a popular career choice in the USA, and many young entrepreneurs are embracing it. They seek opportunities for products shipping directly from US warehouses to the local customers. They do this in the anticipation of boosting their business growth. On the other hand, customers are always fond of quick deliveries if the supplier is near them. People working through AliExpress usually struggle to find sellers with US warehouses.
  However, it is not something to worry about. With a little research, you can find ideal suppliers for your business.
Is it Necessary to Find Products that Ship from the US?
The USA is considered one of the leading markets for e-commerce, with customers counting in millions. The majority of the suppliers on AliExpress have their warehouses in China and deliver the product from there. The problem for American sellers and customers is the long delivery time. On average, it takes around two weeks to reach a warehouse in China to the USA. It makes it crucial to select US warehouse products due to the following reasons.
The foremost characteristic that a business requires to thrive in the market has a competitive edge. It allows them to maximize their profit by capturing a larger market share. The biggest competitor for online sellers in America is Amazon. Not only does it have a huge customer base, but it also has warehouses located in the country to cater to the need for quick delivery of products.
It provides Amazon with a competitive edge over other similar businesses. Amazon delivers products within a week to its customers. But, when you deliver a product through AliExpress's warehouse in China, it usually takes around 20 days to reach the customer finally. This is a huge gap. To cater to this need, suppliers' presence with US warehouses is crucial.
Also, apart from Amazon, several other local competitors pose great competition for suppliers. Having sellers with US warehouses will help to deal with them also.
Cater Long Delivery Times
The entrepreneurs involved in dropshipping through AliExpress face many drawbacks. One of them is long delivery times. When a customer places an online order, he is eager to receive the parcel as soon as possible. This is common customer behavior. Excessively long shipping and delivery time can result in the loss of many potential customers.
Also, people looking for products on an urgent basis might not consider your service even if you offer cheap rates. They would probably opt for local sellers or those with a faster turnout. To cater to the issue of long delivery time in drop shipping, it is better to have suppliers in the same country where the customer is located.
Steps To Finding The Best US Suppliers
Finding the best US supplier on AliExpress is not as tricky as you might have thought. It is rather simpler than you wonder. If you have customers in the USA, you must be efficient enough to ensure satisfying shipment of their orders. This refrains them from looking for your substitutes.
Not only this, if you want to grab a larger market share, you must make some extra efforts to build a strong customer base.
To add efficiency to your work, it is logical and reasonable to look for suppliers in the USA instead of suppliers in China or Europe. Here is how you can find one. Follow the steps, and you will be good to go.
• Go to AliExpress user interface and set the shipping country as the USA. You can find this option at the top right corner of the page.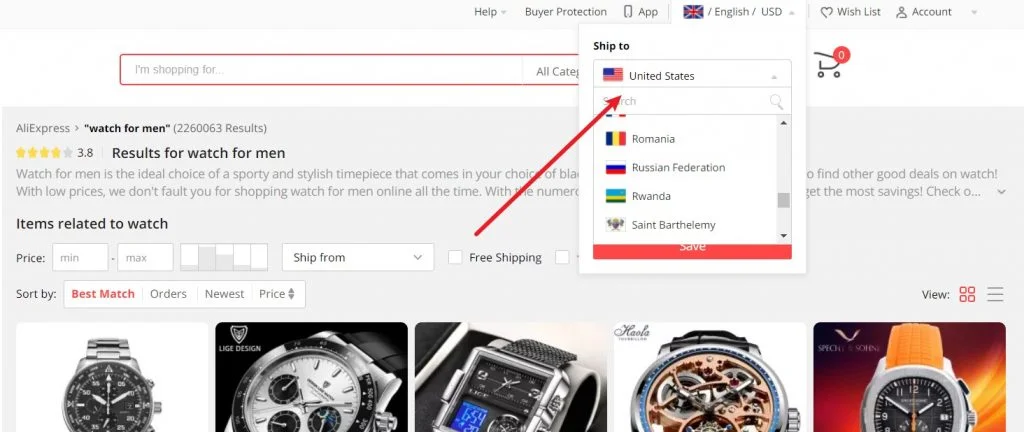 • The next step is to choose the product category that you need to ship.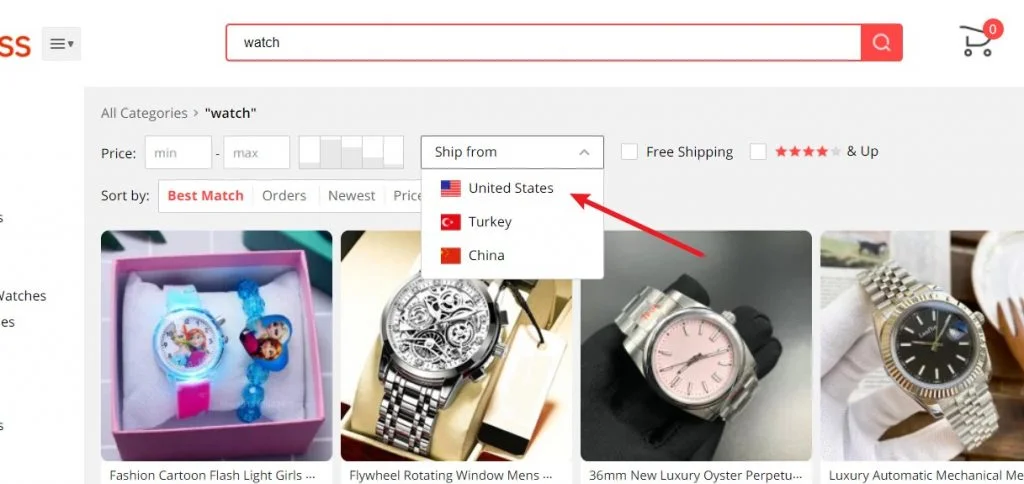 • Select the shipping location as the USA in Ship from option. You will find this option in the middle right of the page.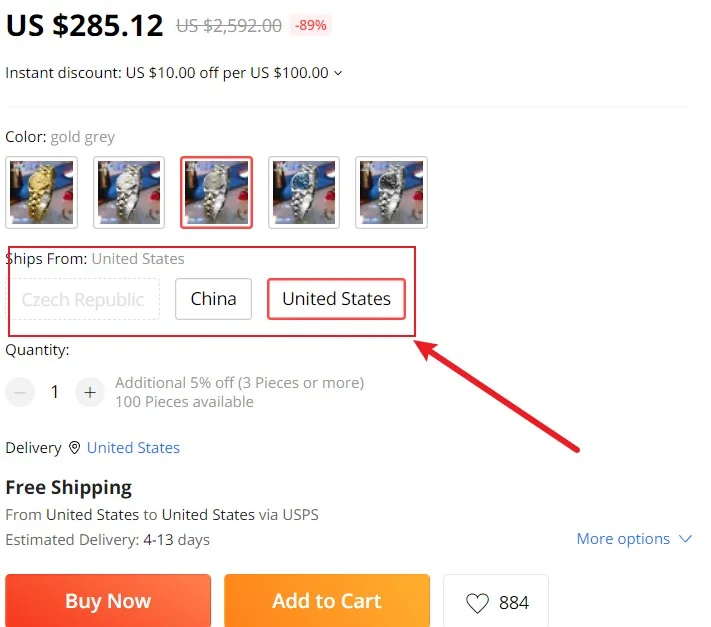 This is it. The page will display results for available suppliers located in the USA and carry the product category you need. You can then select a seller from multiple options displayed on the page.
Seems like a piece of cake, right? It might be to some extent, but the real game starts from this stage. Once you have multiple results displayed on the screen, the question is how to select the best seller. The first criteria have already been refined when you narrowed down the list to suppliers shipping from the USA. You need to focus on some important factors to evaluate a supplier and make your final decision. Here are some of them.
You don't want to ruin your customer relations by providing mediocre-level services to them. The sole responsibility to choose a trustworthy supplier lies on your shoulders. The first thing you must look for is a satisfactory seller's performance. To analyze this, all you have to do is click on any search results. You will see the seller's name and some indicators of his performance, such as the ratio of positive feedback. The higher the percentage, the better.
As a rough estimate, you must not settle for a percentage less than 90. Always look for the closest number to cent per cent. If you ignore this factor, you might face the music. Next, you can dive into other factors, such as how long the seller has been offering his services at AliExpress or how many orders he has completed. The number of orders is another important indicator of a seller's performance. No one would be giving orders to a seller with unsatisfactory service.
Check out the ratings, and do not forget to peak into detailed ratings. Always look for an overall rating equivalent to or above 4.6. A rating below this parameter might put your order at risk. If the communication rating is slightly low but all other factors are favorable, you might compromise on it.
Shipping time is yet another factor worth considering when selecting a seller. There is no point in looking for a seller in the USA if he is not quick in shipping and delivery. Once you click open a product, you will find a shipping method option at the top of the buy now button. Click on that, and it will display details, including shipping and delivery time, prices, and other specifications. You can analyze how long it would take the seller to deliver the product to the targeted customer.
They usually display the maximum delivery time as the estimated delivery time. A high-quality seller always delivers before the estimated time to satisfy customers. Always compare the shipping and delivery time of different sellers and go for the fastest one.
Customer reviews are helpful for both the sellers as well as the customers. They are a useful indicator of a seller's performance. They reveal the reasons and justification for the rating you analyzed in the earlier step. Customer reviews are usually not descriptive and take up little time to read. Go through the review section and see how customers feel about the seller, his product, and service.

Reviews with a real picture of the product are quite helpful in analyzing what you can expect from a seller. They usually include product quality, seller's communication, product packaging, and delivery time. These are almost everything that you need to know about a seller.
With the surge in online shopping, return and refund policies have become crucial for making a buying decision. What if a customer does not like the product and wants a refund? Online shopping does not allow you to examine a product beforehand. Due to this, there is a high rate of customers claiming a return, money-back, or refund. Always look for these offers on the seller's page. The money-back-guarantee is usually displayed as buyer protection below the buy now button.
Once you click it, it will show you the related conditions associated with the guarantee. Carefully read them and check their practicality. If it includes too many conditions, making it nearly impossible for customers to avail themselves, be careful. Make sure that conditions are fair enough for you to deal with the seller if the customer asks for a refund.
Communication is the key determinant factor in any business conducted online or offline. Check out the seller's response rate and time. You can even analyze this facto better by communicating with the seller by yourself. Go to the seller's information and the bottom left corner of the dialogue box; you will find the option for contacting him. This option allows you to communicate with the seller via chat.
This chat allows you to discuss your requirements and know about any other specifications from the supplier's side. If the seller is prompt in communication and provides required details professionally, you can trust him for your work. On the other hand, this might be a negative sign if he responds too late or is reluctant to interact. You cannot waste hours waiting to get a response from the seller and forward it to the ultimate buyer.
Also, you might not want him to place his logo on the packaging over AliExpress's logo. You cannot ensure it without discussing it with the supplier. In short, communication can help you select the best supplier.
Tips to Identify Fake US Suppliers
Some sellers actually ship in China, but show that they are shipped from the United States,The following tips can tell if it is really shipped from the United States:
If the USPS track information show xxx, Shipping Label Created, USPS Awaiting Item……..This does not indicate receipt by the USPS or the actual mailing date.
and need 3-4 days have new track information that means it is ship from china.

If the delivery time need more than 10 days, then the probability of shipping from China will increase
If the supplier has a warehouse in US, then they support return to their US warehouse, you can talk with them about the return address.
if they do not support return to US address so i think they have not US warehouse.
Free Registration, No Monthly
We are a professional drop shipping Supplier. One stop dropshipping platform.
Pros of Using US warehouses
Dropshippers prefer suppliers having US warehouses for all good reasons. The benefits it provides its customers compel others to consider it also. Here is a brief description of how it helps sellers achieve their selling objectives.
The foremost objective and the benefit of using US warehouses for dropshipping is the reduced delivery time. It requires no rocket science to understand that a local supplier can deliver the product far quicker than a foreign supplier.
Reduced delivery time is one of the most significant factors shaping customer satisfaction. The primary objective of doing a business is to build a strong base of satisfied customers. Satisfied customers mean you can expect to build good long-term relations with them. It also helps in customer retention, and you do not have to make extra efforts to gain their attention.
If the customer does not like a product or gets the wrong product, he can avail of the return facility offered by most of the sellers. The supply chain for the return of a product is quite similar to delivery and involves multiple stages. If the supplier is foreign, it would take an equal or maybe longer time to return the product and get a replacement as it took in delivery. This proves to be turned off for most of the customers.
On the contrary, if the seller has his warehouse in the US, he will be able to facilitate the customer with a quicker return and replacement of the product. This results in building strong goodwill in the market for the supplier.
No business is perfect and can face some uncertain situations such as failure of delivery channel, loss of a product, or wrong delivery. These constraints have a high occurrence rate in the case of long-distance. Lessening the distance will also reduce the probability of such uncertain situations. It also helps in easier and smoother transactions.
This approach is not flawless and has some drawbacks that make sellers think twice before getting their hand into it. Here are some drawbacks that you might face when searching for US-warehouse-based suppliers.
Since many sellers at AliExpress own Chinese warehouses, you will only find limited US warehouses. Limited sellers translate into a limited variety of products. You comparatively have a narrow range of products and sellers to choose from. This means the bargaining power of the seller is higher than that of customers.
One of the drawbacks to choosing American suppliers is the high cost. They usually charge higher prices than the Chinese suppliers. This is a major setback for choosing only American sellers. Higher price means lower profit for you۔
Alternatives to Find US Suppliers
AliExpress is not the only option available for dropshippers to enjoy faster shipping in the USA. There are several other alternative options with attractive offers available online. You can consider any of them to boost your sales. Here is a list of some of the most popular among them.
Spocket is a great platform with plenty of sellers from the USA. It deals in a variety of niches offering you the best diversity with plenty of suppliers to choose from.
SaleHoo is also a popular platform. It offers drop shippers a diverse supplier's directory to ship products to their desired customers. They include several suppliers from the US besides other countries.
Salvia is a comparatively newer platform, It is developed to facilitate customers with quick delivery time. It keeps Asian manufactured products in its American warehouses for quicker transit.
It facilitates US-based customers dealing in 20 different niches of products. They offer thousands of products, including the major high-demand ones.
Finding US suppliers is not a big deal only if you know the drill. You can implement smart strategies to boost your sales and satisfy customers. An easy process does not mean you can be careless. Be aware of the scams and be smart enough to identify the fake suppliers to save yourself from them.