Getting a reliable source for importing products is a crucial initial step in opening a retail business. It may require making purchases from online or local wholesalers. But, finding reliable wholesale suppliers would be easier if you have the right information.
Most retailers sell products that were made by someone else. However, these products are purchased through wholesalers. Of course, wholesalers provide a steady stream of inventory. But, they can also adapt to meet your changing needs as your store expands.
Never forget that wholesale suppliers also work as your allies in business. Your success or failure may hinge on it, depending on how good or horrible the wholesaler is. So, choosing a reliable wholesaler for your company's needs can take so much work.
Thus, this post will teach you where to look for the top wholesale vendors. Besides, we will also talk about ways to bypass the wrong wholesalers during the process.
Who Is a Wholesaler, and When Do You Use One?
Do you ever ponder where well-established stores get their supplies? It's not the same thing to buy at retail and in bulk. Getting products from a wholesaler is like buying from an intermediary. He can be someone between the manufacturer and your store.
A wholesaler can be an individual or company that buys goods in bulk from manufacturers. After that, he sells those items to retailers. A wholesale purchase is often conducted in large quantities. As a result, the buyer receives a price break and huge discounts.
It is inconvenient for manufacturers to sell their products to shops without wholesalers.
Likewise, retailers can increase their profit margin by purchasing goods from a wholesaler. Reselling goods to end users at a higher price is the secret. Customers buying goods at your store will pay this increased price, known as the retail price.
Understanding a Complete Supply Chain – Manufacturers vs. Distributors vs. Wholesalers vs. Retailers
Getting the goods you love from the manufacturers might be a complicated process. In a normal supply chain, many intermediaries sit between the producer and buyer.
Producers, distributors, wholesalers, and retailers make up the entire supply chain. The amount of a certain product they stock determines their role in this chain.
1) Manufacturer
A manufacturer is a company, factory, or production plant. It creates and sells finished products to retailers and other wholesalers.
Some develop the components and base materials that go into the final goods. Likewise, others work on the final assembly and production of items.
Products we see in the e-commerce sector are created by producers. They are circulated to retailers and distributors, who then sell them to customers.
There are instances when producers cannot deal directly with retailers and buyers. Thus, it shows the need for a distribution network to convey products to the public. A distributor or wholesaler plays a crucial role in this process.
2) Distributors
Product distributors circulate goods to wholesalers and retailers. A distributor is a person or business that buys goods in bulk from manufacturers and then resells them in smaller amounts to other wholesale businesses or individuals.
Several distributors use strategies to regulate the market and provide more efficient coverage.
Distributors sometimes partner with wholesale companies that purchase enormous amounts of a single product. They do so because of the vast quantity of that product the distributor either stocks or can get from the manufacturer. Some distributors often coordinate with retailers directly and offer reasonable prices.
3) Wholesaler
A wholesaler is a dealer who purchases products in large numbers for resale at lower prices. For an instance, a wholesaler may buy five boxes of t-shirts, each containing ten pieces. Then, he can sell them to retailers at a price per box.
Wholesalers profit because they are able to buy in large quantities at a discount. They generate profits by buying large quantities and reselling them at a markup to retailers.
Many sorts of products, from electronics like cell phones and TVs to consumer goods like food, furniture, and apparel, are purchased by wholesalers. Products often travel to local and online shops via wholesalers.
4) Retailers
There are two types of retailers: discount stores and specialty shops. To make a profit, store owners look for items that fit in with their goals. Likewise, retailers also look for suppliers that provide the best deals.
A store owner may purchase an item from a distributor or wholesaler in relatively modest amounts.
In short, the supply chain often involves cooperation between producers, shippers, stockists, and wholesalers to get products to retail stores.
How Does a Wholesaler Help You Solve Problems?
As you know, consumers have a stronger connection to retail outlets. But wholesalers still serve an essential function as middlemen.
A wholesaler facilitates communication between various channel partners. However, their function in the distribution chain extends much beyond that.
1) Allowing Small Quantities
Most times, the quantity a merchant or individual customer needs is relatively low. They will need to buy excessive quantities if they buy directly from the manufacturer.
So, the primary role of the wholesaler is to break down large orders of items into smaller quantities suitable for retail selling.
Anything mass-produced has one characteristic. Instead of negotiating prices and making sales with several shops, it is more efficient for a manufacturer to sell all their products to a single wholesaler.
Consider a farmer who harvests a massive crop of tomatoes. Selling all tomatoes to a single wholesaler means he can avoid negotiations and limit transactions.
Manufacturers may need help to get their products to retailers with the help of a wholesaler. A wholesaler can help them make more cost-effective bulk selling.
2) Storage and transport services
Wholesalers often perform additional warehousing tasks. Once in a while, shops need to gain supplies from wholesalers to keep their shelves stocked. The delay in moving inventory from the warehouse to the retail location can affect sales.
As an additional service, wholesalers often operate as manufacturers' indirect warehouses. To ensure their clients' constant access to a wide variety of products, wholesalers often make advance purchases.
Here, wholesalers play a vital role in easing the burden of excess inventory on manufacturers.
3) Classification and Packing
Wholesalers buy products from many producers. Besides, they also categorize them according to dimensions, shape, grade, etc. They divide it into more manageable chunks. Some companies even offer custom packaging to include unique labels.
To continue with the tomato analogy discussed above, the distributor decides which potatoes are good enough size. He also decides which quality to sell individually and which will be packed in bags.
4) Bearing Risks
Depending on the agreement, the wholesaler may either gain ownership of the products or get title to them.
The onus of selling the merchandise is on the wholesaler after they have received it. Besides, they are also responsible for the safety of the products in this scenario.
If merchandise is damaged during shipment and cannot be resold, the wholesaler handles the loss. They also bear any potential gains or losses associated with these items.
5) Advertisement
Most times, the wholesaler will play an important part in advertising the goods it sells. He makes advertising material and offers it to retail outlets. It can include product images, banners, pamphlets, etc. The distributor may also run commercials for its widely sold items.
6) Financiers
Producers and merchants alike rely on wholesalers as a source of capital. Wholesalers aid manufacturers' ability to maintain production operations.
A wholesaler often purchases enormous amounts of items in cash. They also make purchases in anticipation of high demand by making advance payments.
So, what do they do for the retailers? Well, wholesalers may offer merchants the option of making payments in installments.
7) Analyzing the market
Wholesalers look ahead and even control market trends. They monitor retail outlets for clues about shifting customer preferences and trends. He reports these trends to product designers and manufacturers.
Some wholesalers also compare pricing, grade, preference, purchasing power, competition, etc. It helps them get an insight into the market.
They may also guide shop owners based on their broad understanding of the latest trends.
4 Top-Rated Wholesale Vendors Around the USA
Finding a reliable wholesale provider calls for an extensive study if done manually.
Here you will find a wholesale firm in the United States that stocks a wide variety of top-notch goods. It also contains reputable vendors you can contact directly for the lowest price possible.
1) Costco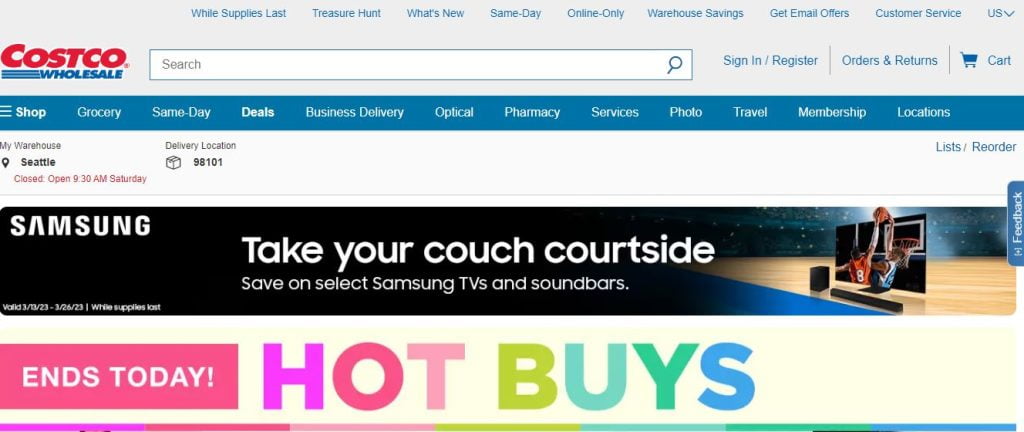 This company operates as a wholesale retailer and international business. It is the leading wholesaler in the United States and the third biggest in the globe.
The firm has many well-established warehouses around the United States. Thus, it makes it easier to get your wholesale goods from the most convenient location.
With over fifty categories, this company lets you access millions of goods.
You may search for products based on warehouses. Once you find suitable goods, you can negotiate with the provider personally. Besides, it provides fast delivery facilities to regular customers.
Costco's standard turnaround time for shipping is two days. Besides, same-day shipping is sometimes available.
Costco Business Center is another excellent service catering mostly to corporate orders. It is available to small and medium-sized enterprises (SMEs).
Anything from groceries and household items to apparel and gadgets may be purchased at discounts here.
2) Kole Imports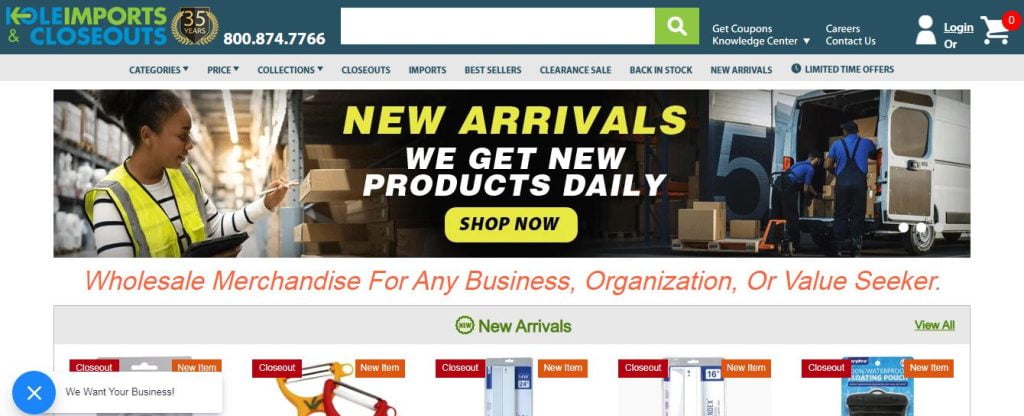 Do you want to import general products with special closeout offers? Well, no one does it better than Kole Imports in the United States.
Household goods, pet supplies, apparel, gifts, and toys are just some categories that Kole Imports carries.
3) DollarDays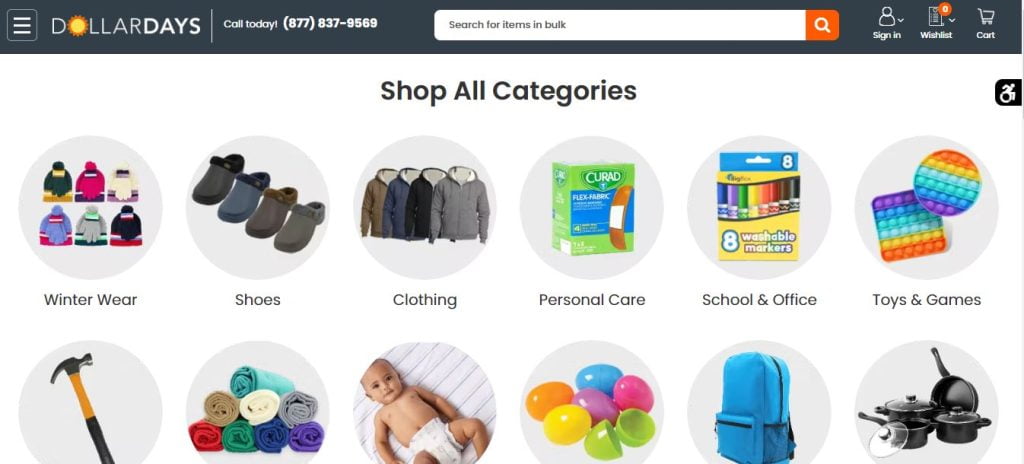 DollarDays is one of the biggest and most reputable online distributors of general goods. This wholesaler offers over 10,000 quality products, thanks to its two decades of expertise.
DollarDays also offers a vast selection of popular, flashing wholesale items. Also, you can buy products with little or no minimum order size.
4) Bwanaz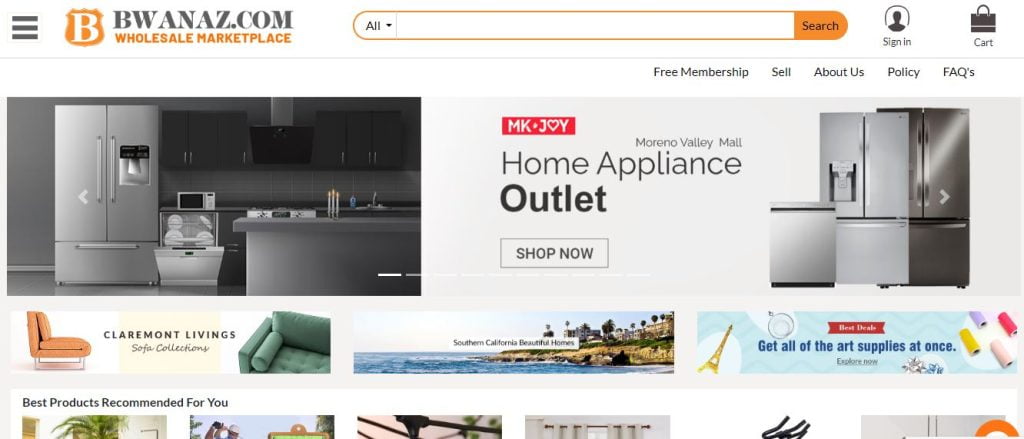 For small companies looking to buy in bulk, Bwanaz is a great option. The firm, with headquarters in California, has teamed with Microsoft and Walmart, among others.
This company partners with leading US manufacturers to provide high-quality items to local retailers. The amazing benefits of buying in bulk from this company are free delivery and free advertising.
Before making a significant purchase, retailers can order a sample of the product they're interested in. You may try out the service risk-free for three months to see whether it's worth paying to get the wholesale pricing and promotions it provides.
You can join Bwanaz for free. Remember, its members get access to the site's extensive supplier and product databases. By joining, you will get product suggestions, which can help you discover lucrative niches to enter.
5 Top-Rated Wholesale Vendors Around China
Do you want to follow the best approach to guarantee the lowest possible wholesale pricing when buying items for your company? Then, you must consider buying wholesale products straight from Chinese wholesalers.
Below are a few Chinese wholesalers that can help you. However, we are also including a few names of dropshipping agents that work beyond your expectations.
1) AliExpress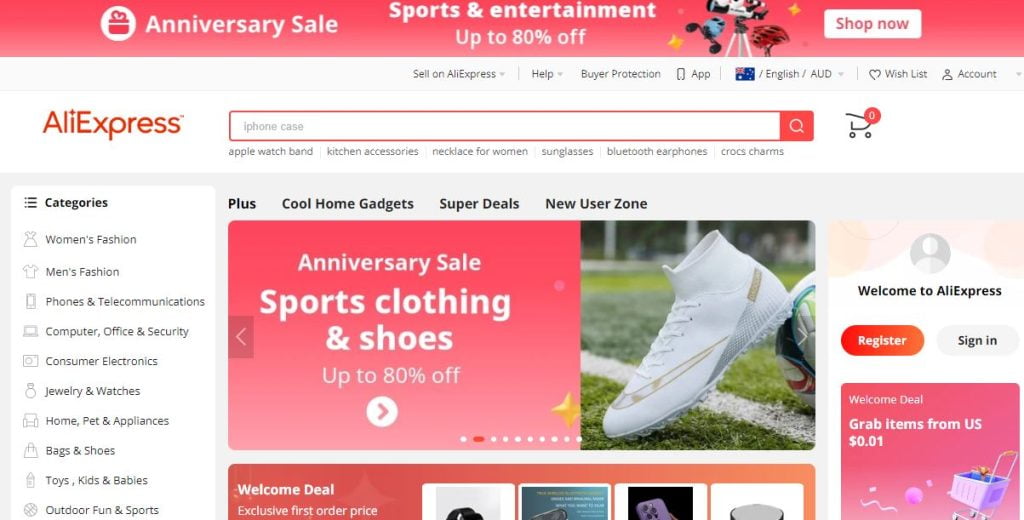 A subsidiary of the well-known Alibaba Group, AliExpress is a major business-to-consumer (B2C) and business-to-business (B2B) marketplace.
As you know, Alibaba specializes in large-scale wholesale transactions. But, AliExpress caters to individual shoppers and also fulfills smaller wholesale orders.
AliExpress has a price system with different levels. It implies that the per-unit cost of the product decreases as the order quantity rises.
AliExpress offers both speed and safety while fulfilling an order. You just need to put your purchases in the cart and go to pay.
Shipping, customer service, and more are all taken care of by AliExpress.
Like its parent company, Alibaba, AliExpress is headquartered in the Chinese city of Hangzhou.
2) eWorldTrade

eWorldTrade is a rapidly expanding online marketplace where retailers can connect with trustworthy wholesalers.
This platform connects retailers and sellers. These sellers have over 5 million items to sell from over 100 countries, including China.
In order to help users quickly identify reliable and trustworthy wholesalers, the platform includes a searchable database of verified vendors.
It also includes helpful tools for handling payments and promotional materials. This platform has a helpful staff accessible around the clock to answer any queries or address problems.
Thus, it is one of the top wholesale websites for discovering dependable sources in China and abroad. You can enjoy its straightforward structure, extensive assortment of items, and helpful customer care staff.
3) Global Sources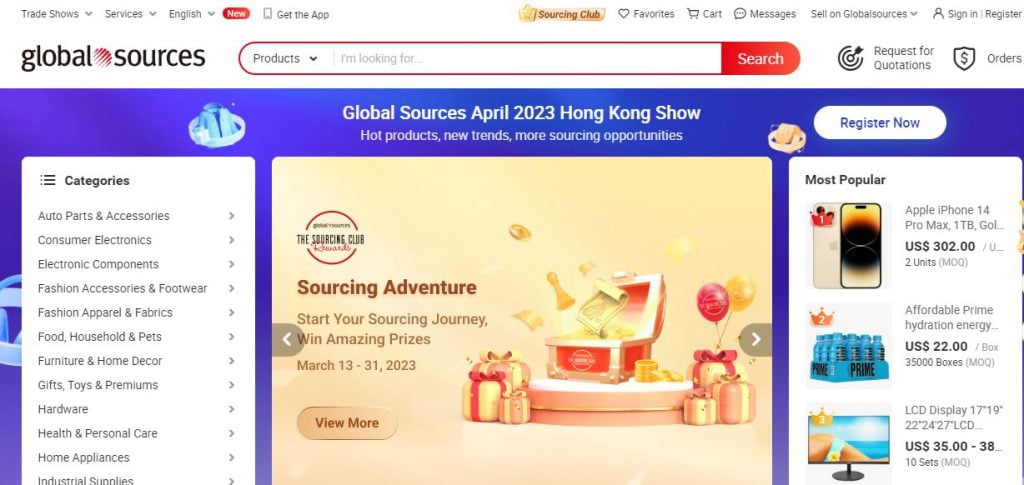 Another excellent Chinese B2B marketplace is Global Sources. It offers a wide variety of items for sale, including those related to electronics, automobiles, clothes and apparel, the house, accessories, technology, gadgets for smart homes, and more.
These things are reasonably priced. As Global Sources primarily serves large orders, most of their products will need a minimum order quantity, which is usually 500.
Also, certain unique items may only be available for purchase in ten-unit increments. It typically includes products like bikes and heavy machines.
Thus, Global Sources may not be the greatest option for low orders. However, if you are an established dropshipper with consistent demand for your products, this platform can help you expand your business swiftly.
4) BelleWholesale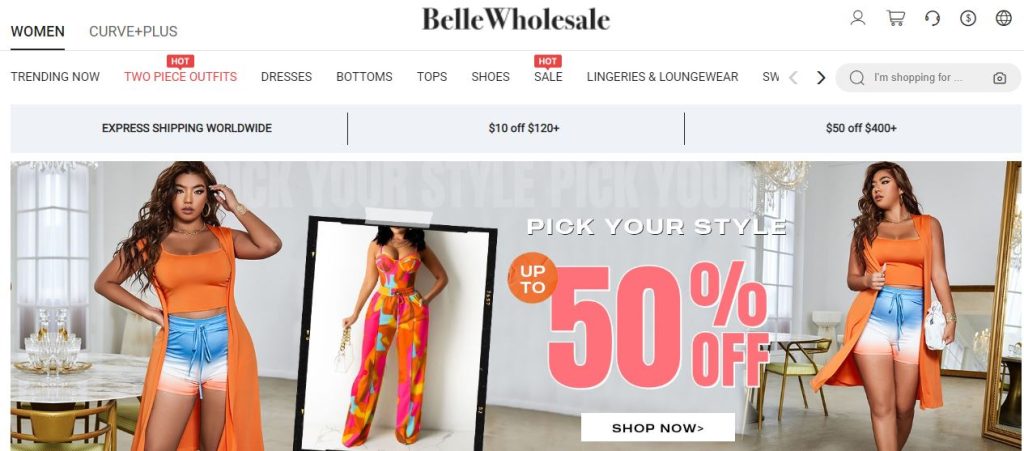 This platform is a seasoned wholesaler of clothing and accessories, footwear, and many other items produced in China.
Whether you're a local vendor, eBay user, online retailer, or a well-established brand, this platform offers a wide selection of low-priced goods that you may sell.
It has been a prime source in the women's wholesale apparel sector for over eight years, and it's easy to see why.
They provide international express delivery, amazing wholesale pricing, and dropshipping service. All items at BelleWholesale are available at cheap pricing.
5) PapaChina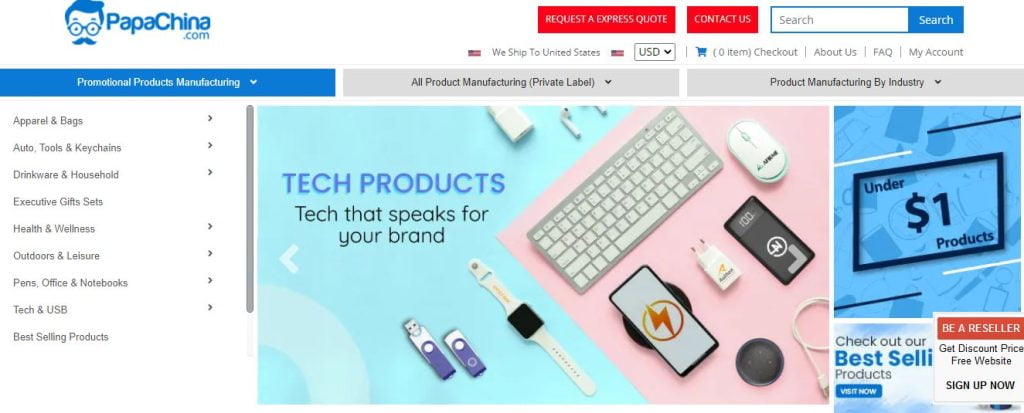 When it comes to customized gifting and marketing materials, no one does it better than PapaChina. The company's client list includes major names like PayPal and Intel.
Requesting a quotation from PapaChina is a breeze. You just need to choose the desired quantity of a product and specify your needs.
Each of their goods can have a personalized logo or business name added to it quickly and easily. In addition, PapaChina is the best in the business for making personalized items for resale or as giveaways.
Hundreds of categories are available on PapaChina, from hats and purses to pencils and loudspeakers.
5 Top-Rated Wholesale Vendors For Dropshipping
Finding trustworthy wholesale vendors capable of delivering top-notch service is crucial to the growth of your dropshipping company.
You find an item and believe it will sell successfully. But you may face disappointment knowing there are no reliable wholesale vendors for that item.
To help you out, we've compiled a list of the most trusted wholesale dropshipping vendors in China.
1) Fulfillbot – Sourcing and  Dropshipping Agent

Fulfillbot should be your first best option. This platform provides everything from product sourcing to acting as your wholesale goods supplier in China. These services have earned it a reputation as one of the most reliable dropshipping agencies in the country.
Fulfillbot allows you to bypass distributors and wholesalers by connecting you directly with manufacturers.
Its strategic warehouses are available in China and the United States. Thus, it allows you to keep stock near your clients, cutting down on shipping times.
Remember, Fulfillbot is a local company with vast expertise in this field. Their staff can assist you in navigating and finding things from websites like 1688 and Taobao.
2) DHgate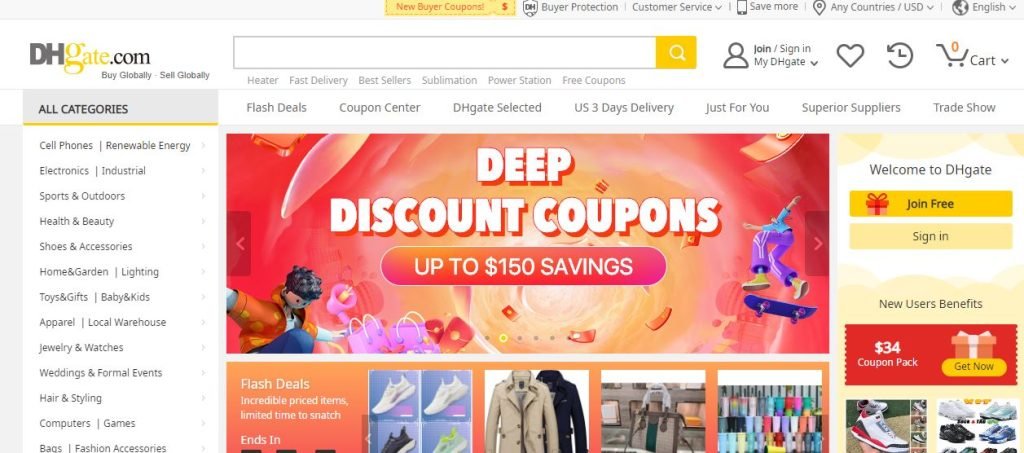 If you're new to sourcing products from Chinese wholesalers, DHgate is the best place to start. It is a top choice for newcomers in the B2B sector. Over thirty million goods are available on DHgate, which shows the site's prominence.
DHgate is known for its quick and simple wholesale shopping process. However, it's difficult to buy wholesale on this platform.
You need to contact a few pre-screened vendors, narrow the selection down to one, and then close the deal. Of course, time is indeed required for such pursuits.
However, if you know this platform inside out, buying goods from it can be as easy as filling up a virtual trolley. The good thing is that DHgate can handle wholesale orders of any size.
That's doable since they provide different price points for different products. So, you may save a decent amount of money if you purchase bulk.
3) Alibaba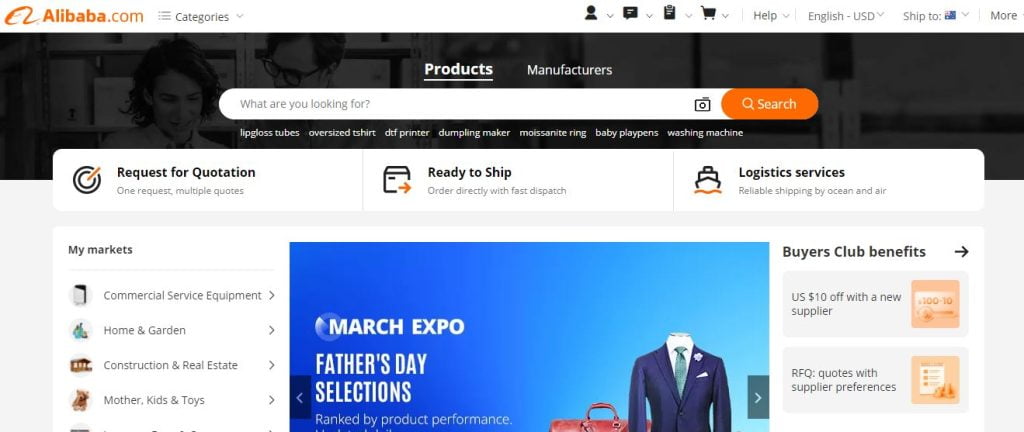 We can't exaggerate Alibaba's importance. Very large! It ranks among the biggest business-to-business online marketplaces.
More precisely, it was the first of its kind to provide wholesale goods on the Internet. It is also credited with boosting the internationalization of China's manufacturing sector.
Finding and communicating with Chinese vendors was arduous before the launch of Alibaba. That's because of barriers like distance, language, etc.
The arrival of Alibaba, however, changed the whole scenario. This platform simplified the process of locating and transacting with Chinese vendors.
Remember, Alibaba is just a marketplace and nothing more. That's right; it's only a meeting place for commercially motivated vendors and retailers.
Wholesale vendors create listings, engage with potential retailers, and ultimately make trades. Conversely, retailers peruse offerings, communicate with wholesale vendors, and ultimately make purchases.
In other words, Alibaba's role is limited to that of a facilitator between the buyer and the seller. Its primary function is to make product research, communication, and transaction processing easier.
4) Made-in-China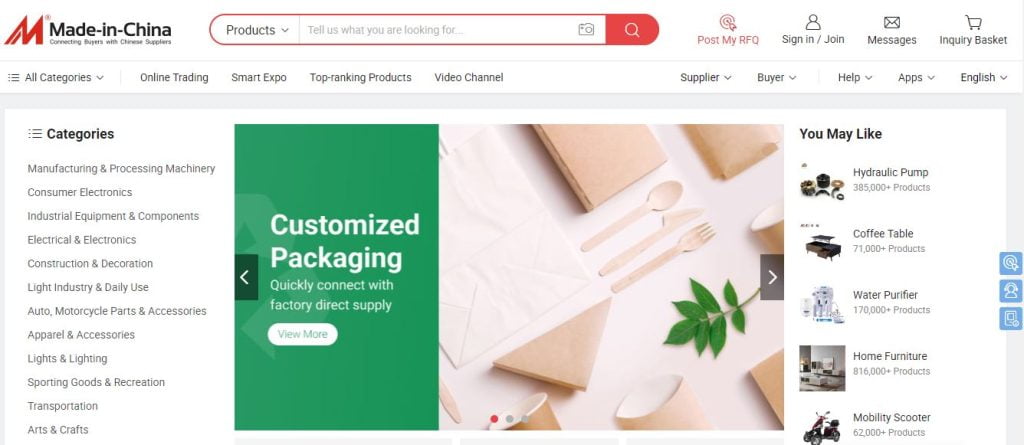 You may also find significant wholesaler vendors and producers in China by using Made-in-China. It is another famous Chinese B2B e-commerce portal.
Made-in-China also offers millions of goods under hundreds of popular categories. You can find reliable wholesaler vendors and factories to do business with by searching for any product.
This platform is great for enterprises of all kinds, from start-ups and tiny shops to those with larger orders.
5) SaleHoo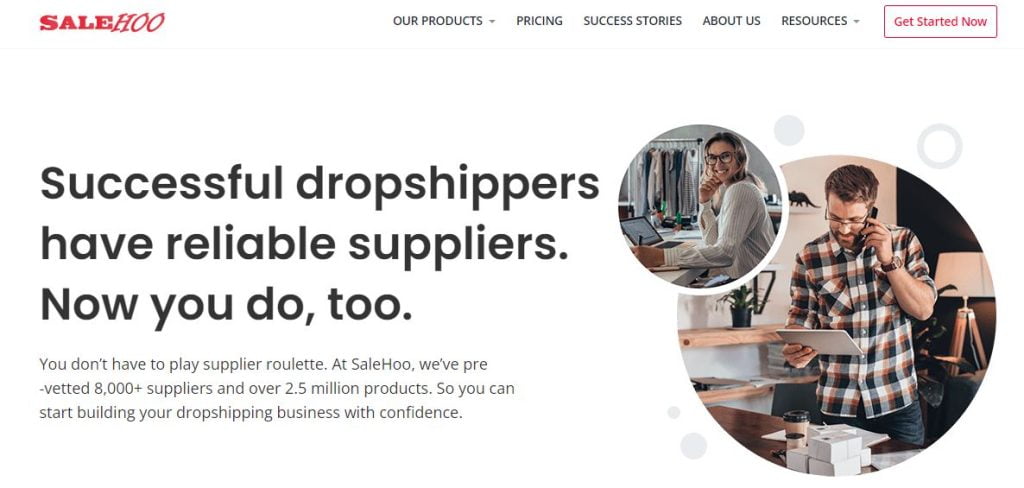 It is another major online wholesale marketplace that links retailers and wholesalers from all over the world. Over eight thousand leading businesses are featured on SaleHoo, with around 30% located in China.
This platform represents several different wholesalers and drop shippers. All of them provide competitive pricing on top-notch goods.
You can find complete contact information of wholesale vendors, including links to their websites. So you can begin buying from them immediately.
In addition, it gives you access to an advanced market research tool where you may look for goods that offer high potential returns.
How to Choose the Most Reliable Wholesalers for Your Business?
It is difficult and time-consuming to locate a reliable wholesaler. The right wholesale vendor can make or break your retail store.
1) Learn about the industry's supply chains.
From factory to store, an item travels numerous different routes. All wholesaler vendors do not sell to the same consumers. So, how can you find the best wholesale provider for your local or online company?
The best way is to have a firm grasp of the distribution channels and network used by your sector. Below parties play an important role in the supply chain.
Manufacturer: Certain goods can be purchased straight from the producer. Small, independent producers (often just one person) supply goods like groceries, kitchenwares, boutiques, etc.
Distributor: A business that imports and distributes an item only inside a specific nation. They sell goods to smaller wholesalers, who then resell them to stores.
Wholesaler: They often accept medium size shipments and resell them to smaller retailers and end customers.
Jobbers: Those with the title of 'jobber' are responsible for making regular deliveries to local shops and grocery stores. Certain stores cut out the role of middleman jobbers, and in some niche markets, importers may even sell straight to retailers.
Distribution methods used in one sector may differ from those in another. It depends on the nature of the item, the geographical area, or the nation.
2) Choose Your Products
Should you specialize in a certain product line or provide a wide variety of goods? Looking through wholesalers' catalogs is a great way to get a market feel.
When you narrow down on goods to stock up for resale, think about things like storage space, shipping, etc.
You must buy enough quantity to take advantage of the wholesale price break without having more inventory than you can sell.
Find out whether the wholesaler has a minimum order size. Get several samples, compare the price to the value you're getting, and keep in mind that you can likely haggle over the final price.
3) Remember the importance of logistics.
Can you define the role of a wholesaler in your business plan? Some wholesale vendors offer logistics services, while others don't.
Ensure you have sufficient space and processes in place to store and manage products, even amid high demand.
Ask your vendors how long it takes for orders to be fulfilled by the manufacturers. You can also ask about the shipping and receiving times for the items you need.
Keep tabs on when shipments are expected to arrive, and plan how you'll get products shipped to their destinations.
4) Look for feedback
The opinions of other buyers regarding a wholesaler should never be ignored. Reviews from previous customers may be found on marketplaces like Alibaba and Amazon.
You can also use search engines or specialized review websites like Quora to learn more about a product or wholesaler.
5) Communicate with your vendors.
After identifying a reliable vendor, talking about your requirements and checking whether the wholesaler can meet them is the next step.
A wholesaler must have a reliable means of contact. It can help you convey your requests and resolve concerns with your wholesaler.
Is there a certain brand you're hoping to find? What is their minimum order quantity, and can you satisfy it? Do you know whether they would be willing to send along any samples? Ask everything!
If you are having trouble contacting your wholesaler, you may want to look elsewhere.
6) Bargain for the lowest costs possible.
You must find a supplier with a high product margin. It is another good strategy for finding the best one to deal with. Often, you may save money by purchasing things in big amounts at once.
You'll need to bargain for lower prices and better profit margins. You can propose a better deal to your vendor or make a new offer if necessary.
You may improve your discounts by, say, lowering the minimum order quantity (MOQ), offering a longer business relationship, or making a down payment.
7) Get a sample to verify quality
Are you unsure if a wholesaler or his products will meet your needs? Well, obtaining samples before making a large purchase is wise.
In this method, you may determine whether or not the supplier's products and services meet your needs. If a wholesaler has confidence in his own goods, giving along samples shouldn't be an issue.
Final Thoughts!
Learning how to shop wholesale is the key to expanding your business's growth and revenues. Because of this, you need to devote some time to performing the maths. Ensure you purchase and sell a product at profitable rates for your company.
Finding a reliable wholesaler might take some time, but it's time well spent in the long run.