To flip anything simply means to purchase an item at a low cost and then resell it for a profit. Some individuals even make enough money flipping things that they can leave their regular full-time jobs.
Finding and purchasing inventory is all that is required to launch this business. Besides, you also need to put the items up for sale on a website and send them out to buyers.
Do you want to launch a similarly profitable flipping company but have no idea where to get the things to flip? If you're looking for a wholesale internet marketplace, your search might end with Alibaba. Anyone trying to make a profit from reselling goods would find Alibaba's selection of millions of products at unmatched rates to be an absolute goldmine.
With so many possibilities, it might be difficult to decide where to start. But have no fear! We've compiled a list of the top products to flip on Alibaba. These items, ranging from cutting-edge technology to exceptional clothing, are certain to attract customers and pad your bank account.
Buckle up, because we're about to go on an adventure around Alibaba's store and going to find the trendiest goods that are sure to make you flip out with delight!
What Exactly Is Alibaba Item Flipping?
Some background knowledge is required for effective item flipping on Alibaba. Identifying a reliable vendor is the first step. To do this, one has to just look for reputable Chinese manufacturers to work with.
After identifying a reliable provider, you should bargain for a cost that is less than the going retail rate. After agreeing on a price, you can place the order and have the product transported to you. Once the item has arrived, you can resell it on sites like eBay or Amazon for profits.
What Makes Alibaba a Great Place to Find Products for Flipping?
Due to its user-friendliness and competitive costs, many retailers turn to Alibaba as a primary resource for product sourcing. Most of the manufacturers you'll find on the platform will be located in China because of the country's ability to make high-quality items at lower costs than, say, other countries.
Right now, any vendor can go to Alibaba, enter the sort of goods they want to sell, and find thousands of possible suppliers. It's simpler than ever to locate a supplier for your product.
1) Reasonable Costs
Businesses may save a lot of money by making their purchases on Alibaba because of the low prices it gives on its goods and services. When purchasing in big numbers, you may save even more money thanks to the bulk discounts offered by most providers.
In addition, the site often runs sales and discounts, making it simple to get excellent deals on the things you need.
2) Wide Range of Options
From everyday necessities like food and clothes to business essentials like tools and equipment, you can find it all on Alibaba.
Alibaba sells everything from toys and clothing to technology and home furnishings. You can increase your company's earnings by using this platform as a wholesaler and retailer.
3) Availability of Providers
Alibaba is home to many different types of vendors, including producers, wholesalers, and retailers. Due to the platform's rigorous screening process, you can feel certain that you're working with a credible provider that can satisfy your requirements. It guarantees that the site only features reputable businesses.
4) A Pleasurable Buying Environment
Alibaba's user-friendly platform makes it simple to stock up wholesale goods. Customers can quickly locate what they're looking for and make purchases thanks to a centralized catalog and flexible payment methods
In addition, there are a variety of reliable third-party logistics services to ensure that your packages arrive at their destination on time and in one piece. Companies seeking wholesale products have a lot to gain from using Alibaba.
This platform is a great place to get the supplies your company needs because of its extensive product catalog, low pricing, reputable vendors, safe financial transactions, and user-friendly interface.
5) Safe Financial Dealings
Alibaba additionally gives an escrow service for bulk purchases and safe payment solutions for smaller ones. Thus, it guarantees a safe transaction for both parties, and protects purchasers' money in the case of a disagreement.
What Are the Pros and Cons of Buying Products From Alibaba for Flipping?
Even though flipping products on Alibaba seems straightforward, it can also turn terrible if handled wrongly. Here are the pros and cons of flipping products on this platform.
Pros
1) Savings
Purchasing straight from Alibaba can save you money compared to going via a middleman to get the same thing.
2) Large Supplier Network
Alibaba's enormous supplier network connects buyers with factories of goods. It's now lot less of a hassle for enterprises to get their hands on the supplies they want at reasonable costs.
3) Immediate Dispatch
To help companies acquire their purchases and begin selling as soon as possible, many Alibaba suppliers provide expedited shipping and delivery.
4) Low MOQ
In comparison to traditional distributors, most Alibaba suppliers have lower MOQ. That makes it simpler for firms to acquire the appropriate quantity of goods without going over budget.
5) Assured Quality
When it comes to quality control, this platform has strict requirements for its suppliers. You will notice a variety of buyer protection mechanisms in case a provider fails to achieve those requirements.
6) Safe Payment Options
Alibaba's secure payment mechanism protects customers against online scams and fraud.
Cons:
1) Possibility of Damaged Goods
While Alibaba does have quality assurance measures, there is always a chance that you may get a product that is faulty.
2) Problems with Communication
Some suppliers may be difficult to communicate with because of language issues. It might make it hard to provide precise descriptions of products.
3) Additional Costs
There may be hidden fees in the prices shown on Alibaba, such as taxes, shipping, and customs duties. Thus, you should include these prices into your spending plan.
4) Low-Quality Replica Goods
There is a chance of acquiring counterfeit goods while shopping on Alibaba. That's because this platform cannot ensure the authenticity of all things sold.
5) Unreliable vendors
There is a chance that some of the vendors you find on Alibaba are not who they claim to be. Before conducting business with a provider on the platform, it is crucial to do extensive research on them.
6) Safety Issues
Even though Alibaba has taken steps to prevent hacking and data breaches, users should nonetheless exercise care while transacting on the site.
7) Late Deliveries
Many Alibaba suppliers take lengthier lead times than traditional wholesalers.
Where Can You Find Alibaba's Best-Selling Items for Flipping?
With millions of items and suppliers, Alibaba is one of the biggest business-to-business marketplaces online. It is a terrific place to identify things that are currently selling well. In short, this approach help you start a company or extend your current offerings.
Here, we'll look at several strategies for locating Alibaba's best selling items.
1) Using the Product Search Feature of Alibaba

You can identify items that are ideal for your market segment and customer base with the aid of the filters and search tools provided by Alibaba.
You can use the search box to look for items in your specialty by entering relevant keywords. Besides, you can use the more refined advanced search to narrow your results by category, price, and more. You can then focus on finding items that are suitable for your intended audience.
2) Using the Top Ranking Page of Alibaba

Wholesalers can see what's popular by browsing the 'hot products' section of Alibaba. B2B companies can use the list to better understand their target market when making large purchases.
Daily updates reflect changes in wholesale sales volume, product popularity, and prices used to compile the list. The list is also helpful for stores that want to know what customers desire before placing orders with their providers.
3) Examining Sales Data and Market Trends
Keeping an eye on market movements is essential for making effective product choices. Even while trends might be unpredictable, they can lead to increased sales and new directions for potentially lucrative items.
It's easy to become sidetracked if you base your online store's strategy on what's now popular. But, it's always a good idea to check that the goods you're offering are still in demand.
You can research what's popular in a number of ways. Think carefully about how prospective customers would react in order to find a high-margin product. But first, you have to figure out what motivates them to do so.
4) Look for Well-Liked Items in Different Stores
Looking at what's selling well on sites like Amazon and eBay can also help you figure out what consumers want to buy. Using the sales and demand information available at these marketplaces, you can determine which goods will do well on Alibaba.
Which Products Are Ideal for Flipping on Alibaba?
Traders and e-commerce merchants can generate a stable profit by purchasing popular items on Alibaba and reselling them on Amazon. However, determining which things would sell the best online is sometimes the toughest aspect of reselling.
We have, however, shortened your work by investigating the most popular items already on the market. You can discover the following items on Alibaba and then resale them on other online marketplaces for a profit.
Here are some of the hottest items now selling on Alibaba that might do well on any other online marketplace.
1) Respective phone accessories
These trendy smartphone cases not only provide protection for your valuable iPhones but also elevate their visual appeal. Among the unique iPhone covers available on Alibaba, you'll find some with convenient straps, allowing you to carry them in your hand like a clutch purse.
Functional and aesthetically pleasing iPhone cases are in high demand on Alibaba. They're among the top-selling items and offer quick turnaround opportunities on the platform. Alibaba boasts a diverse selection of high-margin iPhone covers.
Sourcing eye-catching, customized iPhone cases from Alibaba and reselling them on established e-commerce platforms can be a lucrative venture, enabling you to generate profits.
2) Unique Nail Polishes in Different Shades
One of the most popular and lucrative beauty items sold in salons and boutiques right now is nail gel. Female celebrities and models use different nail paints. They are always looking for new and improved nail polishes to enhance their manicures.
3) Sports Gear
You may also make a lot of money by reselling sports equipment on Alibaba. The market for sports gear, both indoor and outdoor, is quite dynamic. Find sports gear that will sell out quickly because of its innovative design or practicality.
4) Animal Supplies
Pet supplies are also an excellent item to buy in bulk and resell on Alibaba. The pet industry is booming due to the strong demand for everything from pet food to pet beds. Try to choose pet supplies that are in great demand and that also stand out in terms of their style or usefulness.
5) Toys for Kids
You can make a profit by reselling toys on Alibaba. This platform has a large selection of toys for sale, including both indoor and outdoor playthings. Find toys that will be in great demand because of their special features or design.
6) Fitness Trackers for Health Monitoring
There is a significant demand for fitness trackers, and Alibaba provides a wide selection at more affordable costs than traditional retailers. If you're shopping for a gift for a fitness buff, keep an eye out for models that include heart rate monitors, sleep trackers, or water resistance.
You can enhance your sales by targeting a certain demographic with your advertising, like runners or weight lifters.
7) Wireless Headphones With Bluetooth Connectivity
Alibaba is a great place to get deals on popular items like Bluetooth earbuds when buying in large quantities. You can make a profit by selling them on websites like Amazon and eBay, or via your own online shop. To increase sales, you can sell them in bundles together with charging cases and headphones.
8) Drones
Many people now enjoy the thrill of flying a drone, and thanks to Alibaba, you can find a large selection of models at prices much cheaper than in shops. Find versions with high-end extras like high-definition cameras, extended battery life, and obstacle avoidance technologies that appeal to dedicated enthusiasts. In addition, you can enhance your sales by targeting a certain audience with your advertising, such as photographers or filmmakers.
9) Home Goods
You can also make a tidy profit by reselling home products on Alibaba. It is a great place to shop for whatever you need for your house, from appliances to decorations. Find furniture and decorative items that are both stylish and in great demand. Putting together a bundle of useful household items might also help you stand out from the crowd.
10) Eco-Friendly Food Boxes
The need for environmentally friendly food storage containers is very high. It gives you even more item to stock up on from Alibaba and resell online.
Now that eliminating pollution from Earth is a global priority, we should all do what we can to help. But how do we do it? We can do so by lessening our reliance on plastics.
Instead, we can utilize biodegradable food packaging that breaks down rapidly in landfills. As a result, several eateries now use compostable cardboard boxes for takeout orders.
11) Necklaces With Several Layers
Alibaba is a great place to find deals on fashionable necklaces, which you can then resell on eBay or another reputable online marketplace for a profit.
Online marketplaces specializing in elegant and refined jewelry products see a flood of customers. Elegant layered necklaces are still at the forefront of the season's hottest jewelry trend. Alibaba has some very cute jewelry at really cheap prices.
As a result, a large number of buyers from all over the world go to this marketplace to purchase the trendy and reasonably priced necklaces offered there. The inexpensive necklaces are a worthwhile investment on Alibaba's secondary market.
12) LED Light Up Arm Bands
When it comes to lighting, LED strips are among the most adaptable and flexible alternatives available. Alibaba's extensive catalog of low-priced choices is a lucrative business proposition.
If you want to sell to those who are interested in unusual lighting, you could consider including features like app control or music synchronization.
13) Succulent Planters
Women, like men, are always on the hunt for new and interesting ways to decorate their houses. Thus, the market for home improvement goods will always be floating. During major holidays like Thanksgiving, Christmas, and New Year's, upper- and middle-class families alike can't help but spruce up their dwellings.
How to Buy Trendy Products on Alibaba for Flipping?
It's crucial for a company to find affordable, dependable suppliers of high-quality goods. Alibaba is an international e-commerce website that offers a wide variety of wholesale products so that companies can save money by buying in big numbers.
The portal provides access to a plethora of items from reputable vendors, allowing companies to make purchases from a multitude of foreign vendors.
In this chapter, we'll break down the specifics of making a purchase from Alibaba and provide advice for making the most out of your time there.
1) Sign Up for an Account
Creating a user account is the first step towards making purchases on Alibaba. By submitting your company and contact data, you can create an account on the Alibaba website. After signing up, you'll have access to all products this platform has to offer.
2) Look for Products to Buy
After signing up for an account, you'll have access to Alibaba's extensive product database. You can either type in what you're searching for to the search box or peruse the many categories to locate it.
Narrow your search results by product category, price range, supplier's location, and more with the help of the advanced search tool.
3) Seek Estimates
Request price quotations for the things you're interested in purchasing after you've narrowed down your options. Alibaba's chat system makes it easy to get in touch with suppliers directly. Moreover, the site also has an RFQ tool for sending out many requests at once.
4) Examine Potential Vendors
It is prudent to investigate vendors thoroughly before making any purchases from them. A supplier's profile on Alibaba allows buyers to read reviews and ratings left by previous clients.
5) Make Your Purchase
After checking out several vendors and comparing prices, you can finally make your purchase by settling on a payment option and finalizing the specifics. Following up with the provider after placing an order is crucial for ensuring a timely delivery.
Alibaba simplifies the purchasing process for companies by connecting them with trustworthy vendors and helpful support staff.
6) Receive and Inspect
After submitting your purchase, all you can do is wait for it to come. It is crucial to verify Alibaba purchases upon delivery to make sure they are of the expected grade and quantity.
7) Provide Comments
Finally, after completing a purchase on Alibaba, you can rate and review your providers. It ensures the provider is responsible for their services and lets other companies know what to anticipate when working with them.
Alibaba is an excellent platform through which to get quality goods in large quantities at reasonable costs.
you can read more about how to buy from alibaba
Buy from Alibaba Definitive Guide
Need Sourcing Agent & Dropshipping Agent?
How to Get the Most Out of Product Flipping on Alibaba?
Now that you know where to get the finest bargains, you can focus on increasing your earnings. How? Read on!
1) Discuss a Price Drop
If you want the greatest discounts, you should always haggle with your suppliers. If you're a regular client or placing a large purchase order, you can request a price reduction with your supplier.
2) Buy in Masses
Investing in larger quantities allows you to save costs and increase your earnings. Find items that people really want and purchase them in bulk to cut down on the price per item.
3) Discover Your Target Market
Finding your specialization is a certain method to set yourself out from the crowd and increase your result. Find a market segment where there is a strong demand for your product but few other options, and dominate that space.
What to Look for When Deciding What Products to Flip on Alibaba?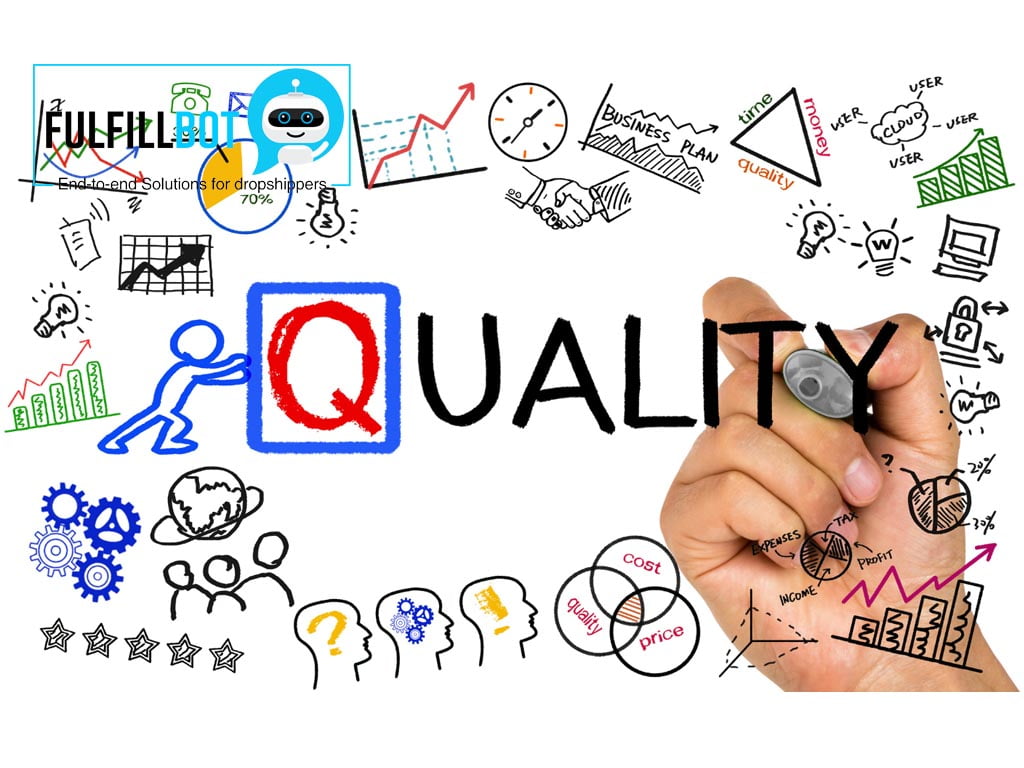 Alibaba is an excellent resource for finding reasonably priced high-quality goods. It is a worldwide platform where businesses can list and sell their goods to consumers all over the globe.
Flipping products for a profit is a fantastic method to boost your online revenue. However, many consumers struggle with determining which things are the best to purchase in bulk and resell.
1) Study Current Market Conditions
To make a profit flipping on Alibaba, you need to be aware of market tendencies. Spend some time learning about what kinds of products people want and where they tend to spend their money.
Knowing which products would fetch the highest prices on Alibaba can help you prioritize your stock. If you want to go ahead of the curve and ensure that your investments provide a return, you need to pay careful focus on business developments, popular items, and economic indicators.
2) Make Sure Everything You Buy Is High-Quality
Flipping goods on Alibaba requires careful product selection to ensure a return on investment. You should avoid selling defective products without a way to get a refund if they turn out to be a dud.
Spend some time looking at pictures and reading customer reviews of the products you want to purchase. Be sure they seem durable and will provide value to your consumers.
3) The Needs of Consumers
Think about how buyers would respond before settling on a high profit item. Customers will buy your product if it meets their needs, but you must first identify those needs.
When trying to determine which products will be the most successful for online sales, get answers to the following pointers.
• The kind of goods you want to provide
• Price at which that item is already being offered
• The acceptable margin for you and your customers
4) Market Research
It's common practice for companies to purchase sample sizes of products before committing to substantial orders. This way, they can gauge interest from potential buyers and decide whether or not to place a full-scale purchase.
It's a good way to gauge interest in the product before placing a bigger purchase, and it may also reveal any problems or obstacles that may crop up during sales.
5) Make Sure the Vendor Has a Solid Reputation
Because of the wide variety of vendors available on Alibaba, doing your homework is essential before making a purchase. Verify the feedback left by old buyers by checking the seller's ratings and reviews.
6) Gap-Filling Products
Select commodities that are in high demand during a specific window. To determine whether the issue is being resolved, it is necessary to examine current product use. If the products can address real needs, they will sell like hotcakes.
7) Products Targeting Hobbies and Interests
Customers are more likely to make a purchase if the items you provide speak to their specific interests or passions. Think of what those customers would really buy, and then go out and buy the greatest products you can to resell on Alibaba.
8) Pick Your Favorite
If something doesn't feel right, don't purchase it. You don't always visit tourist hotspots. The novelty of a product can be a major selling point. Don't be shy if you've got an idea for a popular product.
9) Arrange Alipay Payments
It is Alibaba's own payment platform. You'll need to create an Alipay account before making any purchases from Alibaba's merchants. To create an Alipay account, just stick to the steps outlined on their site.
10) Figure Out How Much You'll Make
Once you've decided on the products you want to flip on Alibaba, you'll need to figure out how big of a profit you can anticipate. Check the total price including any shipping and tax or duty charges.
Also, there's the time you spend looking into products and promoting them online. It will provide you an accurate projection of your potential gain, allowing you to set reasonable goals for your spending.
Using these guidelines, you can find the most profitable products to resell on Alibaba. With diligence, strategy, and common sense, you can earn a profit by purchasing goods from this international marketplace and reselling them at a profit.
What Are the Alibaba Substitutes for Flipping Products?
Thousands of Chinese manufacturers are available via Alibaba, so you can import about anything you can imagine.
However, what if you have other options to Alibaba that are more suitable for your company's needs? Any options with better quality manufacturers? Or equivalents that rely on fewer intermediary imports?
1) Global Sources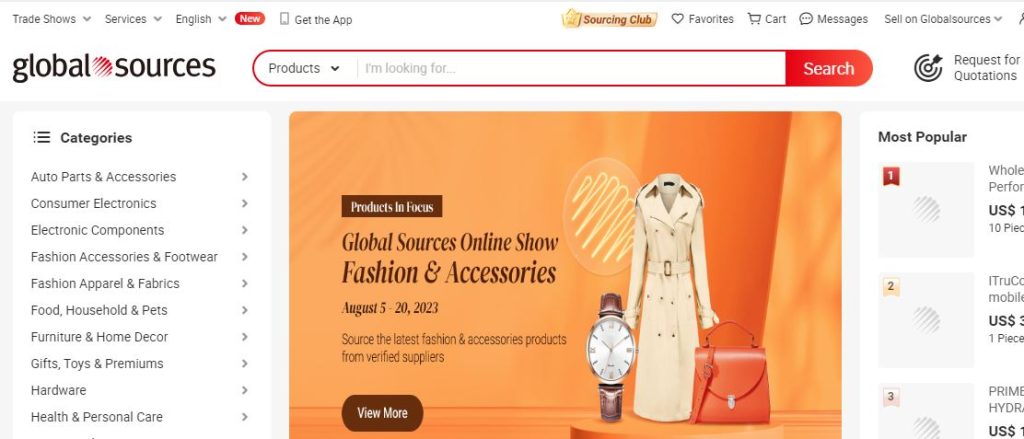 If you're looking for an alternative to Alibaba, go no further than Global Sources. The website serves as a hub for international trade and is available wholly in English.
Yet, both these platforms are not the same thing. There are more legitimate manufacturers than so-called Trading Companies listed on Global Sources due to the tougher requirements for joining the site.
Moreover, prices aren't always readily available; in such cases, you'll need to get in touch with a vendor directly.
2) 1688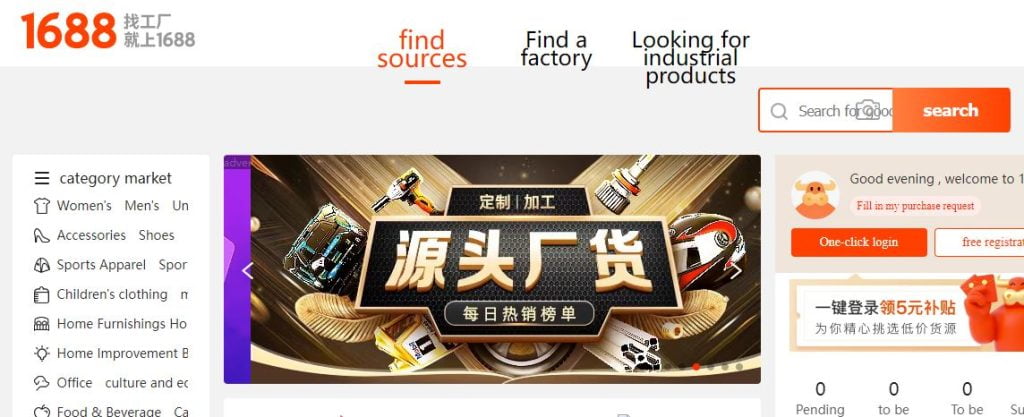 The Chinese market is the primary focus of this Chinese-language platform, 1688. Even so, don't let that deter you from reaching out to a manufacturer on 1688. Compared to their European counterparts, Asian distributors and manufacturers are more willing to negotiate on price.
Need Sourcing Agent & Dropshipping Agent?
3) Made in China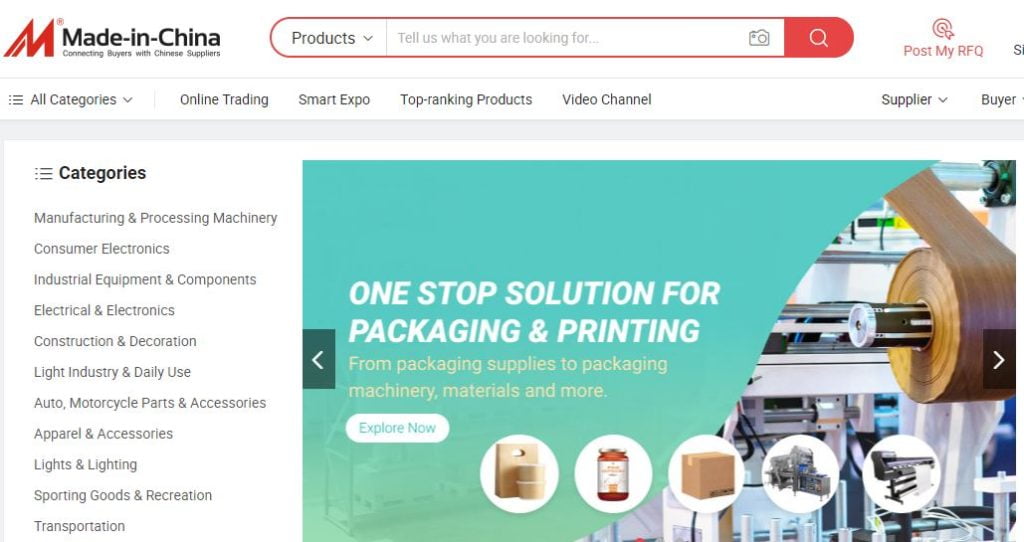 Products sold on this platform are only available in Asia. You can also bargain with certain manufacturers if you approach them directly. Minimum order quantities are lower than most other B2B marketplaces.
4) DHGate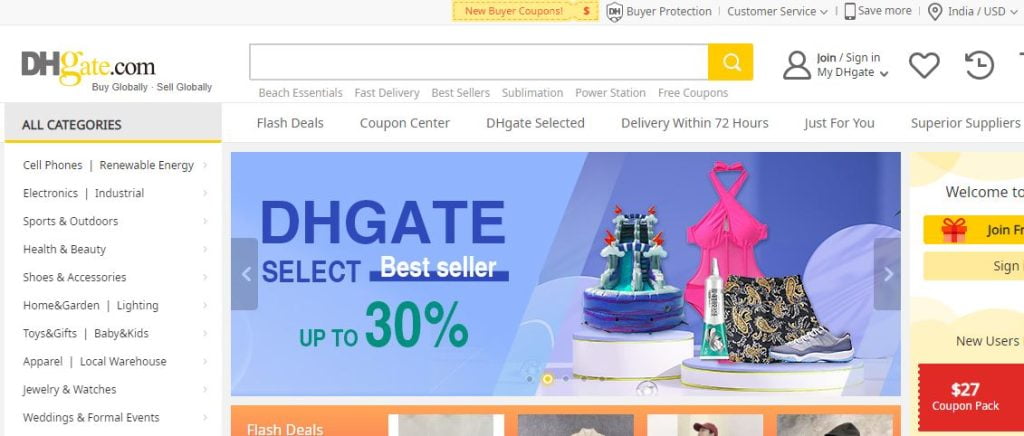 DHGate is quite similar to Alibaba in both appearance and functionality. You can find just about everything you're looking for on the site, and the pricing is competitive with Alibaba. You can bargain with suppliers by getting in touch with them.
5) Chinabrands
Another great option that competes with Alibaba is Chinabrands. This platform provides a dropshipping service in addition to its extensive product catalog.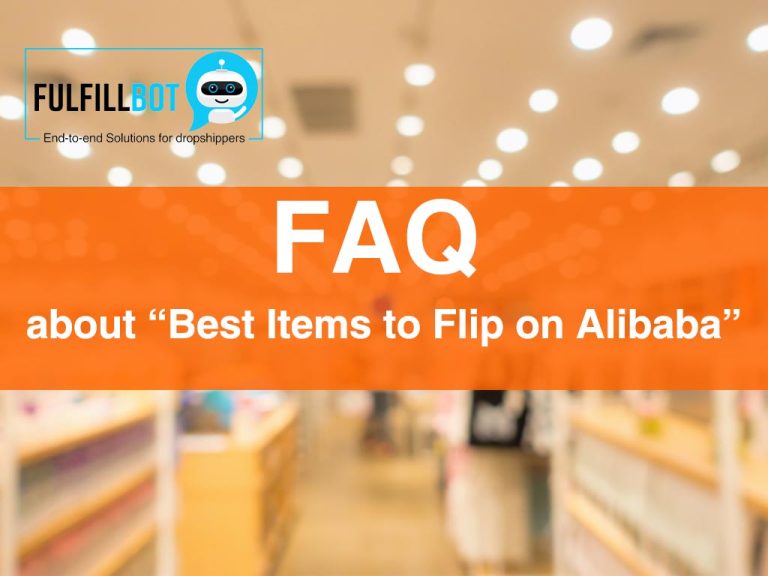 Final Thoughts!
If you want to sell online or grow your current company, Alibaba is a must-have resource. Keeping an eye on the competition is crucial when trying to make a profit flipping things here.
Look around at several online stores that sell the same thing before you make a final decision. It will help you determine the appropriate selling price for the item. Remember, the profit margin is often bigger for things that are in high demand but limited supply.
So these are all the greatest things you must know for flipping products on Alibaba. If you're ready to dive into the world of online commerce and launch your new company, keep them in mind. You can also seek the assistance of a China sourcing agent for better shopping experience.