China post tracking is part of China's goods and parcels delivery process. The postal operator takes care of many shipments from trading platforms like Aliexpress. These platforms are growing over the years and becoming popular.
Thus, each parcel gets a unique tracking number when registering items at China Post. It follows the S10 standards of the Universal Postal Union, meaning it has 13 symbols. Vendors from online market platforms use it to deliver parcels to their clients.
But the tracking process of parcels involves many other aspects. Thus, we must look into these aspects to have better clarity.
What Are the Main Shipping Methods in China?
There are many considerations importers need to know when sourcing products from China. You want your goods to arrive on time, safe, and at the most competitive freight costs on shipping.
The best delivery method depends on each importer, but the regular post is the primary method. By regular post, we mean services like China Post, where your cargo takes between 2 to 5 weeks to reach you.
If you are patient or not in a hurry to receive goods, it is the best and cheapest option for small parcels and samples. Besides, you can track and trace the movement of your cargo online.
For most businesses, shipment costs can't be the only factor, but it is a determining and primary factor. Since we are in this to help you make decisions and save money, we will explain more options open to importers.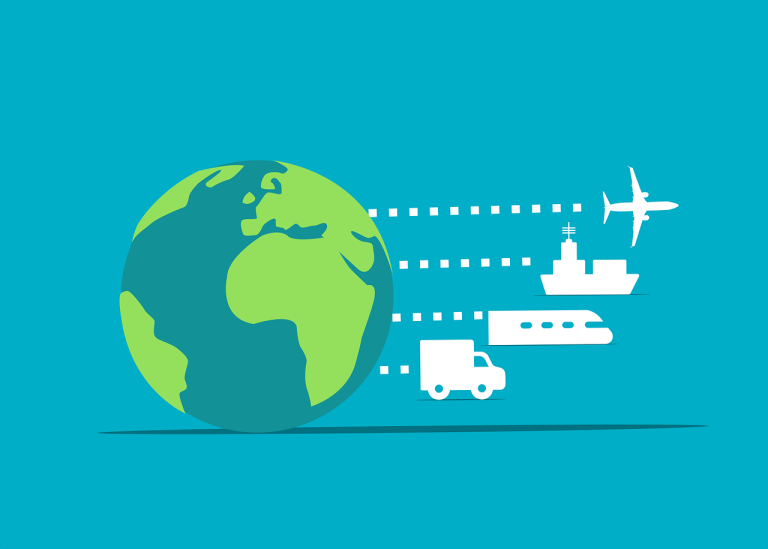 A) Economy Line Shipping
Economy line shipping is the cheapest method of shipping packages. But it takes longer than expedited or express courier services.
Chinese companies have selections of economy courier services to ship domestically or internationally. So, it is best to compare the courier prices before booking shipping services.
You can use shipping cost calculators. Here you can enter the shipment details to get quotations. Economy line shipping takes between 20 and 60 business days for goods to arrive. Of course, it depends on the client's destination.
Here are a few options to import goods from China while keeping the shipment costs down.
1) China Post
China Post is a standard delivery service. It works best for companies offering free shipping.
It is the cheapest if the shipper includes the shipping fees in the goods' prices. Moreover, you can track your package online.
You will find a help number and speak to an agent for help, especially if you are in China and are a Mandarin speaker.
But, there is a setback when shipping internationally from China via this method. China Post doesn't offer help in English. Thus, some customers switch parcels to different carriers upon their goods leaving china.
It can cause further confusion because there is no help via call. Although it is among the cheapest methods to use, it can take much time.
So, unless you don't need your cargo urgently, it is the best option if you want to reduce shipment costs.
2) Epacket
Under the China Post Group, China Post and Epacket are the most used shipping model.
Many Chinese merchants offer Epacket as a shipping option on popular marketplaces. It is affordable for lighter packages and allows for shipment tracking. The tracking number also has 13 symbols, with the first two and last two being letters.
If Epacket can not ship to that country,then will use china post.
Learn More about Epacket 
3) Yanwen
Yanwen provides comprehensive logistic services to sellers in more than eight countries.
It has partnerships with couriers and postal services like China Post and DHL. Parcel delivery time takes 14 to 28 days.Some yanwen's ship model are dependent on China Post and use the services of China Post.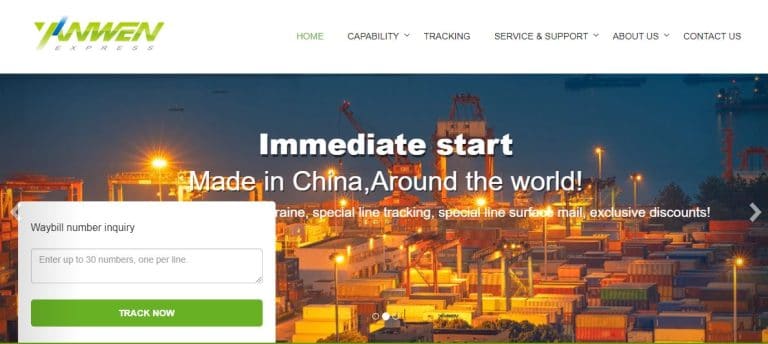 B) Special Line
It is the fastest method used in China to ship goods within and out of the country. Shipping can be by air for international deliveries or by a local courier.
It isn't a postal service; hence more secure, and you can track packages online without much effort.
Your package gets a tracking number once it goes for delivery. You can use this method to ship large items compared to services like Epacket. Shipping might take two to three weeks.
Check out some options for special line shipping below.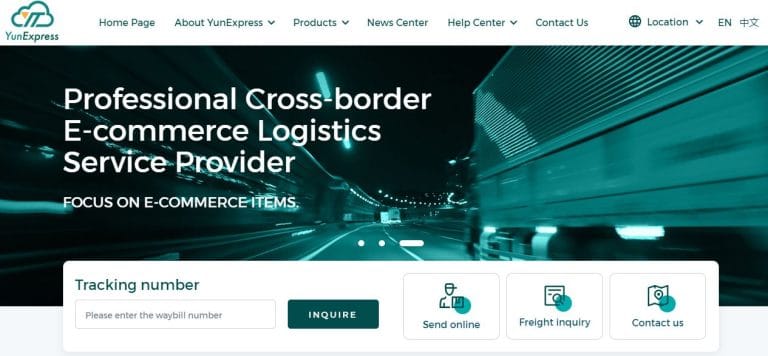 1) Yunexpress
Yunexpress is an intermediary shipment tracking service. It has a network with Chinese vendors and local carriers worldwide.
The company collects packages from sellers and transports them to the clients' destinations. Delivery time depends on the second part once packages arrive at their destination.
Most international orders will take between 7 and 15 days. Yunexpress tracking numbers have 18 symbols, with the first two being capital letters followed by 16 digits.
2) 4px
4px tracking deals with express deliveries, import and export services, and freight forwarding. It works with vendors on different ecommerce sites to help them find shipment solutions.
The company works with other international delivery providers like TNT and Aramex. You can track your 4px parcel through their website using your tracking number.
The tracking number consists of 13 symbols combining numbers and letters. Shipping takes 12 to 35 days, depending on the client's destination.
3) CNE
CNE is an express international delivery company. It takes packages from sellers and transports them across China and beyond.
Once the cargo reaches your destination, the company gives it to local companies to handle the last mile. Its tracking number also has 13 symbols with a mixture of letters and numbers.
4) UBI
UBI is a smart parcel network cooperating with express delivery and postal companies. It is a door-to-door service.
But it can also offer semi-tracked services worldwide depending on a client's needs.
5)Others
There are many other companies like them that offer private lines. When you choose, you need to consider the delivery time and to check the authenticity, you can ask for the past tracking number as a reference.
C) Express
Express shipping is costlier than regular freight. Four popular delivery companies are EMS, UPS, FedEx, and DHL.
Each has its advantages, but the shipping cost depends on many factors. It includes volume, size, actual weight, and destination country.
Below are some express delivery options that work best for worldwide buyers.

1) DHL
DHL is excellent and cheaper for small goods below 21kgs. Of course, it works best when shipping to undeveloped countries. The price is somewhat affordable for goods exceeding 21kgs shipped to developed countries. The company often runs discounts.
Most clients consider it the best for quicker transshipment. Besides, it is the most stable express international delivery option.
The average waiting time is 3 to 10 days. But their service attitude is excellent, and they are quick at responding.
2) UPS
UPS follows fast timelines. Its primary advantages are evident in Southeast Asia, Western Europe, and America. Both small and large goods have time and price advantages.
3) FedEx
The delivery timeline for FedEx parcels is 2 to 8 business days. So, this service dominates most parts of Europe and South and Central America.
FedEx updates tracking information on its website, and its query responses are fast.
4) EMS
EMS can ship foods, products with international brands, small amounts of powders and liquids, medicines, printed books, electronics, silver products, etc.
Delivery times can last between a week or two. Sometimes this period may extend depending on your location.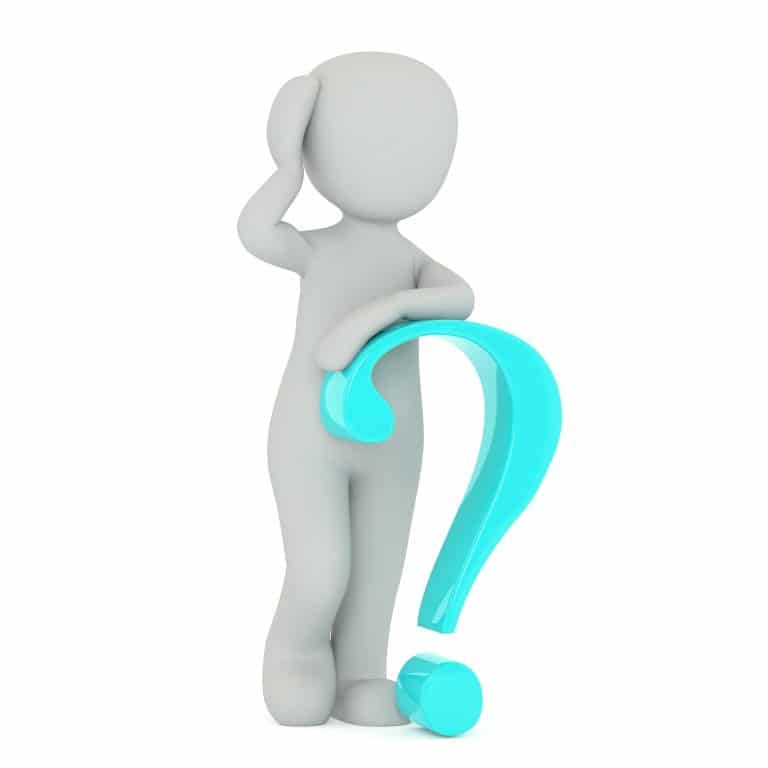 Why Is It Important to Choose the Right Shipping Methods?
Buying goods from China is now easier and faster. But, it is profitable if you use the right shipping method.
Moreover, the tracking process also closely relates to the shipping methods. Thus, if you want to experience smooth tracking of your goods, choose the right shipping method.
Here are some reasons you need to select the correct shipping method for your cargo.
A) Varied Priorities
Free shipping methods or standard shipping have low priorities than express options. Express shipping packages arrive earlier than standard shipments in congestion times like mid-year, New Year, and annual sales.
B) Delivery Time
Remember, time schedules often change regardless of the shipping method you select. That's because of avoidable or unavoidable circumstances.
Also, note that shipping methods offered for free have the slowest delivery.
C) Standard Services
Packages with wrong addresses or whose owners aren't home could get lost. Thus, there is no reception guarantee in the standard shipping.
Express shipping services allow for two delivery attempts. Moreover, it also offers refunds in case of lost packages.
D) Easy Tracking
Everyone wants to track goods after their dispatch. It assures them about the delivery schedule. Besides, it also ensures your goods are safe and on the way.
Almost all shipping methods follow the same tracking process. Besides, buyers can now track their parcels on mobile or laptop. So, everything is available at their fingertips, enhancing their parcel tracking experience.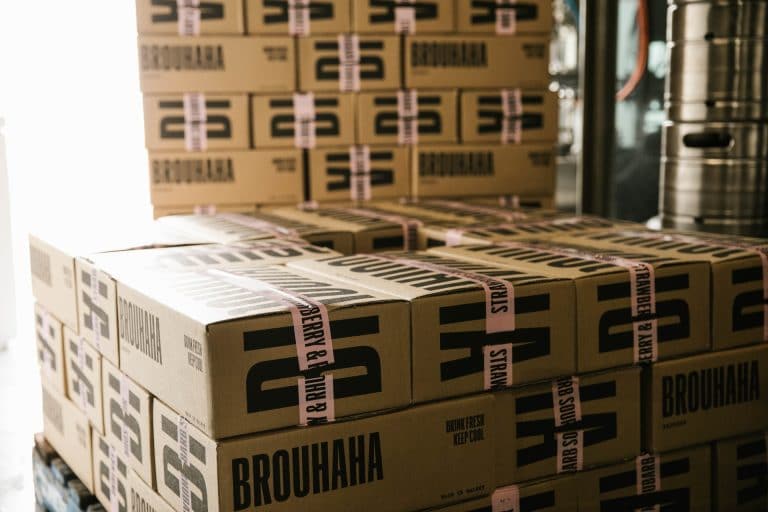 What Is The Tracking Number, and Where Is It Found on My Package?
A tracking number is nothing but a unique code assigned to each package. It allows recipients to track the parcel's movement until it reaches its destination.
It is also called a tracking code. These numbers follow the Universal Postal Union formats. For example, the tracking code could start with two letters followed by digits. Others end with two letters depending on the shipping company.
Now, the question is where to locate this unique tracking code on your parcel. Well, it is somewhat easy to see it. Most companies add this tracking code to the front side of the parcel. They ensure that this code is visible. You can also look for it at the bottom peel-off section of the tracking label.
You can find your parcel tracking number on the post office shipment receipt. Sometimes, you get it from your online retailer's shipping confirmation message or mail.
Make sure you note down this tracking code in a safe place. It will help you track goods as soon as the shipping journey starts.
Top 5 Online Tracking Sites to Track Packages from China
You might have ordered your goods and bought them already. So what are the best tracking sites you can use to track your parcel or cargo from China? Worry not! Here are the top five options preferred by buyers.
1) Parcels App
Parcels App is the first company to have an application alongside a web-based service.
It can help you track parcels bought from different online stores, including DHgate, Victoria's Secret, Joom, Gear Best, ASOS, Wish, eBay, Aliexpress, and Amazon.
The app's functioning is automatic. For example, it pulls your tracking number from purchased goods. Moreover, it works with most national postal services like China Post, Elta Hellenic, POS Malaysia, Brazil Post, Post NL, etc.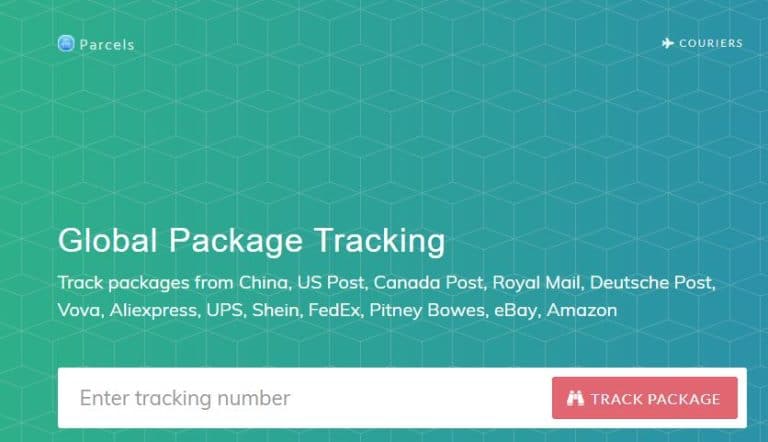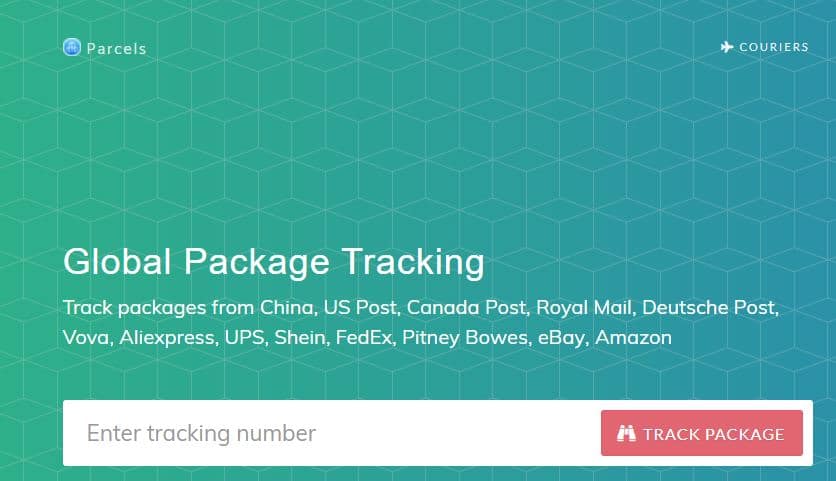 2) Packagetrackr
You can track most of your parcels in one place when using Packagetrackr. Besides, it supports national postal services and private couriers.

3) Package Radar
Package Radar helps you get immediate information on your parcels. But, of course, it starts working after you get a tracking number from your online vendor.
It tracks packages from 15+ Chinese online stores like WISH, Gear Best and Aliexpress.

4) 17Track
17Track is an all-inclusive package tracking service. It supports 700+ postal and courier services worldwide.
It is ideal for users who want to key in more than one tracking number at a go. The max number is 40 numbers in one block on the site.

5) Trackposylka
Trackposylka lets you track smaller packages from China using a tracking number. It works with retailers from eBay, Joom, GearBest, Aliexpress, and Bangood.
The delivery services it can track include Yan Express, SF Express, and China Post.


What Are the Shipping and Customs Charges?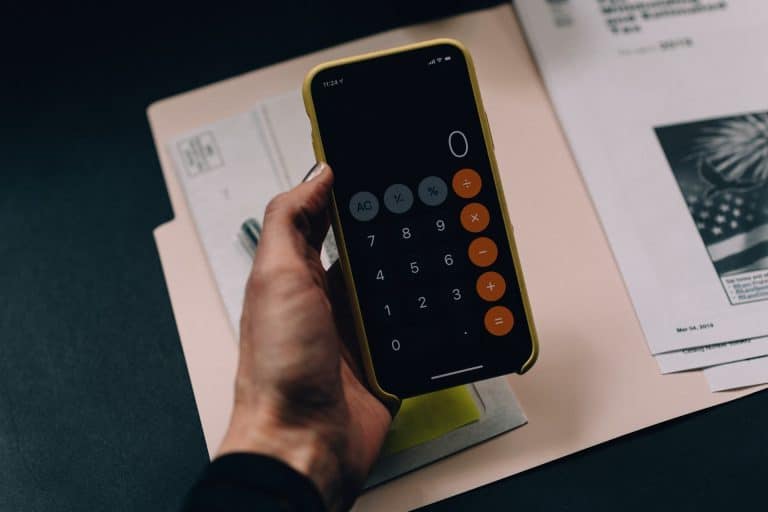 Sometimes, a courier service will ask for extra money once you ship goods from China. So, customs and taxes are not a strange occurrence. As per the EU laws, all goods bought online from other countries must pay the duties and VAT.
If the vendor doesn't cater to these costs, the customer must pay them. Thus, it is crucial to ask if your vendor will take up the customs cost.
Note that you must pay these extra charges. If you don't, your parcel may get stuck even if you have a tracking number.
Below are a few things you must know about customs and shipping.
A) Customs
You must add custom clearance, inspection, and stock costs to get the good's value, apart from shipping and insurance costs, including actual product prices and sample and mold prices.
• Customs Clearance Costs
A customs clearance cost is a bureaucratic fee charged by national authorities to allow imported products to enter the country.
• Warehousing Costs
These are fees imposed when renting a space in a customs warehouse to store your goods until the shipping company collects them.
• Inspection Costs
You must pay inspection fees when your goods fall under inspection. Such inspections are common. If authorities suspect your goods, they will put them under inspection.
B) Import Duties
Import duties vary across countries. For instance, when importing goods in an EU country, you will face VAT and customs costs. One must pay them for each product regardless of where it was produced or imported.
VAT percentages vary from one country to the other. For example, if you import goods from China to the USA, you might pay harbor maintenance or merchandise processing fee.
• Merchandise Processing Fee (MPF)
It changes with the value of imported products. If the value is below $2500, the fee is 0.3464% of the total value. The least charge is $25, and the max is $485.
• Harbor Maintenance Fee (HMF)
HMF is common on goods arriving via sea and is 0.125% of the product's value.
How to Track Your Packages if Buying Products in Bulk?
Shipping from China is a broad topic with tons of areas to cover.
In this case, the choice falls first of all on the type of shipment:
Aerial Shipping
Train Shipping
Shipping via Sea
Thus, ensure to request a tracking code from the supplier before making any bulk shipment. All shipping suppliers often give it after making the payment.
If you are using sea freight, you can ask the seller for the name of the ship and the number of voyages.
then you can track the boat in hapag-lloyd
After the ship arrives at the destination port, you can use the tracking number to track the progress of the package. you can use 17Track or any other similar tool.
Of course, it might be challenging to track bulk orders. But, such companies make it easy to track your parcels.
1) How Can I Track My Package From China to the USA?
There is the USPS (United States Postal Service) to do it. It is an independent section of the federal government in the USA.
It offers postal services in the USA. If shipping from China through China Post, you will get USPS tracking.
You can also use USPS to track Registered China Post Airmail, China Post EMS, Air, Sea, or Epacket parcels.
2) Why Do Some Packages Get Stuck When Shipping from China?
Your package could be stuck in China at the transit station or elsewhere for a week. Thus, you can wait for a few days to see its status.
Likewise, it could delay because of goods piling up and will be moved once the backlog issue is sorted.
If it exceeds 30 days, it could be lost, and you have to contact the vendor to identify the problem and solve it. Others get stuck at customs for a week, meaning the vendor should declare to customs or clear taxes.
Again, reach the seller and notify them to solve the issue in time. Sometimes, there are no updates for more than a week. Besides, your last tracking information might show that it has been handed to the carrier transport or received by the airline.
Others could read 'airline departs' or 'airline starts shipping.' Your parcel is being processed at the airport or waiting for airspace.
China Post shipping by air to other countries can take 7 to 15 delays. Delays are common due to freight processes and not the plane's speed.
3) Why Can't I Track My Package From China?
If you are yet to get a tracking number or any tracking records, the vendor has perhaps not shipped it yet. Also, you might have keyed in the wrong numbers.
Contact your seller to confirm if the package has been sent. Besides, you can cross-check the keyed numbers to see if they are correct.
If no number is available, ask the vendor how to trace it. Sometimes, the sender could give you a tracking number, yet they haven't shipped your goods. Or, the package has been sent but needs a day or two to get your tracking information.
In some scenarios, China Post doesn't offer tracking services for your kind of package. For example, the tracking number might have expired or is fake.
4) How to Identify Fake China Post Tracking Number?
An actual China Post tracking number has 13 unique symbols.
It starts with the letter R for small parcels and C for large packages. Others begin with A, E, or L.
The number ends with CN. The symbols between the starting and ending letters are numbers only.
If yours looks anything different, it is probably fake. Also, you can copy the tracking number and paste it into the Parcel Monitor China Post tracking. It will give you instant updates on your packages.
If you get no feedback, there are higher chances of experiencing the problems highlighted above.
5) Who Delivers China Post in the USA?
China Post works with various couriers to deliver packages to the USA. Shipping companies partner with services like USPS, DHL, FedEx, SpeedPAK, Pitney Bowes, OnTrac, LaserShip, and UPS.
6)What carrier does China Post use?
China Post (中国邮政) is China's national postal service provider, delivering regular and registered mails and parcels across China and internationally. EMS China handles express postal service for China. China Post has its own flights.
7)Why is China Post so slow?
The fact is that the speed of postal parcels varies from region to region. Some regions send packages very fast, while some areas will be very slow. On the other hand, because the local post office delivery is very slow, maybe because of the airport workers' strike manpower shortage, shopping season suddenly increased parcels, weather reasons, etc.
The alternative is to use fulfillbot private line service usually only 6-15 days.
Final Thoughts!
Tracking shipments from China looks like a challenging task. But it turns easy if you know how to track the goods.
While you might run into problems here and there, you can get help via call with an agent. It would be great if you could speak in Mandarin. If you can't, you might need to seek the services of someone who speaks and understands English.
So, be alert when purchasing goods from online marketplaces. You can avoid landing in the hands of scammers. They can trick you by issuing fake China Post tracking numbers.
Regardless of what the online marketplace has become, you can still shop safely and ship your goods to your destination.