Do you consider yourself an artist with an eye on making a living from your work? Or, you already run an online store and want to provide customized options to your customers. 
Whatever your situation may be, on-demand printing can help you realize commercial visions. There's no denying the potential financial and emotional rewards of the retail business. 
It's not easy to create things, source suppliers, stock up, and ship orders. So, it is when POD comes in handy. 
You can offer unique items without the overhead of stocking them. Moreover, you can integrate a print-on-demand solution with your online business. 
But what, precisely, is print-on-demand? To what extent does it vary from drop shipping? 
Below is a comprehensive guide covering aspects of launching your own print-on-demand site.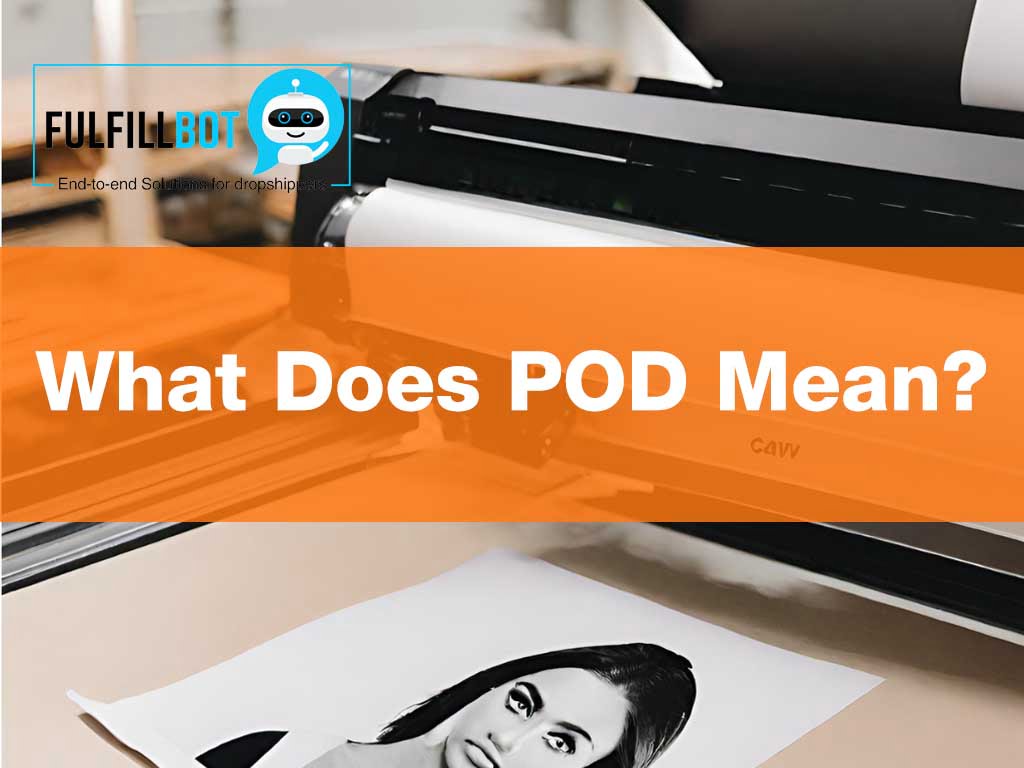 What Does Print on Demand Mean?
First things first: define print on demand. In simple words, it is a fulfillment method. It enables retailers to create custom products. 
These items might be anything from cups to napkins to artwork to phone covers to clothing. The vendor will send the goods with your images on it. Besides, you don't need to have any inventory on hand, as a regular store would. 
Thus, you won't have to spend effort managing the product's distribution or appearance. You can see the low-risk nature of this business model. As a result, it is suitable for creative professionals with expertise in marketing. 
If product design is not your strong suit, you may hire someone to do it for you.
Should You Invest Time in Print on Demand or Dropshipping?
Entrepreneurs willing to launch a company may choose from various online platforms. Dropshipping and print-on-demand are two methods that have taken off in recent years. 
Of course, print-on-demand and drop shipping both have their benefits. Yet, you may need to decide which one is more worthwhile for your business. 
Let's discuss whether dropshipping is an appropriate strategy for your POD endeavors.
1) Keeping the Price in Mind:
Using a drop shipper means not having to spend money on stock initially. But, business owners should weigh the costs and benefits thoroughly. 
For better earnings, you must investigate product prices, delivery expenses, and supplier fees. In dropshipping, businesses need to find a way to be profitable while remaining fair on price. 
2) Effectiveness in Processing Orders:
There must be smooth communication between the POD provider and the fulfillment partner. 
It's vital to choose partners whom you can trust, and that work well together. Important factors include prompt order execution, printing, quality assurance, and fast delivery. Customers' happiness and loyalty will increase if these procedures go smoothly. 
3) Potential for Expansion and Scalability:
With drop shipping, company owners can expand their operations fast. Without worrying about keeping stock, businesses can try new items. They can also target untapped markets. 
Print-on-demand gives business owners the freedom to try new products, ideas, and markets. Given the possibility of progress, anybody working in print-on-demand should consider drop shipping.
4) Advantage of Branding: 
Drop shipping simplifies order fulfillment, but it might reduce marketing possibilities. Businesses depend on vendors for specialized packing and design. 
Thus, businesses must ensure these elements complement their brand identity. White labeling and custom packing are ways to present a unified front to customers. 
5) Supporting and Delighting Clients:
Any company worth its salt will put customer service first. Business owners should weigh how much positivity they'll put in the customer's experience. It involves dealing with problems, like quality concerns or shipment delays.
You must choose a trustworthy drop shipping partner, placing importance on the customer's happiness. It is crucial for the long-term viability of print-on-demand operations.
6) Advertising: 
With drop shipping, business owners can put their efforts where they will do the most good. They can focus on advertising, attracting customers, and brand development. 
But keep in mind that drop shipping is a very competitive industry. You must spend time and energy on marketing to set your goods apart from the competition. 
If you want to stand out in a competitive POD market, you need;
Distinctive designs
Focused advertising campaigns
Social media presence
Influencers partnerships
Compelling content
7) Long-Term Success in the Market:
Assess the state of the marketplace and the drop-shipping model's sustainability. E-commerce is a dynamic industry; thus, businesses need to be flexible. 
Businesses can go ahead of the competition by investigating the need for POD items. They can learn about customer tastes and watch market advancements.
Is Print on Demand Worth Trying?
It's time to apply this manual in the real world. Many companies seem to enjoy the availability of print-on-demand. A writer, for example, would be a wonderful match for this business plan. 
Books that are in high demand might be one approach to do this. Artists, creative people, and designers are in the same boat. These days, it's normal to find posters and paintings for sale via a marketplace like Etsy. Why, then, do these experts put so much faith in POD? 
There are a few POD possibilities to choose from, just as there are many drop shipping models to choose from.
The level of trust clients have in the quality of your goods must be sky-high. Many POD businesses use this tactic to keep clients coming back throughout the year. 
Your supplies must be of adequate quality. In this sense, it's quite unlikely that sales would fall short of projections. What can you do to keep clients seeing value in your items? Well, you can get outstanding goods from vendors. 
Remember, all you need is a blank product to print a personalized design. A blank surface or object!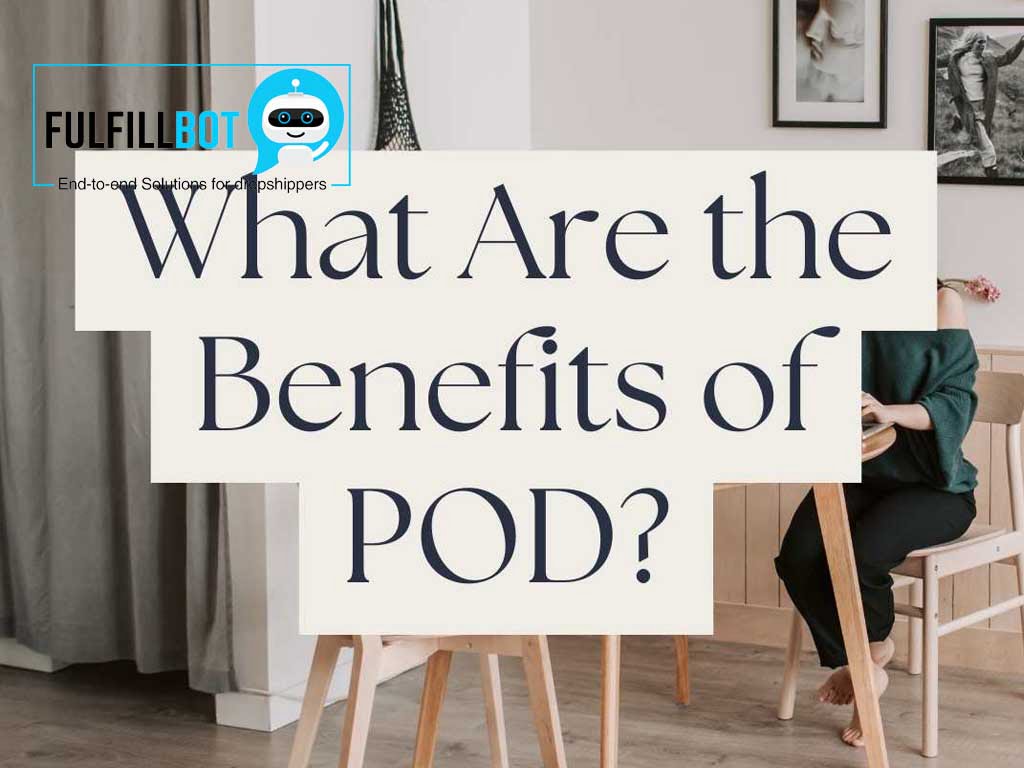 What Are the Benefits of POD?
Adopting print-on-demand services offers several advantages for a new eCommerce business. It is a tested and effective method of printing for profit. Let's check out some of the benefits POD offers.
1) Quick to Get Going
You don't need a background in entrepreneurship, advertising, or arts. Since print-on-demand businesses value your business, they often include tutorials and manuals.
2) Risk-Free
Second, using print-on-demand, there is no need to pay anything in advance. There is no need to secure a storefront and maintain inventory. Moreover, you don't need to recruit and manage employees or fret about logistics.
3) No Stock on Hand
Your customers will get their orders through a third-party source. Thus, you can avoid the costs associated with warehousing and stockpiling products.
4) Worldwide Potential
You may expand your business's reach by using print-on-demand. The proper aesthetic may bring in new buyers from all corners of the globe.
5) Low-priced
Your company's website incurs ongoing maintenance expenses. It includes the hosting, domain name, SEO, etc.
And, in the case of services like Shopify, a membership to the underlying online company will cost you. Spending on marketing and any other services may increase total expenditures.
6) Being in Charge of the Merchandise
While there is a limit to how much you can change an item, the visual appearance is in your hands. That's because you are the one who decides the design and graphics.
7) The Opportunity to Concentrate on Your Business Strengths
The greatest benefit of POD is it frees you up to concentrate on the parts of your company you like the most. It frees you from the hectic work so that you can focus on what you do best. It can be making an art, fostering a community, or planning a company strategy. You don't need to bother about the mechanics of transporting or packaging orders.
Is It Cost-Effective to Print on Demand?
Now that we have discussed POD, we can test the effectiveness of its fulfillment system. Let's focus on current reports. There will be over $10 billion worth of bespoke T-shirts sold globally by 2025.
Moreover, there is no sign that the POD market will slow down. Whether it's a name, a statement, an image, a painting, or a symbol, you can find it on a T-shirt somewhere.
Not only T-shirts, but it also applies to other product categories. It includes fashion, watches, phone supplies, surgical implants, and medications. The top POD platforms make it easy to start a business selling unique wares immediately.
How to Launch a Print-on-Demand Business in 12 Easy Steps?
Print-on-demand is an effective strategy for selling personalized items on the web. You can differentiate your POD business from the competition. You only need to offer customized items at low start-up and ongoing expenses.
Step 1: Identify Your Market Niche
A niche market is a small but targeted subset of the consumer market. There are several upsides to carving out a specific market niche. It includes more profitability, fewer competitors, and lower advertising costs.
Finding your brand's specialty might be difficult. If you're stuck, focus on something you're enthusiastic about. Health, hiking, pets, or even a simple product are all fair to start your POD business.
Step 2: Find a POD Service Supplier
The plenty of available options might affect the process of selecting a provider. Many of them focus on providing a single label of clothing. Or, they provide helpful prices and quick turnaround times.
It is difficult to provide a plain recommendation for a POD supplier. You can get the best answers by asking yourself the following:
Should I specialize in selling a certain product?
How many varieties of my core offerings am I employing? (such as sizing, color options, etc.)
Do the product and transportation costs fall within a reasonable range for me to make a profit?
Which country do I want to focus on?
Step 3: Work With What You Have
If you're running an online store, this is a crucial consideration. You need compatibility between your shopping cart and the print-on-demand platform.
Investigate options that may connect with your online store. Target POD providers that already integrate with your e-commerce platform of choice (like Shopify, Woocommerce, etc.).
Following so will allow for a speedier launch. It will also provide you and your consumers with a more streamlined experience.
Step 4: The Retailer's Policies
Look into the POD solutions' seller rules to see whether they fit your needs. When can I expect a response from the POD supplier? What is their percentage after selling a product? You must select a platform whose policies support you and your POD business needs.
Step 5: Methods of Fulfillment
You should also investigate the manufacturing, packaging, and distribution processes. Some POD platforms have their factories on-site. It is where they manufacture, package, and ship your order.
Some people use outside networks. Of course, there is no clear superior option. Your tastes and the goods you're peddling will determine the best course of action.
Step 6: Costs
Investigate the POD service's pricing structure before signing up. You shouldn't only think about the per-item prices but also the membership costs. When deciding on a supplier company, check whether it charges a monthly fee to access its platform.
Step 7: Products Available
Consider the kinds of goods you'd want to personalize and sell. Then, check to see whether your POD platform offers them. It shouldn't be a problem for standard merchandise like coffee cups and clothing.
That's because the vast majority of on-demand printing services offer them. Yet, you may have to look a bit more if you're selling specialty things.
Step 8: Start With a Sample Order
You should first create a short list of potential on-demand printing services. Then, you can get a sample of the product before committing to a service. It will help you examine the products and make an informed decision about their grade.
The procedure for obtaining samples of a company's wares differs widely. Samples of certain products are available at no cost, while others may need full payment.
Don't miss this step of sample ordering; it's essential. It's important to sell only high-quality items to maintain a good reputation. It will also save you from the number of returns and refunds. They result from poor print and merchandise quality.
Step 9: Create Impressive Prototypes
All set to begin making sales? You and your buyers should be able to imagine how a design will appear on a product. Thus, make sure your product mock-ups are of a professional standard.
If you want to encourage customers to buy, you need to use excellent prototypes in your shop. The good thing is that you can use mock-up generators on most print-on-demand platforms.
But you can take this a step further by using dedicated, premium mock-up programs. Some mock-up generators allow the creation of distinctive mock-ups with a larger range of models.
Step 10: Use Shrewd Pricing
Correct product pricing is essential to the success of any POD business. A fair profit margin, taking into account your expenses, should be 40% or greater.
To achieve this much profit margin, you would need to sell an item for at least $16.67, assuming a POD solution cost of $10. Of course, you can find out the optimal selling price. You can input your expected costs and profits into a profit margin calculator. You may get this tool for free at certain print-on-demand services.
Some POD supplier websites provide tools like a Profit Calculator page. First, input the selling price for each product on the page, which also displays its cost. The calculator has an automated system that determines your earnings.
Step 11: Promote Your Items
The success or failure of your POD business depends on how you use POD marketing techniques. You want to attract people to discover your POD business. You want a new audience to come to your POD site, have a good experience there, and ultimately make a purchase.
Step 12: Keep an Eye on How Well Your Online Shop Is Doing
Your start-up strategy should contain metrics for gauging the performance of advertising initiatives. It is a crucial step if you want to become and stay a prosperous POD firm.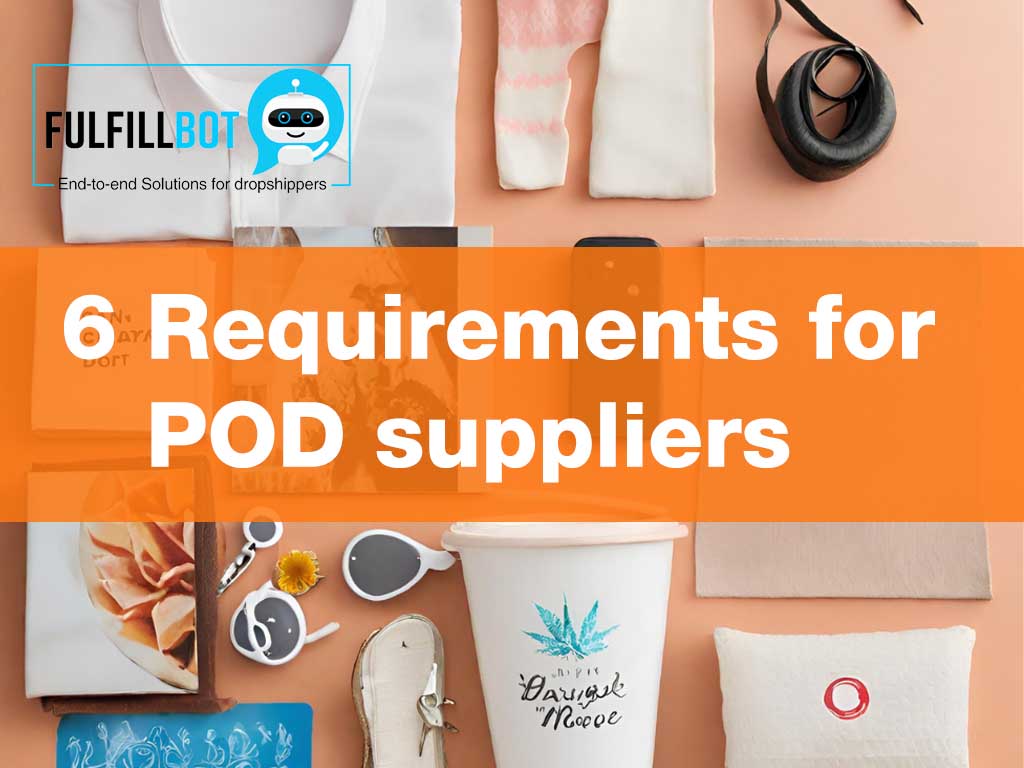 6 Requirements for POD suppliers
You can ignore this step if you plan to sell products on free platforms like Etsy. But, you will need to work with a print-on-demand service if you decide to open your shop.
Why? Since you need their help with printing, processing, and shipping. For instance, you may submit work to a specific print-on-demand service. Next, they transfer the artwork to the blank product, such as a mug, and generate a digital duplicate.
They will charge the payment for the basic price of the mug when a client purchases it from you. Besides printing your logo or design onto the mug, they'll even ship it directly to the buyer.
But, not all POD companies offer these services at affordable costs. If you want to work with the greatest print-on-demand firms, you should think about the below points.
1) Varieties of Goods:
Do they provide product varieties or simply specialize in a few? It is crucial since you'll want to diversify your offerings as your POD company develops.
2) Services for Printing:
Some vendors just provide front and rear text printing. But others offer full design transfers as well. Make sure you choose someone who offers complete printing as you like.
3) Positive Feedback:
Look into the merchant's web page, social media, and communities. You can check what other business owners are saying about the company's services.
4) Procedures for Refunds:
Not all POD companies offer refund facilities. Find out how they manage refunds by reading their guidelines.
5) Method of Costing:
There is often a monthly cost, plus a cut of your total sales, for using a print-on-demand service. That has a major effect on your earnings, particularly in the beginning.
If possible, go with a print-on-demand company that provides high-quality goods at a set rate. You may use this information to forecast your monthly earnings.
6) Quick Delivery:
Buyers value efficiency and simplicity these days. Thus, you may need to choose a POD supplier that can guarantee prompt delivery. For instance, the supplier may print orders in as little as one to two days and then send them on the same day.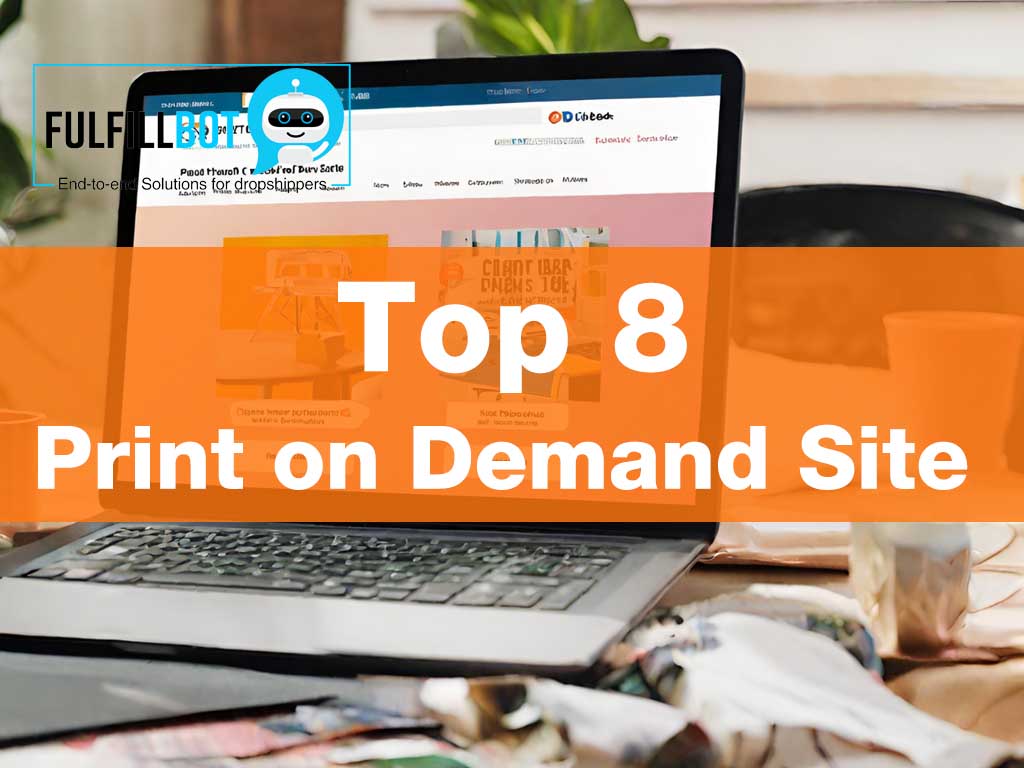 What Are the Top Print on Demand Site in 2023?
Is your company in need of help selecting a print-on-demand service provider? Some POD sites to check out are as follows: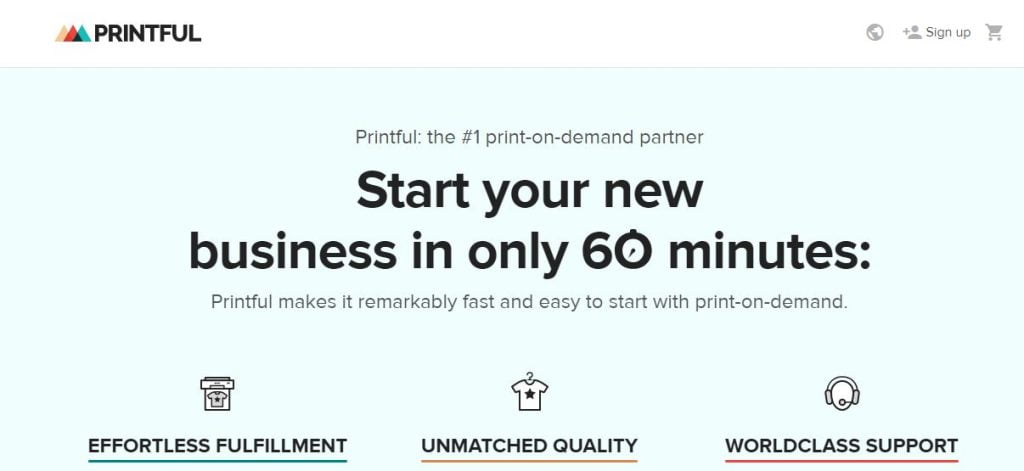 1) Printful
Printful is a top pick among print-on-demand services. It has a large catalog of goods and companies and a prototype generator. This company can customize the process of unboxing with labels. You can also consider this company if you want to go for package inserts with specific notes.
But make sure you consider the cost implications of further customizations you want. For example, let's say you want the album's artwork printed on the sleeves. Then, you'll have to pay a little premium over the regular price. Besides t-shirts and sweatshirts, Printful sells a wide variety of other products.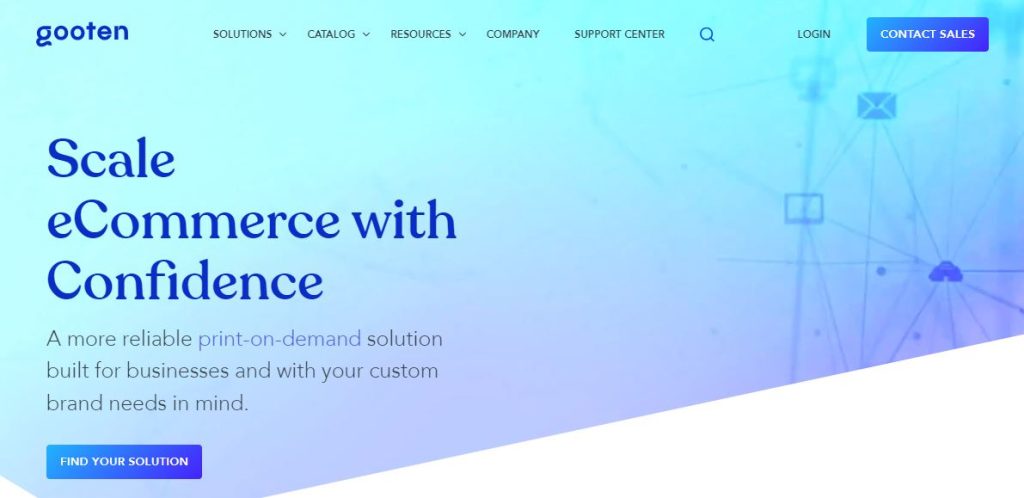 2) Gooten
Gooten is another print-on-demand company for online stores. Clothing, home decor, gadgets, and more are some of the many areas that Gooten operates in. It is a service that, like Printify, relies on a group of experienced makers. 
The firm employs its API to route purchases to the best provider. It also allows for automated order forms. It is compatible with other online shopping platforms.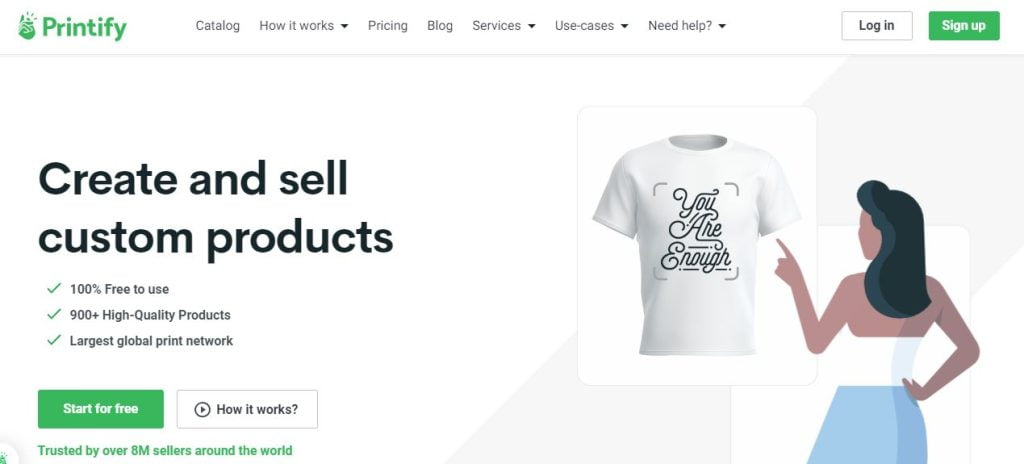 3) Printify
Printify, first introduced in 2015, is a POD solution that uses a chain of printing services. It offers various goods for customization, including clothes for men, women, and children. Moreover, it also offers cosmetics and household items.
The company particularly operates in the United States, the United Kingdom, and China. It provides full transparency throughout the printing process. 
The outsourcing of manufacturing (unlike in-house solutions like Printful) ensures cheaper production costs. For smaller businesses, Printify is free. But, you will need to get a membership to access the full set of services and benefits.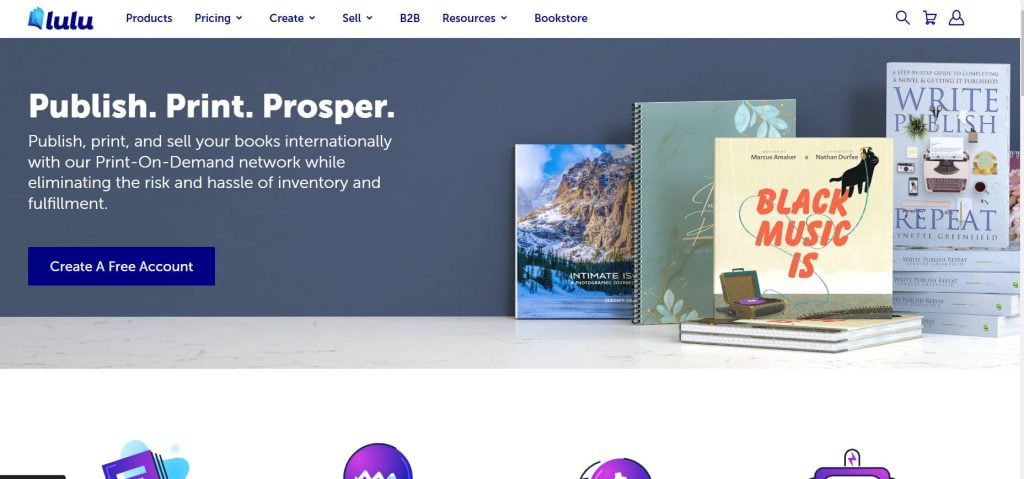 4) Lulu Press
You may print and sell your publications and electronic books on Lulu Press. Its print-on-demand service allows you to create your book in a variety of formats. It also offers a variety of binding options and varying levels of page and print grade.
Lulu Xpress does not have a built-in editor for book designs. But it does provide free, accessible layouts. It offers a price calculator to assist you in figuring out exactly how much your project will cost.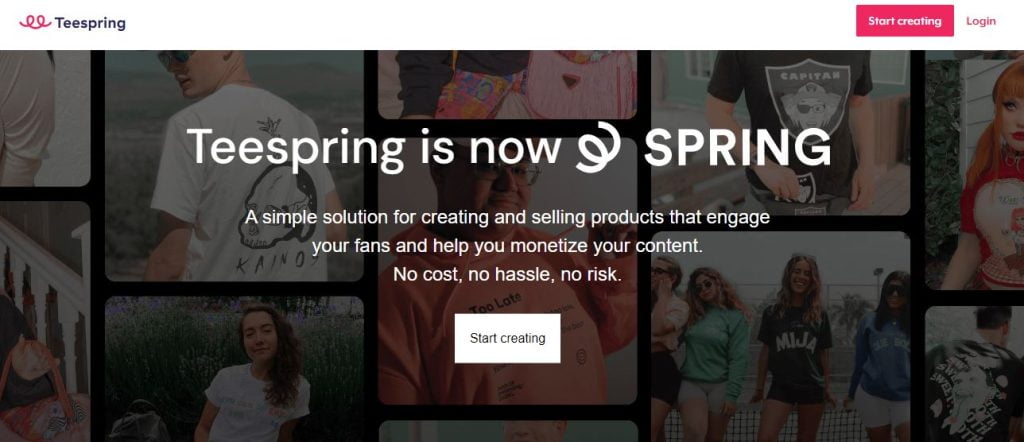 5) Teespring
Teespring is a popular online shopping site. It alters the norms of managing a print-on-demand company. There are subcategories for each main category. For example, you may find a wide variety of socks on Teespring, including; 
Passion socks
Cat socks
Love socks
Camo socks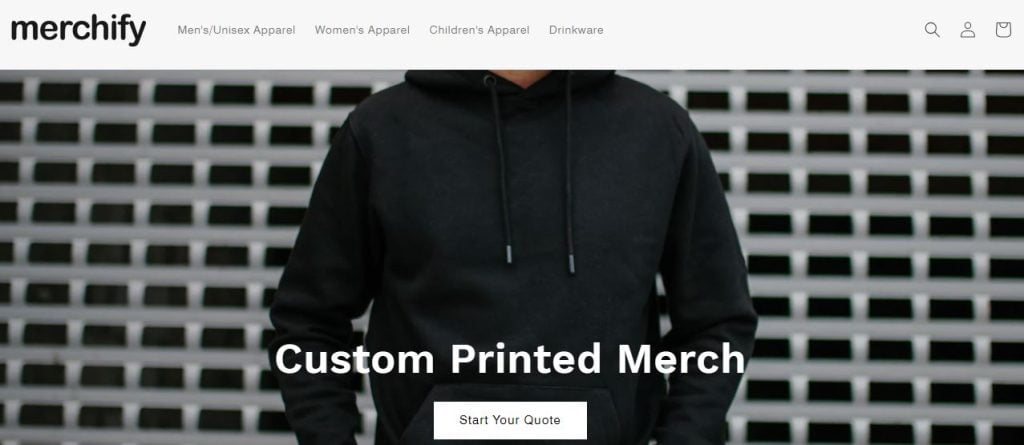 6) Merchify
Merchify connects with Shopify to streamline order handling at any size. Otherwise, it is much like the rest of the print-on-demand services. Merchify is available for installation through the Shopify app store.
There's no need to have stock on hand since it's a sensible option for the print-on-demand drop shipping business. Shopify is a dynamic marketplace. It allows a store to increase leads and product discovery.
The fact of the issue is that customers who buy online might be demanding at times. So, you'll need to move fast. Merchify's user interface is comprehensive when integrating the product lists into your site. That makes it simple to increase your typical order value.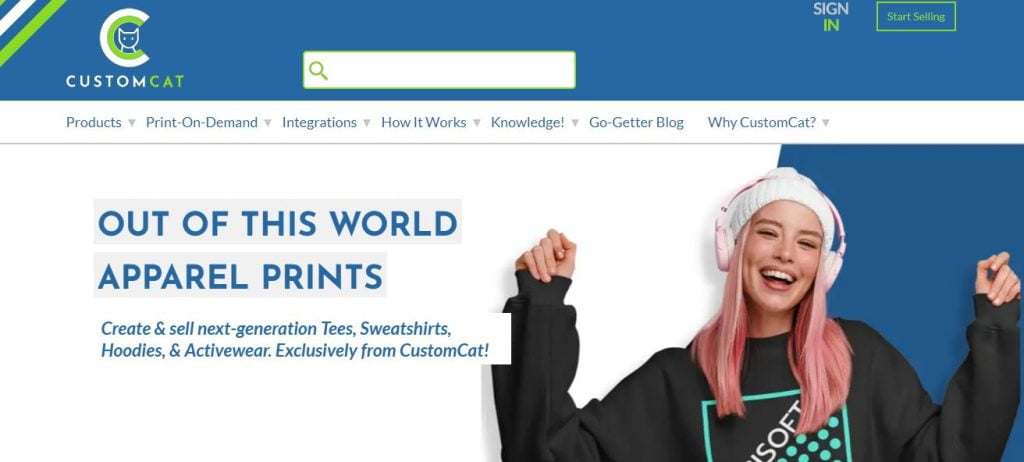 7) Customcat
This company helps creative people make money from their projects. Customcat provides a print-on-demand service at affordable rates. Rather than being a standalone shopping cart, it is a collaboration tool.
It allows for CSV-based product imports. Moreover, it provides seamless connectivity with services like Shopify and WooCommerce. Customcat is an enterprise-focused system that can scale to commercial levels.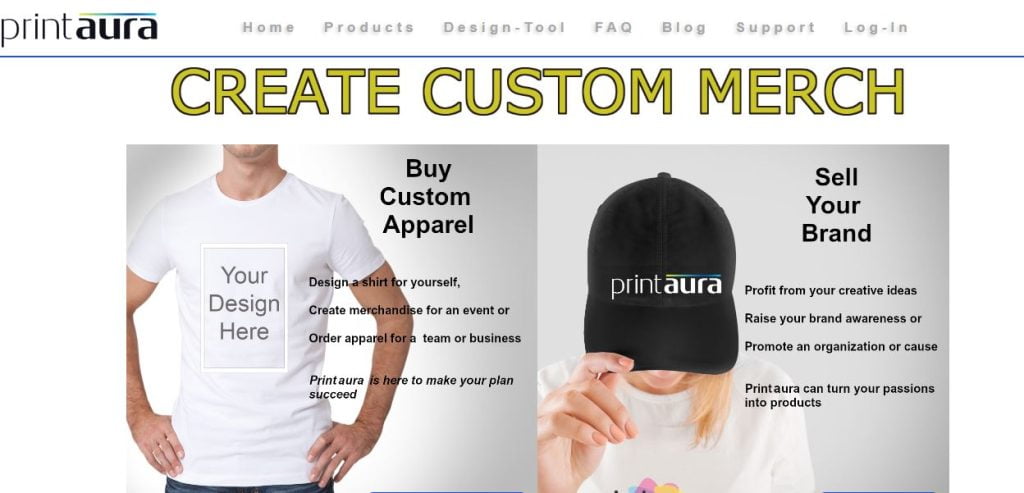 8) Print Aura
Do you want to design and print your personalized brand? Then, Print Aura is one of the most affordable platforms. You may choose from a wide variety of available goods. It's quite cheap to get or print someone's logo. 
It no longer makes a difference how big or little your company is. The smallest order size for this service is one item. Thus, you need not undertake anything more than printing just one t-shirt. Both business owners and customers appreciate the short turnaround time of Print Aura.
Final Thoughts!
POD dropshipping is an effective and practical method of generating extra income. Experts suggest POD to be an excellent choice for starting a new business altogether. Your imagination can only be the limit to how you may display your company and the graphics you can use. 
Print-on demand has enormous potential for gain if executed properly. It has become the preferred e-commerce company structure for business people. Even creative people, entrepreneurs, and content providers worldwide choose POD. 
POD can help anybody interested in starting a company or expanding an existing one. The model will run into a few snags along the way, but they're all quite easy to work around. There's not much to lose by giving it a go, especially given the low overhead.
Thus, it might be a good alternative for anybody willing to promote their artwork. It is suitable for those running an online store to provide personalized products.
Yet, remember that your printing and fulfillment supplier is crucial throughout the process. That's why you need to look into your options and choose one that works for your company. The above print-on-demand platforms are all top-notch options. You should only think about what it is that you need.