Are you a fan of online sourcing? Which platforms do you use to source products from China to the USA? Have you heard of Taobao USA? And would you like to use the Taobao English version?
Many people in the USA would want to shop online from China. But, the challenge of the language barrier prevents them from achieving this.
There you can see the light at the end of the tunnel. This article will talk about Taobao and the essential things you should know before using it.
Besides, you will learn how to translate it from Chinese to English. We will also discuss how to register on Taobao, ship directly to the US, and much more.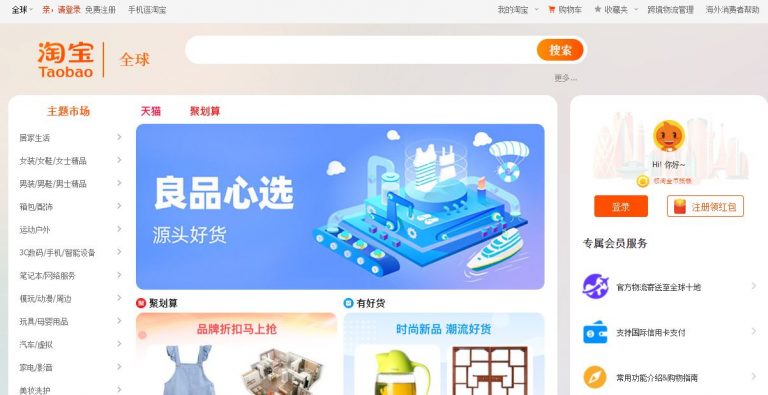 Founded by the Alibaba Group, Taobao is a Chinese online shopping platform. Here, like Alibaba, buyers meet sellers and transact business.
Taobao has online shops in the form of small privately run businesses. Thus, you can buy all sorts of items on this platform.
This platform doesn't care about whether you consider some rare-to-find merchandise. Moreover, it ensures to stock as many products as possible.
What's more, you only need to search for the item you are looking for on this platform. Then, within seconds, you get the feedback.
If your desired item is unavailable, you should rest assured that it is rare to find it. That's because Taobao stocks almost everything.
What Should US Buyers Know Before They Buy From Taobao?

There are several countries from which you can make purchases on Taobao directly. In these countries, you can also ship from China to your address. So, which countries are these? They include:
• The USA
• Malaysia
• Australia
• Taiwan
• Canada
• Macau
• Singapore
• Japan
• Hong Kong
• New Zealand
If you need help with the USA shipping process, a Taobao agent can help you. The agent can help you buy the items you want on the platform and help you with the process.
Regarding the language barrier, you are not left to struggle with it. Instead, you can easily find a solution by simply downloading Google Translate.
It will help you identify the platform's main buttons, categories, and menus. For example, after selecting "Taobao Page" from categories, you should right-click anywhere on that page. Then click on "Translate to English."
Or else, you can find your Google Chrome's address bar then click on the Google Translate icon. Downloading the Taobao dictionary guide is another option. This option will help you find the most common items or products on Taobao.
All you need to do is search for the right word on the guide. After that, copy this word using Chinese characters, then paste it on the search bar.
Don't worry! Let's learn these methods in the below section.
What Are the Easy Methods to Translate Chinese Taobao into the English Language?
The language barrier prevents most Taobao visitors from enjoying the many deals offered. These visitors are usually English speakers.
That's why this guide is here. It will help you translate this platform from Chinese to English. As a result, you can also enjoy using this platform and the incredible deals available there: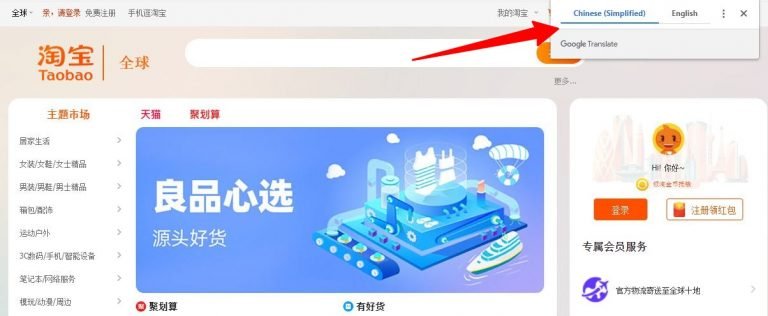 Step 1: Get the Google Chrome Browser
People often use Google Translate to translate texts from one language to another. But when you need to translate a website page, Google Chrome comes in more handy.
So, start by downloading Google Chrome if you don't have it. Let it auto-install. Open this browser and proceed to the Taobao website using it.
The Taobao homepage will load on your Google Chrome. Once it loads, a prompt may appear on your screen. Moreover, it will ask whether you would like to use the Chinese or English language while browsing the site. Clicking on "English" helps translate this page.
Step 2: Open the Translate Menu
Sometimes, the prompt may not appear on your screen. What happens in such a case? Right-clicking on any blank space within the page invokes a menu with different options.
On this menu, select "Translate to English." You will find the language on that page translated to English.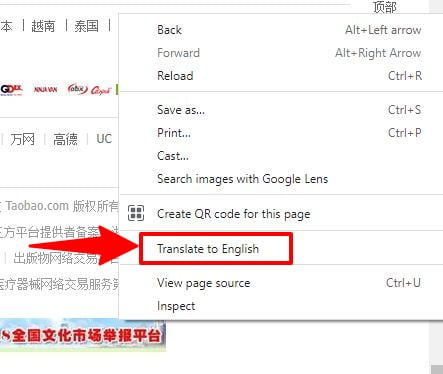 Step 3: Adjust the Translate Settings
Look at the right side of your Google Chrome search bar. Do you see the "Translate Settings?" Great. This icon comes with more control options for language settings.
'Show Original' is one of these options. So, clicking on this option allows you to view the page in Chinese. Next, select " Options " to view this website in a different language, such as French or Italian, select "Options." After that, proceed to "Change Languages."
Note that this translation feature may not capture every detail on the website. Some pieces may be missing or captured incompletely, while the captured details may be full of grammatical errors.
In short, the translation will be understandable and good enough to help you understand and shop comfortably.

Does Taobao Platform Support Shipping to the USA?
Of course, it supports shipping to the USA. You may need to follow the correct process to help initiate the shipping process.
If you wonder whether Taobao can ship to the USA directly, keep reading.
Need Sourcing Agent to help you buy from China?🛒 We can!😎
👇👇👇👇👇👇
How Can You Register for Taobao Account in the USA?
Step 1: Visiting the Taobao Page
The first step in this thread is registering your account. Next, go to your search engine and type "Taobao." It will take you to the Taobao page.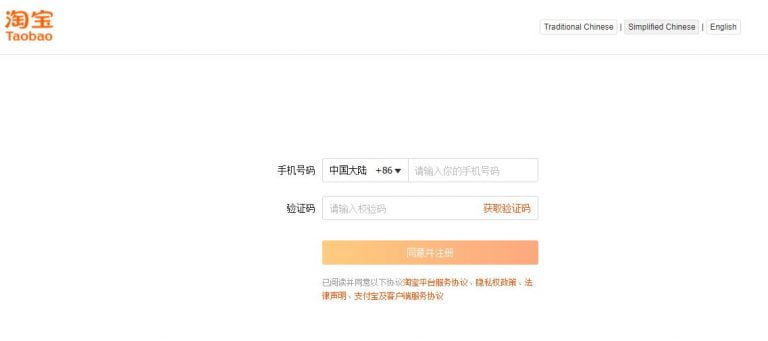 Step 2: Click the Register Button
Don't be stressed by the Chinese characters you will see here. On the page's right bar, you will find the character REGISTER. Click that.
Tip: You can use the above methods to translate Taobao's homepage. It will help you find the Register button.
Step 3: Approve the Registration Agreement
Check the middle of the page. A pop-up will appear there. Click it. This pop-up is nothing but the "Registration Agreement Consent."
Moreover, it comes with Legal Notices, Service Agreement, Privacy Policy, Payment Agreement, and the Terms and Conditions.
Step 4: Creating an Alipay Account
The fourth step involves clicking on "English." It allows you to create your account. Here, you may need to type your mobile phone number. Again, ensure it is valid and that you enter it without spaces or hyphens.
You'll see the verification bar. Pull it from left to right. Do you see a check box saying "Create your Alipay Account?" Click that.
Step 5: Enter the Right Verification Code
Your local mobile number will receive a verification code. It will be a one-time password or a 6-digit code. Enter this code correctly, then proceed to step 6.
Step 6: Creating a Username and Password
The last step involves creating a stunning username and a password that you can remember. Once you register your account successfully, you can start shopping on Taobao by logging in to your just-created account.
Note that you can register a Taobao account on your mobile phone, chat software such as Aliwangwang, or using your PC. When you use the PC option, you will get the English version.
This video will teach you how to do it
How Can You Ship Your Purchased Items From Taobao to the USA Directly?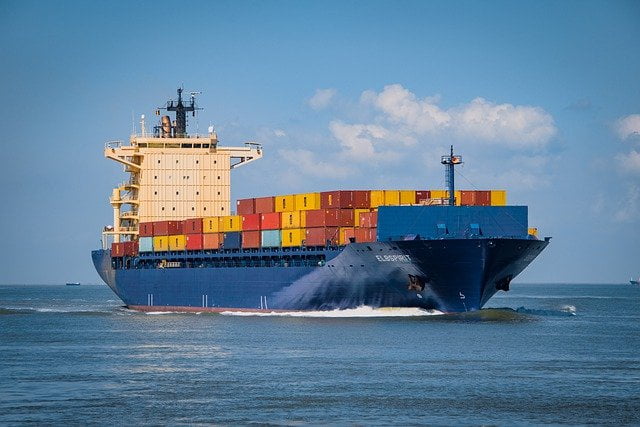 Is your account successfully registered with Taobao? Are you ready to start shopping and ship your items from Taobao to the US?
Well, start by logging into your account. You should land on the admin page. Once here, look for "shipping address." Click there.
It will allow you to change the shipping address. Furthermore, you are free to add a new and personal US shipping address or just modify it. Once you finish it, click "save" to save your shipping address.
Now, start shopping. Find products by browsing the significant marketplace, Taobao. If you find something you want to purchase, you can "Add to cart" or "Buy Now."
If you click "Buy Now," you'll land on the checkout page directly. But if you click "Add to cart," you will be able to review all the items you selected and pay for them at once.
To ship these items, follow the steps below:
Step 1: Start the First Payment
Once you complete reviewing the items you intend to buy; you will need to make your first payment. This payment covers the order value and the shipping fees required to ship your order to the logistics warehouse.
Step 2: Ordering the Shipment
After making the first payment, the seller sends your parcel to the forwarder warehouse. He does this once he is shown the warehouse address. Also, this process will start with the help of your unique ID.
Step 3: Parcel Reaches the Warehouse
You receive an update once your parcel gets to the warehouse at this stage. You will be able to see them on the "Cross-Border Logistics" page. Moreover, you should receive a text message for each item that the warehouse receives.
You will need to log in to your Taobao account again, then click "Confirm Consolidate" to consolidate your parcel. Then, proceed to step 4.
Step 4: Make the Second Payment
In this step, you will be paying for international shipping. Once you pay, the forwarder's warehouse will consolidate your orders. These orders will then be shipped to your shipping address.
The forwarding warehouse can store your order for 20 days for free. After that, you may face extra fees for storage per day.
Besides, note that Taobao will give you four delivery options. These are:
1) Arrange for Shipping by contacting the seller personally
This option depends on the shipping preference you agreed on with the seller. Moreover, it is suitable for products that are sensitive or personalized.
You have to communicate and make arrangements with the seller for this option to work. If you wish to have your order shipped internationally, you can request the seller.
This option is only available in a few countries. These countries are:
• Australia
• Singapore
• Malaysia
• Macau
• Taiwan and
• Hong Kong
You must choose "Taobao Direct Shipping" in Malaysia or Singapore. Then pay for it after checking out all the orders in the shopping cart.
After that, your order will be delivered directly. Moreover, it will skip the process of consolidation at the forwarder warehouse. If you are in other countries that support direct shipping, the seller will use an international freight forwarder to deliver your parcel.
This option is suitable when you need to have the items delivered immediately or if the package is lightweight. That's because your order delivers in 8-12 days.
3) Taobao Consolidated Shipping Through Sea Freight
The seller consolidates and delivers your purchases via shipping cargo with this option. This option is ideal for heavy parcels, with delivery taking up to eight days. Taobao Consolidated Shipping serves 4 countries, that is:
• Malaysia
• Taiwan
• Singapore and
• Australia
4) Taobao Consolidated Shipping Through Air Freight
Here, your purchases are consolidated and delivered by the seller by air. If you purchased various items and need them soon, this option would be perfect for you. Delivery takes up to seven days. So, you will enjoy using this option if you are in these countries:
• Hong Kong
• The USA
• Taiwan
• Australia
• Canada
• Singapore
• Japan
• New Zealand and
• Malaysia
What Is the Best Way to Order From Taobao?
Many people don't like the hassle of handling purchases themselves. Are you one of them? Then, you need a Taobao Agent to assist you in buying items on this online shopping platform.
But Who Exactly is a Taobao Agent?
Remember that Taobao is China's biggest online shopping platform. It contains a wide variety of products. Thus, you are likely to get every kind of product you intend to buy on this platform.
Taobao's products are in hundreds of millions, while sellers are in millions. The products are sold at a fixed price. In short, you can buy them at any time.
You can buy directly from Taobao using a Taobao agent. That's because the Taobao agent works like a middle-company between you (the international buyer) and Taobao sellers.
The Taobao agent will help you buy goods on Taobao, source them, and then check their quality. What's more, he will also pack the goods and deliver them from China to wherever you wish to have them delivered.
Taobao agents provide many more other services. These include:
• sourcing the requested products from Taobao
• Negotiating with the seller
• Buying the product on your behalf
• Inspecting the product quality
• Exchanging and returning
• Ordering, storing, and packing
• Using DHL, EMS, ePacket, and UPS for transporting internationally.
• If you are a foreigner, you will find Taobao agents necessary. They will help you as they offer you:
• Convenient payment methods
• English website and customer service support
• A chance to review your product's appearance before its delivery.
How Can You Choose the Best Taobao agent?
Choosing the best thing is not usually an easy task. However, there are times when it is just a matter of time, and you have to decide quickly.
Other times, you must spend a lot of time in research before settling on a given option. However, it is still possible to choose the wrong thing even after the investigation. It often happens when you use unreliable sources in the research.
When it comes to Taobao agents, there are many options available. So, what do you do to choose the best agent? There are many things that you ought to consider deciding to use a given Taobao agent. The top five things you need to consider are:
A) Create a List of Top Taobao Agents
Where are you looking for a Taobao agent? Have you found some of them via Google and other search engines? Did you get recommendations from different forums that talk of shopping in China?
Whichever the case, make a list of all the Taobao agents you have found. After listing these agents, try contacting them with a similar information request. Wait for their responses.
Doing this will help you examine the responsiveness of these agents. Moreover, you can check the quality of the responses they give. No worries! We will list the top 11 Taobao agents in China in the preceding section of this post.
Every Taobao agent offers different services. And each buyer is always looking for additional assistance.
For this reason, analyze all the Taobao agents you are considering. Do they provide the best services you want? Are they able to meet your needs? Also, what shipping options do they provide? What about value-added services like insurance, QC photos, or size measurements?

When you get answers to these and other important questions that you may have, you will make an informed decision.
Analyze the Taobao agent's customer support. In the past, people didn't care so much about customer support. Today, customers are looking for fast, customer-oriented, and compassionate services.
As you talk to these agents, get to analyze your interactions. Does the agent understand you? Are your needs given a priority? Is the assistance you are seeking available in time?
So, consider checking customer support before choosing a particular Taobao agent.
Sometimes, price is the only factor that determines whether you buy something or not. In addition, the price could also be the only factor that determines whether you use a given Taobao agent or not.
Thus, it is essential to consider while choosing a Taobao agent. So, think about what is usually overlooked in most cases in terms of price. It includes shipping costs, exchange rates, and service charges. Then, you will be in a better position to decide which Taobao agent to use.
It is also vital that you consider a Taobao agent's online reputation before using their services. Online reputation helps you get a better picture of who the agents are in the market.
Some may promise to do very nice things in very nice ways. Their online reviews, on the other hand, could highlight the drawbacks.
Thus, analyze their online presence. Look at what the agents post and how they comment on platforms like Reddit, Trustpilot, and other media they could be using.
You will also need to be cautious while checking their reviews. That's because some of them may have very nice reviews that say great things about the agent.
If the reviews are like that and are paid for, you better avoid them.
Top 11 Best Taobao Agents in China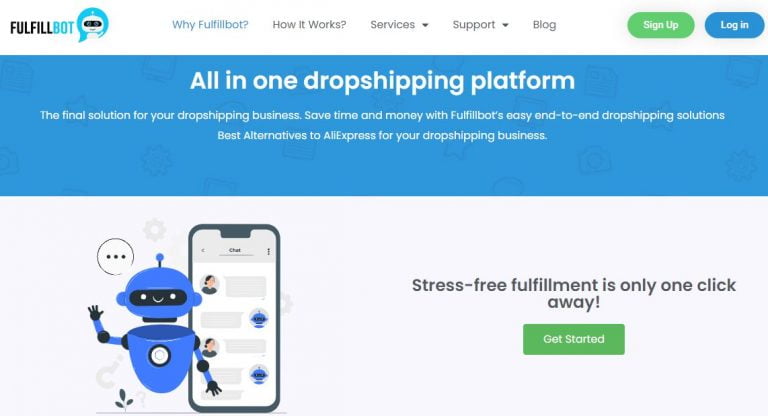 Fulfillbot is a very professional agent. Their services include product sourcing, order fulfillment, Amazon FBA prep, and dropshipping services. So if you are looking for a fast, reliable, and efficient Taobao agent, try Fulfillbot.
The first step is for you to send this agent your request for whatever you wish to buy. They accept photos and links. Once they receive your request, they quote for your products.
It includes the cost of the product and freight. After that, you will need to create an account on Fulfillbot. Fulfillbot then proceeds to place an order on Taobao. They also support private labels for those who need them.
After ordering the goods, the manufacturer ships them to the Fulfillbot warehouse. Once received, the Fulfillbot staff unpacks and inspects them. First, they check whether it is in good condition, then scan it into their inventory management system.
The orders are then synced and, thus, fulfilled. If you ask for any additional services, they are added, and the product is shipped to you. Moreover, a tracking number will be generated and emailed to you. You then receive your goods.
Some of the incredible features of Fulfillbot includes;
• All-in-one one-stop solution
• Fast customer support
• Assistance in the English language
• Accurate updates regarding the sourcing process
• Highly-competitive rates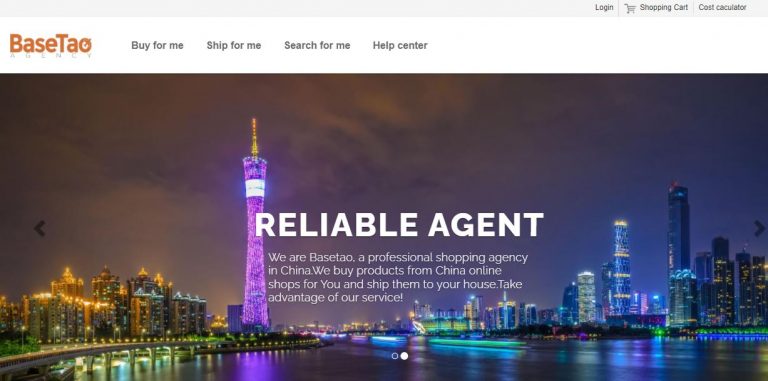 This company has been working on Taobao for many years. Thus, their experience and skills are unique. They aim to provide their customers with better services so that their experience with the company can be good.
BaseTao offers domestic shipping and a 3%-5% commission from the Chinese product price. Their services include:
• Online English support
• 100% support
• Shipping services
• Dropshipping services
• Trade insurance and
• 180 days of free storage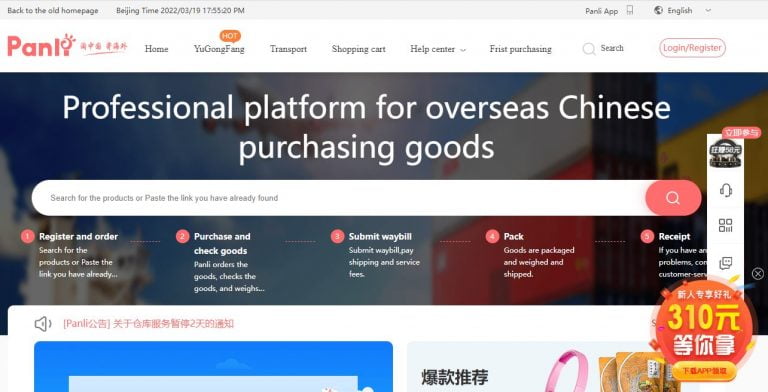 Upon landing on this agent's website, the content gets translated to English automatically. What's more, their shipping costs are relatively low, and their customer service is excellent.
On Panli, you create a member account then order the products you want. After submitting this information, Panli goes ahead to calculate the total cost. They then buy from Taobao directly. You can enjoy the below features of this agent;
• Low shipping costs
• Affordable packaging and labelling service
• Great customer support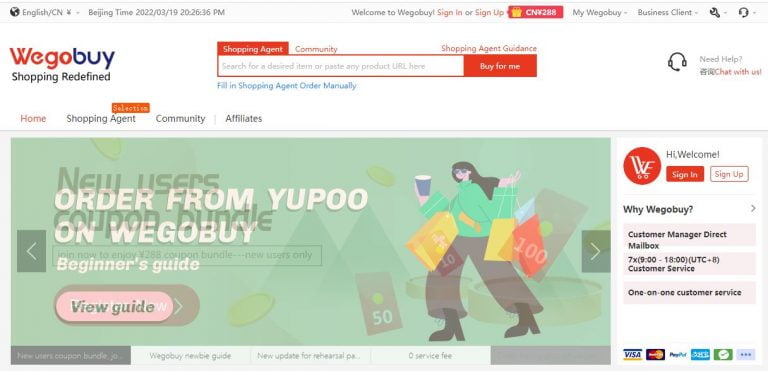 It is another great Taobao agent located in Hangzhou, China. Its core members are from the best organizations in China's handicraft and internet industries.
It helps them combine their knowledge in the two industries to outperform their services in Wegobuy. They provide their customers with comprehensive solutions in purchasing, inspecting, warehousing, delivering, and after-sale-services.
They also solve service gaps like inconsistent product information and prohibitive transportation costs. Besides, they promise to offer free shopping services, and they don't need handling fees while purchasing or transporting some goods. Their features include:
• Online English support
• User instructions
• Account assets
• Member system
• Shipping and delivery
• After-sale services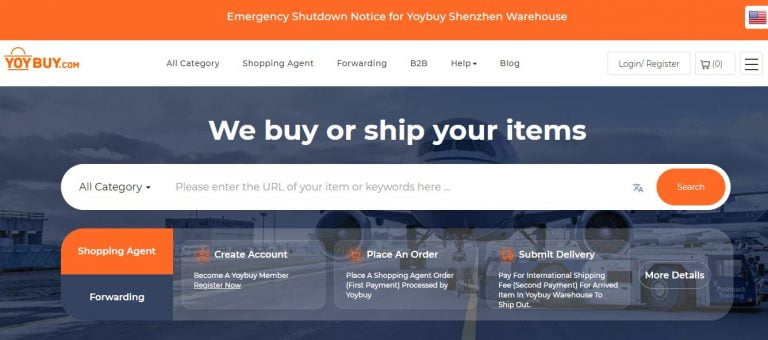 YOYBUY is a top-rated and trusted online Taobao agent started in 2008. Moreover, it works intending to help buyers to buy Chinese products.
It provides transportation services (ShipForMe) delivers products to individuals and multinational companies.
YOYBUY is affordable, reliable, and fast. It offers Express shipping services and 100% support. So, customers looking for men's clothing, electronic goods, or women's clothing will find this agent the best. Its features include;
• On-time responses to queries
• Rich experience of using Taobao
• Easy to navigate platform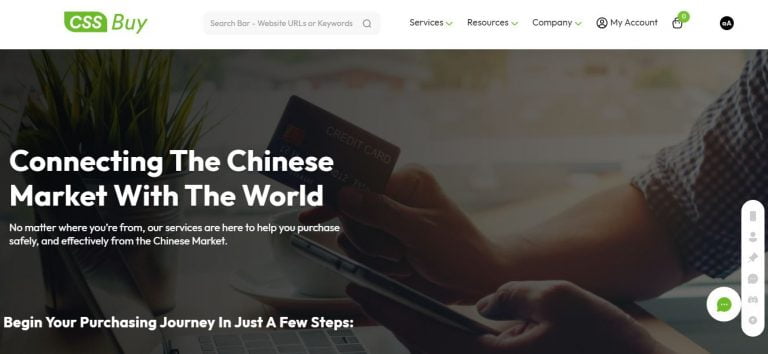 CSSBuy is another leading Taobao agent. If you are a foreign customer who intends to buy different products from Greater China, try CSSBuy.
Customer satisfaction is a priority here. Thus, they offer Online English support and 4%-6% commission on Chinese product prices. Other CSSBuy features include assisting in:
• Buying
• Paying
• Shipment
• After sale-services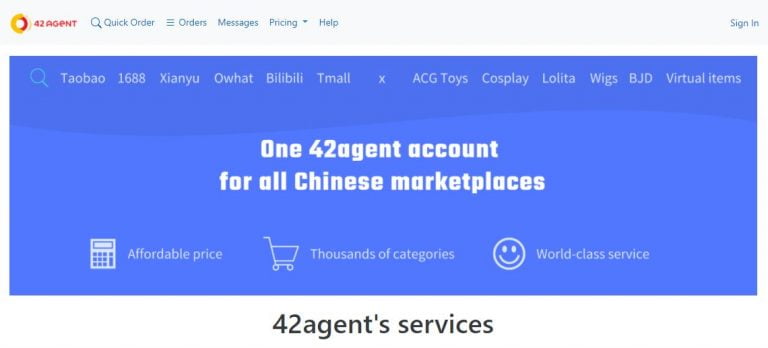 This agent is found in Beijing, China. It was founded in 2011 as a cross-border startup. The main features of 42agent Taobao include;
• Here, just select the items you want from the Chinese E-commerce platform. Then, 42agent Taobao will buy the product on your behalf.
• If you don't want a Taobao agent shopping for you, you can directly purchase the goods from Taobao then send them to the 42agent'd warehouse.
• After repacking, this Taobao agent checks the products for you. They also provide videos or photos for opening. They then send your package to the specific address you provided.
• If you are an international retailer using 42agent to ship items to your customers, you benefit from this value-added service.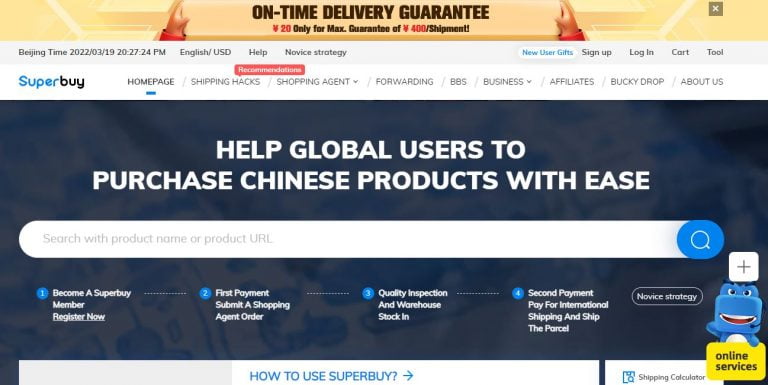 It is an internet-based online Taobao agent. On this platform, you can access one-stop services easily. These services include purchasing, quality inspection, order fulfillment, international shipping, and after-sale services.
In China, this platform offers free shopping agent services to its customers. Besides, it is a trusted platform, offering 24/7 online English support. Their features include:
• Dropshipping services
• 100% support
• Online English support
• Shipping from China
9. Parcel Up/Taobao Focus Agent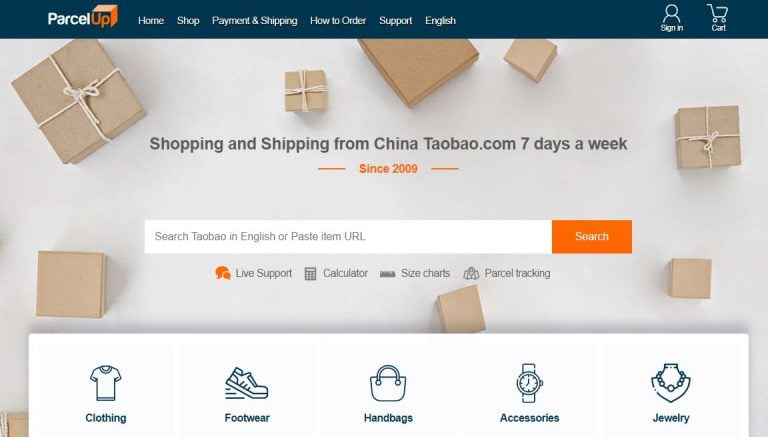 This reputed agent deals with transportation services. Besides, Taobao FOCUS helps you purchase different products on Taobao at low prices.
Their quotation covers sourcing and shipping internationally. Here, you will also find Online English support. They are professional, prompt, and respond in time. The best features of this agent include;
• A broad variety of products
• Friendly customer support
• Affordable services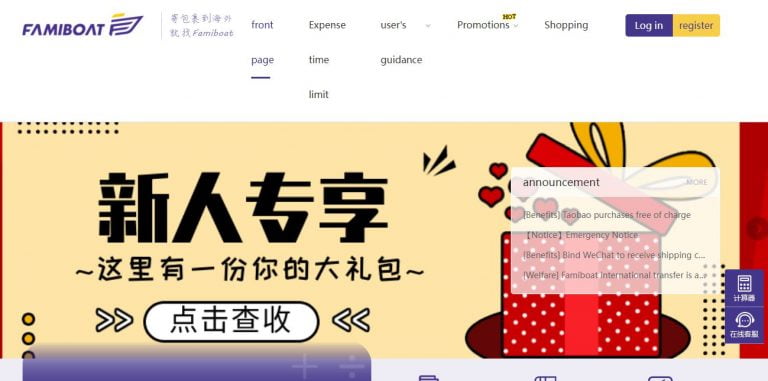 Famiboat is another great Taobao agent that you may want to consider using. Here, you start by buying your products. These products are then sent to the Famiboat's warehouse.
After that, the items are consolidated, and international shipping is then paid for. Its customer service is impressive, and it offers up to 60 days of free storage. Besides, their shipping fees are also lower. Below are the notable features of Famiboat;
• Inexpensive Services
• Free storage for 60 days
• Prompt response to customer queries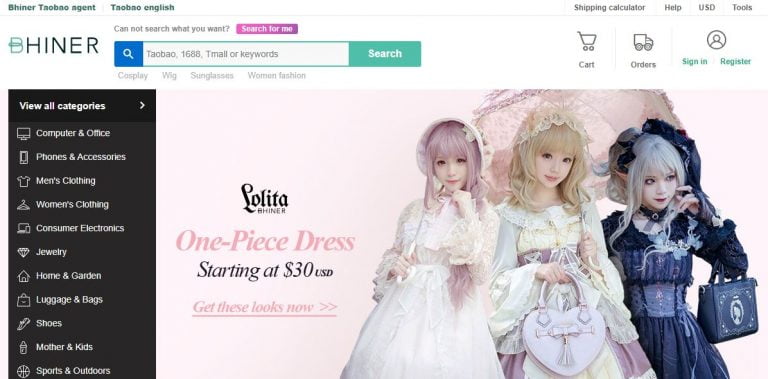 Another great Taobao agent to consider using is Bhiner. They will help you buy goods from Chinese stores.
Domestic shipping is offered with a 4%-6% commission on Chinese product prices. Online English support is also provided. Their features include consolidating your orders and a 25% shipping fee save. Besides, below are some more notable features;
• Affordable prices
• Quick updates about the sourcing
• Easy to reach customer support
Tips For First Time Buyers on Taobao!
If you are using Taobao for the first time, you will find these tips helpful:
• Avoid buying too many products during your first time. You may not be very confident. Buying a few items from less than three sellers will help you test the platform.
• Be moderate in your purchases since the shipping costs could be expensive.
• Be diligent and evaluate the sellers and the products before making any purchase.
• If you find the process complex and stressful, consider using Fulfillbot, the best Taobao agent.
It is possible to ship items from Taobao to the US directly. But, you must create an account on Taobao or use a Taobao agent to purchase for you.
Taobao agents are many, and you must analyze them before settling on one of them.
Otherwise, consider using Fulfillbot, the best agent suggested above, and you will have a great shopping experience with Taobao. And if it's your first time buying from Taobao, consider the tips we've highlighted. Happy shopping!