Alibaba is among the few online shopping platforms that offer convenient services. It is known for reliable and quality items. The pros of using this platform are more than the downsides.
Shipping costs are one of the primary issues worrying potential buyers. That's because so many factors influence these costs— for example, the number, weight, features, and location of goods.
Sometimes, the costs can be higher because of the distance. For example, you might buy items whose delivery is in the USA.
Thus, it is crucial to consider the distance between the two countries. That's because Alibaba charges buyers according to distance.
No worries! We have compiled a detailed guide with helpful information on Alibaba shipping costs.
Alibaba is the most prominent ecommerce business worldwide. Is it surprising? Of course, no! It is larger than Amazon. It boasts popularity and significant business influence.
Alibaba Group owns Alibaba.com. This site has a huge list of direct suppliers of factories.
It is the best website used by most importers to look for products. It also has a similar website called Aliexpress.com.
This one is for foreigners to buy affordable individual items from China. That is a distinguishing factor between AliExpress and Alibaba.
Alibaba allows you to buy bulk products for business. AliExpress is for retailers and single-item buyers.
How Can Beginners Ship Goods from Alibaba?
Remember, beginners should buy very few products from Alibaba to test the whole buying process. These should be sample products or smaller shipments. The best way of shipping any first order from Alibaba is by asking the supplier to organize shipping.
The supplier should add shipping costs to your invoice. Air is the securest but costlier shipping method. Breakage is hardly an issue when you use this method. So, you can ask for this shipping mode if it is your first time.
Likewise, the recipient's address has to be correct before giving your order to the supplier. After that, the supplier can use UPS, DHL, FedEx, or other companies to ship goods.
Some countries have a shipment cost limit. Anything below this limit doesn't incur duties when shipping to the USA. So, note this point before your first shipment.
What Is the Whole Alibaba Shipping Process?
The Alibaba shipping process isn't as complicated as most people think. There are straightforward steps to follow. Check how seamless it is below:
Step 1: Order Items from the Correct Supplier
There are thousands of suppliers on Alibaba. You can't pick a random person to handle your goods. So make sure you know the difference between manufacturers and trading companies.
Do your due diligence and choose the best supplier from your vetting list. Keep all measures to ensure you aren't dealing with cons. It doesn't mean that Alibaba isn't safe to shop.
It is safe, but there can be scammers disguising themselves as genuine service providers. They prey on inexperienced and ignorant buyers.
Step 2: Do Quality Control on All Goods
It is crucial to check for the quality of items before delivery. Quality control is vital for all branded goods with higher shipping costs. Don't skip this process for cheaper items.

Check for quality as long as you are paying for any goods.
Step 3: Review All Reliable Shipping Options
There are many shipping options available when you shop from Alibaba. Sea freight, land, and air all have their pros and cons. It also depends on your needs and how urgent you need the shipment.
Choose the best methods for your needs. However, it is crucial to remember that their prices vary.
Step 4: Choose a Freight Forwarder Company
It is crucial to consider the commercial route between the goods' origin country and the destination. It needs you to hire a freight forwarder company.
Step 5: Choose a Customs Broker
Customs brokers are intermediaries in the shipping process. The brokers handle all custom clearance fees and procedures for you.
You need to get customs details for the paperwork. Moreover, it is also essential to know information about the import and export ports.
Step 6: Organize the Shipping from Alibaba
Organize shipment for the goods depending on the amount and size. Confirm all the details to ensure they are correct. Then, give the order to the forwarder.
Forwarders organize the shipment to your location from Alibaba.
Step 7: Pay the Forwarder Company
Goods payment is the next step. Alibaba offers many payment methods.
You can find this on the checkout point of the website. Goods are payable via Western Union, T/T Transfer, and PayPal, among others.
Step 8: Follow Up
The buyer should ask the supplier if the goods have been dispatched. Then, ask about the delivery status.
Some suppliers provide such information in advance. They also confirm if there are any issues with the items.
How Is the Alibaba Shipping - Cheap or Expensive?
Overall it is more expensive than other logistics. Alibaba's role is that of a traditional agency, which has formed its own logistics system, and in pursuit of profit, it will require sellers to use their logistics.
However, there are several aspects that affect shipping costs:
1) Product Weight
The product weight has a considerable influence on the high shipping costs. There is a direct link between the product's weight and shipping costs. Items between 0.5 and 10kgs have shipping costs of $20-100.
Anything above this has higher shipping charges.
2) Shipping Distance
Another aspect is the distance from the supplier's production point in China to your warehouse. You might buy items from China for delivery to be in the USA. The distance between the two locations is 6000 miles.
As you know, shipping companies consider distance when calculating costs. So, this is what results in higher shipping costs.
3) Shipment Size
How big is the shipment? The number of goods you need will add to the sum of shipping costs. It is cheaper to ship full containers than half or quarter sizes. The shipping cost is a fixed amount.
Business people call this FCL shipping. It is expensive to send a container that isn't full. You have to pay per cubic meter. It is the space your goods will occupy in the container.
In short, Alibaba shipping isn't expensive. The trick is in the weight and size of the shipment. Moreover, the delivery location is also another determinant.
Thus, new businesses should get smaller items and have them in a nearby warehouse. You want the shipping costs to be lower. Besides, you can also negotiate prices with the supplier if they ask for shipping fees.
What Affects Alibaba Shipping Costs When Sending Products to the USA, UK, and Europe?
There are several transportation phases under various intervals. It means that there are separate costs applicable for the stages.
After ordering goods, the package goes through several stages. Each stage has its cost that adds to the shipping cost. See the intervals below:
1) Transportation from Warehouse to Port
You have to order goods from a reputable supplier. Then, the goods go through the production stage.
The supplier contacts you after the production phase is over.
The buyer confirms their checklist for the right size and color of the products. After confirmation, the products have to be transported to the nearest port. The supplier will arrange for this.
Charges in this stage range anywhere between $50 and $480. For instance, the production point for your goods is Guangzhou city. But, the shipping port is Ningbo.

Then, the shipping cost will be higher. That's because it is expensive to transport a 20ft container from the supply point to the port in Ningbo.
Instead, you can ship from Guangzhou (production point) to Shenzhen. Using the port in this location for shipping can save you cost.
2) Export Clearance Costs
The products will reach the port, and the officials will thoroughly check the goods. It is part of the protocol for verification processes. The products should then begin the journey to the destination.
Some goods might have faults. It can cause legal problems, or officials can impound the items. This step is crucial.
Remember, it is essential to follow all customs guidelines. The supplier handles this part. FOB prices will include all the costs. The amount could be between $100 and $300 or more.
There might be wrong declarations on goods customs that might incur some penalties. It is given to the supplier. But, the supplier might force the buyer to pay the price.

These are some of the wrong tactics you should know. If something like this happens, it increases the total shipping cost.
3) Shipping Insurance
Not all people see the importance of insurance in the shipping process. Insurance covers you in case anything happens. You will get your money back in these scenarios.
Insurance companies cover the charges and costs of shipping in small amounts. Thus, there isn't a need for shipping insurance if you are ordering samples or small quantities.
It shouldn't scare you about the safety of shopping on Alibaba. It is a safe marketplace. Know that different insurance for shipping cover different aspects during shipping.
4) Freight Cost
Freight cost is a vital factor when it comes to international shipping. These are charges when you ship goods from the departure port to the destination port. It differs for Europe, the USA, and the UK.
These costs include the supplier's fees and international shipping charges. In addition, the costs of the local authorities are also part of it. Sometimes, the cost can exceed $1000.
We saw a rise in these costs to as high as $4000 for every container in the last two years.
5) Port of Destination Costs
Port-of-destination costs are among the primary costs buyers have to face while shipping goods from Alibaba. It is the charges the local government imposes on products after they get to the destination port.
Custom duties and container inspection charges are inclusive. Container handling fees are also part of it. But there are more. The total shipping cost can rise depending on various factors.
So, you may need to calculate all these costs in advance.
6) Document Delivery (FedEx/DHL)
Document delivery costs are under the extra charges authorities impose on goods. But it doesn't impact the total cost as much. Prices include documents such as papers, records, invoices, and certificates.
The amount ranges from $50-$60. Most courier services charge these fees.
7) Customs Bond Cost
You might be a US-based buyer trying to get goods from China. First, it is crucial to get the customs bond. It applies to all goods worth over $2500.
You will need this bond to move the items. There are two types of Customs bonds. The single entry option and the continuous customs bond.
People who import goods more often will need continuous customs bonds. Likewise, single-entry options are ideal for one-time transactions.
These bonds are between $100 and $200 for single entries and $250 to $450 for a continuous bond.
8) EORI Number Cost
There is an EORI number in the USA for Chinese importers. It is nothing but the Economic Operators' Registration and Identification number.

The cost of the EORI number is $450 for China to the UK and $600 for China to European countries.
9) Local Transportation Cost
It is one of the last charges you have to incur. After that, you will get products to your destination. But you have to move them to your warehouse.

Heavy trucks and trailers do this job. But you can choose your delivery method. The distance from the destination port to the warehouse is essential. You may need it to calculate this cost.
Product quantity, type, and size can increase transport costs. It could range anywhere from $50 to $500.
Note that a supplier can create a complex bill that is difficult to understand.
Suppliers add various costs to the invoice to create complications. You need to ask for the simplest possible bill. Ensure they calculate it using amount, distance, and volume.
What Are the Differences Between Dimensional Weight and Actual Weight?
Cost is not the only consideration for most businesses. No doubt, it is a vital and determining aspect. You need to know how to calculate your shipping cost.
Actual weight is the exact amount of product mass. It includes packaging too.

Dimensional weight includes the volume. In addition, the package's length, width, and height are part of it.
Sea freight has a dimensional weight calculated by dividing the amount by 6000. Likewise, it is 5000 for air freight. Billable weight is the biggest of the two weights.
This amount is vital for calculating the final shipping rate. You can speak with the supplier and ask to pack the goods in the smallest way possible. The purpose is to save shipping costs on Alibaba.
If you plan to order the same products in the future, discussing the packaging options with the supplier would be best. It can help you reduce freight costs.
What Are the Different Shipping Models Provided by Alibaba?
Various logistic methods are available on Alibaba. They all help you ship goods from China to your destination. What you choose will influence the shipping cost. You need to settle on the most effective shipping method.
Remember, your choice needs to be cost-effective. For instance, air shipments take the shortest time while sea takes the longest. But air shipment will cost you more than ocean shipping.
1) Express
Most beginners will prefer transportation using courier services. You get quick delivery times with courier services.
The widest-used courier companies in China are FedEx, DHL, and UPS. They have online parcel tracking platforms. Note that most shipments take 3 to 5 business days worldwide.
The biggest benefit of this method is seamless delivery. All you need is to wait for the arrival of the package within a week.
The delivery is quick and very reliable when you choose Air express. You get a tracking number for when there are issues. So it helps you solve problems faster. But it costs more than postal services.
2) Air Freight
The weight of the sourced products can be large for any courier service. For instance, 100kgs of air shipment can be the best deal. However, the costs of air freight are lower than that of courier services.
This method is best for goods with medium weight. Or when you have tighter deadlines. Delivery durations vary in this method as it depends on airline schedules.
The duration is between 8 and 10 days. Air freight has a minimum requirement on the shipping weight.
Then, what is the difference between air express and air freight?
Air Express average costs are $5-10 for a kilogram taking 3-5 business days. Airfreight costs $4-8 for a kilo with a delivery duration of 5 and 10 business days.
3) Regular Post
It is the normal China Post. It takes 15 to 35 days for goods to arrive. So it is the cheapest transport option available if you can be patient throughout the shipping process.
It is ideal for small packages like parcels and samples. You can track and trace your delivery status online. But sometimes, there can be a delay in updating information.
It isn't the most recommended shipping method all the time. But, it is economical. On the other hand, the method can be unsafe, and it is difficult to find any lost packages.
4) Sea Freight/Ocean Freight
Shipping via the ocean can take longer, but you can move more massive goods.
Thus, it can reduce the cost while allowing you to transport heavy products. Another advantage is the diversity of goods you can ship with this method. However, depending on the location, it can take 30 to 60 days.
Ocean shipping can be in full container load or less than a container load. These take the abbreviations FCL and LCL. So, you can choose between these two depending on your needs.
You might need to fill the whole or part of one container depending on the number of goods you buy.
FCL means you are using the whole container by yourself. It is cheaper to ship FCL by weight and volumetric unit.
LCL is for those who aren't filling the whole container. They can opt for air freight, but it is too expensive. Shipping LCL means that you share the container with others.
How Can You Choose Alibaba's Best Shipping Method?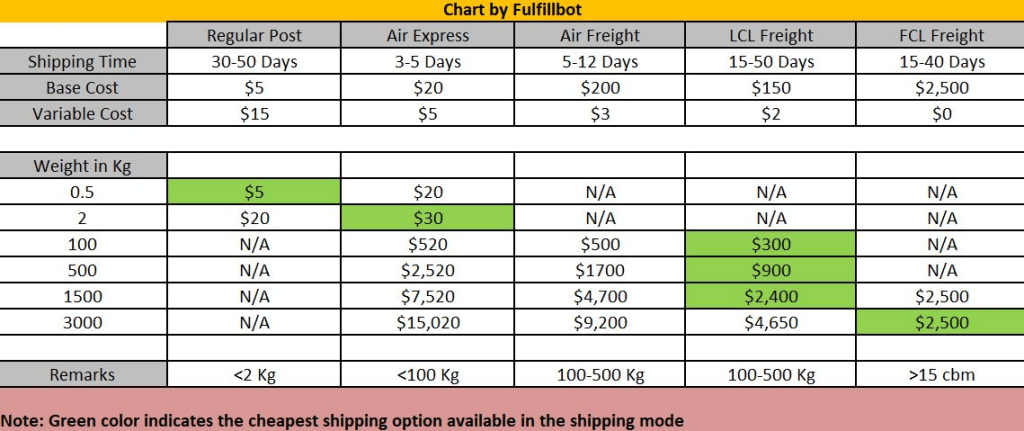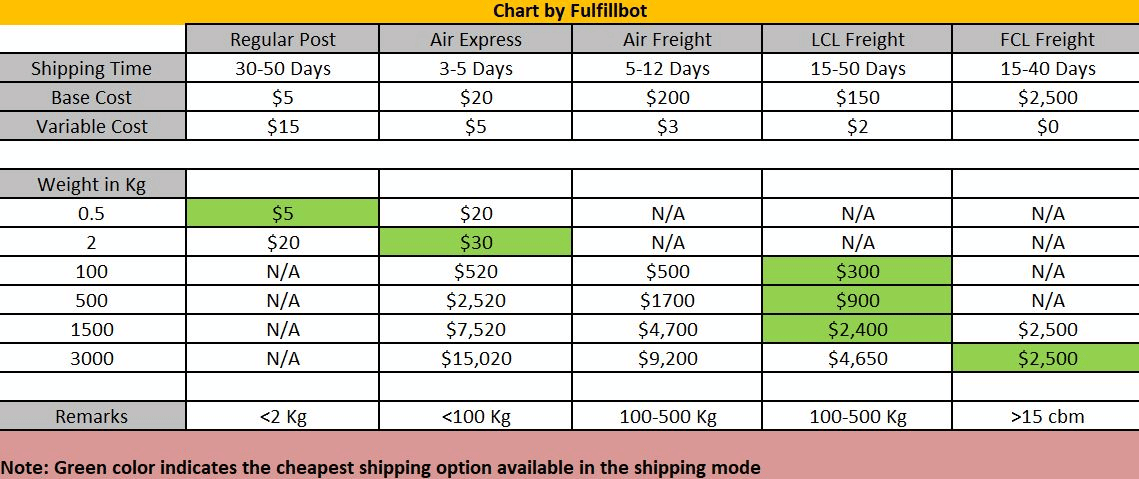 You need to check and prepare your package after confirming the order. Choosing the best Alibaba shipping method starts after this step. There are online and offline delivery options.
Alibaba's online delivery is known for its convenience. Ordering can be done straight on the platform, and the operation is straightforward.
Some people love offline delivery for low prices. It also allows you to deliver fragile items for cheap.
The supplier needs to know the destination details before shipping products from Alibaba.
Customs clearance is of the essence. It is easy to clear customs for the USA and European countries. However, the process is complex for Brazil, Russia, Indonesia, and other countries.
Use International EMS to lower freight risks. Each of the above shipping methods has its combo of variable and base costs. Modes with lower base costs are cheaper for small cargo.
Modes with low variable weight costs become cheaper options for bigger shipments. They are cheap even if they have high base costs.
Time is money, as they say. Thus, it is crucial to strike a good balance between price and time.
Some merchants ship a small amount by air freight to save on the shipping costs on Alibaba. It happens for most start-up sellers on Amazon. The remaining goods go by sea. Besides, Amazon sellers can store small amounts of goods on the FBA to sell when the order comes.
What Is the Cheapest Shipping Method in Alibaba?
Shipping methods differ in the total cost. Sea freight is the cheapest way to ship from Alibaba. Its costs are lower than air freight and the rest. But, it takes longer for goods to reach you than the remaining methods.
How to Manage Your Shipping from Alibaba?
There are different options to help you manage shipments from Alibaba. See below:
1) Allow the Supplier to Handle It
It is the commonest method among new importers, but it is simple. Tell the supplier you want the shipment as CIF or DAP and leave the rest to them. But you might need to pay more when you select this method.
2) Handle the Shipping Yourself
Time is valuable. Working hand in hand with the carrier doesn't save you time. Don't choose this option unless you are an expert in this field. Besides, you may need to have professionals in your company.
3) Hire a Freight Forwarder Company in Your Country
Most importers love this option for its convenience.

Small and medium businesses can work with freight forwarders. But most of them don't have offices in China.
Freight forwarders communicate with local agents and include their cut on the agent's fee. It might be convenient, but it is quite expensive and not the most efficient.
4) Hire a Freight Forwarder Company Based in China
We are seeing more importers considering this option. They love it for its speed. The forwarder keeps in touch with the supplier.
You will know everything you want anytime. In this option, your Chinese freight forwarder partner helps to solve problems when they occur.
How Can You Save Alibaba Shipping Costs?
Here is how to save costs of shipping when buying goods from Alibaba:
1) Shipment Consolidation
We mean combining small goods to make a reasonable shipping quantity to reduce the price. Note that some agents and warehouses can help consolidate international orders.
2) Source High-quality Products
Some products weigh less and have lower charges. It is advisable to choose high-quality goods to reduce shipping costs.
3) Optimize Packaging
Avoid any extra space in the packaging that you might need to pay for while shipping it. Alibaba shipping costs depend on the volume or weight of goods. Thus, optimize all packages to reduce the volume of the package.
4) Hire a Shipping Service Provider
You can seek the help of freight agents to manage your shipping, customs, and clearance. Some online calculators can help you know the customs.
You don't need to worry about customs when you hire a shipping service provider.
5) Plan the Shipment Route
Get the logistics right. There can be many routes to deliver your items to you. So, settle on the most economical route to save time and money.
6) Use Online Shipping Calculators
Many shipping calculators are available online. These calculators can help you determine Alibaba shipping costs if you know the requirements.
7) Study and Compare the Shipping Costs of Different Providers
Compare the shipping costs of all forwarders you get. Use the reference quotes from online calculators. Then, check with forwarders on your list.
Don't fall for low prices that look unreasonable. These might be illegal or scams.
8) Hire a Skilled Sourcing Agent
You might learn all the tricks but still, find it challenging. A skilled sourcing agent is the best for such tasks. They give you transparent listings and prices for sourcing products from China.
Some agents also handle shipping processes until you get your goods.
How Long Does Alibaba Shipping Take?
Alibaba shipments take between 4 and 60 days. But it depends on the shipping method you use. Air is the fastest, while sea shipping is the slowest.
Is It Worth Using Alibaba Shipping for Dropshipping?
Not recommended.

The reasons are as follows:
1. Real factories don't have time to deal with small, fragmented orders, and dropshippers are not their target customers.
2. Alibaba will charge a commission from the middle, which will increase your cost
3.No advantage in shipping costs
Arranging for shipping yourself is the best way to save on Alibaba shipment costs. However, shipping products from China to another country can be hectic.
So, you can get an agent to manage all the importing processes. Those with expertise in global transportation are the best. You will get your items in time and at the best deals.