If you want to sell more with your online store, or use video make facebook Ad , you can source for product photography services to be unique, you have the option to download images and videos from AliExpress.
With videos being the most effective marketing content used by marketers, leveraging product pictures and videos from AliExpress will boost your online sales.
Is it illegal to download AliExpress product images and videos? While some images and videos on AliExpress have the manufacturer's brand as a watermark, others have copyright issues and most of them are free to use.
With the availability of free AliExpress video finder tools, AliExpress image and description downloader chrome extension, boosting your product's presence online is now easy.
How to Download AliExpress Videos Using Source Code Method
If you're fond of reading image or video attributes online, the term "inspect element" is not new to you. Besides using extensions, software or apps to download AliExpress product pictures and videos, using a product's video source code is easier.
Videos on web pages normally have HTML codes-source code- that you can be used to download the videos. With a source code, downloading AliExpress videos takes seconds. Here's how to do it:
Step 1: Search for product video
Not every product on AliExpress has a video. You need to search whether your product has videos to download and inspect its quality.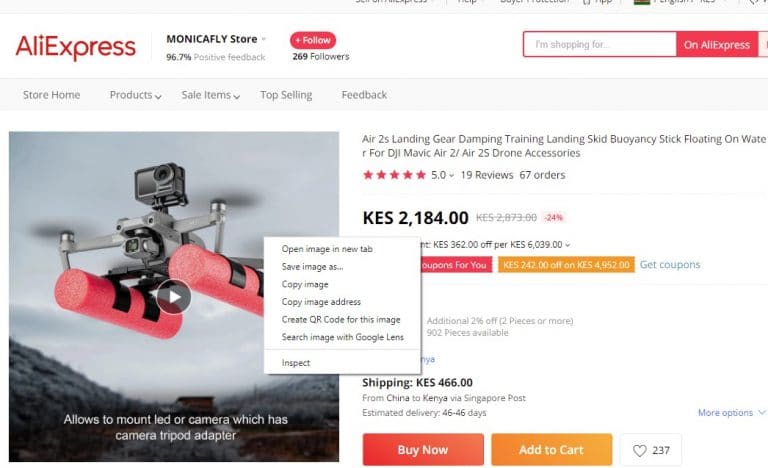 Step 2: Open Inspect Element
Once you've found the product video on the AliExpress product page, right-click on the video and on the pop-up window, click on the Inspect option.
Alternatively, press CTRL +SHIFT + I on your computer and the Inspect element will open.
Step 3: Look for the .MP4 extension
In the open Inspect element search console, look for the video file extension link (.mp4). It can sometimes be hard to locate where the link. In such a case, press the keyboard shortcuts Ctrl + F for Windows or CMD +F for mac to open a search box in the source code.
Enter the video file format .mp4 or just write mp4 and tap Enter to open every .mp4 link in the source code. The mp4 file link will be highlighted – for easy and faster visibility.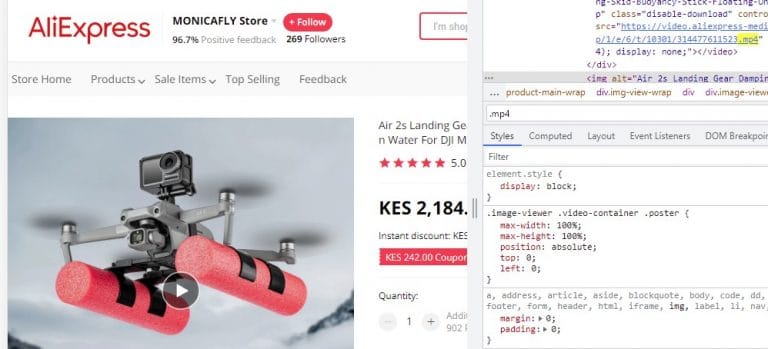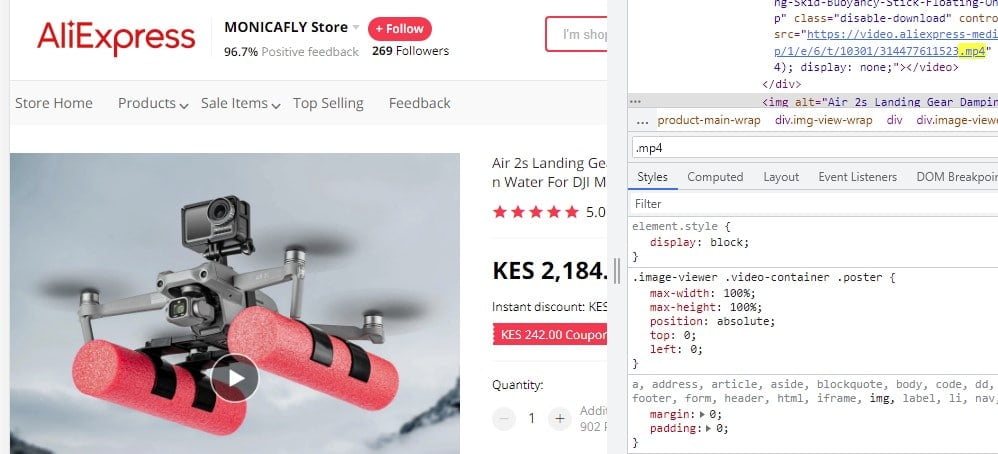 To open and save the AliExpress video, left-click on the .mp4 link and from the open menu, click on the Open in new tab. The video will open on a new page with autoplay default on.
Alternatively, copy and paste the video URL link on a new page and the video will in a blank page.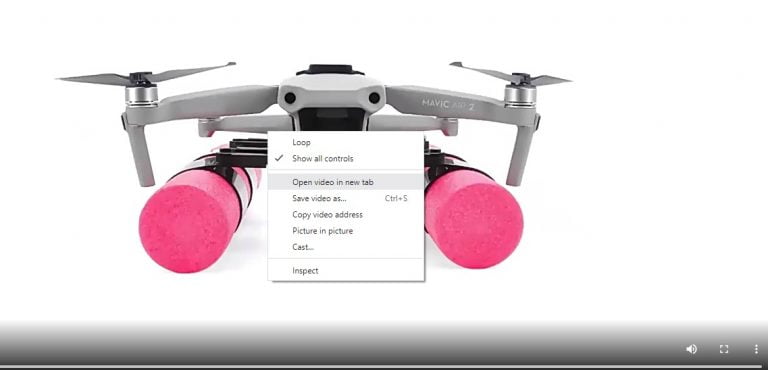 Hope you're now ready to download your desired AliExpress video. Left-click on the video, select Save video as and choose the folder to save your video.
Here is a recap of how to download videos from AliExpress using source code method.
Start by searching for the product video the right-click on the video. Click Inspect and in the now open console, search for the .mp4 file URL. Press Ctrl + F and entermp4 to quickly search for the video MP4 link. Copy and paste the link in a new tab, left-click and click Save video as.., then save your video.
Let's now look at other methods of downloading AliExpress product images and videos using chrome extensions.
Top 5 Chrome Extensions to Download Product Videos and Images From AliExpress
AliExpress is among the most popular source of dropshipping products. To make dropshipping easier for you, experts have developed Chrome extensions to help you download products images, videos and descriptions.
These Chrome extensions are also available to online store retailers.
Chrome Extension #1: Download Aliexpress Product Images & Videos
If you're a dropshipper or reseller, Download Aliexpress Product Images & Videos Chrome extension will help you download AliExpress product videos and images. This extension is also used to download product image variants with one click.
Follow the steps below to download AliExpress product images and video:

Step 1: Install Download Aliexpress Product Images & Videos
Go to Chrome Web Store, download and install the AliExpress product video download extension to your browser. It's free and easy to use.
Tool link
Click on the Add to Chrome button to start downloading the extension, follow the prompts until you save the settings and its ready to start using.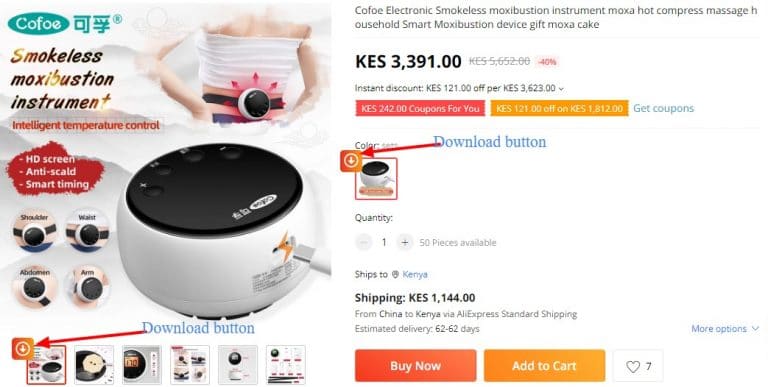 Step 2: Import product images and videos
Once you've successfully installed the extension, AliExpress extends its products page's usability by adding a download icon on all pages. Check on the product images and videos and you'll notice small download buttons floating above them.
To download images, click on any of the download buttons. The images will start to download in the background.
Step 3: Save images and videos
Immediately the images and videos finish downloading, choose the location to save the file. The files are downloaded as. Zip files.
Chrome Extension #2: AliSave
AliSave is among the most preferred Chrome extensions for downloading AliExpress images. It's applauded for its one-click download technique.
AliSave extension is free to use and guarantees high-quality product pictures from AliExpress. Whether you're downloading description images or the main image, AliSave will download in seconds to your computer.
How to use the AliSave extension to download images: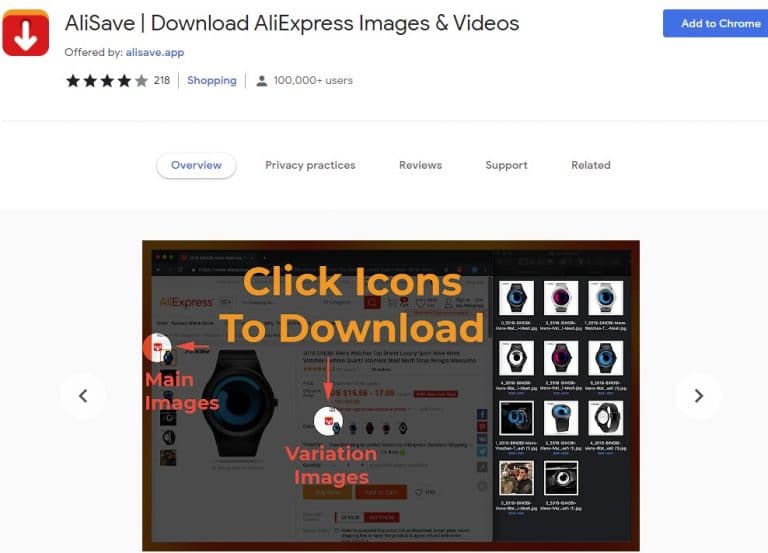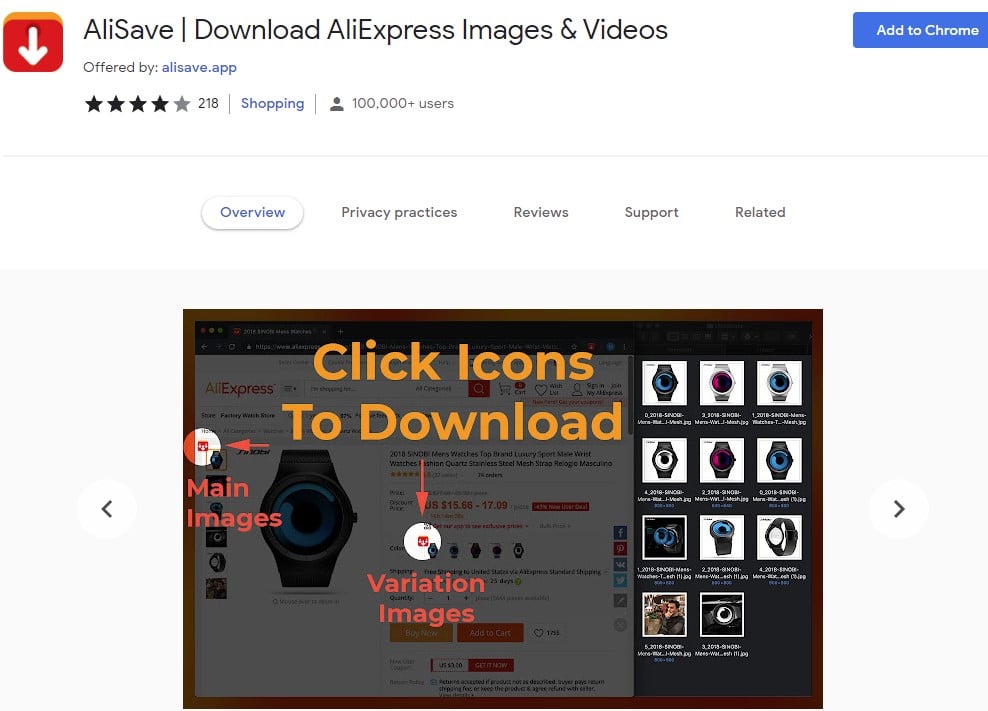 Start by going to the Chrome Web Store and searching for the AliSave extension. You can also go to your browser and search "AliSave" and click on the URL link.
Click on the Add to Chrome button to add the extension to your browser.
Step 2: Download AliExpress and images
Now that the AliSave extension is installed, open AliExpress and you'll see a small red box with three arrows above some of the product's images.
Click on the download button at the top right of your product picture and it will automatically start to download.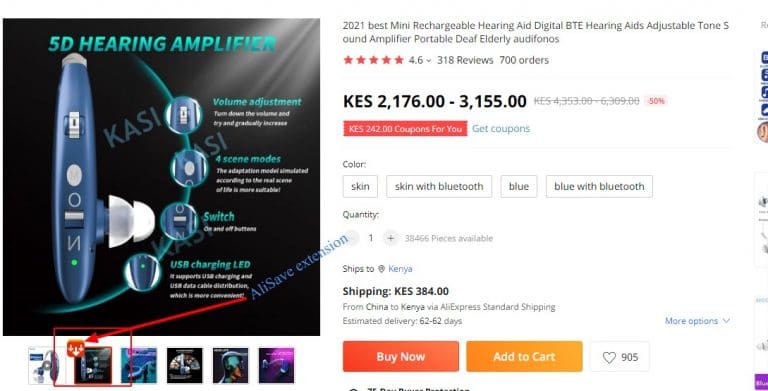 To download video from AliExpress using AliSave, you'll need to upgrade to the Pro version. It cost you only $2.99/ month but it comes with other added features.
By upgrading, you'll be able to remove the product's meta description, save images in subdirectories and choose whether to download as a .zip file.
Chrome Extension #3: AliDownloader Plus
Being a versatile AliExpress image and video downloader, you'll now download all the images and videos you need for your reseller or dropshipping business.
As for the products images, you can download the main image, all variant images, feedback images and description images. Another advantage of using this AliExpress image downloader is you can download videos and images direct from the category page – you don't have to go further and open the product page to download.
Here are the steps to follow: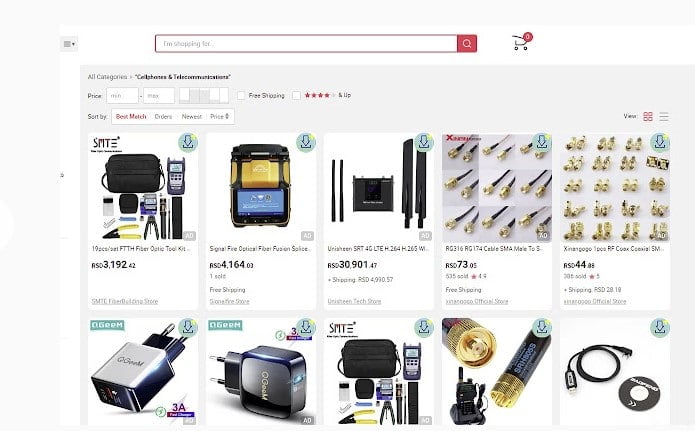 Step 1: Download and install AliDownloader Plus
Go to AliDownloader Plus in your browser and click to open the URL in Chrome Web Store. Then click on the Add to Chrome. The extension will download and synchronize directly with AliExpress in your browser.
AliDownloader Plus Download Link
Step 2: Open AliExpress and choose products with videos
Even though all products published on AliExpress have high-quality images, very few have videos.


Step 3: Start downloading video and images
Do you deal with a specific niche? Then click on the product category and you'll see download icons on top of every product as shown in the screenshot above.
Click on the download icon and the product image will automatically start to download in a .zip file. This extension also allows you to add all the product images and videos to a download list. Hover above the download icon and a plus icon will pop up.
Click on it and do the same to the products you want to download videos and images.
After your download is complete, select the location to save the pictures and videos.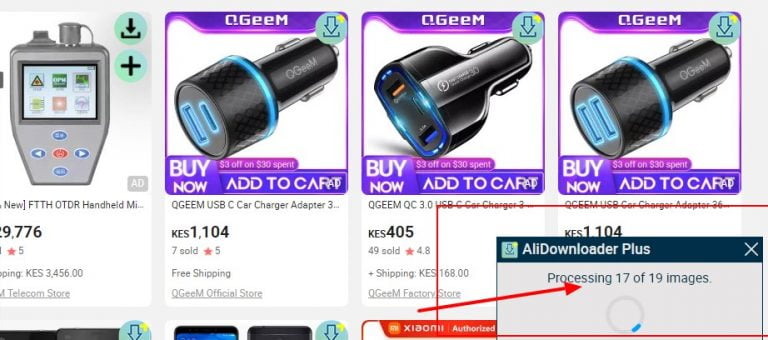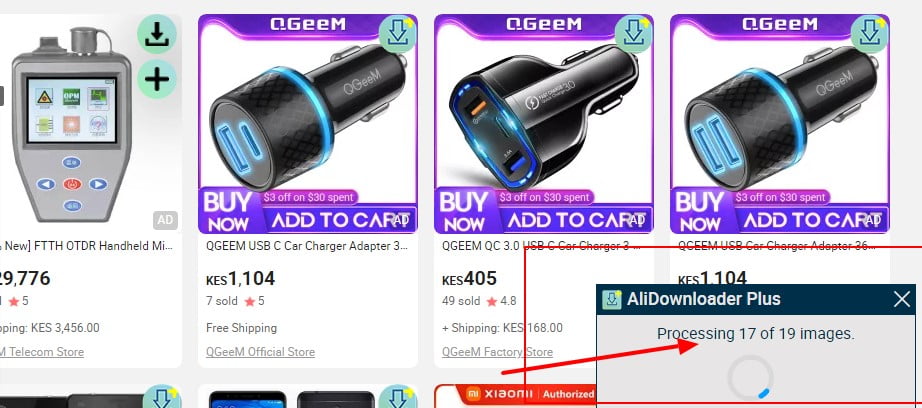 Chrome Extension #4: Ali Quick
Ali Quick uses AI to quickly download AliExpress videos and images to your computer. It's a much of a dropshipping and online shopping tool as it also does track orders, assists resellers to find products and downloads reviews.
How to use Ali Quick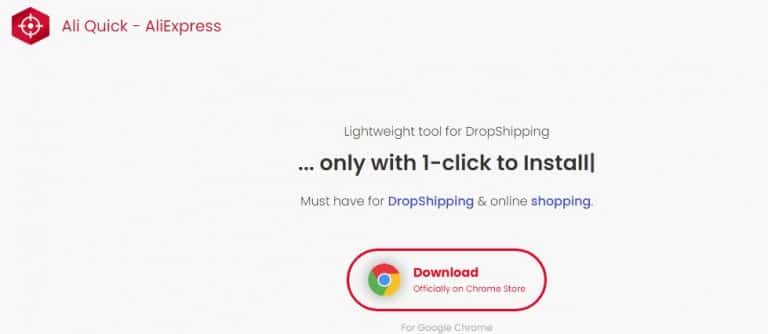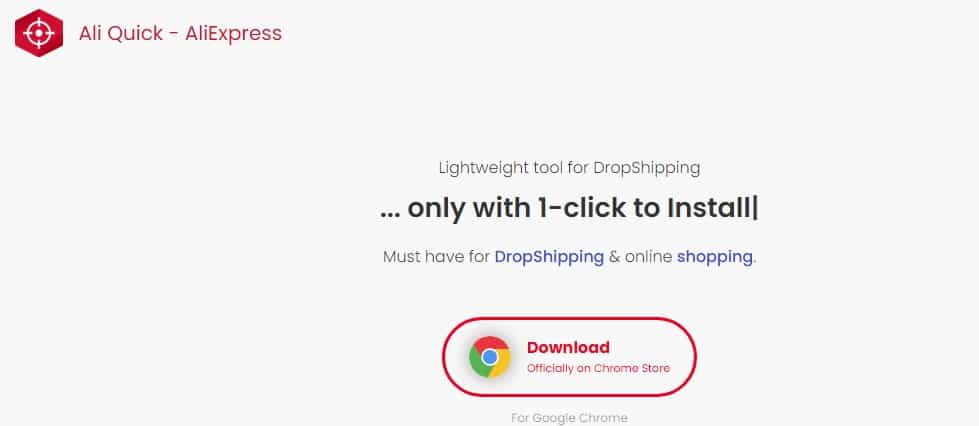 Step 1: Download the extension
On your default browser, search for https://aliquick.net and click to open. Again click on the Download button with the Chrome icon. You'll be directed to the Chrome web store page.
Tap on the Add to Chrome button and then click Add extension. Ali Quick will download and install automatically – no install prompts to follow.
Ali Quick Download Link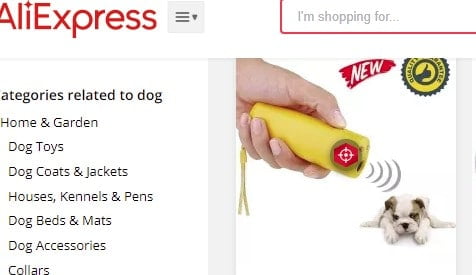 Step 2: Download products videos and images
After opening AliExpress, hover over the products and you'll see a hexagon with a target symbol (Ali Quick symbol) at the center.
Click on the Ali Quick symbol to open the product. At the top of the product, check on the right and you'll see download options with a download icon above it. You've the option to download the main product image or the product variants.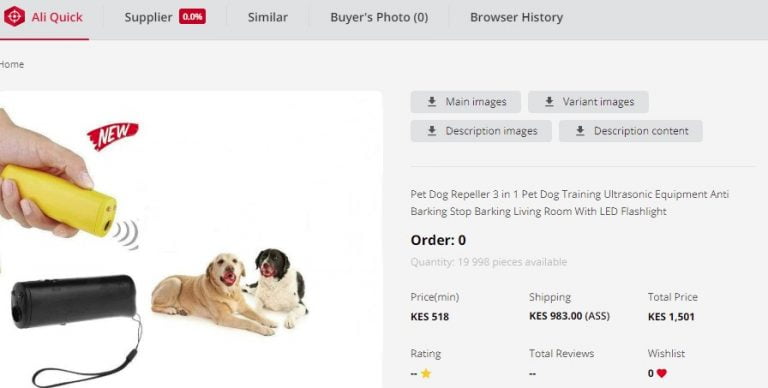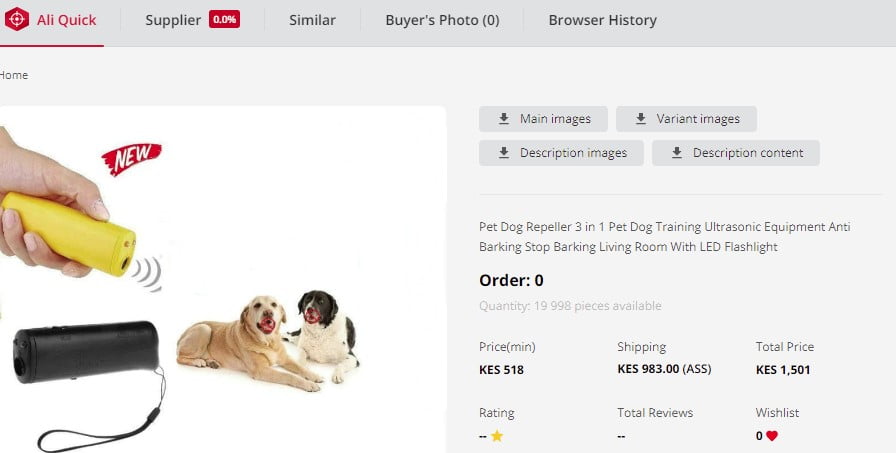 Click on any download option and the images/videos will start to download. Choose the desired location and save.
Chrome Extension #5: AliSuper Plus
If you're looking for an extension to download video from AliExpress chrome extension while still searching for similar products, we recommend AliSuper Plus. It also utilizes one-click to install.
How to use AliSuper Plus

Step 1: Open and install AliSuper Plus
Enter https://www.alisuperplus.com on your browser and click to open. Tao on the Install button located at the top right to open a chrome web store.
Click the Add to Chrome button to start and on the pop-up window, click Add extension to install the extension.
AliSuper Plus Download Link
Step 2: Open the product to download images and videos
As opposed to AliDownloader Plus, you'll have to open every single product to download images and videos. Since you know the products you're dropshipping or you want to buy online, go directly to the product and click to open.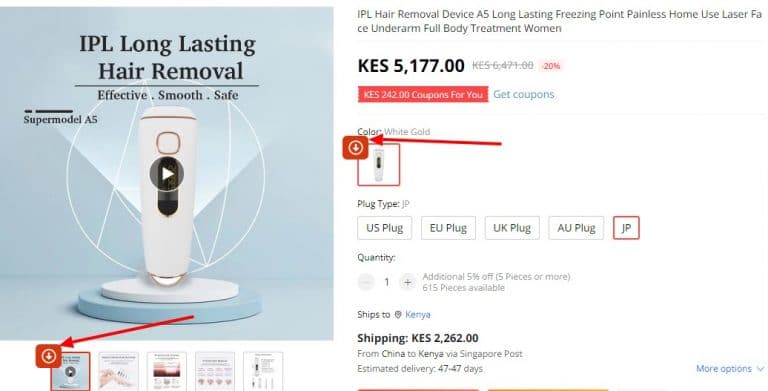 Step 3: Download images and videos
Once the product is open, a download icon in the red box will appear at the top of the first image or video and the main image.
Click on the download buttons and save the zip files in your desired folders.
Downloading images and videos using chrome extensions is very easy and it costs zero unless you're looking for extra features. If you're into dropshipping or reseller business, having high-quality images and videos will increase the product's click rate and convert more leads to buyers.
But with the product's images and videos bearing the suppliers as shown in the product illustrated in AliSave chrome extension #2, you've a reason to worry.
Will you download a video from AliExpress with manufacturer or supplier trademarks?
How to Get More Videos for your Product
In instances, you don't find product images and videos to download from AliExpress, there are other options to get high-quality images and videos.
Opting to use the services of product sourcing agents is a better idea as they can act as your dropshipping platform. Sourcing your customer's products and having images to publish in your online store is time-consuming and complex.
Product sourcing agents like Fulfillbot is among the few product sourcing agents that offer dropshipping and photography services.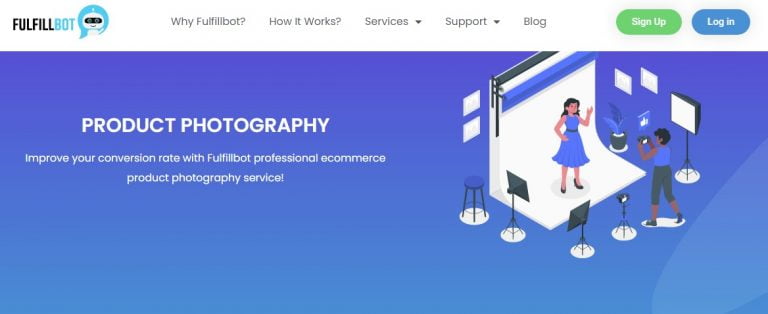 Using Fulfillbot Photography Services to Get Product Videos and Images
With Fulfillbot photography services, you'll get high-quality images for your products. And in case you've downloaded product imagers from AliExpress, send the images for editing.
You can seek Fulfillbot services in two ways:
• Use the chrome extensions listed above to download AliExpress videos and images and forward them to Fulfillbot for editing and sourcing the products, and
• Contact them to source products and ask for their product photography services.
You can also get product images and videos from Fulfillbot during private labeling and branding. Instead of using images and videos from AliExpress image downloaders, it's a good marketing strategy to use branded and original product images in your online store.
Even though private label products are cheaper, they have higher profit margins and promote company branding through product branding. With Branded dropshipping, you'll make your products will stand out among your competitors.
By leveraging on Fulfillbot as your business partner can, developing and dropshipping branded products is easy.
Other services offered by Fulfillbot include dropshipping, warehousing, order fulfillment and Amazon FBA Prep services.
Is it Legal to use AliExpress Product Videos?
To get right, the legality to use AliExpress product videos is determined by the copyright and trademark regulations imposed by the manufacturer or the authorized supplier. It's legal and morally right to use almost all AliExpress product videos.
It's also illegal to use a few of the AliExpress product videos.
According to AliExpress, they expect sellers to "respect intellectual property rights of others" and "list branded products only after AliExpress verification.
AliExpress goes further to categorically state that "an unauthorized use of copyrighted materials, such as text, images, videos, music, software, will amount to copyright infringement".
With all the suppliers and manufacturers on AliExpress looking for buyers, you'll likely not be sued for downloading and using AliExpress products videos. They ultimately know most of the buyers are dropshippers.
When dropshipping to download AliExpress videos and pictures is obvious, product owners are not likely to attach copyright and trademark rights.
The biggest is determining whether the product videos and images are from a retailer, the manufacturer or a private label. The only option is to use Google image search.
Whether legal or illegal, it's important to invest in product photography to avoid any court issues, losing your business account or suspension. Having unique product videos and images will market your business and boost sales.
Publishing products with high-quality videos and images in your online store not only increase conversion rate but also sales. With a good number of free chrome extensions available to download videos and images from AliExpress, select the best images before downloading.
Don't forget to peep on the image variants.
If you love being unique, seeking product photography services is worth it. Fulfillbot does offer product photography services which is done by experts is a fully equipped studio.