After a sustained advertising campaign in 2023, the well-known Temu app has gained significant traction, prompting many consumers to download and use it.
But as you know, little suspicion is often directed towards emerging markets as they progress into the mainstream. After spending just a few weeks in the market, the Temu app has already seen more downloads than other giants like Amazon and Walmart.
Moreover, PDD Holdings Inc., the parent firm of this app, controls this online megastore. The same corporation owns the Chinese online supermarket and home appliance retailer site, Pinduoduo.
However, it's natural to be wise when purchasing using this app. Thus, if you want to learn more about Temu and whether or not you should exercise caution, here you go.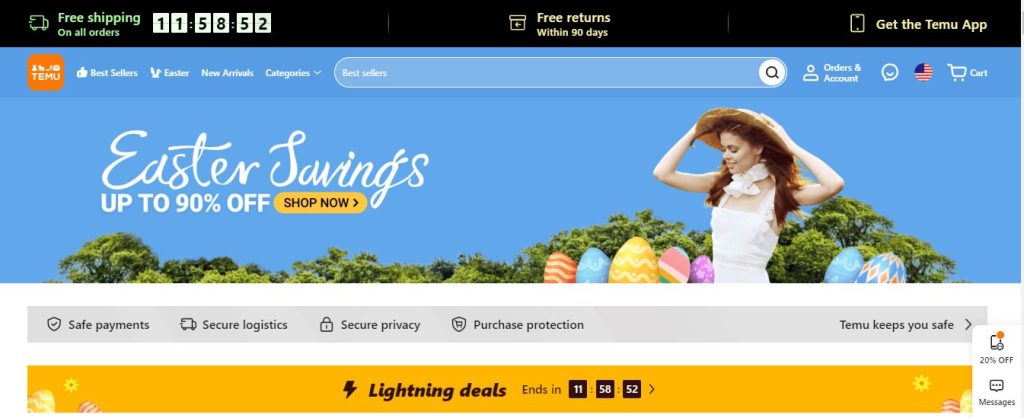 Temu – What Is It and How Does It Work?
Temu is a relatively new app that allows you to purchase online, like Amazon. It boasts the greatest and cheapest prices available.
Besides, it's more of a general e-commerce app than a specialized one, with around 250 distinct categories to peruse.
Yet, Temu promises to stand out from the competition by offering pricing that is cheaper than those of competitors. Goods offered on this platform are priced at or below what one would pay for an identical item on websites like Amazon or Walmart.
Moreover, the app often hosts flash sales and weekly offers, so it's always a good idea to check there before making any online purchase. With this, you can find what you're searching for at a lower price.
Keep in mind that Temu is currently in its development stage as a marketplace. Thus, not all large companies will be retailing there just yet. But many well-known companies are already making a mark in the market there.
What Is the Working Procedure of Temu?
With recent inflation driving up the cost of living, it could be the perfect moment to introduce a cost-effective, user-friendly shopping website.
Temu, similar to Shein, bypasses traditional distribution channels. Instead, it deals directly with Chinese producers and distributes goods directly to clients. Thus, the costs of these items are low.
There is a dedicated section for each vendor in Temu. Each section comes with ratings and feedback (of the vendor and its products) and best-seller lists.
In short, Temu's user interface and working mechanism are comparable to eBay and Amazon in several ways.
Who Manages the Temu Platform?
As said above, PDD Holdings company fully manages the Temu platform. It is a NASDAQ-listed, multi-billion dollar e-commerce giant.
This company provides worldwide sourcing, transportation, and supply chain services to manufacturers. As a result, they can provide competitive rates to their clients.
Over 61B orders were processed by PDD Holdings in 2021. These orders include goods from over 11 million sellers from different countries.
Temu and its parent firm are two companies that come highly recommended by their current clientele and vendors.
Where is temu company located?
temu is headquartered in China, they also have parcel distribution warehouses in other countries.The sellers are all from China.
Is Temu a Legit or Fake Website?
As we previously noted, only a few people are skeptical about Temu. Of course, it's reasonable to be wary about downloading an app that requests personal details such as credit card numbers or residential addresses.
However, you can rest assured of any doubts about Temu's authenticity. Even though being a brand-new platform, this app has the backing of PDD Holdings Inc.
It is a hugely profitable corporation with extensive expertise in international trade.
Also, Temu supports various common payment methods. Google Pay, Apple Pay, PayPal, and most major credit cards are just some of the trusted payment options that Temu accepts.
So, after comparing it with many other large internet stores, Temu appears to be equally legitimate.
So, it is not a fraud platform, to put it briefly. It's a real online platform that, like any newcomer to the e-commerce field has been met with some mistrust.

PDD Holdings, the parent company, also controls Pinduoduo, a Chinese agribusiness firm. So, it adds to the trust in Temu.
There is, though, so much data showing that both the parent company and its subsidiary Pinduoduo are honest businesses operating out there.
The Temu website is gaining popularity because of its convenient location and inexpensive prices. Moreover, their reasonable prices don't compromise on their finest feature.

Also, the transport costs and guidelines provided by the app are precise.
For example:
1) In Temu, all goods are qualified for complimentary standard delivery, and express shipping is free on purchases above $99.
2) Temu will reimburse $5 to your account for every late order.
3) Within three months of purchase, you may get money back for returns.
4) Temu also handles returns well. Its return policy includes free shipping.
These traits are the bedrock of every successful firm, and Temu relies on them to go forward.
What Do the Reviews Speak About Temu?

As you have read so far, Temu is a genuine business that is part of a large business group. Products from well-known manufacturers such as Lenovo are also available at Temu.
However, user opinions on Temu are divided. That's because this platform is still in its development stage.
It appears that the firm has been inundated with sales lately, which has led to some complaints about shipment delays. There are, though, many consumers that praise Temu and its 5-star service.
Temu has received a 5-star rating from a non-profit BBB organization, which operates as a consumer rights organization. Besides, you can see its high ratings given by users on platforms like SiteJabber.
Temu is at the forefront of a new era of e-commerce systems that improve demand forecasts to save production costs.
Temu provides a delivery estimation when you make an order so you understand when to expect the arrival of your items.
Of course, some users disagree and report late deliveries made by Temu. The reason many Temu reviews were let down by shipping time is that those users might be expecting Amazon-level speed.
You can forget about it if you purchase at Temu. Instead, think like you are getting lengthier delivery delays in exchange for incredibly low pricing.
Setting reasonable delivery expectations is also essential if you want to have a positive Temu experience.
Is the Product Quality at Temu Acceptable?
Temu gets its goods from the PDD e-commerce network, a worldwide distribution network that features some of the world's best producers with highly refined manufacturing techniques.
The customer reviews under each item listing on Temu attest to the superior quality of the items offered there.
You can learn more about the quality of a product and what service to expect when you buy it by reading verified reviews written by genuine customers who have already purchased from the site.
Product suppliers at Temu offer high-quality, long-lasting goods made from safe components. Moreover, this app provides these items at affordable prices to broaden the customer base that can benefit from online shopping.
In addition, Temu collaborates closely with its vendors and sellers to guarantee the superiority of the items it sells.
When producing goods for Temu, vendors are held to a high standard of quality assurance. These factories also have the finest working and environmental conditions.
Temu believes that the planet's welfare must not sacrifice in the name of online shopping. The app ensures that its contracted manufacturers share their values and take measures to ensure their business practices are safe for both their employees and the local ecosystem.
Temu also ensures that all agents, subcontractors, and drop shippers adhere to the same principles.
Temu promises its products are free of harmful substances and are of the same high quality as those that cost significantly more elsewhere.
How Does Temu Have Such a Low Price?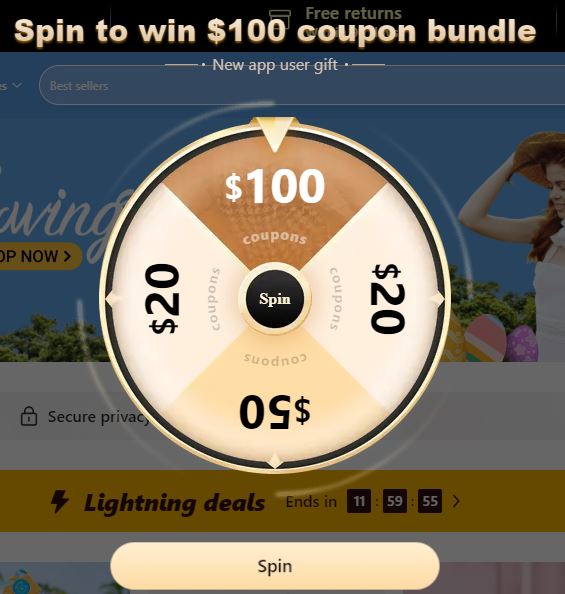 Companies are constantly looking for ways to improve efficiency and provide customers with a superior shopping experience as e-commerce continues to disrupt the traditional retail model.
Temu, a frontrunner in the industry, is shaking up the whole online retail landscape by offering customized goods at rock-bottom prices using a Next-Generation Manufacturing system.
How Does Temu Keep Its Prices So Low?
The secret lies in their Next-Generation Manufacturing (NGM) approach. This approach optimizes the entire product life cycle more effectively than conventional e-commerce platforms and brick-and-mortar stores.
Temu reduces costs by as much as 50% by streamlining the entire production and delivery process, from initial idea to final mile delivery.
In short, its unique business model makes Temu's competitive pricing possible. Temu cuts out the intermediaries and the markups that occur at each tier of distribution by linking buyers and sellers directly.
But this isn't the only reason for Temu being so cheap. The brand's parent company also plays a role in maintaining low prices, allowing customers like you to discover unheard-of bargains.
Are These Really Low Costs?
Temu's business model is built on streamlining the supply chain and reducing costs. It's contrary to some newer companies that set prices too low to be sustainable.
Also, Temu isn't taking on any additional expenses; rather, they're looking for ways to save money so they can give the savings to their customers.
Temu's primary aim as a business-to-consumer marketplace is to provide shoppers with more valuable options at lower prices. When supply isn't limited by demand, prices can fall without limit.
Temu's core values include honesty and caring for the community, besides offering competitive prices.
Also, this platform is selective about the brands, manufacturers, and vendors it partners with.
Temu's third-party vendors are subject to a rigorous screening process, and those who break their rules are immediately banned.
What Are the Pros and Cons of Buying from Temu?
Like all other e-commerce platforms, Temu also boasts advantages and some drawbacks. We will discuss these factors about Temu in the below section.
Pros:
1) Temu Offers Products That Fit Your Actual Needs and Budget
As you know, Temu follows a unique business model called NGM. With this, the platform provides a more streamlined, reliable, and transparent manufacturing and delivery process, enabling it to undercut rivals on price.
Temu's NGM approach can reduce expenses by around 50% compared to traditional production and distribution strategies.
2) Temu Knows Customer's Needs Accurately
Manufacturers and retailers can benefit from Temu since the company freely shares useful knowledge about customer preferences and buying patterns with them.
As a result, no more money has to be spent on market research and customer surveys.
3) Precise Demand Forecasting
Temu helps businesses reduce inefficient manufacturing, unnecessary raw material procurement, and turnaround time for customized goods by giving insights into customer preferences and behaviors to aid production planning.
4) Stock Availability
Better sales forecasting reduces inventory risk, which in turn frees up cash by cutting down on wasteful manufacturing and storage.
On the other hand, customers buying at Temu don't have to wait for the stock to get ready. Many times, the stock is available for dispatch at Temu.
5) Save Money on Advertising
When supply and demand are balanced, companies may save money on advertising. As a result, advertising budgets might be cut by a whopping 20%.
As a result, sellers can offer huge discounts to Temu users.
6) Better and Faster Logistics
Using Temu's NGM system, goods may be delivered directly from assembly lines to sorting facilities and then on to customers. It results in fewer warehouses being needed, which in turn speeds up shipping times.
Likewise, customers can enjoy Temu's faster delivery.
7) Huge Discounts
The app's name alludes to the infinite quantity of deals it provides. In addition to discounts of up to 30% for first-time Temu users, buyers also get free shipping and returns on anything bought inside the app.
In addition, there is a section dedicated to the things presently on sale, some of which are discounted by as much as 50%.
8) Convenient and Super Easy to Use
The Temu app is handy in every respect; not only does it have a decent and simple UI for its users, but it also provides a vast range of categories.
Thus, a user can buy a whole outfit from head to toe without having to go between multiple websites.
Cons
1) Poor Transit Times
Sometimes, a few weeks or even a month is the average time it takes for bulk orders to be delivered.
On Temu, delivery usually takes between 7 and 14 days.
2) Poor Response Time From Temu Staff
Temu's customer service is slow, with a poor reputation among users because of the inefficiency of its support executives. Some Temu users have reported bad customer support from Temu.
3) Lack of Adequate Packaging
Several buyers have complained that their shipments arrived damaged because of poor wrapping.
4) Refund Process Takes Time
It may take Temu anywhere from a week to a month to process a refund for the return order.
The reimbursement timeframe ranges from 7 to 30 days after order placement, depending on the chosen form of payment.
How Can You Track Orders Placed on Temu?
Tracking Temu orders is as simple as tracking any other courier parcels. Temu's TikTok and YouTube channels are loaded with so many instructional videos and other resources.
Just head over to the 'Your orders' section on the Temu website. You will also see this option on the Temu app. In this section, you can see the current status of your Temu order.
This section also offers additional information, including your current and prior orders. Moreover, you can also check information, such as expected delivery timeframes, order tracking numbers, and communication details.
You may check the current status of your order's shipment at any time by going to the 'Your Orders' section.
Afterwards, you can head to the 'Track' button next to the ordered product.
This page will provide additional details about your shipment. It includes the shipping company name and current shipping status.
Here's what you need to know about order tracking with the mobile app and web portal.
A) Mobile App-Based Temu Order Tracking
Step 1: Launch the Temu app and go to the 'You' tab.
Step 2: Afterwards, head to the 'Your Requests' section.
Here, you will need to choose the Temu order number. If you have multiple orders, make sure you enter the exact order number that you want to track.
Step 3: For a complete rundown of where your current orders stand at this time, click the 'Track' button.
A) Mobile App-Based Temu Order Tracking
Step 1: Launch the Temu app and go to the 'You' tab.
Step 2: Afterwards, head to the 'Your Requests' section.
Here, you will need to choose the Temu order number. If you have multiple orders, make sure you enter the exact order number that you want to track.
Step 3: For a complete rundown of where your current orders stand at this time, click the 'Track' button.
What Is the Meaning of Different Temu Shipping Statuses?

Your order's shipment status will update you on its progress from the time it was ordered until it arrives at its destination.
You should know the actual meaning of Temu's different shipping statuses.
A) Processing:
Your Temu order is now being processed by the seller, who has received it and is getting it ready for shipment.
Your order is now being prepared for shipment from Temu's warehousing staff. It will be combined with other orders destined for neighboring addresses. Because of efforts to minimize the delivery frequency, this may take up to three days.
B) Shipped:
One of Temu's logistics service providers has picked up your shipment and is working on it with the seller.
While they will do their best to get your package to you as quickly as possible, it may take up to 7 days to get there.
C) Delivered:
You may now relax knowing that your Temu shipment has arrived safely. After receiving a delivery, Temu will contact you via mailbox asking about whether your shipment has reached successfully.
Does Temu allow dropshipping?
Temu does not allow dropshipping, they have strict restrictions on ordering addresses and trading accounts.
If you need dropshipping you can contact us, we can help you buy from china and fulfillment.
Final Thoughts!
Temu is a reliable online platform because of its safe payment options and prompt dispatch.
You can shop with peace of mind knowing that the company's Purchase Protection program covers your purchase. Moreover, Temu also supports policies like late order reimbursements.
You need to be wary when sourcing from China. Since Temu is still in its development stage, it's better to hire an agent to source your goods.