Learning how to use Google Trends to know what is trending for dropshipping will make you invest in the right niche. It will also make you sell the most trending products for dropshipping.
Google trends dropshipping is among the simplest tools you can use to find trending search queries, products, or terms in Google.
Google allows you to promote your products online using Google ads but not when dropshipping. The only option to skyrocket your dropshipping business is to know dropshipping trends and sell what's trending.
Imagine publishing products that are no longer in demand or, choosing a market segment that won't buy your products.
Many are the dropshipping products you'll be tempted to sell in your dropshipping store. Equally, the passion for some niches is irresistible, yet they don't generate any meaningful revenue.
To avoid impulse decisions, do research before launching your business with Google Trends.
Google Trends is an online search tool by Google that shows the popularity or the trends of a phrase, specific keyword, subject, or search query.
From the above definition of Google Trends, you can ideally get every necessary data to would aid in making the correct decision. After establishing your dropshipping store, the only activities you have to commit to daily are product research, order processing, and developing content marketing.
This tool shows data graphs and charts so users can compare trends over the select time and the Google Trends search per region.
To excel in these activities, you need Google Trends and a thorough understanding of how to use Google Trends for dropshipping.
You don't have to worry about Google Trends pricing. It's an open and free tool that has no limitations unlike the majority of the other Google Trends alternative search tools.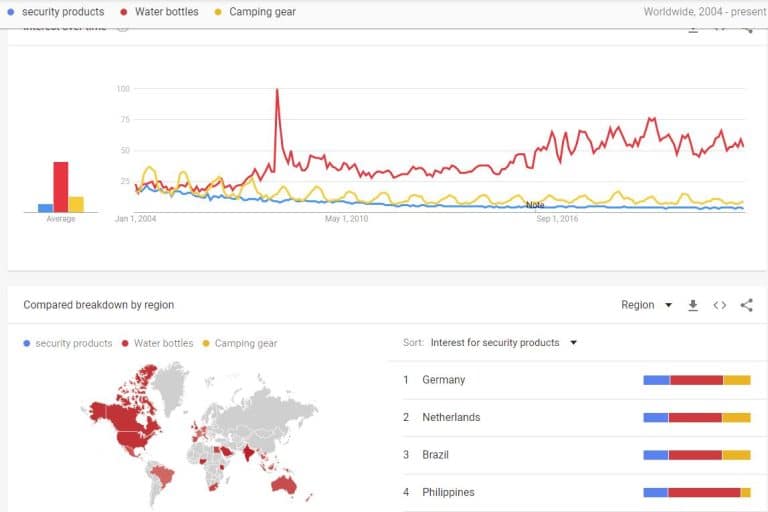 How Does Google Trends Work?
Google Trends is likely the simplest tool to use. After you've typed your phrase in the Google Trends search bar, it will deduce its data by combining the total searches from different geographies over a given period.
Before any dataset is displayed, it's normalized and measured to give different insights. The Google Trends numbers represent search interest and time rage in selected regions. The numbers are scaled on a range from 0 to 100 with 100 representing the highest peak.
With this tool, you can access real-time search data over the last seven days and non-realtime data that dates back from 2004 up to 36 hours before search time.
Google Trends data with very low searches are usually eliminated.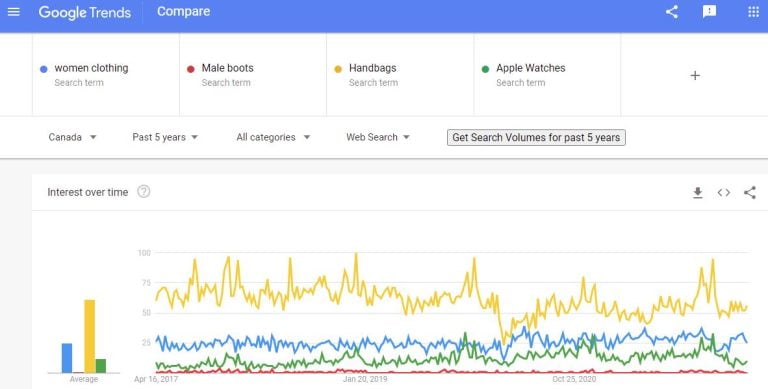 How to Use Google Trends Dropshipping
As a versatile search tool, Google Trends is designed to reflect people's searches on Google every day. You can use Google Trends to find in-demand products to sell, trending niches, keywords for your product descriptions and analyze the product's competition.
In general, use this tool to find trends to maximize your dropshipping business.
Use 1: Using Google Trends for Market Research
When doing market research for your dropshipping business, Google Trends will help determine the geographical area interested in your products.
You can also perform market research in a specific country or region to understand the trends in relation to the product and demand and also the product variants searched in that area.
Here's how to perform market research using Google Trends;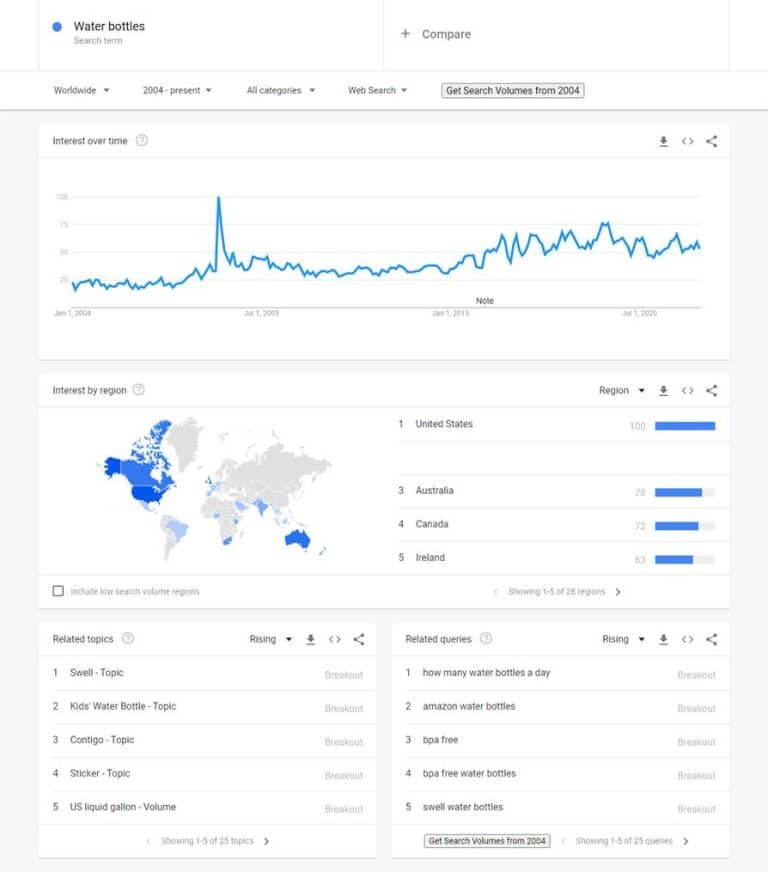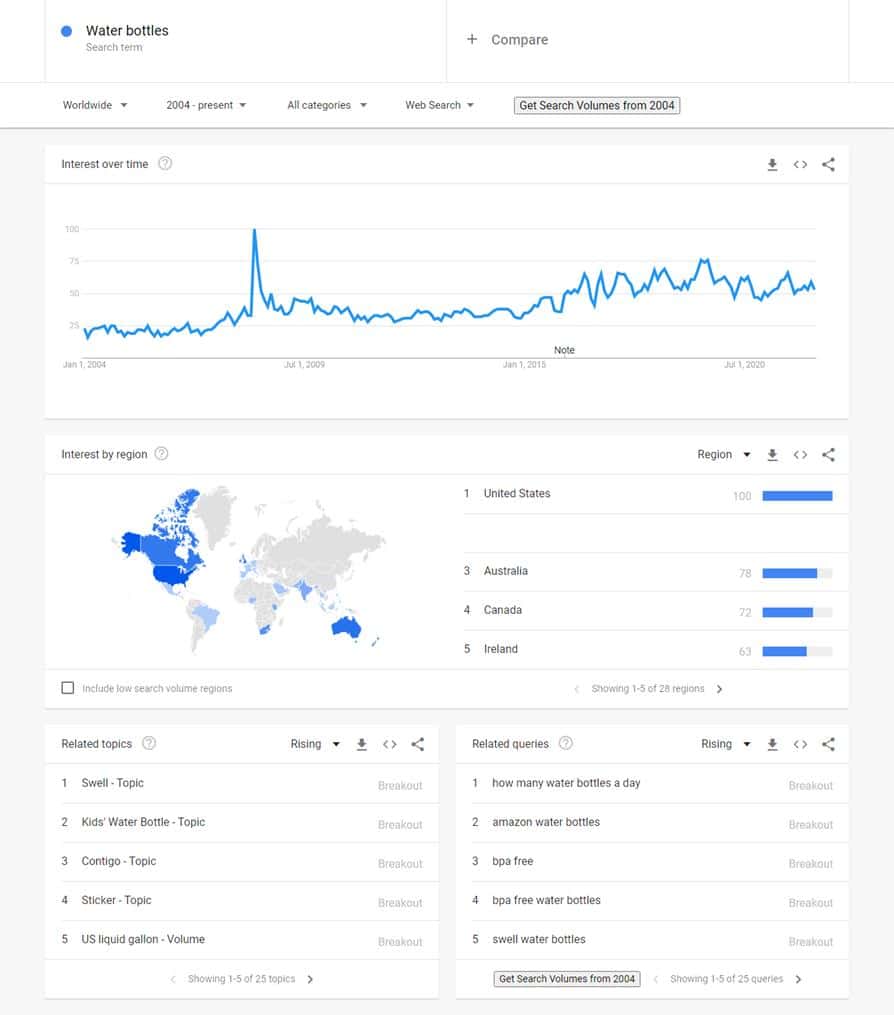 Step 1: Launch Google Trends and enter your niche
To launch this tool, go to trends.google.com then enter your niche in the search bar.
After typing, click on the enter button.
Now choose or type the exact country or state you'll want to sell your products to determine whether they are interested.

Google Trends goes further to show subregions and their interest value.
From the screenshot above, if you are planning to dropship water bottles it's a popular niche in the United States, Australia, South Africa, Canada and the United Kingdom.
Among the data you have to input are geography, time and search term or topic.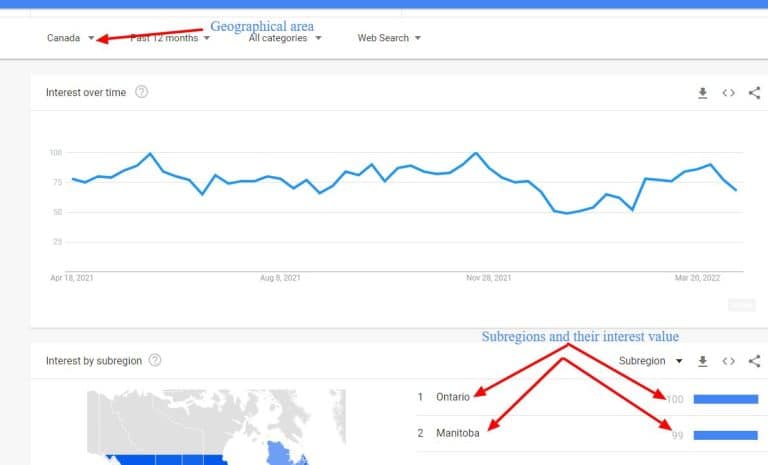 Step 2: Analyze your niche products
To the left of the search volume are topics related to your search term. If you're specializing in handbags, choose the major brands and types whose trend is upward.
Move the cursor to the displayed percentage and click on the three dots that appear. Click the Explore option and you'll form the graph you'll know the brand's trends.

Way 2: Find Trending Products on Google Trends
If you want to find trending items to dropship, Google Trends dropshipping is the ideal tool. Dropshipping is among the most competitive business models today.
To set your business apart, you need to search and list more unique, profitable and trending dropshipping products. Having selected a dropshipping niche, use Google Trends search data to know the category, subcategories and the other related products people are searching for.
Here is the process:
Step 1: Choose a product category
Based on your niche, choose the product category that lies within the niche. Assuming your niche is camera and cellphone accessories, select computers & electronics and choose geography to get the right data focused on the targeted customers.

For a better refined Google Trends search, type "camera" and after clicking Enter, select geography and the most suitable time that'll give the desired results.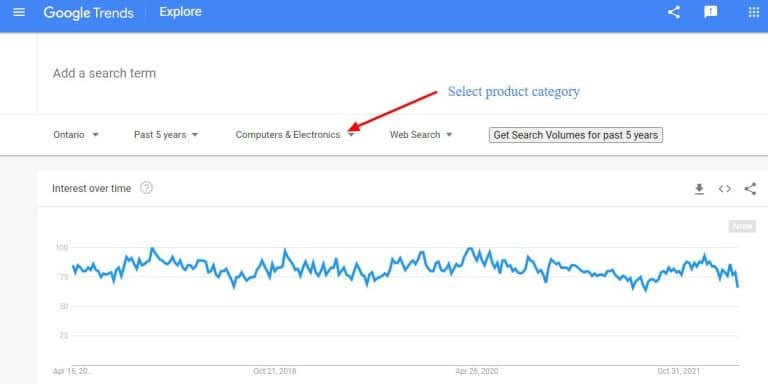 Step 2: Product comparison
You don't have to list all product variants from every brand because the brand sells. Use Google trends to select the best selling.
Add products to compare and you'll see the product with a steady trend.
Now go deeper to refine the products to dropship by clicking the three dots revealed after moving your cursor to the search volumes and taping the Explore option.

Wyze camera is undoubtedly the first camera to list on your dropshipping store. If you want to compare Google Trends for products, click on the three dots and choose "Add to comparison"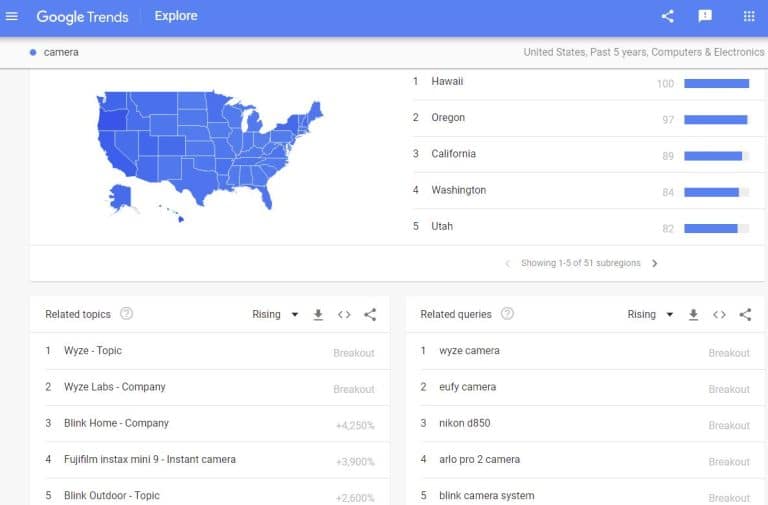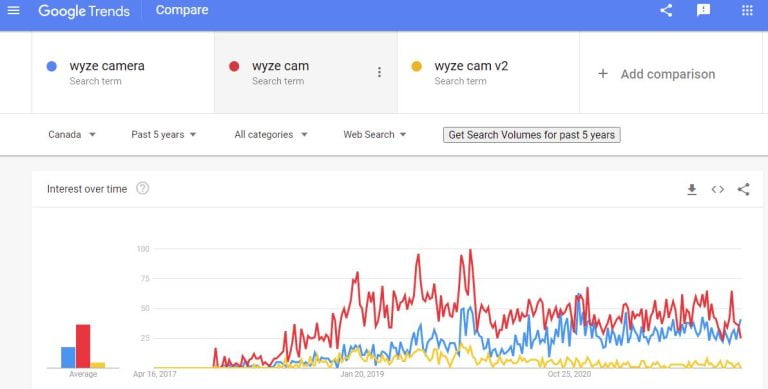 Way 3: Use Google Trends for SEO
Even though Google Trends for SEO is overlapped by other complex keyword research tools like Ahref, Wordtracker, Kwfinder and many more, it's a recommendable powerful SEO tool for dropshipping.
Ecommerce is characterized by seasons. With Google Trends, you can distinguish between true trends and fads. By adjusting Google Trends search duration to five years, you'll get to know the keywords that are gaining popularity and those losing popularity.
Dropshippers use Google Trends for SEO to:
1. Get keywords for your products and content
For your content to relate to what's trending for dropshipping the keyword research feature will get you trending keywords to use for your products and content.
Type a keyword into the search box.
From our search term "Washing machine" the trend over the past 12 months will dictate whether the term is worth being used as a keyword.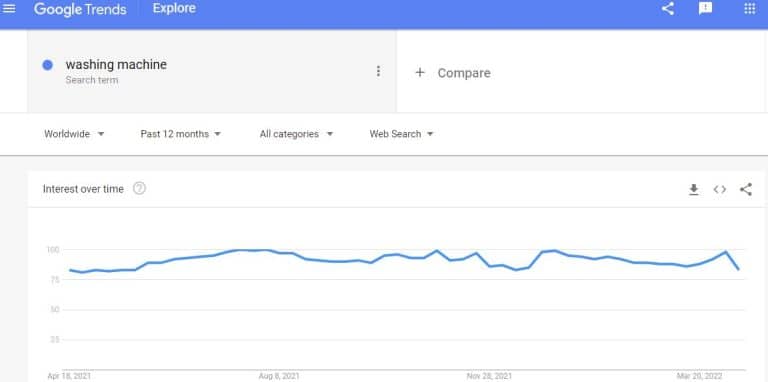 "Related queries" are among the features you'll find interesting and insightful. With some search terms giving 25 queries, you'll related keywords to use.
Run a keyword search by typing in the Google Trends search box.
Besides showing related keywords, Google will also show search volume increases.

3. Distinguish between seasonal and evergreen products
From the Google Trends graph, is easy to know whether your dropshipping product is seasonal or evergreen. Expand the timeframe from 12 months to 5 years or set a custom time range and click ok….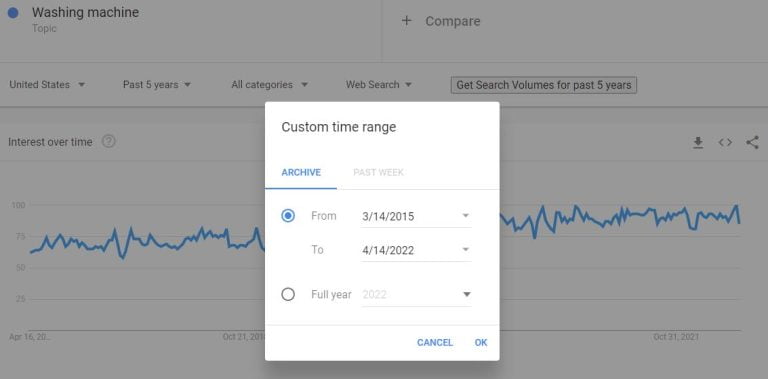 ….and the graph will change.
If you search the search trends for "boots" using the same custom time range the graph will change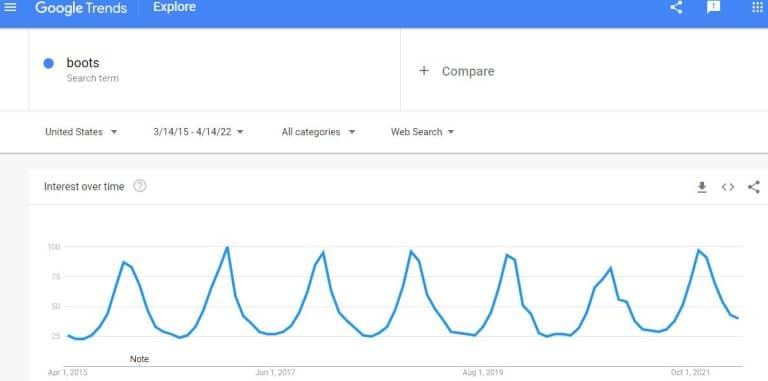 Boots are seasonal products as opposed to washing machines. Demand for boots peaks only during November and December.
4. Find new keyword ideas
What makes Google Trends a more versatile keyword research tool is the combination of features that would make it bubble many new keyword ideas.
Whether you are using the "Daily Search Trends" or "Realtime Search Trends, you'll once in a while find a new keyword to use.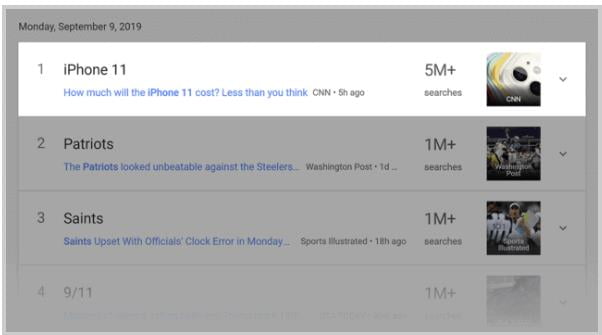 Using targeted keywords or local keywords will most likely boost your sales. If you run a locally targeted online store, it's important to major in local keywords.
Type your main keyword and select your target location.
While on the "Interest by subregion" map, click the target region.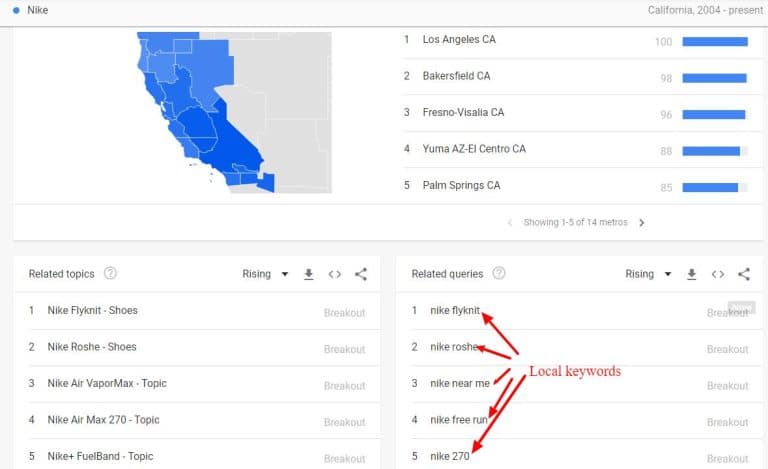 6. Know search volume trends
Keyword search Volumes will help you avoid very competitive keywords and keywords fading fast.
On exploring Nike Air Vapormax from one of the keywords, hover the cursor over the graph line and you'll see the search volume trends.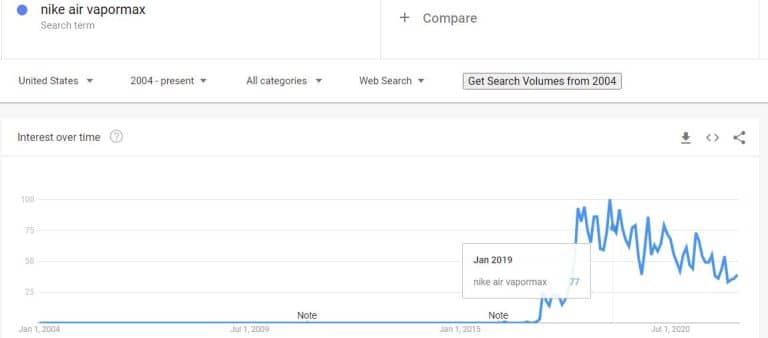 Keyword search Volumes will help you avoid very competitive keywords and keywords fading fast.
On exploring Nike Air Vapormax from one of the keywords, hover the cursor over the graph line and you'll see the search volume trends.
Way 4: Use Google Trends for dropshipping
Using Google Trends for dropshipping has many advantages.
As a dropshipper, you can use it to search trending products to dropship, identify the best niche, have a clear target market and find the correct keywords to use.
After identifying the trending product, explore the suggested product variants in the "Related queries" section to know the exact product to sell.
Way 5: Use Google Trends to find niche
This is the most critical stage when starting a dropshipping business. Whether you're planning to source products from AliExpress or use Fulfillbot as your product sourcing agent, your niche will determine the business's profitability.
With Google Trends' "All categories" feature, it's simple to find a profitable niche.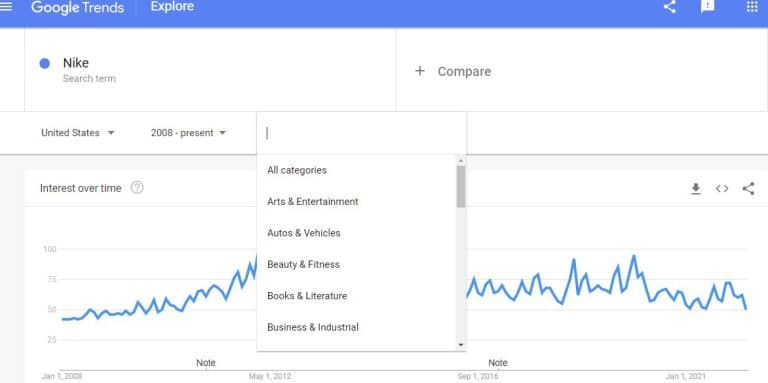 The first step to finding the right niche is using Google Trends to search for the most trending category that's stable.
From my research, Beauty & fitness presents an appealing graph.

Now select the target market, and being a fast-selling industry characterized by new products, chooses a short search time frame – 2 to 3 years.
Secondly, narrow your search by exploring the suggested topics and related queries to know what's selling. Lastly, use the search volume trends to identify what people are searching most.
And if you promote products on YouTube, the "Web Search" feature has the YouTube option to help know the products are reviewed.
Google Trends compares with many product research tools. When researching products online and Google Trends isn't giving the results you need, below are other options to use.
Google Trends vs Niche Scraper vs Allfactor
Just like Google Trends, Niche Scraper has seen an increase in search interest over the past three years.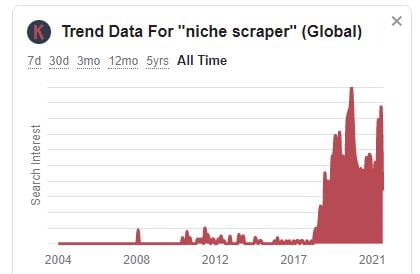 The Product Scrapper feature shows the products order graph and other vital data to dropshippers. Even though Niche Scraper bubbles more data including the products image and number of items sold unlike Google Trends, there are much alike.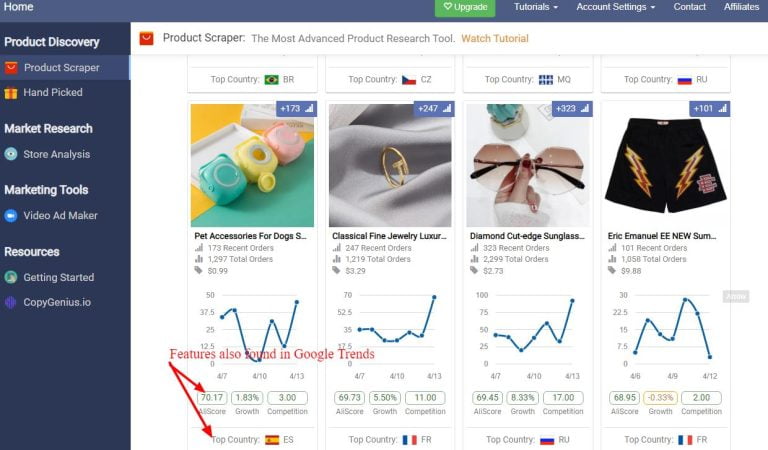 From the screenshot, you can identify the best target market and the strength of the product shown on the "AliScore" feature which can be compared to the search volume trend in Google Trends.
When it comes to niche market analysis, inventory trends data and spying on the trending products, Allfactor is the product research tool to go for.
It has a user-friendly interface and offers as many product insights as Google Trends.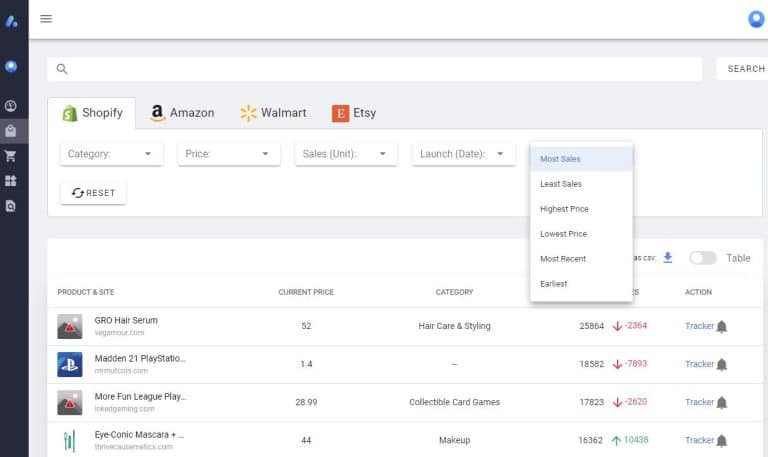 Reading from the features in the Allfactor screenshot above, you can create a list of the winning products by name for dropship. Whether selecting a niche market or trending products Allfactor is worth your time.
Compared with Google Trends, Allfactor shows products trends from the date of product release, market share and keywords (Tags).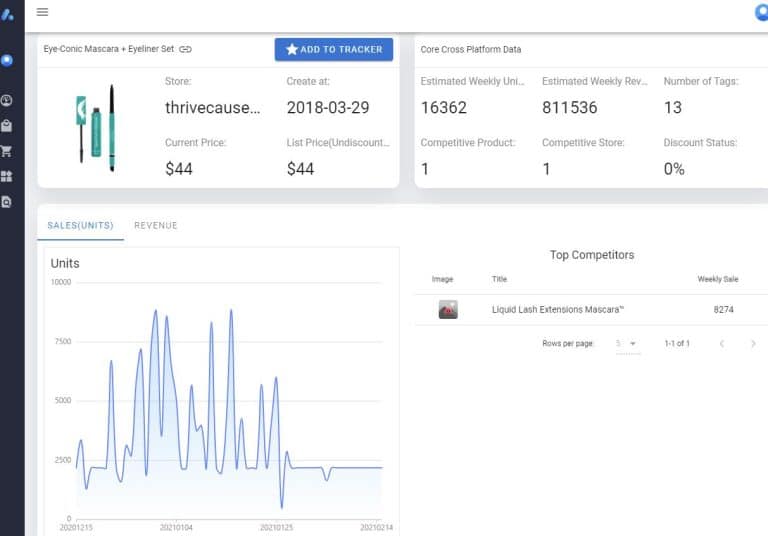 All the three product research tools illustrated above though different share some similarities. Product trend is a critical feature that's perfected by every tool. Dropshippers rely on products trend data to determine whether to list a product in their store.
After analyzing the three product research tools above, it's clear more emphasis is put on product trends. The consumer's search interest is represented by order quantities in both Allfactor and Niche Scraper.
Using Google Trends dropshipping to grow your online store is simple to use. Google Trends is free and is useful when searching for dropshipping products, keywords, target location, and product trends.
After finding the trending dropship products, the remaining fulfillment process requires a dropshipping agent. And Fulfillbot is the agent to deliver you orders faster.