With over one billion active users, marketing products on TikTok has been successful for most businesses.
This platform effectively drives sales to dropshipping or an e-commerce business. That's because videos capture consumers' attention more than anything else.
Also, using TikTok for drop shipping business has been a popular trend in recent years since its integration with Shopify.
This integration made TikTok an efficient advertising tool for Shopify users. Plus, it also helps in increasing dropshipping sales.
As we all know, social media, including TikTok, is vital for a dropshipping store. It offers a platform to get products in front of your customers.
But is dropshipping with TikTok worth it? How can someone use this video-sharing platform to grow the dropshipping business?
With this guide, you'll learn everything about TikTok dropshipping. We'll talk about how it works and how to start it as a beginner.
What's TikTok?
It's a video-sharing application that enables people to create and share video clips. TikTok is mobile-based, although one can still watch the videos using their web app.
This platform enables users to be creative with their content using stickers, filters, voiceovers, background music, sound effects, etc. TikTok users can also add emojis, captions, and hashtags to their videos, making them more engaging.
The application was first launched in September 2016 in China with the name Douyin and later renamed TikTok for the global market in August 2018.
One of the distinct TikTok features is the "For You" page. Furthermore, users will also discover new content by browsing the "Explore" page, where they can search for videos using keywords, trends, and hashtags.
TikTok also features a live streaming function that allows users to arrange a live broadcast for their followers. The feature is essential to content creators who need to interact and engage with their audience in real time through live challenges, Q&A sessions, and other interactive activities.
The application also features a "duet" function, allowing users to create videos with other operators and collaborate on projects.
As a result, TikTok has become one of the most used marketing tools. Many influencers and businesses use it to promote their services and products.
With the help of different features, users can create and share ads, track their performance, run campaigns, etc.
What Is TikTok Dropshipping?
TikTok dropshipping is a business model where online store owners use TikTok to advertise and sell their products.
Dropshipping refers to sourcing products from a manufacturer or supplier and then shipping them to the customer.
To begin a TikTok dropshipping business, you must first find a manufacturer or supplier willing to work with you. So, when you get a supplier, you can start creating TikTok content to promote the products.
An essential aspect of TikTok dropshipping is creating engaging content to attract customers. You can achieve this by making videos that showcase the products with detailed information.
The video should also offer helpful tips plus advice related to your products. Besides, you can also use hashtags and other unique features to reach a wider audience and attract new customers.
Once you have followers, you can start selling products to them by offering a link to your site or Shopify store. When there is an order, you will forward it to the supplier. Then, the supplier will ship the products to the customer, and you earn a profit.
TikTok dropshipping is a profitable business model. But you have to spend more time plus effort in creating engaging content.
Moreover, you should also be ready to handle customer service or any other issues which may arise.
Can Anyone Start Dropshipping on TikTok?
The answer is definitely yes. Anyone can do dropshipping on TikTok as long as they understand what products to sell. They should also have their website or Shopify store ready.
Like other social media platforms, TikTok promotes a dropshipping business efficiently. All that requires is uploading relevant videos, running ad campaigns, or reaching out to influencers.
What Is the Process to Start Dropshipping on TikTok?
Selling on TikTok is made as easy as possible. All you need is passion and follow the simple steps highlighted below.
1) Creating your Own Website or a Shopify Store
To sell products on TikTok, you must have a website or Shopify store. Let's say you have a Shopify store.
There are three plans available in Shopify for users. So, you need to choose one that suits your dropshipping business. If having a brand name, one can create a store URL. That is "brandname.myshopify.com".
After that, you can upload your product pictures and logo and continue designing your store.
2) Get a Dropshipping Supplier
After building your store, you need a supplier or manufacturer. You can get some by visiting the Shopify app store or contacting them.
Remember, it is not always easy to get genuine suppliers. Some dropshipping suppliers assure you of high-quality products. But many of them fail to keep their word.
Thus, you must hire a reliable dropshipping agent like Fulfillbot. A dropshipping agent often has contacts with the best manufacturers and suppliers.
3) Get Winning Products
Do you want your store to survive for a long time? Then, it depends on the products. Get winning dropshipping items by browsing the collection offered by the suppliers.
Furthermore, you can also use social media sites. You can search with hashtags or keywords; the search results will give you the best options. Alternatively, you can also use tools like Google Trends.
After getting winning products, you should add them to your store. Moreover, you can edit product titles, variants, descriptions, and images before adding them.
In addition, you can specify the product price, manage inventory, set customs information and shipping method, etc.
4) Run an Ad Campaign
It isn't easy to sell a product that's merely listed in the online store. You need to promote the product through various methods.
It includes social media, search engine optimization, influencer marketing, and advertising.
To run an ad on TikTok, you need to install the Shopify TikTok application, set target customers, get ready for Ads materials, and track Ads effect.
5) Fulfill Customers' Orders
After some successful ad campaigns, you will start getting some sales. So, when you receive an order, you should forward it to the supplier.
In dropshipping, the manufacturer or supplier should fulfill the order. That's why we advise you to find a genuine supplier. If you can't find one, you can hire a dropshipping agent.
6) Customer Service
Sales aren't finished even when your customers pick up their packages since there are several things to do. A buyer could be a repeat customer.
Thus, sending holiday greetings or requesting feedback are better ways of maintaining customer relationships.
Request your customers to leave a review to build a trustworthy brand image. Moreover, you can also offer some discounts in return.
Is Dropshipping on TikTok a Profitable Business?
Dropshipping on TikTok is profitable if done well. It relies on your product's choice, marketing strategy, and target audience.
TikTok has a vast and active user base, making it an excellent platform for reaching more customers. Yet, you should also be aware that there is a lot of competition on TikTok.
Thus, it's essential to have a business that offers unique products, or you should create compelling content.
A niche that is not saturated will give you a better chance of standing out and making more sales.
Once you identify a niche, you can research products that are in demand. Then, get a supplier who can offer those products at a reasonable cost.
After everything is in place, you can start creating videos. To create engaging content on TikTok, you must use high-quality videos and photos of your products. You can also create a video that showcases your products and can also assist in building trust with your customers.
Also, note that TikTok's algorithm favors engagement. Thus, always ensure you're actively engaging with all your followers.
Moreover, also be aware that about half of the TikTok users are within 30 years old. Thus, you can optimize your marketing efforts depending on trends among Gen-Z and millennials.
As a result, you will reach several users on the platform and increase the chances of generating additional profit.
What Are the Common Pros and Cons of TikTok Dropshipping?
Like any other business model, TikTok Dropshipping has pros and cons. Let's have a look at them.
Advantages:
1) Low Risk
TikTok Dropshipping has low risk since you don't have to spend in inventory upfront. Thus, the risk of losing your money is much lower.
2) Reach a Huge Audience and Traffic
TikTok features a huge plus growing user base. It means you will reach a significant number of TikTok users. As a result, this will assist in increasing sales and growing your business quickly.
3) Test New Product
With dropshipping, it is simple to test new products without investing much cash.
You can try out several products and understand which ones sell better before you commit to buying huge quantities of inventory.
4) Low Start-Up Costs
TikTok dropshipping requires a meager start-up investment. You don't have to worry about buying inventory upfront or renting a physical storefront.
5) Flexibility
TikTok Dropshipping allows one to operate from anywhere and at any time. The only requirement is internet access and a smartphone, tablet, or computer.
6) Equity On Attraction and Marketing
Dropshipping on TikTok offers a fairly competitive environment at a low cost. With TikTok, even accounts with zero followers can have millions of views on new videos.
Disadvantages
1) Low-Profit Margins and Audience Limitations
Dropshipping profit margins can be low. It means you will need to make more sales to have a decent profit.
Most TikTok users are young people under the age of 30. Thus to make a profit, your dropshipping product on TikTok should be suitable for these audiences.
2) High Competition and Needs Some Cash
Competition on TikTok is very high. Thus, sometimes it can be hard to stand out among the rest and make sales. Advertising on TikTok still requires a considerable investment to promote your product.
3) Limited control Over the Product
With drop shipping, you don't have any control over the manufacturer/supplier or the product. Thus, you have to depend on the manufacturer/supplier to give you high-quality products at a reasonable cost and on time.
Your business relies on the supplier to handle essential tasks and fulfill orders. It can be challenging if the supplier is untrustworthy.
4) Shipping and Handling Costs
You are responsible for handling and shipping costs, which can affect your profit margins.
5) Needs More Time
TikTok videos, audios, and pictures need to be of high quality. To produce quality content, you'll have to spend more time polishing it to make it appealing to your users.
How to Create a TikTok Dropshipping Account?
Creating a dropshipping TikTok account is just similar to creating any regular profile.
All you require is giving your basic details, including your phone number and email. After that, you can verify your account by typing the code and then continue optimizing your profile.
There are a few simple tips that you need to implement to build your profile and brand on TikTok. These include;
1) Build a Compelling Bio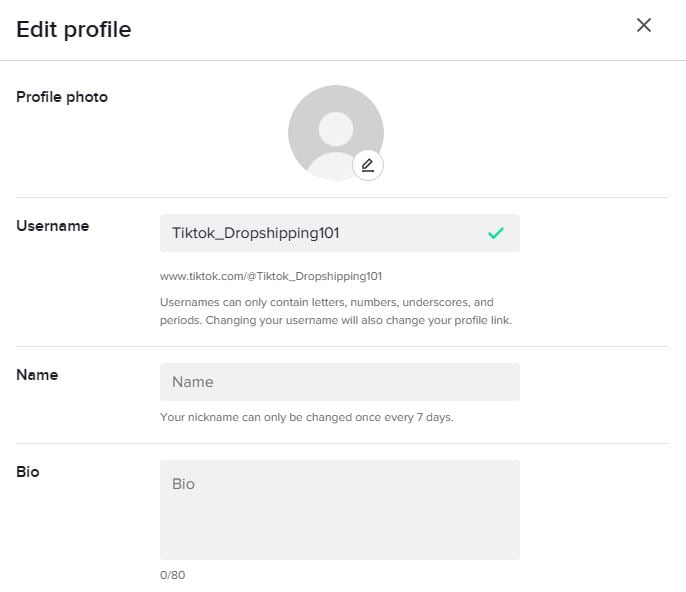 Writing a persuasive profile bio is among the most significant steps in setting up a strong TikTok dropshipping account.
Remember, you'll only work with 80 characters. Thus, always target the primary keywords concerning your business for it to rank higher on search results.
In addition, do not forget to link to your store to allow your potential customers to look at the products and make a purchase.
2) Use the Correct Birth Date
To start a TikTok dropshipping business, you need to be at least 18 years. Entering random numbers can make you appear younger, denying you a chance to start your dropshipping business.
Moreover, your account will have some limitations, like the inability to host videos and live streams. These limitations will impact your reach to customers.
3) Engage with Your Customers
Respond to messages and comments actively. It will assist in building your relationships plus loyalty with your followers.
4) Use High-Resolution Pictures
You need to use high-resolution images, including your profile picture, may it be a logo or your photo.
If you need to use a logo, hire a skilled graphic designer since that will represent your brand. Furthermore, always get a professional photographer if you're using your picture. Show a warm smile to convey positive sentiment.
5) Link Your TikTok Profile to other Social Media Platforms
Although it's optional, you can link your TikTok business account to your Youtube or Instagram to help in increasing the number of followers. To connect your accounts, click on "edit profile" to find the options you are looking for.
6) Create Engaging Content
Determine what kind of content you need to create and how frequently you will be posting. Moreover, always utilize TikTok's editing tools to make visually appealing plus engaging content.
In addition, always use significant hashtags plus captions to improve your post's visibility.
7) Run TikTok Ads
TikTok ads can help in reaching a huge audience plus drive more sales. Utilize the different platforms to reach the targeted audience, and always track your results to see what's working and what isn't.
You can also partner with influencers within your niche to reach a huge audience plus improve your brand's credibility.
What Is the Process of Setting Up a TikTok Business Account?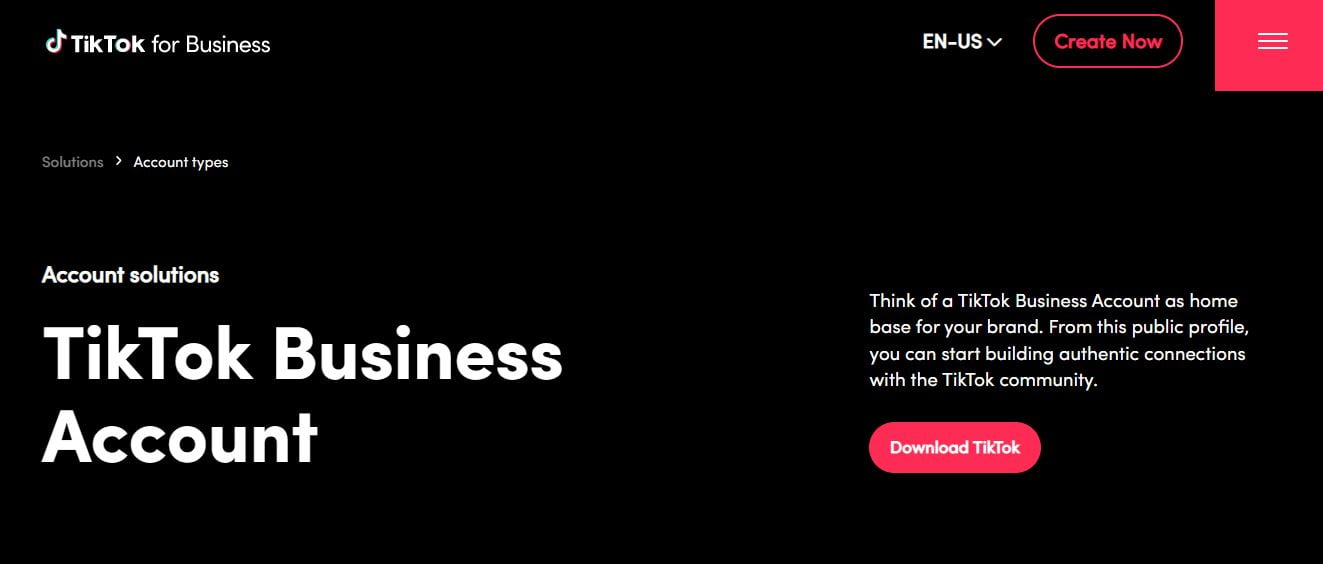 After seeing the benefits of dropshipping, you should set up a business account. You must change it from an ordinary user profile to a business account.
But, it's advisable for novice users or beginners to begin with a regular account. You can upgrade to a business account when you start making sales.
If you don't have a TikTok account, the first step is to download the app and create one. Then, customize your platform depending on your liking as you familiarize yourself with the platform.
Once you are comfortable with the platform, you can follow these easy steps to set up your TikTok business account.
1) Open Profile Page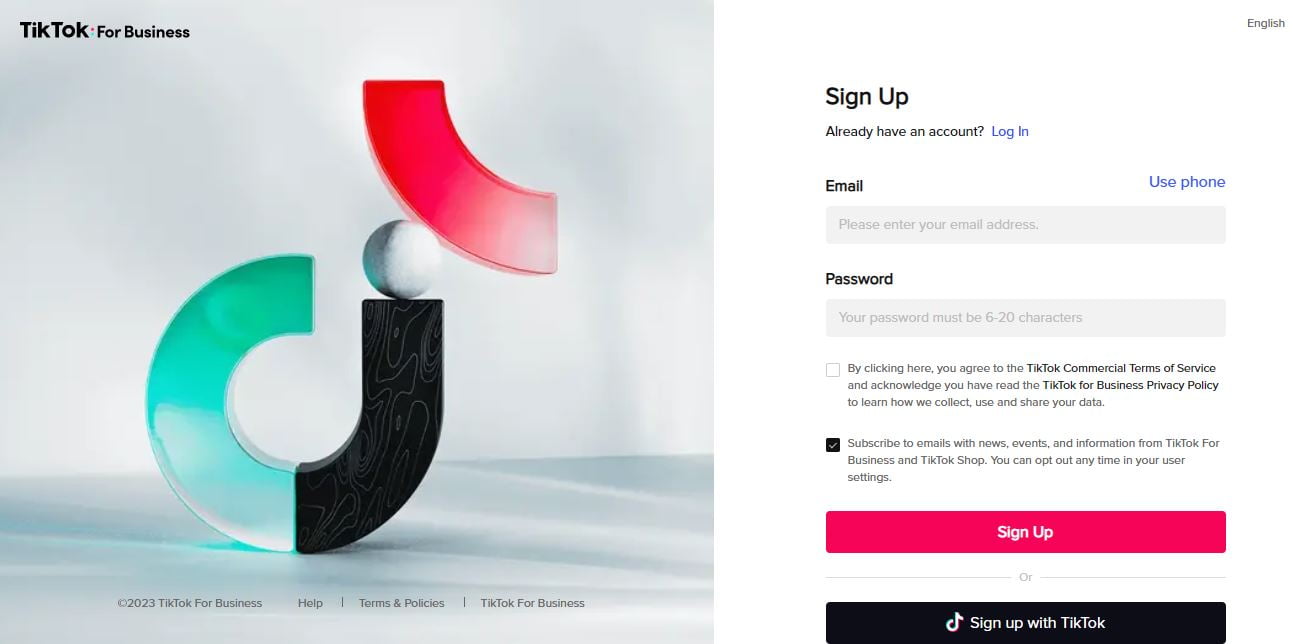 Open your TikTok application and then open your profile page. Remember to sign up if you don't have an account to have a profile.
2) Open the "Settings And Privacy Tab."
To achieve this, click the three horizontal lines seen in the upper right corner. A dialog box will pop up at the lower section of the page. Click on 'Settings and Privacy.'
3) Click on Manage Account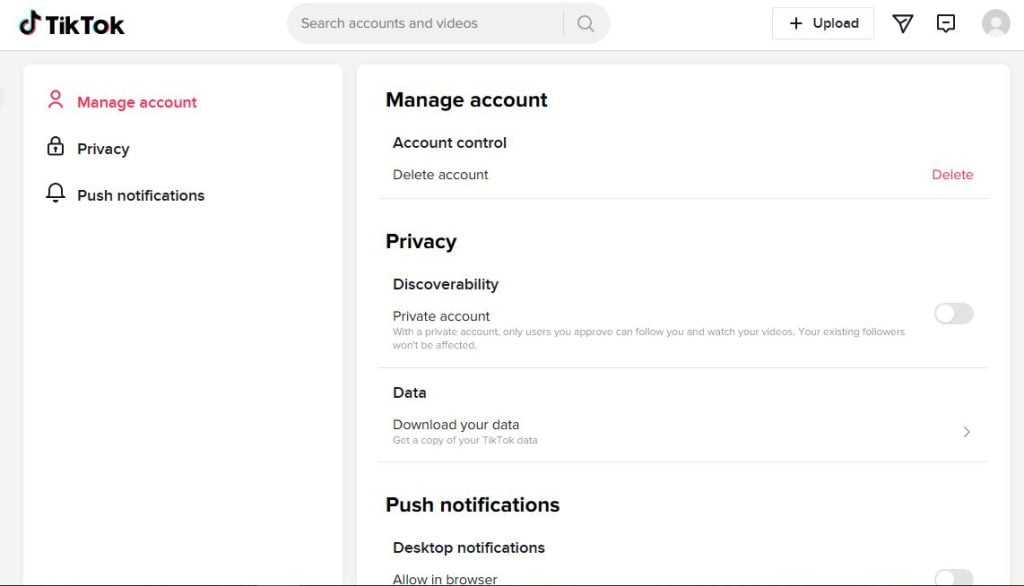 After opening the user "settings and privacy," click on 'Manage account.' So, it will display all the information concerning your account.
It includes phone number, date of birth, email address, and password. Furthermore, you will also find the 'Deactivate/delete account' or 'Switch to Business Account' buttons here.
4) Click the "Switch To Business Account" Button
You need to click on 'Switch to Business Account' at this step under manage account.
A business account helps the user enjoy several perks when marketing on TikTok. You can select royalty-free music, have more insights on customers, access Business Suite tools, etc.
5) Select the Business Category You Need
Before you switch to a TikTok business account, you should choose which product category you need to showcase.
After selecting which category you will concentrate on, you can click 'Next.'
With all the above steps, you will now have your TikTok business account ready. You will be free to add your information, including your business email.
Are TikTok Ads Suitable for Dropshipping?
TikTok ads are a suitable option for dropshipping businesses for numerous reasons. These include;
1) Improves Brand Awareness
TikTok offers numerous ways of increasing the popularity of your brand on the platform. For example, you can operate with TikTok influencers, utilize hashtags, and manage paid ads.
Apart from these methods, you can also create high-quality content for your video to have a higher probability of going viral. When more audience accesses your content, the more they will get to know your business.
2) Great Audience Reach
One more advantage of TikTok marketing includes its broad audience reach. It has billions of active users worldwide. Thus, we can quickly choose and develop our target market.
In short, we can benefit from the uniqueness of approaching these audiences on TikTok.
3) Large Customer Base
Another great advantage of TikTok marketing is its broad customer reach. TikTok platform has several users from everywhere around the world. With this, you can quickly expand your market reach.
Furthermore, marketing on TikTok allows you to reach buyers who order new products more often.
4) Link to Several Customers
TikTok helps in producing valuable content which connects to different communities. Thus, creating appealing and genuine videos enables you to communicate with target markets.
When viewers interact with your content, TikTok has a higher chance of changing them into customers.
In addition, TikTok features a user-friendly interface. Customers connect easily with their clients via messages and comments. With this, you will have long-lasting relationships that turn into loyal customers.
How to Create a Successful TikTok Dropshipping Ad Campaign?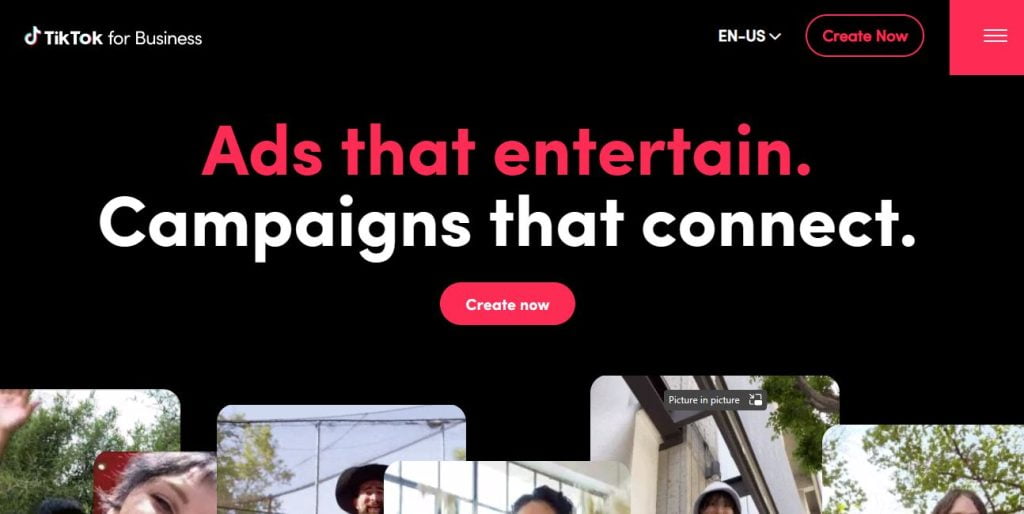 Would you like to proceed with TikTok ads? If yes, and you don't have an account, go to the TikTok ads page to create an account.
Below are the steps to follow when creating the account.
1) Sign up for TikTok Ads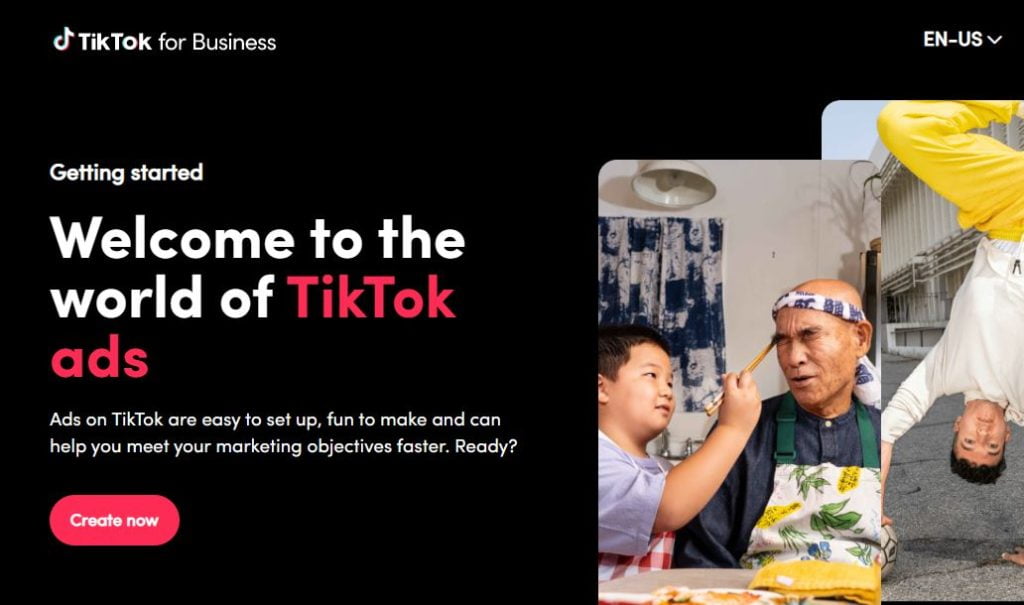 To sign up for a TikTok ad business account, click on "Get Started."
Put in your phone number or email, set a strong password, and key in the verification code sent to you.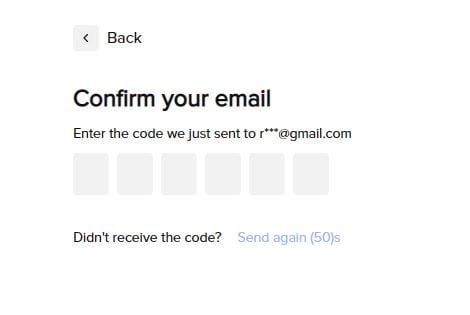 After that, click on "Sign Up." Enter your billing details as you add your website URL on the next page.
2) Select Ad Mode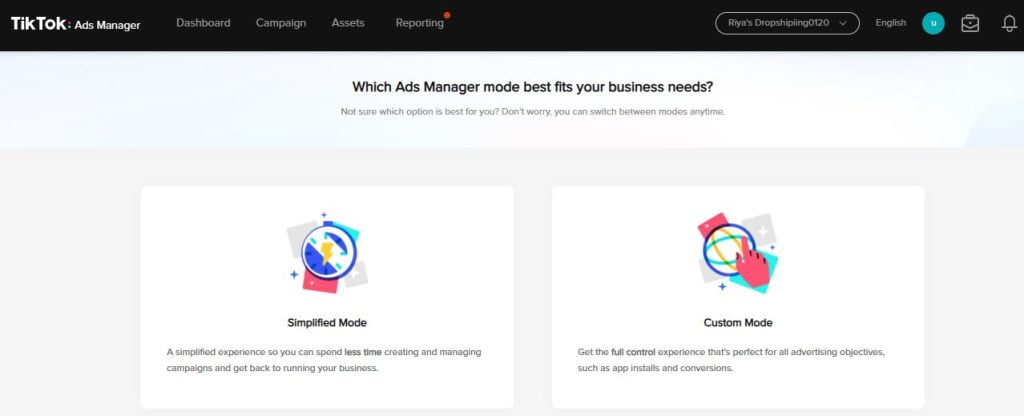 After logging in, you will see "Simplified Mode" and "Custom Mode." With the simplified mode creating ads will be faster, simpler, plus more budget-friendly.
3) Creating a TikTok Ads campaign

Select "Campaign" and click "Create" for your ad campaign. Make sure you choose the appropriate advertising goal, which includes website conversions, app installs, website traffic, and lead generation. Moreover, you can also assign a name to the campaign.
4) Create an Ad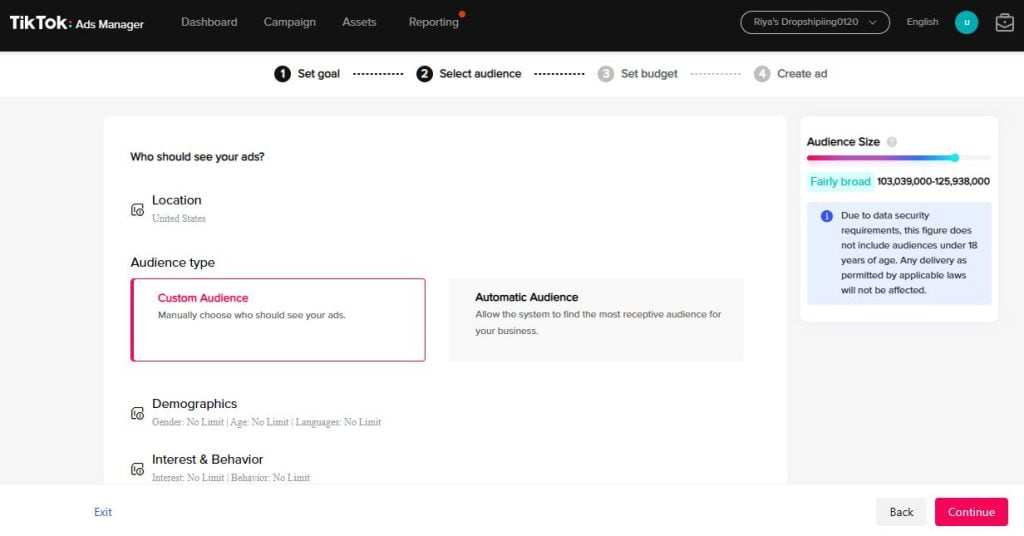 After choosing the ad campaign, it's time to set up the "Ad Group" page by entering placement type, location, and demographic details.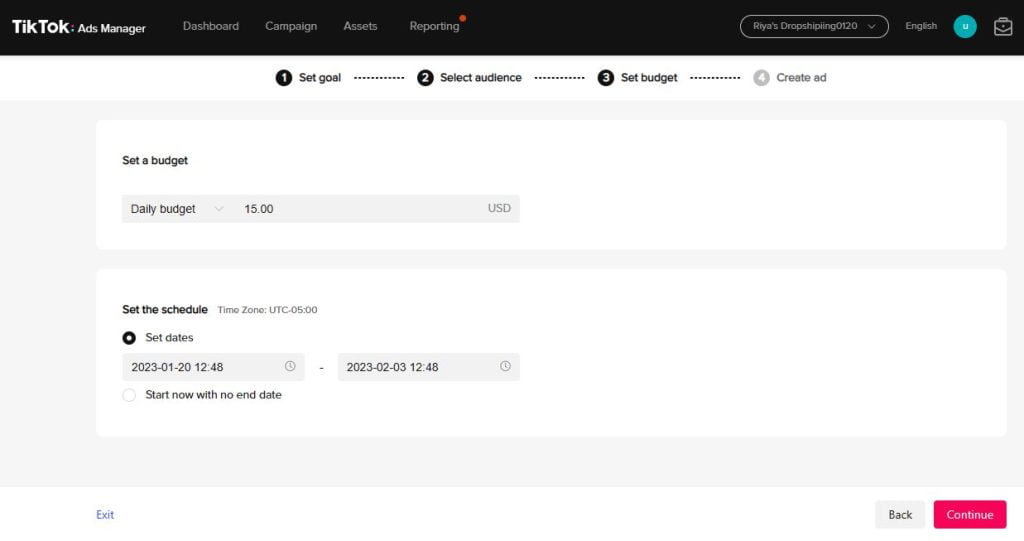 Once you entered your desired settings, you can scroll down to view "Budget & Bid Optimization." From here, you can configure the time of the ads and assign a daily budget.
After completion, click "Continue" and go to the "Ad" section. From here, you will name your ad as you upload the ad creative.
5) Submit Ad from Dashboard
To complete the process click on the "Submit" button on the "Ads" page to see impressions flowing in.
You will get the "Dashboard" button from the top left of your screen. You will observe and manage all TikTok commercials from here.
6) Measure Performance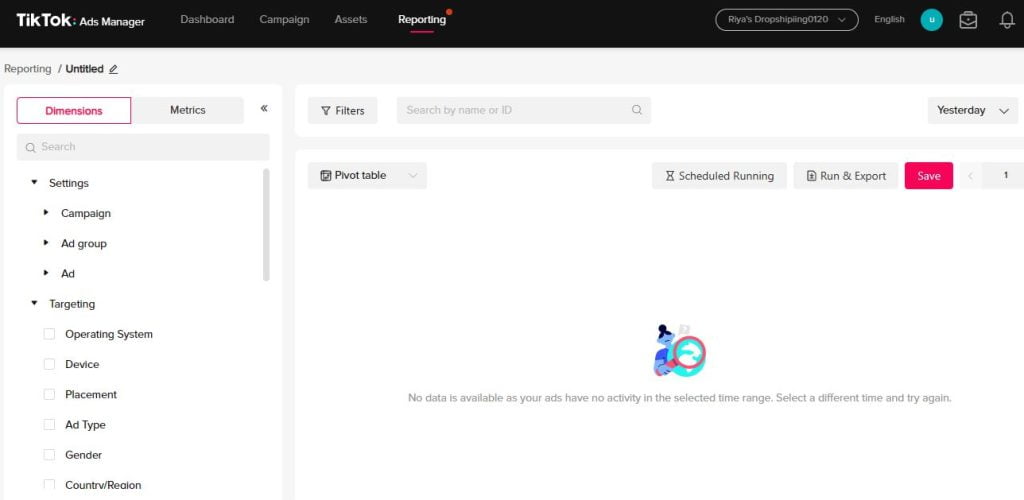 Among the most significant parts of running a TikTok ad is measurement. You may need to keep your eye on analytics. Select the "Reporting" tab.
From the left side, you can switch between "Metrics" and "Dimensions." Metrics include key performance indicators, including CPC, CTR, and conversions. Dimensions are targeting, campaigns, ads, ad groups, and other settings.
How Can you Get Winning Products to Dropship on TikTok?
Do you want to choose winning yet profitable products for TikTok dropshipping? Let's break this crucial part into two sections.
A) Features of winning products on TikTok
1) New Product
Customer's attention is easily attracted to new products. Moreover, videos of these new products go viral very quickly.
Furthermore, new products become trendy very fast. Hence, several people buy them to stay connected with the latest trends.
2) Wow Effect Product
These are products that catch the user's attention at first eyesight. Just like new products, customers purchase these products out of fashion or curiosity.
3) Inexpensive Product
Always direct your research to cheaper products that customers can purchase without considering the price. Products that don't exceed $30 are the best.
4) Products That Involve Users
A product that allows user engagement through likes, shares, and positive comments will always sell better, unlike products with more negative feedback.
Always concentrate your search on organic posts or ads with positive feedback from customers.
5) Problem-Solving Products
A product with the most sales solves a particular issue among users. Thus, always consider this criterion when selecting your products.
B) Ways to Getting a Winning Product to Dropship on TikTok
1) Check the Latest Trends
As stated earlier, several people who use the TikTok platform are 18 -29 years old. Thus, always check for trends that are appealing to the young generation.
2) Browse Hashtags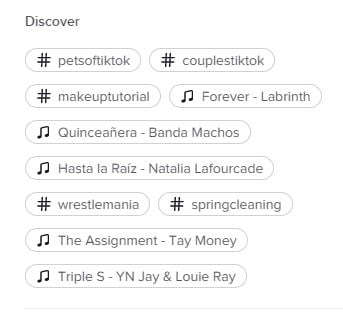 The fastest way to find winning products on TikTok is by search bar plus browsing via hashtags. You can search for general hashtags or the name of certain products.
After searching, check the hashtag list to see the number of people impressed by the product.
3) Search eCommerce Platforms
Remember, eCommerce platforms have great search filters. So, you'll get several videos of people sharing specific products.
Do a research on the way people promote, present, and advertise products.
TikTok Dropshipping – Golden Tips from Fulfillbot
1) Check reasons why TikTok's ads fail
Due to TikTok's advertisement terms, TikTok ads get rejected very fast. Moreover, TikTok has already revealed a list of common reasons why advertisements fail.
So, you need to check the list before you create your first ad.
2) Look at TikTok's campaign optimization list
The Business Help Center of TikTok comes with several valuable details for TikTok advertisers.
TikTok has published a campaign optimization checklist plus troubleshooting tips. It can give you excellent information concerning your TikTok campaign's bidding, budget, etc.
3) Don't Forget the Target Audience
Firstly, you should always consider your target audience. Because more of TikTok's users are below the age of 30, maybe the purchasing power of an average TikTok user is less, unlike an average Facebook user.
4) Keep ads Organic and Short
TikTok users prefer short videos, like those shot with a smartphone camera. It makes TikTok videos appear organic. For your ad to perform best on TikTok, you need to try and match the style of your ad for them to look like regular TikTok videos.
Remember, long commercial ads will almost miss performance expectations.
Final Thoughts
TikTok is less competitive, unlike other social media platforms. That makes it perfect for dropshipping. Furthermore, it has also been easier to create, promote, and distribute your products. If your brand dropships products, you need to try out TikTok ads.
They are best when targeting younger people and selling physical products. In addition, video content has been more engaging and attractive now.
To begin, you need to sign up for a TikTok Business account. You will fill in your basic information, and that's all. After that, you can create a campaign and be attentive to the reporting dashboard.
The only necessary step in this process is finding the right supplier. You can do it by hiring a genuine dropshipping agent like Fulfillbot. Fulfillbot can find suitable, inexpensive, and trustworthy suppliers for your products. It can help you take your TikTok dropshipping business to the next level.